The Complete Guide to Navy Federal Business Loans
Learn about Navy Federal business loans - the variety, requirements, advantages and alternatives.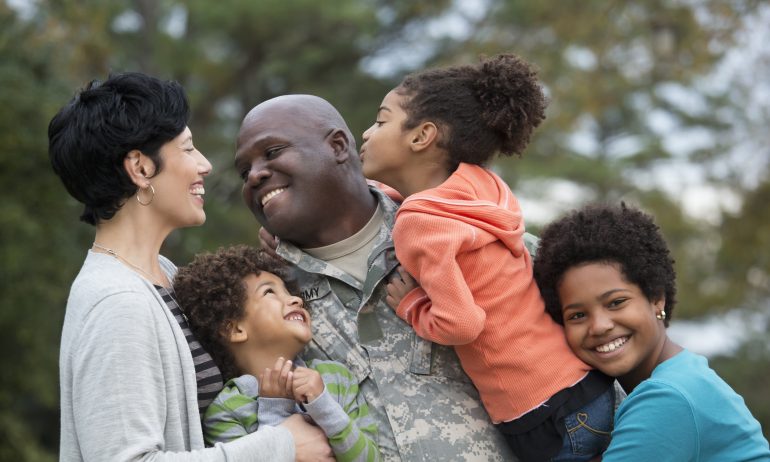 Many or all of the products featured here are from our partners who compensate us. This influences which products we write about and where and how the product appears on a page. However, this does not influence our evaluations. Our opinions are our own. Here is a list of our partners and here's how we make money.
Since 1933 the Navy Federal Credit Union, a nonprofit organization, has been serving the armed forces, veterans and their families. Its mission of being the "most preferred and trusted financial institution serving the military and their families" still rings true today.
In this guide, we'll walk through the details of each Navy Federal business loan available. Let's get started.
with Fundera by NerdWallet
Types of Navy Federal business loans
What can a Navy Federal business loan be used for, exactly? Well, the answer to this question actually depends on what type of Navy Federal business loan you secure.
Navy Federal offers five different types of small business loans, each of which will have its own uses and restrictions attached.
We'll review the five types of Navy Federal business loans and how you can use them to finance your business.
With Navy Federal's term loans, you can finance a one-off asset—commercial equipment, inventory, technology, etc.—or increase your business's overall working capital.
These loans are available for either purchases or refinancing. Plus, there is no prepayment penalty if you are able to pay off your loan ahead of schedule.
Navy Federal offers competitive rates on business auto loans. If you need to buy a vehicle in your business's name, a Navy Federal vehicle term loan can provide a majority of the vehicle's worth. For a business vehicle loan, you can get up to 100% for a new vehicle and up to 90% for a used vehicle. These vehicles are typically cars, light-duty trucks and SUVs. For a commercial vehicle loan—think commercial, heavy-duty, or "special use" trucks and vans—you can get up to 80% for a new vehicle and up to 75% for a used one.
Again, there is no prepayment penalty, so you won't be punished for paying ahead of schedule.
Every small business should have a business line of credit in their back pocket—it functions like a more powerful business credit card, providing backup credit if you need fast capital, but often offers lower APRs than a credit card. These lines of credit are revolving, meaning once you pay back what you've spent, your line of credit resets back to your credit limit.
Navy Federal offers business lines of credit as a short-term option for businesses that need to manage cash flow gaps, cover unexpected expenses or emergencies, capitalize on growth opportunities and more. Their rates will depend on your creditworthiness and the Market Prime Rate, and additional costs such as annual and origination fees may apply.
Commercial real estate loans
Navy Federal offers commercial real estate loans for business owners to buy a variety of commercial-use property types.
For these loans, Navy Federal offers multiple repayment terms for you to choose the best payment setup for your business.
Additionally, Navy Federal commercial real estate loans don't come with a prepayment penalty, so you won't be penalized for paying early and avoiding extra interest.
Investment property loans
Finally, Navy Federal offers small business loans in the form of investment property loans. If you're planning to buy a property in order to earn a return from it—think becoming a landlord or house-flipper—this will be your go-to loan type.
These loans come with competitive APRs and no prepayment penalty. Navy Federal will apply standard mortgage practices and your property will be titled in your own name.
You'll also get a variety of payment terms from which to choose, so you'll be able to pay back your Navy Federal investment property loan on a schedule that works best for your business.
Not everyone is eligible for a Navy Federal business loan, as they are only available to Navy Federal members.
If you're not already a member, you need to make sure that you qualify for membership before you take the time to apply.
You can become a Navy Federal member if you fall into one of these categories:
Veteran, retired, or active duty member of the armed forces (Army, Navy, Marine Corps, Air Force, Coast Guard, National Guard, Department of Defense).

Reservist member of the armed forces.

Spouse of a Navy Federal member.

Child of a Navy Federal member.

Parent of a Navy Federal member.

Sibling of a Navy Federal member.

Grandparent of a Navy Federal member.

Grandchild of a Navy Federal member.

Other household member of a Navy Federal member.
To become a member, you simply have to provide your social security number, your driver's license or government ID, your current home address and your credit card or bank account numbers to add funds to your account.
Once your membership status is established, you're almost ready to start applying for one of their business funding options.
But first, you'll just have to see if your business meets the five Cs of credit to qualify for a Navy Federal business loan.
While they may not have the same name at other financial institutions, these credit criteria are pretty standard among lenders to decide if you qualify for funding, how much funding you qualify for and what terms you'll receive.
Here are the five Cs of credit, according to Navy Federal.
Capacity. The most important of the five Cs of credit for Navy Federal, capacity signals your business's ability to pay back whatever funding you apply for.

Capital. As law prohibits Navy Federal from providing 100% of your business's costs, you will need to demonstrate that your business has other forms of capital. Whether it's equity loans, capital from investors, or any other type of funding, Navy Federal will evaluate how much access you have to capital to judge whether they can fulfill your loan amount request.

Collateral. Collateral will strengthen your application by demonstrating your business's ability to pay back the loan. Essentially, this collateral acts as a guarantee that will mitigate any risk Navy Federal takes on by lending to your business. As such, you're more likely to secure funding and secure it at a lower APR. However, if you have to default on a loan, that will mean that whatever you put up for collateral will be at risk.

Conditions. By "conditions," Navy Federal means market conditions. When you apply for a Navy Federal business loan, you'll need to be able to show that the market is good for your particular business. What's the current demand for your business's product or service? Is there a projected growth in demand for your business's product or service? Do you have any big competitors that might inhibit your ability to pay back your loan?

Character. The fifth C of credit, character, encompasses a lot—they'll look at your leadership style, your education and your general impression. Most of all, they'll look at your personal credit score to see how you manage your own personal finances. You'll also have to fill out a personal financial statement for your business loan application.
Advantages and disadvantages of Navy Federal business loans
So, what makes Navy Federal business loans stand out from the crowd of choices you have for funding your small business?
Well, with so many different loan categories, one of the main overarching perks to Navy Federal business loans that you don't frequently see elsewhere, is there are no prepayment penalties. This benefit could end up saving you and your business a lot of money.
Because some lenders rely on the interest they charge you for paying off your loan over the loan term, they often charge you if you pay your loan off early. This is to make up for the fact that they're losing those interest payments you would have made if you weren't able to pay early. The fact that Navy Federal won't penalize you for paying off your business loan early could be a game-changer, especially if you're anticipating an upward trajectory that could allow you to pay off your loan earlier than expected.
Another big perk of Navy Federal business loans is they can be more accepting of a shorter business history. This may be a key factor for members of this select business community as they may have a shorter business track record, if any.
The lack of prepayment penalties, higher level of accessibility and the option of taking out a business loan across a variety of categories, can make Navy Federal business loans appealing to those who qualify and are looking for flexibility.
You may be thinking, This all sounds great, what's the catch?
Unfortunately, no lender is perfect. We normally say this because for-profit lenders have to, well, make a profit from lending to you. However, Navy Federal is a special case. Because they're a nonprofit entity, they don't have to make as much of a profit as other lenders. Nonetheless, this comes with its own difficulties.
While Navy Federal business loans may be more accessible than a standard business loan to those who qualify for them, their general inaccessibility is one of their main disadvantages. And not just because they're only available to members of Navy Federal, but also because of the symptoms that come from getting a business loan from a small, nonprofit lender.
Working with a small, nonprofit lender can have its downsides. While nonprofits might, in theory, prioritize consumers over profit, due to scarcity of resources, they often end up causing some customer dissatisfaction. Navy Federal is no exception: Reviews of their customer experience are often quite negative. With resources spread thin, customer service may not always be their top priority, which can lead to stress and frustration for business owners.
Be sure to keep both of these factors in mind if you're considering a Navy Federal business loan.
Alternatives to Navy Federal business loans
Even if you've decided not to go with a Navy Federal business loan, you still have plenty of strong business financing options from which to choose. And some of them also boast no prepayment penalties, just like Navy Federal business loans.
The lender OnDeck Capital offers great alternatives to Navy Federal's term loans.
OnDeck is an online lender that works with small business owners to fund them with short-term loans.
Although OnDeck doesn't offer loans specific to property investment or commercial real estate, their term loans are great options for funding your business's real estate purchases, expansion and renovation.
Plus, OnDeck is willing to work with business owners with a FICO score of at least 625 and who have been in business for a year or more. As such, OnDeck's term loans will be a bit more accessible than Navy Federal's.
For an alternative for Navy Federal's commercial vehicle financing, look into Funding Circle, a lender that offers stellar equipment financing.
Essentially, the equipment financing that Funding Circle offers is a broader version of Navy Federal's commercial vehicle loan that covers various types of equipment you might need to run your business.
Navy Federal business loans can be a viable option for your business. But if you're not a qualifying member, you'll have to look for another option.
There are so many business financing options from which to choose, so the perks that Navy Federal small business loans offer can definitely be found elsewhere. And oftentimes, you'll be able to find those perks without the downsides that Navy Federal business loans carry.
This article originally appeared on Fundera, a subsidiary of NerdWallet.