OnPay vs. Gusto: Which Is Right for Your Business?
Gusto offers superior mobile access for employees and more integrations, but OnPay may be a better value for some.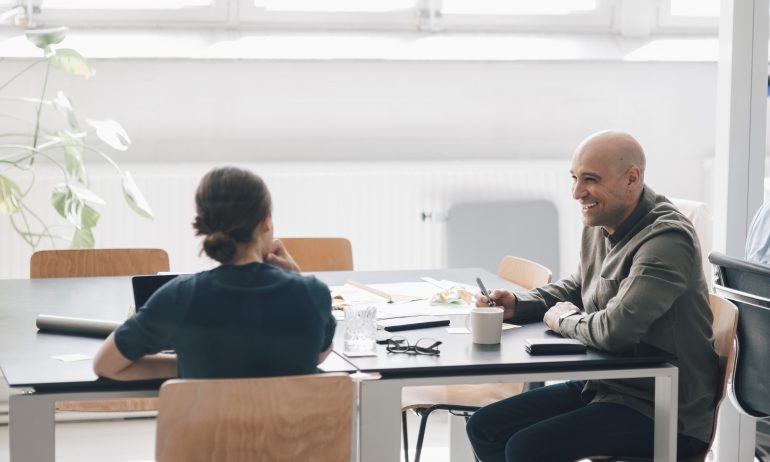 Many or all of the products featured here are from our partners who compensate us. This may influence which products we write about and where and how the product appears on a page. However, this does not influence our evaluations. Our opinions are our own. Here is a list of our partners and here's how we make money.
OnPay and Gusto are both cloud-based solutions that offer full-service payroll processing, benefits administration and lifetime account access for all employees. Despite similar feature sets, Gusto is better suited for employee mobile access and offers more integrations, whereas OnPay's single sliding scale rate may make it a better value for some businesses.
Here's a breakdown of OnPay versus Gusto, including how they compare on important payroll software features.
OnPay vs. Gusto: Deciding factors
$36 per month, plus $4 per person per month.

Core: $39 per month, plus $6 per person per month.

Complete: $39 per month, plus $12 per person per month.

Concierge: $149 per month, plus $12 per person per month.

Yes. As part of full-service payroll, OnPay withholds taxes with each pay run, makes the necessary payments and files tax forms on your behalf.

Yes. Every time you run payroll, Gusto automatically calculates your taxes and files them with the appropriate government agencies.

Ability to manage employee benefits

Good. You can work with OnPay as your broker of record to build a benefits plan for your employees. You can offer health and dental benefits, 401(k) plans, life insurance, vision and dental plans, commuter benefits, and other coverage. Health and dental benefits are available in all 50 states. Insurance costs are not included in your payroll service fees.

Good. You can build a customized benefit package for your employees, offering 401(k)s, health insurance, HSAs and FSAs, commuter benefits and more. Health benefits are not available in all states.

Employee access to portal

Excellent. Your employees have lifetime access to the OnPay self-service portal to see pay stubs and tax documents. In their OnPay accounts, they'll also be able to update personal and banking information, review withholdings, view PTO accruals, request time off and find and download employment documents.

Excellent. Employees receive lifetime access to their Gusto account even if they change jobs. They can view pay stubs and W-2s, track hours, submit vacation requests and even donate to nonprofit organizations directly from their paychecks using their Gusto account.

Good. Customer support is available Monday through Friday via email, phone and live chat. Phone and chat are available from 9 a.m. to 8 p.m. ET and email support begins at 7 a.m. In addition, emergency email support is available on the weekends.

Good. Unlimited support is available by phone, email and live chat with all plans. Although the customer service team is available from 9 a.m. to 8 p.m. ET during the week, there is no support available on the weekends.

Excellent. The OnPay dashboard is intuitive and easy to use, with a simple and organized design. OnPay offers free account migration and assistance setting up or customizing integrations with other software. You can also use the OnPay Help Center to access step-by-step guides to getting started, as well as additional information.

Excellent. Gusto offers a user-friendly interface and dashboard with a modern design. Resources are available in the Gusto Help Center to walk you through setting up your account or switching payroll providers. You can also work with customer support for assistance throughout the process.
OnPay vs. Gusto comparison
Payroll processing: Gusto wins
Both Gusto and OnPay offer full-service payroll across all 50 states. With either software product, you can run an unlimited number of payrolls, customize pay rates and schedules and pay your employees using direct deposit. OnPay and Gusto both automatically calculate, pay and file your taxes as well.
OnPay, however, does not offer any filings for local taxes, whereas Gusto will withhold and file certain local taxes on your behalf. You can find a full list of tax forms that Gusto accommodates on its help center website.
With all plans, Gusto gives you access to Payroll on AutoPilot. If enabled, payroll will run automatically one day before your payroll deadlines. You can enable and disable this feature at any time. OnPay does not offer a similar feature.
Gusto provides faster direct deposit in comparison to OnPay. OnPay can take up to four days for direct deposit. With Gusto, you can get two-day direct deposit with any of the three plans — plus, next-day direct deposit with the Complete or Concierge plan.
If you operate a business within a unique industry — farms, nonprofits or churches, for example — OnPay offers payroll tools to accommodate your industry-specific needs.
Employee self-service: Gusto wins
OnPay and Gusto offer robust self-service for employees, with lifetime access to their accounts even if they leave your company. Gusto stands out, however, with the Gusto Wallet mobile app and the features it includes.
With all three of the Gusto plans, your employees have access to the Gusto Wallet mobile app, available for both iOS and Android devices. The app is free and allows them to view their paychecks and W-2s and track their time.
Gusto Wallet includes the Cash Accounts feature, which gives employees the ability to create up to five savings goals and transfer money into a spending account. All accounts earn interest with no account fees (accounts are provided by NBKC Bank).
You also have the option to enable Gusto Cashout — a free program in which employees can access money between paydays that is repaid automatically from their paycheck without fees or interest. If enabled, employees can use the Gusto Wallet app to pull these funds and get them instantly on a Gusto debit card, at no cost to your business or impact to your payroll.
Time management: OnPay wins
With OnPay, you can create custom paid time off policies with up to three accrual tiers depending on factors like employee type, location or seniority. You also can set up automatic accrual tracking, so that every time you run payroll, PTO hours are automatically calculated and added to an employee's totals.
Additionally, OnPay allows employees to request time off through their accounts — managers will receive the request and then will be able to approve it. After the request is approved, PTO hours are automatically subtracted.
The OnPay system also includes a PTO calendar with reminders for managers and administrators, and email notifications when PTO requests are made. If you want to integrate with time tracking software, OnPay can connect to QuickBooks Time, When I Work and Deputy — and the customer support team can help set up or customize your integration if needed.
In comparison, Gusto offers similar time tracking features, but you need the Complete or Concierge plan to access them. If you have the Core plan, your employees won't be able to submit PTO requests through Gusto and approved PTO won't automatically sync in your payroll — making this part of payroll a more manual process.
Onboarding and HR features: OnPay wins
Gusto offers a few premium HR features that OnPay doesn't provide — anonymous employee surveys, survey trend analysis and access to certified HR professionals — if you're willing to pay for them. To access employee surveys, you must purchase the Complete or Concierge plan, and to work with the Gusto HR team, you must opt for the top-tier Concierge plan.
All of OnPay's HR tools, on the other hand, are included within its single rate. In fact, OnPay includes the following features that you'll get only with the top-tier Gusto plans:
Access an HR resource library with hundreds of guides and templates (available in Gusto's Concierge plan only).

Create customized HR documents or use OnPay's built-in templates (available in Gusto's Concierge plan only).

Create custom onboarding documents.

Allow employees to e-sign any type of HR document.
OnPay also provides online tax forms for employee onboarding, document storage for personnel files, compliance audits and direct messaging — so that employees, managers and administrators can share information.
Both Gusto and OnPay allow you to integrate your payroll software with third-party solutions, including time tracking and accounting software. Gusto, however, offers integrations with over 100 different tools across a variety of categories: point-of-sale, business operations, tax preparation, hiring, performance management, legal and compliance, and more.
In comparison, OnPay offers just over 10 integrations in only a handful of categories. On top of accounting and time tracking integrations, you can also connect to HR and compliance tools and 401(k) providers, among other options.
Alternatives to OnPay and Gusto
Basic: $10 per month plus $4 per person.

Full service: $30 per month plus $4 per person.
For a budget-friendly payroll solution, Patriot Payroll is a competitive option. Patriot Payroll is user-friendly, affordable and payroll-focused. You can run unlimited payrolls, customize your pay schedule, pay your employees with direct deposit and give them access to an employee portal. Unlike Gusto and OnPay, Patriot doesn't offer benefits administration or HR features (though it does offer a separate HR software), but it's a great choice if you're looking for just the essentials.
Price: $35 per month plus $5 per person.
Square Payroll has similar costs to OnPay and Gusto — but is a great option if your business already uses a Square point-of-sale system. Square Payroll includes full-service payroll processing, tax filings and payments, timecards, and an app for employees. If you use Square point-of-sale, you can access additional features: You can track and import tips and connect with your team management platform to sync hours, review sales and manage permissions.