Survey: Pandemic Shoppers a Lifeline for Small Businesses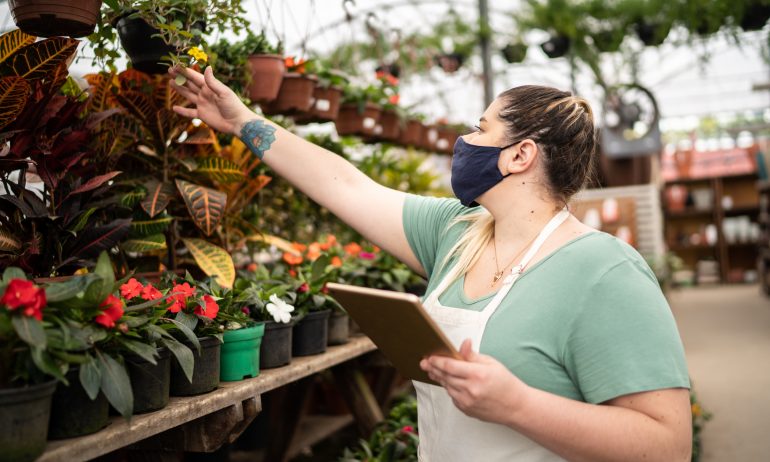 Many or all of the products featured here are from our partners who compensate us. This influences which products we write about and where and how the product appears on a page. However, this does not influence our evaluations. Our opinions are our own. Here is a list of our partners and here's how we make money.
The country's first statewide stay-at-home order of the pandemic was issued in California over 18 months ago, and many small-business owners have been on a turbulent ride since.
But a new NerdWallet survey reveals many Americans made — and continue to make — a conscious effort to help these businesses stay afloat.
Half of Americans (51%) made an effort to shop more at small and locally owned businesses from March 2020 through periods of closures and restrictions compared with before the pandemic, according to the new NerdWallet survey conducted online by The Harris Poll among over 2,000 U.S. adults in August. Although these early restrictions — such as stay-at-home orders and restaurants serving only takeout — have largely passed, the economy, and life as we know it, remains in a state of upheaval. Currently, 40% of Americans are still making an increased effort to shop small and locally owned.
"Small-business owners were dealt multiple blows during the pandemic, with closures, capacity restrictions, and supply chain and shipping issues," explains NerdWallet small-business specialist Kelsey Sheehy. "While forgivable loans helped to absorb some of COVID's impact, the influx of community support was the key to survival for many small businesses."
with Fundera by NerdWallet
Spending habits changed with the pandemic
More than three-fourths (77%) of Americans say their spending habits changed from March 2020 through periods of closures and restrictions, when compared with their pre-pandemic habits. Several factors — such as prices, consumer confidence and income — influence how much consumers spend at any time. But in 2020 and beyond, the pandemic has added new considerations, and supporting small businesses in a time of turbulence is one.
Half (51%) of Americans say they made an effort to shop more at small and/or locally owned businesses during the period beginning March 2020 and lasting through closures and pandemic restrictions, when compared with before the pandemic.
This increase in support carried over to tipping as well: 19% of Americans say they tipped delivery drivers more, and 18% tipped other service workers more during this period than before the pandemic.
Early efforts to keep small businesses afloat
As Americans were encouraged to stay home and socially distance early in the pandemic, small businesses stood to take a serious hit. The survey revealed many understood their potential role in helping these businesses survive. More than half (55%) of those who increased support of small and locally owned businesses cited wanting to support the local economy as their motivation during the period from March 2020 through pandemic closures and restrictions.
Some of this spending may have been diverted from other large retailers. While it makes sense that some Americans (28%) reduced in-person shopping at large corporate retailers during the period when they were being asked to stay at home, 14% also cut back on online spending at these larger retailers.
This is particularly notable because e-commerce spending increased significantly during this period — up about 44% in the second quarter of 2020 compared with one year prior, and up over 30% in each of the following three quarters, according to U.S. Census data.
Increased spending couldn't save all small businesses
Roughly $800 billion in forgivable loans was doled out to American small businesses through the Paycheck Protection Program. And much of those funds did precisely what they were intended to do — save small American businesses during their toughest time. However, not everyone got the relief they needed. When looking out across their communities, many Americans saw small-business owners throw in the towel.
Nearly half of Americans (45%) saw locally owned restaurants and bars closed permanently because of the pandemic, 39% saw locally owned storefronts permanently closed and 30% saw locally owned service providers (such as gyms and salons) permanently closed due to the pandemic.
"Businesses that rely on an in-person experience really struggled to regain any footing during COVID," Sheehy says. "On the flip side, those that could quickly pivot to an online model — by building a social media and e-commerce presence or leveraging existing ones — were able to keep the lights on and in some cases grow their reach."
Pandemic spurred new business openings
The seemingly contradictory economic effects of the pandemic on American households extended into small businesses. While many were shuttering their doors forever, some were opening. More than 1 in 10 Americans (12%) have started a small business since March 2020, according to another new NerdWallet survey.
The most common motivations these new small-business owners cited for their new ventures include: the need for additional income (39%), the business was something they "always wanted to do" (39%) and they had more time to spend on planning and startup because of the effects of the pandemic (37%). One-third (33%) of these new business owners said the pandemic and its effects created a market for the goods or services they wanted to offer.
Starting a new business always involves some risk, but some of these new small-business owners increased the stakes by using credit cards or liquidating assets such as investments or their retirement accounts to fund the startup.
"Startups often have a hard time securing funding, which can lead to risky and expensive moves," Sheehy says. "Instead, look for business loans that cater to new businesses, such as an SBA microloan or Community Advantage loan. Credit unions and community development financial institutions also tend to have more flexible lending terms than traditional banks."
New small-business support could be permanent
These new small-business owners will be encouraged by the near-term outlook: 40% of Americans are still making an effort to shop more at small and locally owned businesses compared with before the pandemic. In addition, 29% of Americans plan on spending more with these businesses between now and the end of the year than they currently are.
Small Business Saturday — held the day after Black Friday every year — will provide another boost. More than 2 in 5 (43%) of Americans plan to spend money at small and locally owned businesses on that day.
"When you shop at a small business, you're supporting more than just that one establishment, you're investing in the community as a whole," Sheehy says. "That attracts new business owners and creates a ripple effect that bolsters everything from property values and business growth to community pride."