The 16 Best Pop-Up Shop Ideas for 2022
Pop-up shops can help drive brand awareness, gain customers and drive sales to your small business.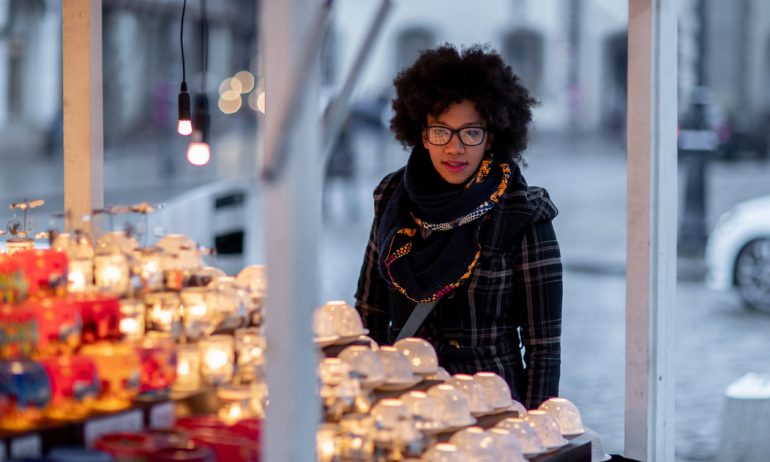 Many or all of the products featured here are from our partners who compensate us. This may influence which products we write about and where and how the product appears on a page. However, this does not influence our evaluations. Our opinions are our own. Here is a list of our partners and here's how we make money.
Whether you started a business online or in a brick-and-mortar location, pop-up shops are a great way to increase your brand awareness, gain customers and drive sales. Although there's been a move away from brick-and-mortar stores as e-commerce has grown, many brands are finding that customers still like to experience their products or services and buy in person. And, customers may even be more motivated to buy if they experience a product in store versus purchasing online.
Exploring pop-up shop ideas and setting up a location could be a great next step in giving your customers a unique experience and driving sales. Not sure where to start? We'll cover several of the best pop-up shop ideas so you can find the one that's right for your business.
What are pop-up shops and why are they important?
Pop-up shops are temporary locations that enable customers to interact with products they're often not able to, often for brands that only sell online. They can also be extensions of existing physical stores, popping up as new locations in other areas, or providing different product experiences than usual, such as demos or curated selections. Pop-up shops are an example of experiential marketing, designed to draw more customers to your store and build brand awareness.
The importance of customer experience in pop-up shops
Pop-up shops are all centered on customer experience. Because one of the main points of a pop-up shop is to drive traffic that turns into sales, it's important to consider what kind of interaction a customer wants to have with your product in a novel way.
Are customers looking for demos? Are they looking for exclusivity? Are they looking to have a sensory experience? Are they looking to access your product in an unusual location? Consider all of these factors, which will help steer you to the best pop-up shop idea for your business.
16 creative pop-up shop ideas
Once you've figured out what you think your customers will respond to and what you're hoping to accomplish as a business with your pop-up store, it's time to choose the best pop-up store idea for you. Hopefully, you'll be excited to see that there are lots of options to pick from, or use as a jumping-off point to brainstorm your own.
The holidays are obviously big for many retailers — sales jump and consumers are very focused on not only spending, but also on finding the right gift for their recipients. You can consider launching a pop-up shop that's timed to the holiday shopping season, potentially opening between Halloween and Thanksgiving, when people begin to gear up for gifting.
Think about giving your pop-up location a holiday theme, which may potentially motivate buyers to purchase as they get into the holiday spirit.
2. Interactive product demos
Many e-commerce businesses don't have brick-and-mortar outlets that enable customers to touch, feel, try, or even smell products. This might make customers hesitant to pull the trigger on a purchase if they're not entirely sure that they're going to like it in person.
One of the best pop-up shop ideas is to create interactivity with your products and even demonstrate them to customers. This can be especially important if your product has a slightly higher-than-average education component, which is easier to teach in person than online.
For food, beverage and other consumer-packaged goods, sampling pop-ups can be a huge boost. You can set up a pop-up station that enables customers to try your product and then purchase on-site. This can prompt not only confidence in your product, but even help spur impulse purchases, since customers will hopefully want more after they taste.
For a sampling station, you might want to consider a mobile pop-up, such as a cart or a truck, to reach more customers. (More on this below.) This will let you go to where the customers are, rather than having to wait for them to find you.
Pop-up shops are generally small, which means there's an emphasis on curation. One pop-up shop idea to consider is curating a themed shop, where customers get a specific selection of products from your line that all have something in common.
This could be any number of things. For instance, if you set up your pop-up store in New York, you could have urban-themed merchandise. Or, maybe you're a clothing company that wants to just focus on your T-shirt line. Curating your selection can help consumers see many products they identify with, instead of having to search for one they like. It could even drive sales when they see how your products relate to each other.
Customers often love the opportunity to meet special guests in person. If you have brand ambassadors — celebrities, influencers, experts — invite them to exclusively appear at your pop-up shop. This can drive foot traffic, especially for fans who might not be in your normal demographic.
Here, make sure you take advantage of social media to let people know who is going to be there, and see if you can ask your guests to promote your content on their channels as well.
Don't underestimate the power of competitive spirit. If your product lends itself to competition, invite customers to face off against each other in front of a panel of judges, or even fellow shoppers.
For instance, maybe you have a food product — host a competition over who can use your product to make the best dish. Or maybe you have clothing and you can create a competition over who can style one item the best. There are lots and lots of possibilities, so get creative here.
Your pop-up store doesn't have to be within a tent or a traditional storefront. If you have a small product, consider popping up vending machines in high-traffic areas. Here, customers will instantly be able to get access to your product without having to wait for it to ship to them. It might even drive impulse purchasing. This could work for a number of different products: packaged food, makeup, books and more.
Customers always like to learn from experts who can teach them how to get the most out of a product. Maybe you bring in an esthetician for mini spa treatments to demonstrate your skincare products. Maybe you have a personal stylist to help customers pick out clothes. Maybe you have a chef demonstrate how to use your spices. You can bring in outside experts, or utilize your own staff members if you have an expert on your team.
Some companies like to offer promotions to customers who visit their pop-up shop. For instance, you can offer limited sales on certain products, or a percentage or dollar figure off of certain purchases.
You can also consider giving away free products with a purchase that are only available at the pop-up shop. For instance, maybe you have a fragrance company. Customers who purchase a full-size bottle could get a free bonus of a travel size, too.
Pop-ups don't just have to exist in stationary spaces. A mobile store is a great idea for many businesses that want to reach lots of different customers in different locations and neighborhoods. This could be a truck, van, bus or a cart — whatever suits your business best.
And mobile stores aren't just for food brands, like a food truck. You could set up a station to try products or experience them outside of the physical vehicle, too — which can help bring in additional passersby as well.
Another trendy pop-up shop idea is customization — enabling buyers to customize their products on-site. Maybe this means monogramming or picking special colorways. If customers usually have to wait to get their products personalized, being able to provide this service same-day could be an incentive to purchase.
12. Previews and early releases
A lot of brands build up anticipation for product launches. And you don't have to be a major electronics company with a stage to get customers hyped for the next thing in your product line. Consider building a pop-up that enables customers to preview new products or styles that are coming (you might even find valuable feedback from customers as they interact with your new products, too).
Alternatively, your pop-up store might enable customers to get their hands on a new release faster than customers who are just shopping online.
Bring customers to your pop-up store with entertainment. Music, dancing, photo booths — anything that customers will find exciting (or Instagrammable) and want to go out of their way to attend. If you're hosting a performance, create breaks between sessions so customers can spend time shopping around, too.
Another pop-up shop idea is to create a product that's only available at the pop-up. Maybe it's a certain scent or colorway, a new design, or a limited edition of one of your products. This can drive customers, especially big fans of your brand, to show up to your pop-up to get their hands on a product that they otherwise couldn't under normal circumstances.
If you're an ethical company, consider integrating giving into your pop-up shop. You can donate a percentage of the profits from your pop-up shop to a charity that aligns with your brand's mission. For example, say you run a company that creates reusable products to avoid disposable plastic. You could take 10% of your profits from your pop-up and donate them to a cause that fights ocean pollution.
16. Behind-the-scenes look
Providing a behind-the-scenes look at your brand gives shoppers an exclusive experience. Consider hosting a pop-up store that shows how your product is created from start to finish. This isn't for everyone, especially those who outsource their products. But for handmade goods, this could be an interesting approach.
This article originally appeared on JustBusiness, a subsidiary of NerdWallet.