QuickBooks Time Review 2022
QuickBooks Time is an ideal timekeeping solution for QuickBooks Online customers, but it also plays well with other payroll software.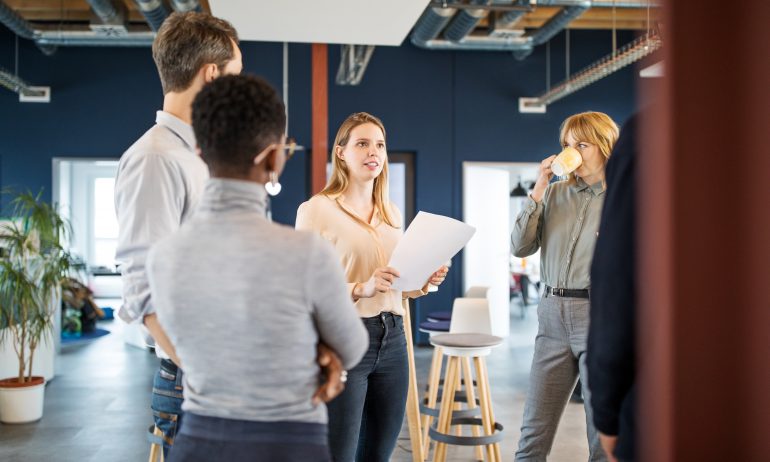 Many or all of the products featured here are from our partners who compensate us. This influences which products we write about and where and how the product appears on a page. However, this does not influence our evaluations. Our opinions are our own. Here is a list of our partners and here's how we make money.
QuickBooks Time lets you manage your team's time and schedules without the need for a physical time clock or cumbersome spreadsheets. It is available in QuickBooks Online and integrates seamlessly with QuickBooks Payroll, ADP, Gusto and other popular payroll software. QuickBooks Time is well-suited for remote teams and for businesses with employees who have to travel to a job site.
Unlike other time tracking software, QuickBooks Time has all the features you need to do job and project costing, as well as light project management. QuickBooks Time integrates with QuickBooks Online, so data entry for payroll and billing is virtually eliminated. Its basic HR features — like managing paid time off — will also reduce the need for additional software. All of these features make QuickBooks Time an excellent deal for your small business.
With multiple ways to clock in and out, as well as friendly — and clever — reminders when they forget, your employees may actually enjoy tracking their time.
The industry standard for bookkeeping and other services.
Premium: $20/month + $8/user/month.

Elite: $40/month + $10/user/month.

Base fee for both pricing levels includes 1 admin user.

Ease of sharing with accountants

QuickBooks Time is easy to share with accountants and payroll providers.

With no maximum number of users, QuickBooks Time can easily scale with your business.

More than two dozen integrations, including QuickBooks Payroll, ADP, Gusto, Patriot, Square Payroll and OnPay.

In addition to payroll management, Elite users have access to mileage tracking, project progress, timesheet signatures and geofencing.

Unlimited live customer support by phone, chat, or through the app is available Monday through Friday from 6 a.m. to 6 p.m. Pacific time.

QuickBooks Time is very easy to use.
How does QuickBooks Time work?
QuickBooks Time is available to business owners and accountants inside of QuickBooks Online, under the Apps menu. After the QuickBooks Time app is connected to your QuickBooks Online subscription, you can begin the customization process. Customization includes:
Setting up jobs or activities. This allows your team to specify what they are working on, which lets you manage your team's productivity and your business's profitability.
Creating schedules. Do you have shift workers or run job crews? You can create and manage their schedules in QuickBooks Time, and even send them text and email alerts to let them know when they work next.
Create PTO policies. From vacation to sick time to bereavement leave, QuickBooks Time allows you to create paid time off policies for your team, and allows your team to request PTO, with or without prior approval. PTO requests flow right into your schedules, so you can see at a glance if you need to reassign employees to cover planned absences.
Set up geofencing (Elite subscription only). GPS location tracking is available to both Premium and Elite QuickBooks Time subscribers. Elite subscribers can also enable geofencing. Geofencing reminds employees to clock in or out when entering or leaving a job site. It also suggests a list of job options associated with each location. This results in more accurate time tracking and job costing. A mobile phone or other device with cell service is required for GPS tracking and geofencing, and employees are only tracked while they are clocked in.
Once you have customized QuickBooks Time, your employees can start using it. Your team will have features like:
Multiple ways to clock in/out. Employees can clock in and out using a web dashboard on a computer, the QuickBooks Time mobile app, or a time kiosk (tablet, laptop, or desktop computer required.)
Clock in/out reminders. Do you have employees who chronically forget to clock in or out? Do you find yourself begging them to submit their timesheets each pay period? QuickBooks Time will send them reminders via text message, email or the mobile app.
PTO tracking. Your employees can see at a glance how much PTO is available to them now, as well as how much they are projected to have at a future date.
When it's time to run payroll, it takes three clicks to approve timesheets from QuickBooks Time, transfer them to QuickBooks Payroll, and process payroll. No data entry is required. Billing your customers? That's a little more complicated — it takes five clicks (but still no data entry).
How much does QuickBooks Time cost?
Unlike other time tracking software, like Timesheets.com and Toggl Track, QuickBooks Time charges both a base fee and a per-user fee. QuickBooks Time Premium subscribers will pay $20/month base, plus $8/user/month. QuickBooks Time Elite subscribers will pay more: $40/month base, plus $10/user/month.
When you compare the QuickBooks Time base fee to the cost of an employee to manage scheduling, PTO, and data entry for payroll — not to mention customer billing — you can clearly see the value of this "additional" charge.
Benefits of QuickBooks Time
There are numerous benefits to using QuickBooks Time. TSheets, the original creators of QuickBooks Time, built the app to be intuitive and time-saving, both for you and your employees. In addition to the benefits listed above, some of our favorites are:
Integrations outside of QuickBooks Online and QuickBooks Payroll. Companies that need more robust HR, job costing and project management services than QuickBooks products provide can easily integrate QuickBooks Time with one of the numerous partners in the app marketplace.
Best-in-class support. QuickBooks Time Support has over 75,000 5-star reviews, meaning you're unlikely to experience the frustration that is common with other time tracking software.

Never wonder who is on the clock. Not every employer will want or need to use GPS tracking and geofencing. If you have a remote team with a flexible work schedule, though, you might find yourself constantly wondering who is working. With QuickBooks Time's easy-to-find "Who's Working" widget, you can see who is working with just a click of your mouse.
Drawbacks of QuickBooks Time
Some businesses might find QuickBooks Time's base-plus-subscriber fee outside of their budget, especially if they have a very large or very small workforce. And other businesses with simple time tracking needs might find QuickBooks Time to be too robust for them.
The biggest drawback of QuickBooks Time, though, is its inability to track employee attestation in states with rest period requirements for employees. Failure to provide rest breaks when and as required by state law can result in costly penalties for employers. The burden is on the employer to ensure rest breaks are offered and taken. If your business is in a state that requires rest breaks for employees, you should consider an alternative time tracking solution with an attestation toolkit.
Alternatives to QuickBooks Time
There is no shortage of time tracking solutions available. Many of these offer similar features to QuickBooks Time. Some good alternatives to QuickBooks Time include:
Small businesses and freelancers might find Timesheets.com to be a good alternative to QuickBooks Time. With no base subscription fee and lower per-user fees than QuickBooks Time ($4.50/user/month for a Standard subscription), Timesheets.com is a great solution for the business on a budget. There is even a price discount for nonprofit users and a free version for freelancers.
Timesheets.com offers many of the same features as QuickBooks Time, including time tracking, PTO, mileage and expense tracking, and an integrated human resource system.
At $9-$18/user/month, Toggl Track's per-user subscription is higher than that of QuickBooks Time. However, since Toggl Track doesn't have a base subscription fee, you could still come out ahead budgetwise if you use Toggl Track with your small team. Toggl Track also has a free option for up to five users, so if your team is very small, Toggl Track could be a good solution for you.
Toggl Track scales for large and complex organizations, too. If you need a customizable solution for your business, Toggl Track Enterprise might be a better option for you than QuickBooks Time.
Kronos provides full workforce management, including time tracking, payroll, scheduling, and human resources management. It also provides an attestation toolkit for employers in states that require rest breaks for employees.
Kronos is too complex for most small businesses with simple time tracking and payroll needs. However, if you're looking for a complete workforce solution for your medium-size business, Kronos could be a good fit for you. Interested business owners should contact Kronos for a consultation and price quote.