Shopify vs. Amazon: Which Should You Use?
With Shopify, you have full ownership over your store; with Amazon, you can access a broad audience.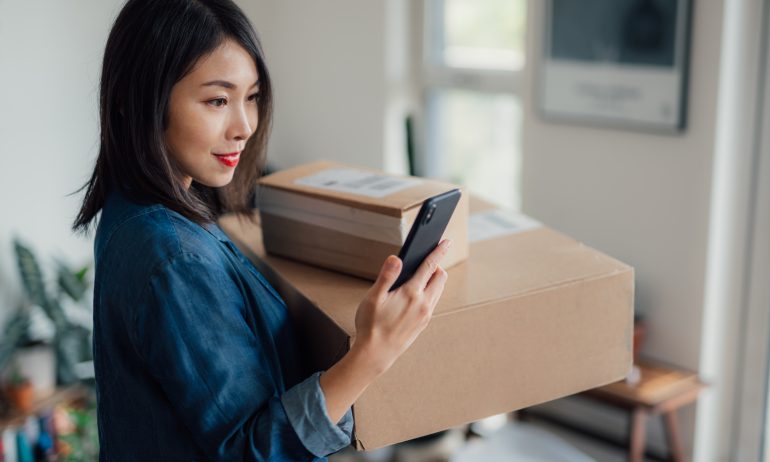 Many or all of the products featured here are from our partners who compensate us. This influences which products we write about and where and how the product appears on a page. However, this does not influence our evaluations. Our opinions are our own. Here is a list of our partners and here's how we make money.
As a digital business owner, one of your most important decisions is deciding which e-commerce platforms you should use to sell your goods online — and, as two of the biggest names in e-commerce, it's likely you'll end up deciding between Shopify and Amazon. While both have advantages and disadvantages, you may find your business benefits from using a combination of both platforms.
If you decide to sell through Amazon, you can leverage the platform's huge, existing Amazon audience without needing to take on much small-business marketing yourself. But with Shopify, you have full ownership over your online store, including its branding, layout and customer experience. Here's what to know before choosing one or both.

$29
Basic Plan. Shopify & Advanced Plans Available. 
Shopify is a powerful cloud-based e-commerce store platform that enables online retailers to easily build and manage standalone digital stores. Shopify is scalable, too: companies as big as Staples, Bombas, Heinz and Crate & Barrel all use Shopify to power their online stores, but the platform's basic service plans are equally suitable for single-person operations.
Users can choose from over 80 professionally designed templates that they can customize however they see fit, and they'll accept payments online through Shopify Payments, the platform's built-in payment processor that's powered by Stripe. Then, you can take advantage of Shopify's huge amount of store- and customer-management features, like social media integration, discounts and gift cards, secure customer information storage, connection with fulfillment centers (including Amazon) and more. If Shopify doesn't provide the solution you're looking for, you can likely find it on the Shopify App Store, which aggregates thousands of apps that are compatible with your Shopify store and which can help you further streamline your processes. Also, if you need to sell your products in person in addition to online, you can use Shopify POS, the platform's range of physical point-of-sale hardware.
Shopify offers three primary plans, which increase in monthly fees, features and capabilities, as well as discounts on Shopify Payments and Shopify Shipping. Some features that all three plans share are an endlessly customizable online store, unlimited products, 24/7 customer support, the ability to sell on other online marketplaces and social media channels, manual order creation, discount codes, a free SSL certificate and abandoned cart recovery.
All Shopify plans include access to Shopify Payments, Shopify Shipping and Shopify POS Lite, though again with varying discounts and capabilities.
Basic Shopify: $39 per month.

Advanced Shopify: $399 per month.
Alternatively, enterprises and businesses handling large order volumes can opt for Shopify Plus, which charges customized pricing. At the other end of the spectrum, the smallest of small businesses selling on Shopify, like hobbyists and side hustlers, can sign up for Shopify Starter. For $15 a month, this plan lets you sell on social media or on your existing website or blog by embedding a Shopify product link.
If you sell your products on Amazon (or if you sell your services through Amazon Home Services), you're given automatic access to a customer base made up of millions of people around the globe. For that reason, selling on Amazon is incredibly useful for new or very small businesses that don't yet have enough inventory to create a standalone online store and build up a customer base. Amazon is equally valuable for established online businesses as a supplementary revenue stream and to redirect a new contingent of customers back to their dedicated online stores.
Although it can take time to get the hang of selling on Amazon — and you'll need to make sure you're aligned with Amazon's rules and regulations — setting up your seller profile and listing your products is relatively straightforward. As a major bonus, you can take advantage of Fulfillment by Amazon (FBA), so Amazon will store your inventory for you then handle packaging and shipping when your orders come through. (If you're only selling a few products, though, you can choose to handle fulfillment yourself.) You can take a look at our comprehensive guide to selling on Amazon for a step-by-step look at becoming an Amazon seller.
If you want to start selling on Amazon, you'll first choose between Amazon's two service plans: Individual or Professional.
The Individual plan works best for small-business owners who plan to sell under 40 items per month. This plan doesn't require a monthly subscription fee, but you'll need to pay $0.99 per sold item, plus Amazon's additional selling fees, like variable closing fees and shipping fees.
The Professional plan costs $39.99 per month. You won't need to pay per-item selling fees with this plan, but you will need to pay a referral fee that varies according to the item's category, as well as variable closing fees and shipping fees.
On top of your selling fees and monthly subscription (if you have a Professional plan), you'll also need to pay Fulfillment by Amazon (FBA) fees if you're using the service for order fulfillment and/or inventory storage. Amazon's costs can become a bit confusing to track and calculate, so you can take a look at the Amazon Fee Schedule for a more detailed breakdown.
What do small-business owners and marketing experts say about Shopify vs. Amazon?
When we asked small-business owners and experts their opinions about Shopify and Amazon, the majority actually recommended using both platforms. You can use Shopify to build your standalone online store, which is vital for branding, customer relationship management, and generally having control over how you choose to sell and market your products. At the same time, you can use your Amazon profile as a valuable sales channel, and a means of driving traffic back to your Shopify store.
They're not mutually exclusive
"Shopify and Amazon are both great platforms for e-commerce, and they're not mutually exclusive. For companies selling products, Amazon is nearly essential due to the volume of traffic that it offers. Shopify is a great complement to Amazon; there are even apps within Shopify to directly link the inventory of the two. For instance, if you use Fulfillment by Amazon, you can use your Amazon inventory to fulfill orders from both Amazon and Shopify (this is called Amazon MultiChannel Fulfillment).
"Plus, Shopify provides a valid web presence, which boosts the trust of Amazon shoppers who are searching for your site. Lastly, there are limitations within Amazon as to how much information you can provide about your product and brand. On the other hand, Shopify allows you to fully display your product information, and your store will certainly help with branding."
— Laura Douglas, e-commerce and Amazon specialist at FountainheadME, a marketing company.
Use both to expand your reach
"Ideally, an effective e-commerce campaign should have an official website, hosted with a service like Shopify or WordPress, and a strong presence on platforms like Amazon. Combining these tactics will allow you to reach out to a wider audience and rank across more high volume, relevant searches, leading to increased conversions. Having a primary e-commerce website allows you to rank for organic search results and utilize onsite tools and customization that can't be found on platforms like Amazon. The main advantage of Amazon is the ability to reach out to a massive audience — Amazon accounts for the majority of e-commerce sales and can be a viable gateway to future sales on your main site."
— Matt Benevento, senior SEO specialist at Geek Powered Studios, an SEO and web design company.
The best option depends on your business
"It's best to sell on both platforms, but prioritizing one over the other depends on the small-business' skills and competition.
"Amazon is a great marketplace to start on for a small-business owner that doesn't have their own customer base or a good idea of their target customer. This is because more than 50% of Americans have an Amazon Prime membership, so customers are already on Amazon shopping for your product. However, if you have a lot of competitors and the Amazon market is saturated, you can have a tough time due to higher advertising costs compared to other platforms...
"If you're a new business that launches on Amazon, you can use your Amazon sales to grow your brand and send traffic to your Shopify. You can also use your Amazon customer data to build your target customer profile...
"At the same time, if you're a small business who already has a dedicated customer base and customer profile, you could easily build your own Shopify and traffic."
— Youn Jung Chung, founder of Dal Enterprises, which builds software for Amazon sellers.
"Most important is channel ownership. With Amazon, you don't own the platform you're selling on. The trade-off is access to the Amazon brand and the recognition the platform has internationally, and access to worldwide customers that already trust the Amazon brand. But tethering your business to a single digital marketplace comes with risks.
"Recently, Amazon ousted a number of merchants without warning, forcing many merchants to grapple with the fallout of their single-channel strategy. There are other detractors to Amazon that should also be weighed carefully, but the ultimate takeaway to merchants is this: Amazon is out to build [its] own bottom line, and if your business no longer factors into [its] plan, you may find yourself without access to this prime channel anymore.
"With Shopify or Shopify Plus, merchants own their channel and the property they sell through. There are challenges to this approach as well, but they mostly center on driving traffic to your site (provided your products are what people want to buy). It will take more time and investment to build your audience, but the trade-off here is that this channel is yours. Shopify never removes sellers from [its] e-commerce platform without very good reason (like repeated copyright infringement, which requires multiple filed complaints and review by Shopify before removal)."
— Jessica Thiele, the Director of Marketing at VL OMNI, a data integration platform.
A version of this article was first published on Fundera, a subsidiary of NerdWallet.