Square POS System Review for 2022: Transparent Payments, Useful Features
For small-business owners looking for a top-notch POS system, Square is an easy choice.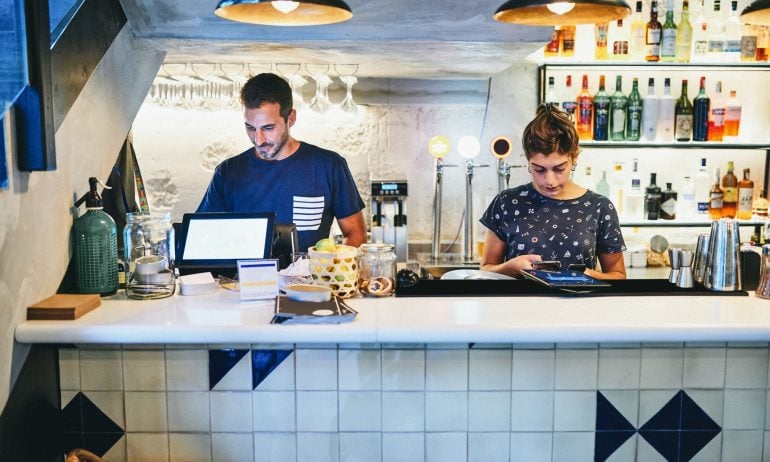 Many or all of the products featured here are from our partners who compensate us. This may influence which products we write about and where and how the product appears on a page. However, this does not influence our evaluations. Our opinions are our own. Here is a list of our partners and here's how we make money.
Square is a standout cloud-based point-of-sale system that's mobile-friendly, rich in features and priced in a straightforward way. For retail businesses, restaurants and professional services, it's an excellent choice. It's also NerdWallet's choice for best overall POS system. New business owners, in particular, can benefit from Square's quick setup and easy-to-understand fees.
Founded in 2009, Square helped usher in the era of using tablets and mobile devices where you'd usually find big cash registers. Today, it's a dominant brand with more than 2 million users.
Accept payments without worry
See our payment provider recommendations that fit your business.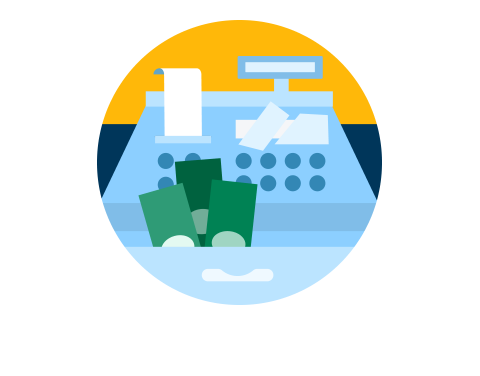 Running a transaction on Square can begin in many places: on a phone in a food truck, at a register in a store, on a wireless reader carried to a restaurant table or on your website.
In addition to providing the merchant-customer interface, Square acts as a third-party payment processor. This means that it sends merchants funds and coordinates the transaction with the various financial-services companies involved. The company is known for its simple and reasonable fee structure, which is the same regardless of the card used.
Once a customer's card is swiped, tapped, inserted or keyed in, the card's information is sent to Square, which works with various financial institutions to complete the transaction. If approved, Square transfers merchants the funds, minus a fee. Although credit card networks, such as Mastercard and Visa, set interchange rates that can vary by card type, you pay Square a set fee regardless of the card used.
Square transfers funds to your bank account on the next business day or, for a 1.5% fee, instantly. If you sign up for a Square Card account — that is, a debit card with Square — instant transfers are available for free.
Square also can help you with managing a customer loyalty program, issuing and accepting gift cards, setting up an online store, facilitating curbside pickups, managing your staff and more.
Square offers a free version of its POS system. It also has a paid version that's $60 per month, called Square Plus, which comes with additional industry-specific features. Add-ons are available for an additional fee (more on that later.)
Square Premium is a paid version that's a tier above Plus and comes with custom pricing and more features; eligibility rules apply.
How much does Square cost?
For POS systems, there are three costs to consider: software, hardware and payment processing. Here's how Square stacks up.
Square offers a free version of its software, which is rare among POS systems.
Square Premium: Custom pricing; eligibility requirements.
Manage payroll: Starts at $35 per month plus $5 per month per employee.

Email marketing system: Starts at $15 per month.

Manage customer loyalty program: Starts at $15 per month.

Manage appointments, which includes online scheduling and an email reminder system: Free for individuals, $50 per month for two to five employees, $90 for six to 10 employees.
Square charges flat fees for processing credit card payments. They don't change based on the type of credit card used. Online transactions cost more, which is a standard business practice to account for the increase in potential fraud compared with in-person purchases.
| | Free version (no monthly fee) | Square Plus for Retail ($60/month) | Square Plus for Restaurants ($60/month) | |
| --- | --- | --- | --- | --- |
| | 2.6% + $0.10 per transaction | 2.5% + $0.10 per transaction | 2.6% + $0.10 per transaction | |
| | 2.9% + $0.30 per transaction | 2.9% + $0.30 per transaction | 2.9% + $0.30 per transaction | |
You could use Square with the smartphone or iPad you already have. Square makes its own hardware, too. Even if you use your own device, you'll almost certainly want at least a basic card reader (unless you want to type in credit card info by hand, which, aside from being time-consuming, costs extra). Here are your options:
Magstripe reader for iOS or Android phone: Free. Plug in the roughly one-inch square, which comes with either a headset jack or Lightning connector, and start swiping. (But don't forget: A merchant who swipes a card that has a chip is probably going to be on the hook in any payment dispute).

Wireless reader: $49. You can use this to accept chip cards, contactless payment, Apple Pay and Google Pay. This looks like a larger version of the smaller reader and accepts those additional payment types.

Swivel iPad stand: $169. This has a built-in magstripe swipe and comes with a wireless reader.

Terminal: $299. This is a small, all-in-one magstripe reader and contactless payment console. The difference between this and the wireless reader: The Terminal's top side is a touchscreen, allowing you and your customers to complete transactions without any additional devices, and it also prints receipts.

Register: $799. This has a built-in touchscreen for you and a smaller, customer-facing touchscreen. It accepts all of the payment types other Square readers do, and you can purchase accessories, like a printer or a bar code scanner.
Transparent and simple payments
With Square, you pay a flat percentage of each transaction plus a flat fee. That makes it much easier to predict payment processing costs. For example, you'd pay the same rate on a transaction whether it was paid for with an American Express credit card or a Visa. In contrast, payment processing companies that use interchange-plus pricing have transaction fees that fluctuate depending on the type of card used. Square isn't the only company to offer a flat-rate pricing structure — and it isn't the flat-out cheapest — but it does have a good track record of keeping pricing simple. Another bonus: There's no contract or early-termination fees. If you ever feel like switching, it won't cost you.
Square offers an array of hardware options, ranging from a quarter-sized reader that plugs into your phone, to a register with two touchscreens. With that flexibility, you can design a variety of checkout experiences. Customers can pay at their table or you can swipe cards out of your truck. You can even allow payments offline if your internet connection isn't great.
Square can also help you build an online store and facilitate curbside pickups.
Useful features and live support
Square's overall lineup of features is impressive. For instance, its inventory management system allows you to add unlimited items and set up low-stock notifications; you can also manage and create reports for multiple locations. You can scan and print bar codes for retail, and for restaurants, you can make adjustable floor plans and set up a Kitchen Display System, or KDS, to show incoming orders from all channels. With all Square subscription levels, you'll get access to live support through phone, email or instant message.
You also have the option to add on certain features for additional fees, such as a loyalty program, which allows customers to earn rewards when they shop with you. There's also an appointment scheduling add-on, with options to accept prepayment or charge cancellation fees.
While you might not use every feature in Square's system, having so many options in one ecosystem can be a time-saver for small businesses.
More specialized POS systems exist
Square offers different versions of its POS system for restaurants and retail. These come with industry-specific features, like a menu builder or the ability to print barcodes. That said, some other POS systems designed for a specific industry might offer even more specific features that meet the nuanced needs of your business.
Say you want a POS system for a restaurant. Toast might be a better option because of its restaurant-specific features. For instance, it allows you to automatically fire orders to the kitchen in a staggered way according to prep time needed so they're done at the same time. The Toast KDS also comes with foreign language support, which isn't available on the Square KDS. And Toast hardware is spill-proof and water-resistant.
Doesn't run on Windows desktop or tablet
Square revolutionized the industry by enabling merchants to swipe cards on their smartphones. Square currently works on iOS and Android phones and tablets. It also works on Macs and Chromebooks. But if you were hoping to run Square on your Windows device, it won't work.
Consider the POS system Vend if you want to use a Windows desktop or tablet device. Vend works on a wide range of devices, including PCs, Macs, iPads and Microsoft Surface Pros. Its outstanding features also make it a top POS choice for retail outlets.
Square is a good option, especially for new and small businesses. It offers a strong core of useful features and a number of optional paid add-ons that allow you to efficiently build out your business without the need to piece together systems from various vendors.