Clover vs. Square: Which POS System Is Right for Your Business?
Square is an all-in-one solution with simple pricing, but Clover allows you to set up your own merchant account.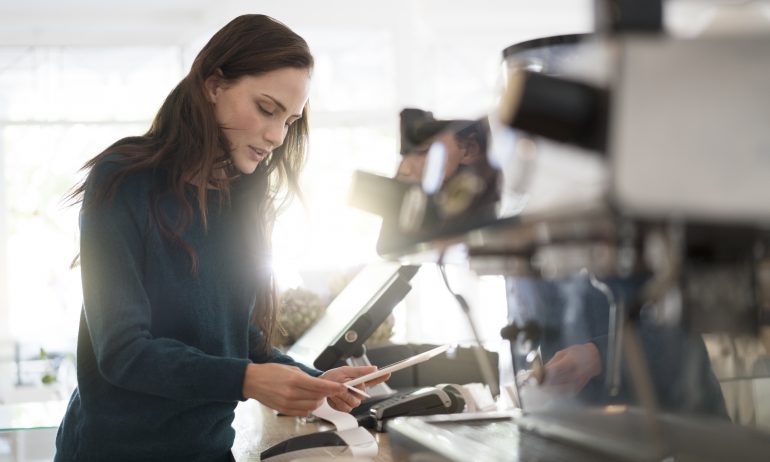 Many or all of the products featured here are from our partners who compensate us. This may influence which products we write about and where and how the product appears on a page. However, this does not influence our evaluations. Our opinions are our own. Here is a list of our partners and here's how we make money.
Point-of-sale systems from Clover and Square can help you accept credit card and mobile wallet payments at your brick-and-mortar business or online.
The biggest difference between Clover and Square is how they collect those payments. Square puts them into a merchant account that it owns and then passes them along to individual business owners. With Clover, you'll need to set up your own merchant account, either through Clover's owner Fiserv or a supported third party.
While Square's costs are consistent for most businesses, Clover's can vary depending on the merchant account and hardware you choose. Some business owners might appreciate that level of customization and control. But if you want a simple, all-in-one solution, Square may make more sense.
Here's how Clover and Square stack up.
Clover vs. Square: Head-to-head comparison
$9.95 per month for no-hardware users. For hardware users, monthly fees range from free (for "just payments" software) to $69.95.

You can use Square with no monthly fee or pay $60 per month for a Square Plus plan, which comes with additional features.

Note: These prices are based on using Clover's parent company Fiserv as your merchant service provider. If you use a different provider, your costs may differ.

In-person transactions: 2.6% plus 10 cents or 2.3% plus 10 cents, depending on which hardware you use.

Online and keyed-in transactions: 3.5% plus 10 cents.

In-person transactions: 2.6% plus 10 cents.

Online transactions: 2.9% plus 30 cents.

Keyed-in transactions: 3.5% plus 15 cents.

Handheld card reader: $499.

Stationary registers: $749, $1,349 and $1,649.

You can purchase POS hardware and a merchant processing account directly from Clover or through partners, including Wells Fargo, PNC, Citi, Restaurant Depot, Sam's Club and more. You may be able to use an existing merchant services account with Clover devices.

All Square users are added to Square's merchant account — no need to work with a separate merchant services provider.

24/7 phone and email support.

Phone, email, live chat and social media support available from 6 a.m. to 6 p.m. Pacific time for free users and 24/7 for Plus and Premium users and those using Square for Restaurants on Square Register.
Square is simple, plug-and-play software that can run on iOS and Android devices. Because Square users are automatically added to Square's merchant account, you don't have to shop around for merchant account providers.
It's important to note that some merchant services providers may charge lower transaction fees than Square does. For example, Payment Depot's most popular plan charges 10 cents per transaction plus an interchange fee that varies among credit card providers. With consumer Mastercards, for instance, the interchange fee would be 1.58%. This plan comes with a $99 monthly fee, however.
But if you're looking for a straightforward fee schedule where all cards cost the same, Square offers it. Plus, you can try the software for free using Square's magstripe reader, so you can switch if it doesn't suit your needs.
Payment processing and merchant account included
Square handles the payments process end-to-end. When users buy a POS device, they also agree to use Square to handle the back end of their transactions. Users become sub-merchants under Square's merchant account rather than having to open their own account, and they don't have to manage relationships with any other vendors.
With Clover, these parts of the payment process are a little more disjointed. Clover sells POS hardware itself and through a variety of partners — from financial institutions like Citi to retailers like Restaurant Depot. When you purchase a Clover POS, you have to apply for a merchant account from the partner financial institution.
If you already have a merchant services account and don't want to switch, this may be a plus — provided your existing account is supported. But if you're just starting to accept payments, it may introduce extra confusion.
Easy-to-understand pricing
Square gets high marks for its transparent pricing. Clover has a different fee schedule for each POS device, with different monthly fees and different transaction fees depending on your level of service. Plus, the costs on Clover's website aren't necessarily the prices you'll pay if you purchase Clover through a third party.
Square, on the other hand, charges businesses that process less than $250,000 annually the same flat rates for in-person and online transactions regardless of what hardware they're using.
You can start using Square with its free, quarter-sized card reader that connects to cell phones. Clover doesn't offer any free options.
As your business grows, Square's hardware options are significantly cheaper than the comparable ones from Clover. For example:
Square's wireless reader, which accepts chip cards and mobile wallet payments, is $49 compared to Clover's $99.

Clover offers a small stationary register for $749. Square doesn't have a comparable product, but its iPad stand offers similar functionality and costs just $149.

Both offer registers with a customer-facing screen, which cost $799 from Square but $1,649 from Clover.

Clover offers a hand-held card reader that a restaurant could use tableside and costs $499, whereas Square's comparable offering is only $299.
Free support for e-commerce
Businesses that already have an online store can embed Square's Online Checkout on their existing website for free — except for Square's transaction fee of 2.9% plus 30 cents for online payments.
Further, Square lets users set up an e-commerce website for free without knowing any code. With Square Online, for example, restaurants can accept online orders for pickup or delivery and create QR codes for in-person ordering.
To use Clover for online transactions, you'll have to pay a subscription fee of $9.95 per month plus a transaction fee of 3.5% plus 10 cents. And to set up a website, you'll have to use one of Clover's app integrations or build it yourself.
Similar to Square, when you purchase a Clover device, you can opt for free "just payments" software. For a subscription fee, you can also scale up to more feature-rich versions with inventory management, item-level reporting and the application of discounts and taxes.
Clover's website isn't necessarily easy to navigate if you aren't familiar with its products, however. If you're struggling to understand which Clover POS fits your needs best, consider calling Clover's sales team.
Flexibility in merchant processing
If you value having your own merchant account or working with a particular provider, Clover can likely support that. More than 3,000 retailers sell Clover products, many of whom also offer merchant accounts. If you already have a merchant services account, you can call Clover to see whether it's supported.
There are pros and cons to using your own merchant services provider rather than working with a payment services provider like Square. PSPs may be able to get you your money faster. But because they control the merchant account you're using, PSPs may also be able to lock you out of your account if they suspect risky activity.
When you have your own merchant account, you don't cede control of your funds in that way.
Lower transaction fees for some users
If you use the Clover Mini or Station Solo at the "Run and Grow Your Business" level, you'll only pay 2.3% plus 10 cents for in-person transactions. However, you'll also pay a subscription fee of $39.95 or $69.95 per month.
If you work with your own merchant acquirer, your transaction fees may be lower than what's quoted on Clover's website. The larger your business is, the more you stand to benefit from opening your own merchant account since the per-transaction savings will add up over time.
If you're looking for the most affordable POS solution, do some math to see whether Square or Clover would be cheaper for your business over time — particularly when you also compare merchant services providers.
Clover vs. Square: Which one is right for your business?
Square alone can support the bulk of a business's payments and point-of-sale needs, from its reasonably priced hardware options to the entities that make payment processing possible.
With Clover, you'll have to have your own merchant services account, which makes the shopping process more complex. In the long run, however, it could save you money on transaction fees. Plus, it's less likely your transactions will temporarily be suspended, which has been a source of frustration for some Square users.
If you're looking for the most straightforward pricing, Square is the better choice. But which will be more affordable in the long run depends on your business, which Clover system you're considering and which merchant services provider you work with.