Top 3 TriNet Competitors in 2022
While TriNet may be comprehensive, it isn't right for everyone.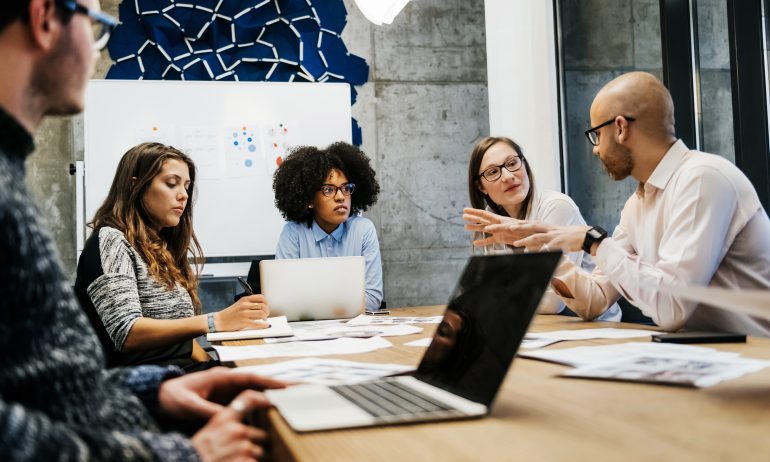 Many or all of the products featured here are from our partners who compensate us. This may influence which products we write about and where and how the product appears on a page. However, this does not influence our evaluations. Our opinions are our own. Here is a list of our partners and here's how we make money.
TriNet provides comprehensive HR and payroll services to over 16,000 small and midsize businesses across the country. And we mean it when we say comprehensive: As a TriNet client, you can have access to full-service payroll services, HR consulting, insurance and benefits administration and expense management and time and attendance tools, all of which you and your employees can access from an app and online dashboard.
TriNet also provides dedicated risk mitigation experts for each of their available services, which ensures that their clients remain above board with their processes and decision-making. Clearly, it makes sense for TriNet to be at the top of your list when you're researching HR providers — but there are lots of TriNet competitors you should be considering, too.
Because as comprehensive as TriNet is, this service isn't necessarily right for every small-business owner. If you look at our TriNet review, you'll see that the major drawback we reported is the price — since TriNet bundles their services, costs can add up quickly. Owners of very small businesses simply may not need the full range of services TriNet offers, in which case they can find solutions that are less expensive, more streamlined and provide more intuitive tech (which was another drawback we noted about TriNet).
In this article, we'll take you through three of the best TriNet competitors out there for small-business owners. All three of these platforms provide a combination of HR and payroll services (and more), and we're certain that they're well worth your consideration.
The top 3 TriNet competitors for small-business owners
Ahead, we'll go through three of the best TriNet competitors for you to look into, including each provider's major features, pricing and other need-to-know information.
Since its start in 1971, Paychex has become one of the best-known and most trusted names in payroll solutions for small to midsize business owners (currently, it services about 605,000 small-business owners) — so we would be remiss not to include this institution on a list of the best payroll providers. This employer services provider is highly rated, too. Paychex has an A+ rating on Better Business Bureau and Inc named Paychex Flex the overall best HR outsourcing solution for small businesses.
Paychex is comparable to TriNet in their huge range of services, but for small-business owners in particular, it actually offers three, separate platforms: one for self-employed individuals, another for businesses with up to nine employees and another for businesses with 10 to 49 employees. (From there, their solutions are tailored to businesses with 50 to 10,000+ employees). So regardless of your business's size or growth rate, you'll certainly find the service you need with Paychex.
For a better idea of what Paychex can do for your business, here's a brief overview of the major features with Paychex Flex, their payroll plan designed for small businesses:
Enter payroll information online or via mobile app.

Automatic payroll tax administration (Paychex will calculate, pay and file federal, state and most payroll taxes on your behalf).

Time and attendance tools.

Group and individual health insurance.

Workers compensation insurance.

Employee self-service portal.
But that's just scratching the surface. Paychex can provide additional services like payment processing, online marketing services and incorporation services. Paychex can also provide more hands-on HR support, either in the form of a dedicated HR consultant or as a PEO for business owners who want to fully outsource their HR processes. Business owners can also integrate compatible HR, time and attendance and accounting software into their Paychex platform so they can further streamline their processes.
Like most HR and payroll solutions, Paychex doesn't make their pricing readily available on their website, as pricing is based on your business's size and which of their services you'd like to use. You can receive a free quote by providing basic information about your business either through an online form or by calling and speaking to a sales representative.
The oldest and largest HR and payroll company in the nation, ADP began as a payroll processor in 1949 and has since expanded into providing comprehensive HR solutions for 800,000 business owners (according to their data, ADP pays one of every six employees in the U.S.).
As you would imagine, ADP's services are just as comprehensive as Paychex's and TriNet's. And even though the company is over 70 years old, it's fully adapted to the tech age with their cloud-based payroll system. That means you can automatically manage all of ADP's services you're using — whether payroll, HR, time and attendance, benefits or more — entirely from your computer, tablet or phone.
As you would also imagine, ADP is equipped to serve businesses of all sizes: small (one to 49 employees), midsize (50 to 999 employees) and enterprise (1,000+ employees). But here, we'll touch on some major features available for small businesses in particular.
ADP is known first and foremost as a payroll service provider and it offers four payroll processing packages for small businesses alone. All four packages will automatically calculate, deduct and pay taxes on your behalf; run payroll; automatically create and send necessary tax forms; and pay your employees via paper check, direct deposit or debit card. Depending on which payroll plan you sign up for, you'll also get certain bundled HR services.
Here's a quick overview of what else each ADP small-business payroll package can offer:
Essential: Basic payroll and payroll tax services, plus an employee self-service portal and new hire onboarding.

Enhanced: Everything included with the Essential plan, plus secure check signing, state unemployment insurance, background checks and a ZipRecruiter account.

Complete: Everything included with the Enhanced plan, plus phone and email access to dedicated HR experts and additional HR training, tools and documents.

HR Pro: Everything included with the Complete plan, plus more HR support.
ADP can provide several employer services beyond what's offered in their payroll plans, including:
Retirement plans (401(k), SEP IRA or SIMPLE IRA).

Workers compensation insurance.

Full HR outsourcing to ADP's PEO solution.
ADP clients can also take advantage of ADP Marketplace, the "digital HR storefront" where you can search and download compatible, third-party HR apps. You can easily browse according to the solution you need (like benefits administration, recruiting and onboarding or POS integration), industry or size.
You'll need to contact ADP directly to receive a free quote. Pricing varies depending on which payroll package you choose, your business's size, how often you run payroll and other factors.
Also, be aware that ADP Run plans charge a base fee plus a per-employee fee every time you run payroll — so if you have lots of employees and/or run payroll often, the cost for this service can add up quickly.
While TriNet, Paychex and ADP can all service small-business owners, Gusto is designed primarily for the smallest of small businesses. Its offerings aren't necessarily as robust as the former three payroll service providers, but this all-in-one platform still offers all the payroll services, benefits, insurance and HR support that new or very small businesses need. Gusto may also very well boast the easiest and most intuitive user interface on this list: This cloud-based software is modern, streamlined and very clearly designed for (and by) 21st-century entrepreneurs.
Gusto offers three plans that include a combination of payroll and HR services, designed to suit businesses of increasing size and needs. All plans include full-service payroll services, including automatic payroll tax calculation and filing, payroll compliance assurance, direct deposits, employee self-service portals, benefits and workers compensation administration and varying levels of HR support.
Here's a closer look at other Gusto service plan features.
Simple: The most basic and affordable option, Core clients receive everything explained above, as well as access to unlimited email, chat and phone support.

Plus: Along with everything included in the Core plan, Complete clients get more advanced HR tools like PTO approvals, employee offers and onboarding support, employee directories and surveys, built-in time tracking tools and PTO policies and time-off requests and approvals.

Premium: The most comprehensive HR solution, Concierge clients have access to dedicated HR professionals, a dedicated customer support team and a full HR resource center.
Business owners who have contractors and no W-2 employees can opt for their Contractor plan, which charges $6 per contractor per month.
Regardless of which plan they choose, Gusto clients can also choose certain add-on services to any of these three service plans, including health benefits, retirement plans, workers comp insurance, 529 college savings plans and tax-advantaged savings accounts including HSAs, FSAs and commuter benefits.
For the most part, Gusto provides a transparent pricing structure:
Simple: $40 per month, plus $6 per person per month.

Plus: $80 per month, plus $12 per person per month.

Premium: Quote-based pricing.
Add-on services cost extra, but those prices are clearly delineated on the Gusto website. Also, note that workers' compensation and health benefits cost no administration fees; you'll only pay premiums.
Which TriNet competitor is right for your business?
If you own a very small business with just a few employees, or if you only employ contractors, we'd probably recommend using Gusto as your payroll and HR services provider for its ease of use, clear pricing model and simple interface.
Beyond that, ADP and Paychex (and TriNet) are fairly comparable in their available services; and they all have customized, quote-based pricing. So for the most part, deciding which of these employer services platforms is right for your business will come down to price, which platform offers you the services you want and need and how comfortable you feel using your platform's interface.
The only way to know for sure which of these TriNet competitors works for you is to contact their respective sales representatives, receive a quote and use the opportunity to ask any questions you may have about their services.
This article originally appeared on Fundera, a subsidiary of NerdWallet.