The 6 Best Veterinary Business Loans and Practice Funding
A combination of various veterinary business loans might be the most effective way to start and grow your practice.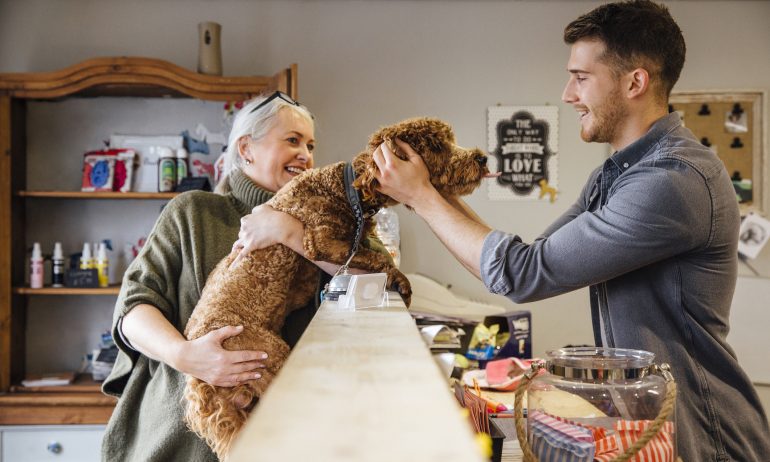 Many or all of the products featured here are from our partners who compensate us. This influences which products we write about and where and how the product appears on a page. However, this does not influence our evaluations. Our opinions are our own. Here is a list of our partners and here's how we make money.
As a veterinary practice owner, you're more than a doctor—you're a small business owner too. Although your primary concern will always be caring for animals, it makes sense to be concerned about your practice's finances. Business loans—or, more specifically for your scenario, veterinary business loans—can make sure that you have the capital you need to start or expand a practice.
If you've done any research into veterinary practice financing up until this point, you'll know that there are several types of business loans on the market. That's especially true since online lenders and their multifaceted offerings have become more prominent and trustworthy in recent years.
To help you navigate this search, here's an overview of the types of financing that make the most sense for veterinary practices. Once you understand these options, you can review your own financials to choose what will make the most sense for your unique practice.
Veterinary business loans: The 6 best options
1. Conventional bank loans
If you need veterinary practice financing, it makes sense to first explore the least expensive option—conventional bank loans. Bank loans can offer qualified borrowers some of the lowest interest rates, highest loan amounts and longest repayment periods on the lending market. And lucky for vets, some banks offer loans designed expressly for veterinarians to open new offices, expand their existing practices, purchase equipment, secure general working capital and more.
It's always best to start your search for a bank loan with an institution that has a branch near your home or office since you'll likely need to apply for bank financing in person. That said, take a look at Bank of America, Live Oak Bank and Bankers Healthcare Group, all of which offer specialized veterinary practice loans.
You should know going in that it's not easy to qualify for a bank loan, as banks are notoriously risk-averse. In your business loan application, be prepared to show evidence of steady profitability and a strong credit score, and you may need to put down collateral as well.
Ultimately, the only way to know whether you're eligible for a veterinary business loan from your bank is to speak with them directly.
Another highly coveted loan, the SBA 7(a) loan is disbursed by banks but guaranteed by the U.S. Small Business Administration, a federal agency that helps American businesses grow and thrive. Because of that government backing, banks are a bit less risk-averse in approving SBA loans, which makes these loans more accessible to borrowers who may not otherwise qualify for bank financing.
This is not to say that SBA loans are easy to qualify for by any means. On top of meeting SBA eligibility requirements, you'll need to go through a lengthy loan application, provide lots of documentation and give your lender a detailed explanation of your business and your intention for your loan funds. All in, the application and approval process can take up to a few weeks—so if you're in a time crunch, an SBA loan might not work for you right now.
That said, SBA loans are sought after for a reason: Loan amounts range between $5,000 and $5 million, interest rates begin at 7.75% and repayment terms can extend up to 25 years, depending on the project you're financing.
While the SBA offers several loan programs, SBA 7(a) loans are by far the most flexible and the most appropriate for financing several facets of your veterinary practice: purchase equipment, buy real estate to expand your practice, acquire another practice, or use the funds as general working capital, among other approved use cases.
3. Online short-term loans
Term loans are the right type of loan if you need to finance a single, large purchase. But if you can't yet qualify for an SBA or conventional bank loan, you're not out of luck! Consider applying for a term loan from an online lender, instead. Generally, online short-term loans last between three and 18 months, interest rates start at 10% and amounts range between $2,500 and $250,000. Online medium-term loans are generally repaid over one to five years, interest rates range from 7% to 30% and loan amounts max out at $500,000.
Online lenders exist to offer fast access to capital, particularly for business owners who banks turned down, so they're much easier to qualify for than traditional institutions. The approval and funding processes are super-fast, too, which makes this the best option if you need access to funds ASAP.
Because they're working with a "riskier" pool of borrowers, alternative lenders need to protect their interests in case a customer defaults. For that reason, short-term loans tend to have higher interest rates, shorter repayment periods and lower loan amounts than bank loans. But, as always, your loan's price and terms are contingent largely upon your credit history, business financials, the intended use of funds and the particular lender with whom you're working.
The best use for online term loans is general-purpose working capital. For example, if you need medical supplies for your practice or need to pay suppliers or your staff, you can take advantage of the fast funding from an online term loan.
4. Business line of credit
Almost every small business owner, vets included, can benefit from having a business line of credit in their back pocket. These renewable resources are one of the most effective financing tools for accessing emergency cash—whether you need to furnish wages for a new group of veterinary assistants, replace a broken piece of equipment, or meet increased demand after promoting your practice.
The great thing about a business line of credit is that you don't need to tap into it—or pay interest on it—until you actually need the funds. Just withdraw whatever amount you need, when you need it. After you've repaid what you owe, your line will replenish itself back to the original amount.
Lots of banks and online lenders offer business lines of credit. Plus, lines of credit work well in tandem with other forms of financing. Use your line of credit to supplement an existing term loan, or to tide you over while you apply for larger loans and wait for funds to come through.
Other than your skills and experience as a vet, you rely on your equipment to take the best possible care of your patients—but that equipment doesn't come cheap. That's why vets who need to purchase, lease, or upgrade their most crucial tools should first consider equipment financing.
In this scenario, you'll approach your lender with a quote for the equipment you need. Depending on the equipment's value, your lender will front you 80%-90% of the cash you need to purchase those tools (if your credit is excellent, you might qualify for up to 100% financing). Just like any other loan, you'll repay your lender, plus interest, over a predetermined amount of time—and when you've met your debt obligation, you'll fully own that equipment. With leases, you won't own the equipment at the end of the lease term, but you will have the option to purchase the equipment.
Equipment financing is self-collateralized which means that, if a borrower defaults, the lender will simply reclaim the equipment they're financing. That's a built-in safety net; so in general, lenders are more willing to furnish equipment loans and leases to applicants with challenged credit scores.
As you know from managing your personal financials, credit cards are hands-down the most convenient way to pay for your incidentals. There's no reason why you can't use a credit card to pay for your veterinary practice's small daily purchases too. But as a business owner, make sure you use a dedicated business credit card for any purchases you make for your practice, whether it's a staff lunch, gas for your car when you're making a house call, or a new blood pressure monitor.
It's important to separate your personal and business expenses for many reasons, including tax and accounting purposes. But in particular, responsibly using a business credit card can help you build business credit, which may help you secure bigger veterinary business loans down the line. The credit limits for business credit cards are higher than those for consumer credit cards, which gives you much more flexibility to make large purchases without worrying about maxing out your line. Not to mention, your business could benefit from your card's cashback and rewards points.
The right business credit card for your veterinary practice mainly depends on what your personal credit score will qualify you for, as well as the perks and rewards you want to take advantage of. But it's safe to say that every business owner can use a little extra cash—so you can't go wrong by opting for a cashback card.
Which veterinary business loan is right for your practice?
As we mentioned, the veterinary business loan that makes sense for your practice depends largely on what you need to use your funds for. For instance, the type of loan that can help you purchase a commercial property to open a second location might not be the same one that can help you purchase a brand-new X-ray system. (Probably, a bank or SBA 7(a) loan would work best for the former scenario, while an equipment loan makes sense for the latter.)
Remember, though, that these loans aren't all mutually exclusive. In particular, business lines of credit make excellent supplementary resources to larger term loans and every small business owner should have a good business credit card in their pocket.
Of course, the business loan that's really best for your practice is the one you can qualify for and afford.
with Fundera by NerdWallet
This article originally appeared on Fundera, a subsidiary of NerdWallet.