My Airbnb's Canceled — Now What?
Last-minute cancellation is a real risk when booking an Airbnb, with relatively little recourse available.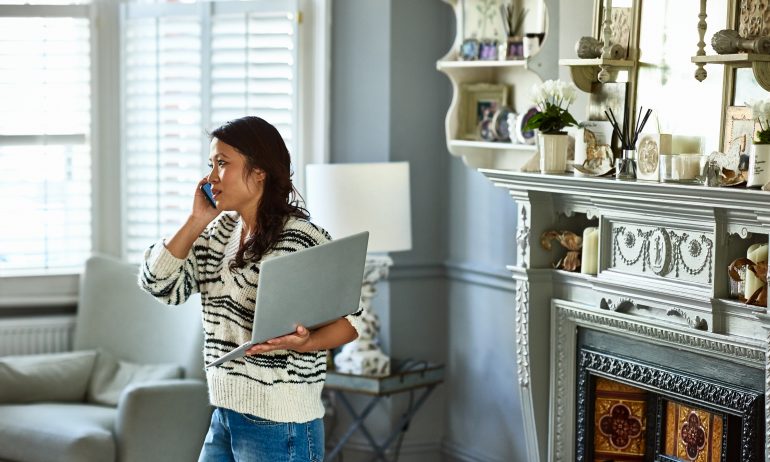 Many or all of the products featured here are from our partners who compensate us. This may influence which products we write about and where and how the product appears on a page. However, this does not influence our evaluations. Our opinions are our own. Here is a list of our partners and here's how we make money.
You finished all your projects at work, hired a cat sitter and unplugged your kitchen appliances. This can mean only one thing — you're ready to go on vacation. Suddenly, as you lower the temperature on your thermostat and walk out the door, you receive a push notification on your phone. Oh no! Airbnb canceled your stay!
Sometimes a host has the same listing on multiple vacation rental websites, such as Airbnb and Vrbo, and double bookings can happen, especially when a reservation is confirmed automatically. In other cases, property owners find themselves in the midst of unplanned renovations or a natural disaster without access to water or electricity.
And sometimes — yes, this also happens, unfortunately — a host thinks they can get more money for the same booking by canceling your stay and relisting the property. This can transpire during popular holidays and events, such as New Year's Eve or the Super Bowl.
Whatever the reason is, Airbnb cancellations might make you feel left high and dry. Here's what to do if an Airbnb host cancels last-minute and how to avoid being in this situation.
Airbnb cancellation policy
Before you book: Cancellation details are outlined in individual listings and can be viewed before payment. Cancellation flexibility generally varies from property to property, and typically falls into buckets like Flexible, Moderate, Firm, Strict, Long Term, Nonrefundable, Super Strict 30 Days, Super Strict 60 Days or special cases.

After you book: All cancellation options can be found in your account under "Trips." Navigate to "Show trip details," and the available cancellation policy will be visible. Potential refunds are likewise visible before any cancellations are finalized, and account for the length of your stay, when you cancel, and the individual listing's cancellation policies. You may get a partial refund rather than a full refund.

Extenuating circumstances: If an emergency or natural disaster disrupts your reservation, you may be eligible for a refund due to extenuating circumstances. COVID-19-related cancellations are not eligible for this coverage.
But what if you've followed the rules and policies but your Airbnb host cancels your reservation out of the blue? Here's what to expect if you find yourself in a similar pickle.
If your Airbnb host needs to cancel your stay, notify the platform
Can an Airbnb host cancel my reservation? Unfortunately, yes.
If a host decides to not host, don't cancel a stay yourself — even if they ask you to do so. Instead, fill out a cancellation request to comply with the platform's refund policy.
To fill out a cancellation request, follow the steps:
Go to Trips and select the booking in question.
2. Click on "Cancel reservation."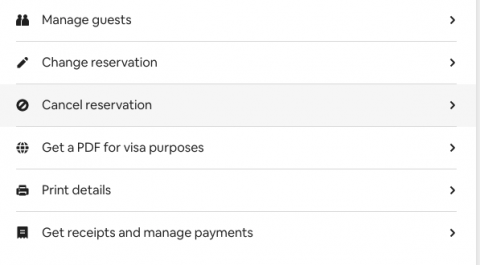 3. Choose "My host needs to cancel" as a cancellation reason.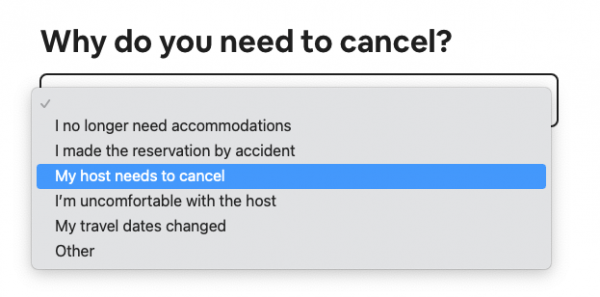 4. Answer the question "Did they say they can't host you anymore?" with "Yes."
5. Click on "Ask host to cancel."
6. When a host cancels your reservation, you can get your money back. If you cancel the booking yourself, you're out of pocket.
What happens to the host when they cancel last-minute?
To prevent property owners from canceling too many bookings, the vacation rental website implements the following procedures for hosts who cancel last-minute on Airbnb.
If a host cancels a reservation more than seven days before check-in, $50 is deducted from their payout.

If a host cancels a reservation within seven days before check-in, $100 is deducted from their payout.

The dates of the canceled reservation on the calendar may be blocked.

An automated review mentioning the cancellation is posted to the host's profile.

If the host cancels three or more bookings per year, their account may be suspended.
What to do after Airbnb host cancellations
Based on the refund policy, after an Airbnb host cancels last-minute, you have two options:
Find a new accommodation and apply your Airbnb credit, or
If you can find an alternative place to stay at a comparable price, great. In this perfect scenario, you're happy. The host is happy. Airbnb is happy. Everyone's happy.
However, most scenarios are far from perfect, and you might be choosing between a significantly more expensive lodging option or canceling the trip altogether.
In this situation, pay a visit to the Airbnb Resolution Center. You might be able to receive a credit toward another booking. For example, Airbnb might give you a 10% bonus toward a future stay. If it's not enough to cover the difference in price for new accommodations, push back and ask for more. Remember that there's no formal policy in place and you're at the mercy of a customer service agent.
At the end of the day, booking a short-term rental through Airbnb can be risky, and the customer service might not be able to help in time for your trip.
Does Airbnb refund if a host cancels?
If a host cancels your Airbnb reservation, you're eligible for a refund from Airbnb. It can take up to two credit card statements to get your money back, depending on the refund type you choose and where you live.
For example, refunds in the form of an Airbnb credit or to a PayPal account can be issued within 24 hours. Refunds issued to major credit or debit cards, Apple Pay or Google Pay can take up to 15 days. If your credit card is issued in Brazil, it can take up to two billing cycles to receive a refund.
To determine when you'll receive a refund for other payment types, click here.
How to protect yourself from losing money on Airbnb
Sometimes a hotel just won't do. Whether you need multiple bedrooms for a large family, a kitchen for cooking meals or a communal area for a group of friends to gather, a short-term rental is better.
If you have your heart set on a short-term vacation rental, here are some things you can do to protect yourself.
Search for listings by Superhosts with many five-star reviews.

If you see multiple reviews indicating a canceled stay, consider booking accommodations with another host.

Keep all your communication and transactions on the Airbnb platform.

Don't cancel any reservations yourself. Otherwise, you'll get charged.

Book a refundable hotel as a backup plan anyway. You don't want to be stranded without a place to stay.
You can also aim to avoid Airbnb cancellations entirely. The easiest way to avoid an Airbnb host cancellation is to not book accommodations on Airbnb. Unfortunately, a risk of being walked out on is always there for you, and Airbnb customer service isn't.
Many hotel chains have reservation guarantees in case of overbooking or closure. For example, on top of rebooking you elsewhere, Marriott's Ultimate Reservation Guarantee ensures its guests $100 to $200 plus 90,000 to 140,000 Bonvoy points, depending on elite status, if the chain can't honor a reservation. Hyatt, meanwhile, will provide a free night at a comparable hotel, as will IHG properties if a reserved room isn't available.
You might also consider purchasing a travel insurance policy and adding on a Cancel For Any Reason option. Though pricier than base coverage, this upgrade will help you get up to 75% back on your nonrefundable expenses — something helpful to have in your back pocket if your Airbnb is canceled last-minute and you can't afford to replace your lodging (but still have other nonrefundable travel experiences booked).
Airbnb cancellations, recapped
A host can cancel your reservation with little notice. In these circumstances, ensure that you notify Airbnb immediately with the reason for cancellation being that your host needs to cancel. This improves the likelihood that you will get a full credit or refund, depending on your preferred next step.
Hosts are discouraged from these practices, and certain parameters are in place to decrease the practice. That said, it happens, and it can put a huge wrench in your plans.
If you want to protect your Airbnb bookings, consider purchasing travel insurance with CFAR.
---
How to maximize your rewards
Get more smart money moves – straight to your inbox
Sign up and we'll send you Nerdy articles about the money topics that matter most to you along with other ways to help you get more from your money.