Are Plane Tickets Refundable?
If you bought a cheap fare, you likely bought a nonrefundable ticket, but there are still ways to recoup the cost.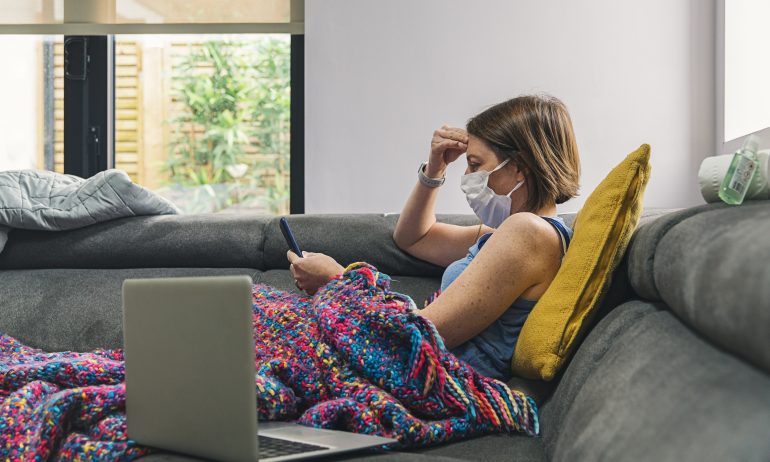 Many or all of the products featured here are from our partners who compensate us. This may influence which products we write about and where and how the product appears on a page. However, this does not influence our evaluations. Our opinions are our own. Here is a list of our partners and here's how we make money.
Whether you're heading to a sunny theme park or springing for a romantic Parisian getaway, booking your plane tickets takes time and planning. However, there is always an element of uncertainty when it comes to travel — and these days a variety of factors can disrupt even the best-planned vacations.
In such cases, you may be wondering, "Are plane tickets refundable?" The answer to this will depend on how and where you booked your ticket. Let's take a look.
Nonrefundable tickets vs. refundable tickets
Generally, there are two types of plane tickets: nonrefundable and refundable. On the surface, this seems uncomplicated, but there's more to it than that.
As the name suggests, refundable tickets are fully refundable, meaning you'll get the cash back (not a flight credit).
To gain this convenience, you'll need to pay a premium, which makes these tickets more expensive than nonrefundable airline tickets.

After booking, you'll be able to cancel these flights at any time and receive a full refund of your original form of payment.
Nonrefundable tickets are extremely common; you'll find them for all types of fare classes, including economy, premium economy, business and first class tickets. These will generally be the cheaper ticket options, with basic economy typically being both the cheapest and most restrictive ticket.
But can you get a proper refund of your money back on plane tickets even if they're nonrefundable? Yes, there are plenty of situations in which you may still be eligible for a refund of some kind on a nonrefundable flight.
Canceled or changed flights
This has become especially pertinent in the past few years as flight schedules have fluctuated dramatically. The U.S. Department of Transportation has regulations surrounding the refund of changed or canceled flights.
If your flight has been canceled by the airline, you're eligible for a full refund. This is true even if you've been rescheduled on another flight. You don't need to accept that flight, and can instead ask for your money to be returned.
You're also entitled to a refund for your ticket if your flight has been substantially changed. The rules aren't clear on how much of a schedule change needs to have occurred before the refund guidelines apply and each airline has a different approach. Delta Air Lines, for example, will give you a refund if your flight time has changed by more than two hours.
The Department of Transportation provides protection for those booking in advance. As long as your ticket has been purchased at least seven days before departure, airlines must offer one of two things: you can either hold the ticket without paying for 24 hours or purchase and cancel the ticket within 24 hours and receive a full refund.
Although federal regulations specify that these tickets must be purchased at least seven days in advance to be eligible for a refund, some airlines will allow you to cancel within 24 hours even if your travel dates are closer.
Be aware that these rules apply when purchasing your ticket directly from an airline only. Travel agencies and online travel agencies don't need to adhere to these regulations. However, they can do so if they choose.
Other considerations for nonrefundable airfares
Get money back in the form of future flight credits
Even if you've booked a nonrefundable flight, it might be possible to get a flight credit for your ticket. Many U.S. airlines have eliminated change fees, which means it's possible to cancel your ticket and retain the full credit toward a future flight.
Check the change-fee policy for your airline — these don't apply to all bookings.
Flight credits are issued by the airline and expiration terms vary. These credits can also be referred to as vouchers.
Basic economy tickets are typically ineligible
Although many basic economy tickets were refundable and changeable throughout 2020-2021, those benefits have generally been eliminated. These tickets are now usually completely nonrefundable and you will still need to pay change fees if the airline allows for changes.
Tickets booked with an online travel agency might be tricky
Be wary of booking with an online travel agency or OTA. Although these intermediaries can sometimes offer better prices than booking directly, you may encounter issues when attempting to change or cancel your flight.
OTAs can charge supplemental change and cancellation fees, even when the airlines don't. These fees can range upward of $250 per flight.
If you've booked through an online travel agency and want a refund for your flight ticket, you'll need to coordinate through the agency — not the airline.
Cancel for Any Reason insurance can help
CFAR insurance gives you the ability to cancel your itinerary and regain a percentage of the money you've paid, including nonrefundable flight tickets.
Tickets bought with miles
If you're looking to travel using your airline miles, many different airlines allow you to change or cancel your flight without penalty. You will have to pay the fare difference, however, if you're rebooking to a flight that costs more miles.
Some airlines may charge a fee depending on your elite status and when you choose to cancel, so you'll want to check before doing so.
If you're eligible for a refund on your plane ticket, airlines, travel agencies and OTAs have a duty to process your refund in a timely manner.
For airlines, the refund must be processed within seven business days if you've paid by credit card. If you used cash or a check — which you shouldn't — the refund must be processed within 20 days. The exact timeline isn't specified for travel agencies.
If you're considering a refundable airline ticket
Though they'll tend to be more expensive, fully refundable plane tickets are available. However, even if you've booked a nonrefundable ticket, there are still a variety of situations in which you may be able to get a refund.
Flight cancellations entitle you to a full refund regardless of the reason, while significant flight changes can also grant you a refund.
With updated change and cancellation policies across airlines, you may be able to get a flight credit even on a nonrefundable ticket. Be aware that booking through an online travel agency or opting for a basic economy ticket limits the refund options for your plane ticket, so you'll want to carefully consider this before booking.
---
How to maximize your rewards