Ask a Points Nerd: Are Travel Credit Cards Really for Me? (Hint: Probably)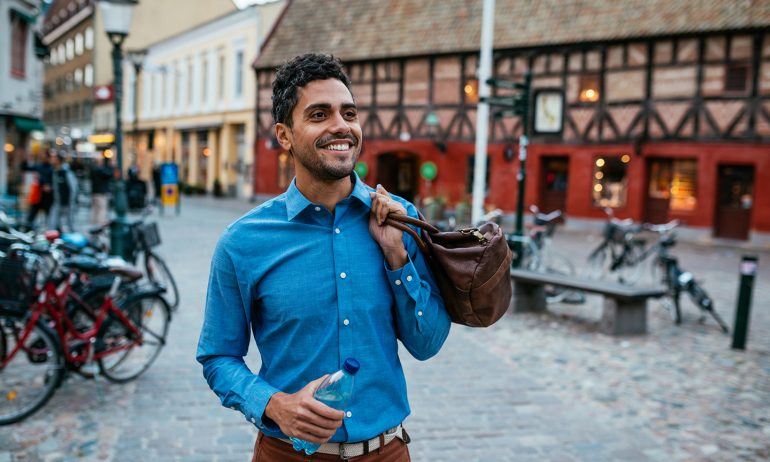 Many or all of the products featured here are from our partners who compensate us. This influences which products we write about and where and how the product appears on a page. However, this does not influence our evaluations. Our opinions are our own. Here is a list of our partners and here's how we make money.
You stare longingly into the airport lounge, where sharply dressed world travelers sip cocktails and nibble on those little cubes of pepper jack cheese that lounges always serve for some reason. Sigh. If only you were a frequent-enough traveler to join their ranks and nibble on some cheese cubes of your own.
Well, you might be. These days, many travelers access lounges with their premium (read: expensive) travel credit cards. Some are globetrotting frequent flyers, but others are normal travelers who leverage their credit cards to make travel more comfortable.
One of the most common questions I get is from semi-frequent travelers who wonder if they should sign up for a travel credit card at all. Many are daunted by the overwhelming number of options and worried about making the wrong choice.
The short answer: No matter how much you travel, you could probably benefit from adding a travel card to your wallet. The trick is identifying what you want and how much you're willing to pay for it. Whether you want to access pepper-jack-slinging lounges or just want to avoid some pesky fees, there's probably a travel card out there with your name embossed on it. Here are some reasons why.
We won't get fee-ed again
Many non-travel credit cards charge foreign transaction fees on purchases made outside the United States. This is like paying an ATM fee every time you buy a taco in Tulum or a pierogi in Poland. In other words, you should avoid these fees at all costs.
First, check whether your current go-to card charges foreign transaction fees. If so — and if you have any aspirations to travel abroad — pick up a card without them. Some of these cards don't carry annual fees, either, so you can get one and stick it in the drawer with your passport without even replacing your current card.
Of course, only get a new card if your credit is good and you're paying your current cards off in full. (Also, you probably shouldn't take a big international trip if you're not already paying your cards off completely. But hey, I'm just offering travel advice, not life coaching.)
Airline cards: Believe the hype
"Ladies and gentlemen, we are approaching our final descent and are thrilled to offer you an exciting opportunity if you sign up for the Gold Preferred Admiralty Elite Card …"
Yes, those in-flight sales pitches are annoying, and might leave you thinking any product pushed that hard can't be worth it. After all, why would airlines sell their cards so aggressively if they weren't making money from them?
For example, the Alaska Airlines Visa® credit card currently carries a $95 annual fee but also includes an annual companion fare, which significantly reduces the cost of a ticket for two people (though as of Jan. 18, 2023, new cardholders will have to spend $6,000 on the card in the course of a year to earn this perk). So if you have the card and you're able to remember, "Oh yeah, I should use that companion pass to book this ticket," then you'll probably get more than your annual fee's worth of value.
On the other hand: Be honest with yourself. If the mere thought of dealing with such things sends a wave of anxiety through your central nervous system, you might rank among the segment of cardholders from whom the airlines do make their money. Spare yourself the cost (and headache) and ignore the sales pitch.
Go big and go (away from) home
If you spend much of the year in the air or waiting in line at an airport Starbucks, you might consider a premium travel credit card. Not only do many cards offer lounge access with free (and wait-free) coffee, but they provide other perks like free TSA Precheck and hotel elite status.
How do you identify "premium" travel cards? It's easy — they cost a ton. Any card with an annual fee over $300 is pretty premium in my book, and you'll definitely want to do your research to ensure you'll get your money's worth.
A note of caution on lounge access. Many cards offer "Priority Pass" membership, which is a third-party service that provides "unlimited" lounge access with one big caveat: These lounges can deny access to Priority Pass members whenever they please. For example, I fly out of Terminal 6 in LAX, and the Priority Pass lounge there denies me access far more often than it grants it. So if you're looking for certainty, avoid Priority Pass.
If you've read this far, you're probably a frequent-enough traveler to justify signing up for a travel credit card. Now comes the hard part: Picking the right one.
Don't get stuck in analysis paralysis trying to find the perfect fit. When in doubt, sign up for a no-fee card. You can't really mess it up if it's free. And you can always switch to a more premium card once you're familiar with the tradeoffs.
The bottom line is that traveling should be fun, not a chore. So pick the card that alleviates your biggest travel hassle and doesn't complicate your vacation dreams.
Feeling overwhelmed about how to use your points and miles? I'm here to help. In this column, I answer your questions about the baffling world of travel rewards, cutting through the jargon to provide clear answers to real problems. Send your questions to [email protected]
---
How to maximize your rewards
Get more smart money moves – straight to your inbox
Sign up and we'll send you Nerdy articles about the money topics that matter most to you along with other ways to help you get more from your money.