The Best Hotels That Allow Pets
IHG's Kimpton brand leads the pack, but there are other chains and boutique hotels that may better meet your needs.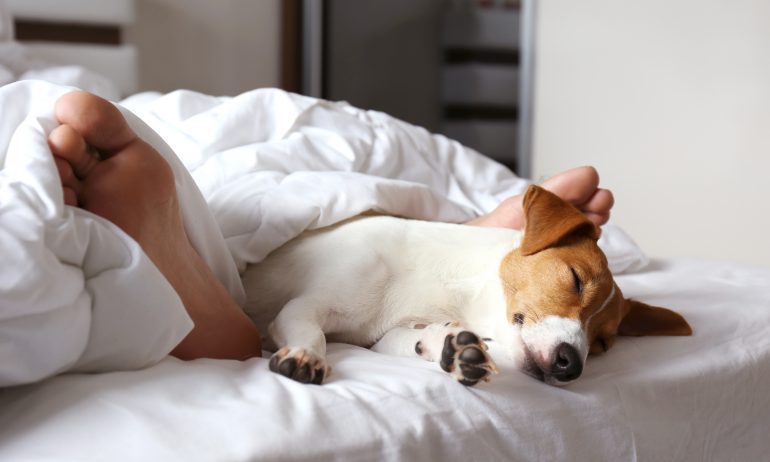 Many or all of the products featured here are from our partners who compensate us. This may influence which products we write about and where and how the product appears on a page. However, this does not influence our evaluations. Our opinions are our own. Here is a list of our partners and here's how we make money.
Are you the proud parent of a pandemic puppy or a quarantine kitty? Or maybe you're a long-time pet owner. Taking your pet along on vacation will not only avoid pricey pet boarding, but can also ensure you don't miss a day with your furry friend.
But there's a hard truth to swallow when traveling with pets: Many hotels that market themselves as "pet-friendly" aren't really pet-friendly at all. Pet-friendly generally is used in the hotel industry to refer to rooms that simply allow pets. But even among hotels that allow pets, many charge hefty pet fees or restrict their size, capacity or type (such as dogs only).
Luckily, pet-friendly hotels are out there. We combed through the fine print, fees and policies of all the major hotel brands to find hotels not only with no pet fees or size limits, but also hotels with delightful amenities like pet room service, custom dog treats and more.
We rated pet friendliness on four factors:
The percentage of hotels where pets are allowed.

The average pet fee as a percent of room rate.

The existence of a "pet-friendly" search filter on the website.
Here's how we ranked the seven hotel chains we analyzed.
IHG leads the pack to edge out Marriott properties. Hyatt is a solid option for your pets, with more pet-friendly policies than Best Western, Wyndham and the Radisson. Hilton is the least pet-friendly hotel according to our analysis, with inconsistent pet-friendly policies across the board. Two of its brands, Homewood Suites and Home2 Suites, are set to become 100% pet-friendly by January 2022, though pet fees could still vary per property, starting at $50 per stay.
Read our full methodology below.
The best pet-friendly hotels
IHG got full marks and won by a landslide. That's due in large part to one brand: Kimpton.
Kimpton's pet-friendliness has its roots back in 1981, when founder Bill Kimpton insisted upon bringing his own dog, Chianti, to work. Naturally, visitors can now easily bring their pet to Kimpton hotels, too.
There's no additional pet fee, and there aren't any size restrictions for pets beyond that it must fit through the door (so presumably no pet elephants). It's rare to find hotels that will allow any sort of pet. You can also theoretically bring the whole menagerie, as there's no limit on the number of pets allowed.
Kimpton also provides pet-friendly amenities like plush pet-bed loaners, bowls, mats, pet waste bags and door hangers to alert other guests and staff that a pet is in the room.
Kimpton is easily the best brand among the large hotel companies for pets, but a few other IHG brands are pretty good, too. Staybridge Suites accepts pets under 50 pounds, though fees vary and there are some restrictions around where pets can roam. Candlewood Suites accepts pets under 80 pounds, though also charges a fee (up to $75 for stays of six nights or fewer).
Still, many IHG properties aren't pet friendly. Over a third (37%) of the IHG properties we reviewed don't accept pets.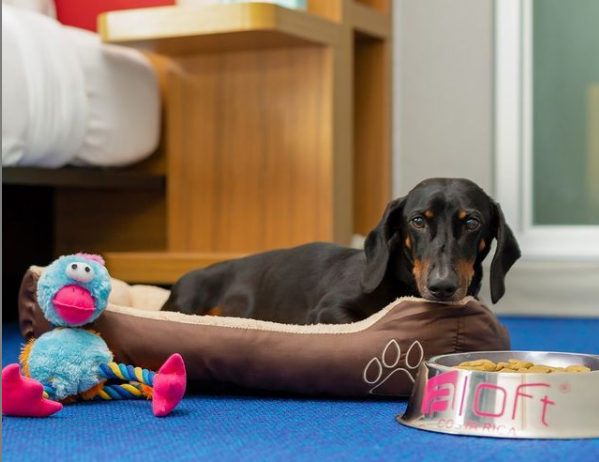 Marriott came in No. 2 in our list of best hotels for pets, and that's primarily due to two brands: Aloft and Element Hotels.
Aloft markets to pet owners with its Animals R Fun (abbreviated as ARF) program, which promises an Aloft bed, bowl and complimentary treats and toys.
However, unlike Kimpton (which doesn't charge pet fees), you may have to pay extra for pets at some Aloft properties. Fees vary, but we found one as high as $75 per night — that was at the Aloft San Francisco Airport.
Additionally, Aloft hotels all vary in their policies in terms of size limits and how many pets you can keep per room.
The Element Hotels Love that Dog program promises a dog bed, food, water bowls, cleanup supplies and more. Like Aloft, there are typically weight limits, and some properties charge fees.
Other Marriott properties
Of all the hotels in our analysis, 60% of Marriott properties accepted pets in some capacity (though they are a mixed bag in terms of offerings).
For example, at The Clancy in San Francisco, pet owners will be delighted to see the cost is a flat $100 for the entire stay, and there's no size restrictions on pets. Luxuries for your pet include a doggy robe, treats and bowls. Guests can stop by the outdoor lounge for "Yappy Hour" where they can even purchase dog cocktails (bone broth in cute serving containers). Just dogs and cats are accepted, and you can keep only one pet per room.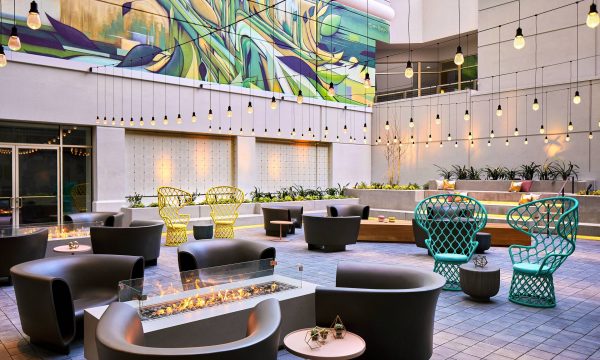 Hyatt was actually the most accepting of pets of all the hotels we reviewed. In our sampling of about two dozen Hyatt hotels nationwide, all but one allowed pets.
But while Hyatt properties generally allow pets, owners should expect to pay a lot. Many hotels, including the Hyatt Regency Waikiki Beach Resort and Spa, the Hyatt Regency Orlando and the Hyatt Regency Indian Wells Resort & Spa, had $150 pet fees. In fact, only one other hotel had higher average pet fees than Hyatt — Hilton (our worst-scoring hotel).
Additionally, Hyatt hotels tend to be restrictive in the types of species or breeds they allow. It can get confusing, as rules vary by individual property. One property might only accept dogs, but no cats. Another might accept all cats, yet some breeds of dogs (but not other breeds of dogs). Call ahead to understand if your pet will be invited in.
To its credit, many Hyatt hotels provide pet-friendly amenities and service you can feel good about. For instance, Park Hyatt Chicago donates the entirety of your $100 pet fee to an animal shelter.
At the Andaz Scottsdale Resort & Bungalows, the hotel's restaurant, Weft & Warp Art Bar + Kitchen, offers Dinner With Your Dog on the patio. Pets can be treated to a doggy menu that includes dishes such as the $8 Good Dawg (a flat iron steak).
Other pet-friendly hotels that we didn't rank (but are still great)
We ranked only the biggest hotel chains here. But, many boutique hotels and small chains are extremely pet-friendly. Other hotel brands to check out include:
Excellent for pet owners on a budget, one domestic pet can stay for free per guest room at most locations (and sometimes more, per management discretion). You're charged only if your pet damages the hotel property; however, limitations include that pets aren't allowed in some areas — including the pool deck — and they may not be left unattended.
Many Loews properties charge pet fees, but at some properties, Loews offers posh amenities for pets, including a room service menu designed especially for dogs and cats. Pets will also receive leashes, collars, litter boxes, litter, litter scoopers, placemats and water bowls. Plus, hotels provide customers with local dog-walking routes (and doggy pickup bags for the walk). Proof of up-to-date vaccinations are required.
Pet-focused boutique hotels
Some hotels are specifically designed for people who want to travel with their four-legged companions. Here are some incredible, pet-focused hotels:

Best Friends Roadhouse and Mercantile: If you're exploring the Utah and Arizona national parks on a road trip, stop at the Best Friends Roadhouse and Mercantile in Kanab, Utah, which specifically encourages stays for travelers with pets. Rooms have built-in dog beds, and you can expect amenities like complimentary self-serve washing facilities as well as cleaning products and a fenced-in park.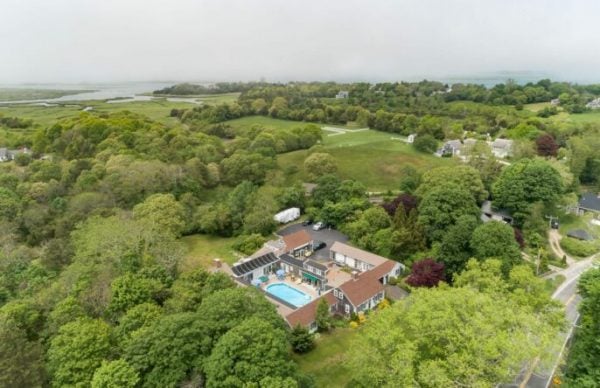 Lamb and Lion Inn: The Lamb and Lion Inn is nestled on 4 acres of land between rocky beaches and dog-friendly trails in Cape Cod. While there's a pet fee, it's a modest $25 per night. With that, you'll also get use of pet sheets, towels and water bowls.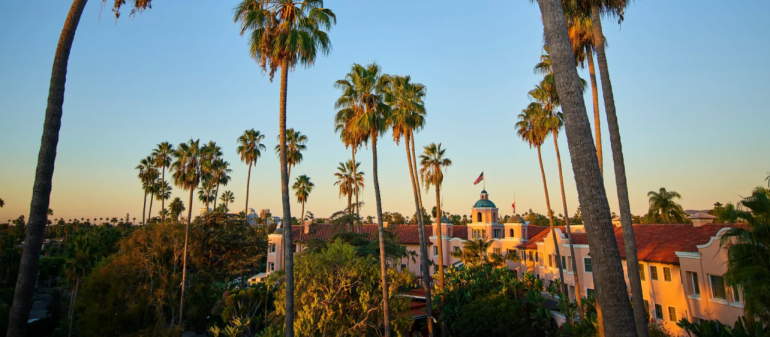 The Beverly Hills Hotel: Pets don't have to be excluded from glamour. At The Beverly Hills Hotel in the Los Angeles area, you'll pay a relatively small $35 nightly pet fee. With that, you'll get not only dog beds and bowls, but also customized bone-shaped doggy cookies with your pet's name handwritten on them by the hotel's bakers.
Methodology: How we made our pet-friendly hotel rankings
We analyzed more than 100 hotels across seven major hotel companies based on factors including whether pets are even allowed, average pet fee (both in terms of dollar figure and the pet fee cost relative to the overall room rate) and whether the booking website had a pet-friendly sort filter.
Distinguishing hotel companies and their brands
The major hotel companies (e.g., Hilton, Hyatt, IHG and Marriott) don't have standard pet policies. Instead, policies typically vary by sub-brand (so expect a different policy at Candlewood Suites versus Staybridge Suites, despite both being IHG brands). And even individual policies can vary by location, which can make rules extra confusing.
Our rankings prioritize hotels whose brands have consistent policies nationwide, so you can expect similar service no matter where in the country you're staying. Only a few brands had a consistent "Yes" for accepting pets at all properties, and even fewer had consistent policies around size limits or cost of bringing them.
In total, we gave each hotel a score of 1-5 in seven categories (5 being the best). Some categories were given more weight than others (e.g., we gave the most weight to whether a hotel allowed pets at all). Then, we calculated individual category scores to determine an overall score.
Here are the complete rankings of all seven hotel chains we analyzed and the seven categories they were judged on.
We looked at more than a dozen individual properties (and sometimes many more) across all hotel companies. Here are the factors we considered:
Allow pets: Whether or not they allow pets at all, in any capacity. Of the properties we looked at, we calculated what percent actually allow pets.

Fee: How much the pet fee was at hotels that allow pets.

Relative fee: To normalize for fancier hotels, we looked at what the fee was relative to the overall room rate.

Potential for $0 fee: Extra points for hotels with brands that explicitly don't charge pet fees at all properties within that brand.

Search feature: If a hotel offered a user-friendly search feature to filter for pet-accepting hotels.

Consistent policies: If the pet policy was the same at every property, versus if there were variations in terms of size limits, price, etc.

Extra amenities: If a hotel offers amenities like bowls, pet beds or treats.
Other policies to watch out for
When considering which hotel to book, it's not enough to just consider whatever hotel has the lowest fee. There are a few other policies and amenities to watch out for:
Can you leave the pet unattended?
Some hotels allow pets, but only if they're with you at all times. If you can't leave your pets unattended, that could be a problem when you're heading to a show, theme park or restaurant with a no-pet policy. Others let you leave your pet unattended, but only if they're contained to a crate.
Pet owners who want a few hours of vacation from their pet should consider hotels like the JW Marriott Orlando Bonnet Creek Resort & Spa, which allows pets to be left unattended in the rooms as long as the "pet at rest" and "pet in room" signs are hung. That signals housekeeping to not enter.
Can pets join in all common areas?
If you can't leave your pet unattended, and you can't bring it to the pool, will you really enjoy that hotel? Before booking, understand all the restrictions.
Some hotels require proof of up-to-date vaccinations, veterinarian proof that your pet is flea-free or other health documentation. Know what paperwork you need. And if you're a spontaneous hotel booker, you might want to pack it just in case.
If you're thinking about traveling with your pet ...
Kimpton is easily the best hotel brand for traveling with a pet. The only drawback is just that Kimpton is a relatively small chain, so good luck finding one at your destination. But if you do find one, then you're in luck. Pet lovers should pledge loyalty to Kimpton-owner IHG so you can guarantee extra amenities, plus no pet fees or other annoying limitations.
Otherwise, Hyatt is generally your best bet among the major companies for reliably finding a property that will accept your pets, but you'll probably have to pay for it. And even within Hyatts, do your research, as some properties are surprisingly restrictive and picky — allowing some species or breeds but not others.
When it comes to finding pet-friendly lodging, you may not always have your pick of the litter; instead, you may find yourself bound simply by whether or not a hotel allows pets. But many hotels are delightfully pet-friendly, which means it is possible to skip pet boarding (or begging your neighbor to pet sit) and bring your fluffy best friend on vacation with you.
---
How to maximize your rewards
Get more smart money moves – straight to your inbox
Sign up and we'll send you Nerdy articles about the money topics that matter most to you along with other ways to help you get more from your money.