The Best Las Vegas Hotels Without Resort Fees
You have only a few options if you want to stay near the Las Vegas Strip and avoid resort fees.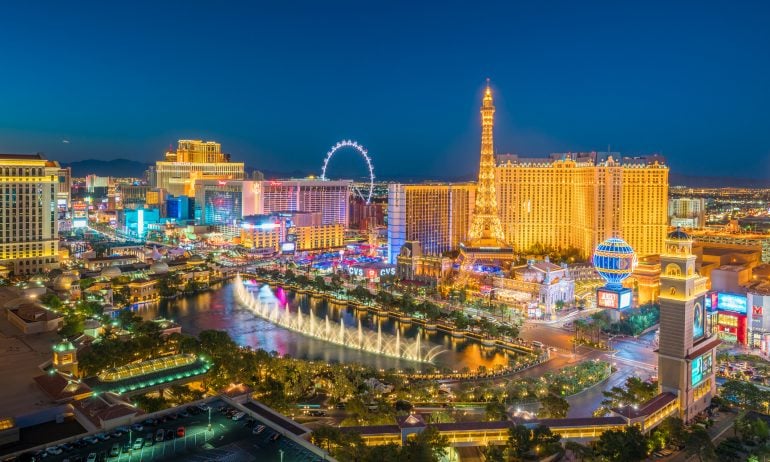 Many or all of the products featured here are from our partners who compensate us. This may influence which products we write about and where and how the product appears on a page. However, this does not influence our evaluations. Our opinions are our own. Here is a list of our partners and here's how we make money.
Any trip to Las Vegas comes with some built-in risks: Your number may never hit at the roulette table. The show you wanted to see may not live up to the hype. Your food and drink indulgence may turn out to be, well ... too much.
But if there's one thing more painful than a blackjack dealer drawing to a 21, it's getting hit with resort fees you weren't prepared for.
Here's a rundown of the best hotels without resort fees. We'll also cover strategies for avoiding these fees if you want to stay at places that charge them, plus the situations when you should just give in and pay the fees.
So, what exactly is a resort fee? It's a charge that is added to your hotel bill, usually on a nightly basis, on top of the regular room rate and tax. Based on a NerdWallet analysis, expect to pay an average of $40 per night for a resort fee at a hotel on the Las Vegas Strip. In addition, you'll be charged taxes on the fee.
What lavish perks do you get for $40 per night? MGM Resorts includes Wi-Fi, fitness center access, boarding pass printing and unlimited local and toll-free telephone calls. You'll find similar amenities included in the resort fees at other hotels — large and small, Strip and off-Strip.
In 2021, Wi-Fi in a Vegas hotel should be standard, and a fitness center is hardly worth $40 per day. Boarding passes are mostly mobile these days (or can be printed for free at airports).
And who is making so many phone calls from their hotel room telephone that they still consider this a perk?
The reality is this: Resort fees are a workaround for hotels to publish lower rates on hotel booking sites. They tack these fees on later to jack up the price.
For example, you can book a night at the Excalibur, part of MGM's M life loyalty program, for just $33 per night during the summer. This is a great deal, even for a lower-tier hotel located right on the Strip. But wait. The resort fee is $35 per night, which more than doubles your nightly cost.
These fees aren't limited to low-end hotels, either. You may splurge for a stay at the Cosmopolitan for around $200 per night, but you'll need to pile on another $51 nightly in resort fees — around a 25% price increase.
Your options are limited if you want to be near the Strip and not pay a resort fee. The two major hotel groups, and , both charge resort fees up and down the Strip.
If being on the Strip is a must-have on your no-resort fee hotel wish list, meet the , which is a member of the . Let's be clear about something: You're getting a hotel room and a great location — but not much else.
The hotel is across from The Mirage and next to Harrah's Las Vegas. You'll find a small on-site casino and some basic food options (e.g., Subway, Pizza Hut and White Castle), but the real draw here is the great location — the hotel is right in the middle of the Strip, with easy access to shows, casinos, restaurants, bars and nightclubs.
If you're looking for something that qualifies as a nice or upscale hotel, this is not the place for you. Instead, consider the next option on our list: Marriott's Grand Chateau.
Best Western doesn't have a set award chart and prices for award nights can vary greatly. When searching for nights in the summer and fall, we found them as low as 16,000 points for weeknights and as high as 28,000 points on weekends. Cash prices will fluctuate in similar ways. We found rooms as cheap as $80 per night, all the way up to nearly $300 per night.
Book early if you're wanting to stay here. Availability into the fall was already pretty low during our searches in midsummer.
If you want to be at a nice hotel near the Strip and avoid resort fees, you really have only one choice: .
Technically, the Grand Chateau is not on the Strip, but it's only 0.2 of a mile away. The hotel is just one crosswalk over Harmon Avenue to both the Miracle Mile Shops and Planet Hollywood Resort and Casino. This easy access to food, shows, gambling and shopping makes it a prime almost-on-the-Strip location.
At the Grand Chateau, you won't find a casino or any slot machines, which gives it more of a Marriott-resort feel as opposed to a Las Vegas-casino feel. The hotel is part of Marriott Vacation Club, but is open for booking by anyone — members or not. Here, you'll find not only standard hotel guest rooms, but also two- and three-bedroom villas that come with kitchens and sitting areas.
Other amenities include free Wi-Fi, two pools, a fitness center and a couple of dining options. And most importantly, no resort fee added to your reservation charge.
Standard rooms can usually be booked for between $150 and $215 per night. This is a Category 5 hotel in the , so standard award nights go for 35,000 points per night. Off-peak rates are 30,000 per night, and peak rates are 40,000.
The  is a budget option with a motel-style setup with rooms that have doors to the outside. It's a part of the , and guests can expect a no-frills room, free Wi-Fi, a basic swimming pool, on-site laundry and, of course, no resort fee.
The location is hard to beat: It is across the Strip from the Aria hotel, with Planet Hollywood just across Harmon Avenue.
We found rates as low as $67, and almost always under $100, per night through the summer and fall. You can snag an award stay with 15,000 Wyndham Rewards points per night on Go Free stays if you're really looking to keep costs down.
If staying a bit farther from the Strip isn't a deal breaker for you, consider the recently opened . This is where the old Hard Rock used to be, a little over a mile from the Strip on Harmon Avenue.
At Virgin, you'll get the full Las Vegas resort experience: spa, beach club, pool, fitness center, casino and multiple dining options. The hotel is part of the Hilton Honors loyalty program, so you can and your points there.
Expect cash rates to be as low as $126 on low demand nights and $500 or more on a busy weekend. There is no set award chart for redeeming Hilton Honors points, but we found many nights throughout the summer and fall for as low as 31,000 points. Expect weekends to be double or more than that.
Just east of the Strip on Harmon Avenue, you'll find the . The rooms here feature one- and two-bedroom suites with a full kitchen plus washer, dryer, dining room and more. You'll find a condo-style experience as opposed to a traditional hotel room.
There are two fitness centers, a nice pool and an activities center. Much like the Grand Chateau and Desert Rose Resort (below), you won't find a casino here. But if you want to get to the Strip, they've got you covered with a free shuttle service.
Cash rates in the summer hover around $150. If you're looking to spend your Wyndham points, you'll likely find rates at 15,000 points per night for a Go Free award.
Part of Shell Hospitality, the is another condo-style, resort-fee-free Las Vegas hotel option just 1 1/2 blocks off the Strip behind Tropicana.
Amenity-wise, it offers pretty much the same experience as Club Wyndham Grand Desert: condo-style suites with multiple bedrooms, a kitchen, living spaces, a nice pool, fitness center, free Wi-Fi and more. There's no casino, but it's next door to OYO Las Vegas Hotel and Casino, so you can easily walk there to get your gambling fix.
Shell Hospitality doesn't have a loyalty program, and cash rates for a one-bedroom can vary widely. Midweek, you can often find rates between $120-$160, but weekends can easily be double that amount.
If you're OK staying off the Strip at a run-of-the-mill hotel like a Fairfield Inn or Embassy Suites, you'll have no problem finding them sans resort fee. Just expect it to feel like a hotel from any other city as opposed to one with a Las Vegas vibe.
If you have elite status with the right hotel program or if you make award bookings at the right hotels, you might be able to get your resort fee waived.
Do the math before blindly avoiding resort fees.
If your choices are the Grand Chateau at $150 a night with no resort fee or Park MGM for $75 per night plus a $39 resort fee (totaling $114), you can spend less staying on the Strip at Park MGM.
Factor in the opportunity cost of staying at a no-resort-fee hotel too. The location probably won't be as good, and you might miss out on the full Las Vegas casino experience and amenities on your stay.
Your best bet is to comparison shop hotels and keep your eye out for resort fees, which are usually displayed before you input credit card information near the end of booking. There's no shame in paying a resort fee as long as you factor it into your budget, but if you're dead set on avoiding these fees, stay slightly off-Strip at Marriott's Grand Chateau for the best experience of a nice hotel and no resort fee.
In reality, what happens in Vegas doesn't always stay in Vegas — like those sneaky resort fees that hit your credit card bill when you get home.
You want a travel credit card that prioritizes what's important to you. Here are our picks for the , including those best for: