What to Know About the Newest U.S. Airline: Breeze Airways
Breeze Airways started small and has rapidly expanded, now serving 30 domestic destinations.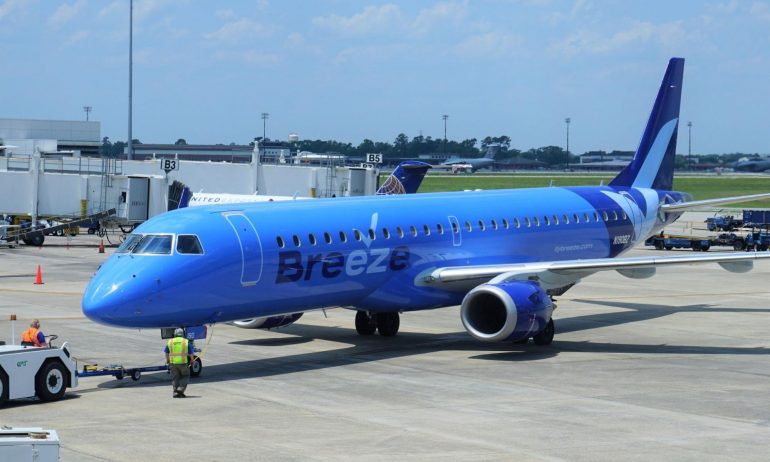 Many or all of the products featured here are from our partners who compensate us. This may influence which products we write about and where and how the product appears on a page. However, this does not influence our evaluations. Our opinions are our own. Here is a list of our partners and here's how we make money.
A new airline that bills itself as "seriously nice" first took to the skies in 2021. Started by JetBlue founder David Neeleman, Breeze Airways' inaugural flight from Tampa, Florida, to Charleston, South Carolina, was on May 27, 2021. Although initially only serving a handful of destinations, the airline now serves 30 destinations — with plans to grow even bigger.
Generally, travelers know what to expect from the airlines they fly. Southwest Airlines flyers know that they'll get two free checked bags and that ultra-low-cost airlines — like Spirit — have fees for everything. Where does Breeze fit in? Here's what you need to know about Breeze Airways.
Breeze Airways debuted with 39 routes between 16 airports across the Southeast and Eastern U.S.
But it didn't stay a regional airline for long. By July 2022, Breeze Airways grew its route map to include around 80 routes serving 30 destinations.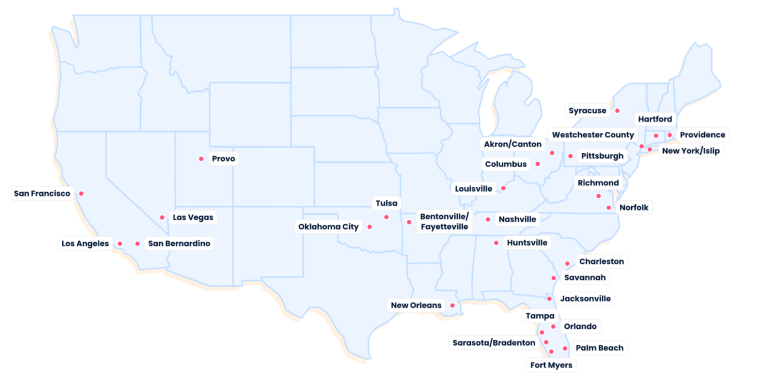 You may notice large airports, like Atlanta; Charlotte, North Carolina; Dallas; Philadelphia and Washington, D.C., aren't on Breeze's route map. That's because Breeze Airways is intentionally focusing on travel between secondary cities — many of which don't have nonstop airline service. That means you'll now be able to travel between Oklahoma City and Tampa without connecting in Dallas or Houston.

Breeze Airways tickets and bag policies
Breeze Airways promotes itself as "the newer, nicer way to fly." But it's still a low-cost carrier at heart, so you'll need to pay for checked and carry-on bags.
Breeze's cheapest fares, called Nice, are equivalent to basic economy on United or flights on Spirit, Frontier or Allegiant. You'll be able to bring a personal item onboard with you, but you'll need to pay for anything more than that.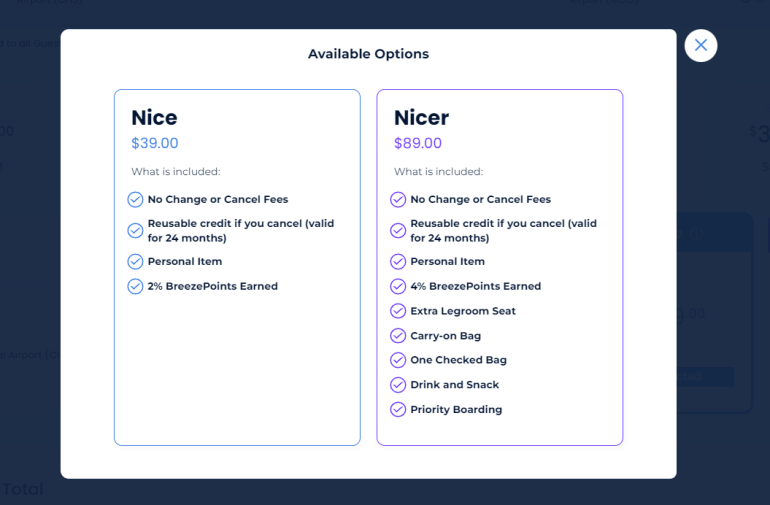 However, the bag fees for Nice fares are, well, nice. On short routes, Breeze Airways charges a flat fee of $20 per bag, regardless of route or whether you check the bag or plan to carry it on: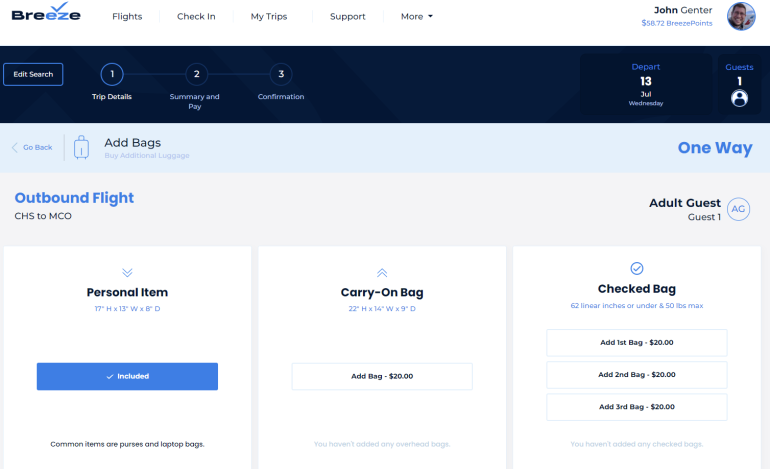 On Breeze's new coast-to-coast flights, bag fees are a bit more expensive. For example, from Westchester, New York; to Los Angeles, you'll pay $25 for carry-on bags and $29 each for up to three checked bags.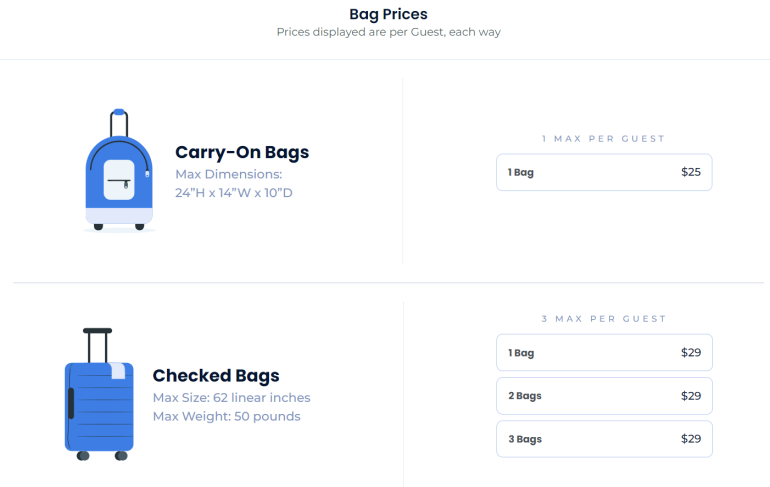 For comparison, United basic economy fares don't allow a carry-on bag at any cost, and the fee for your first checked bag is $30 if you prepay online ($35 at the airport).
Nicer and Nicest fares include a carry-on bag and a checked bag — plus a lot more. Depending on what other add-ons you value, it may be worth paying for the Nicer fare to get extra legroom, priority boarding, bags and more.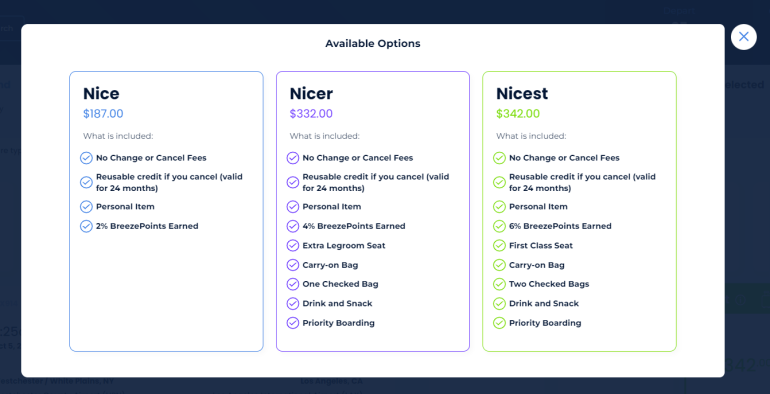 All Breeze Airways fares are free to change or cancel. If you cancel, you'll get a credit for the amount you paid, which can be used for the next 24 months.
Breeze Airways launched with a fleet of 13 Embraer jet aircraft. These regional jets are arranged with two seats on either side of the aisle, so no one has to worry about getting stuck in a middle seat. Breeze's 10 E190 jets have 108 economy seats, and its three E195s can seat up to 118 passengers.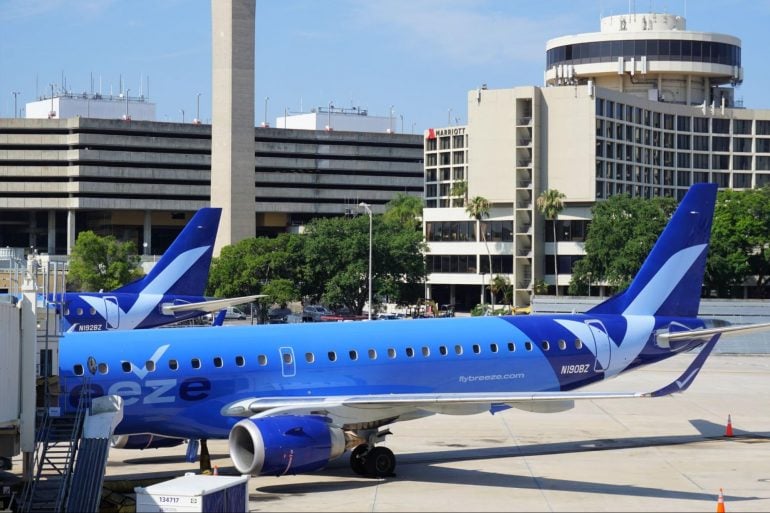 Breeze Airways has already expanded beyond its initial route map, and is building its fleet accordingly. In late 2021, Breeze took delivery of the first of 80 Airbus A220 aircraft. These larger A220 aircraft will operate longer routes that Breeze recently announced — such as from Westchester, New York; to Los Angeles, San Francisco and Las Vegas.
These new Breeze Airways A220-300 carry up to 126 passengers. Breeze is installing a whopping 36 seats — over one-quarter of the seats on the plane — in Breeze's new "Nicest" business class. These rows are arranged with two seats on either side of the aisle.
Further back, Breeze installed 10 extra-legroom seats and 80 standard-legroom seats. These rows are arranged with two seats on one side and three seats on the other. That means that — unlike on Breeze Airways Embraer aircraft — you'll need to watch out for middle seats. However, there are just 18 middle seats on each aircraft.
How Breeze Airways seats work
With the introduction of its new A220 aircraft, Breeze Airways now offers three types of seats:
Nice seats are the standard-legroom seats that make up much of the plane.

Nicer seats provide extra legroom and are located toward the front of the aircraft.

Nicest seats are found on its A220 aircraft only and are equivalent to first class seats on other domestic airlines.
If you book the cheapest Nice fare, you won't be able to select your seat for free — it costs $10 to $39 per person to choose a standard-legroom seat. Since there are no middle seats on the Embraer jets, you won't have to pay to reserve a seat simply to avoid getting stuck in the middle. However, Breeze's new A220 aircraft do have middle seats. So, you may want to pay to reserve a seat.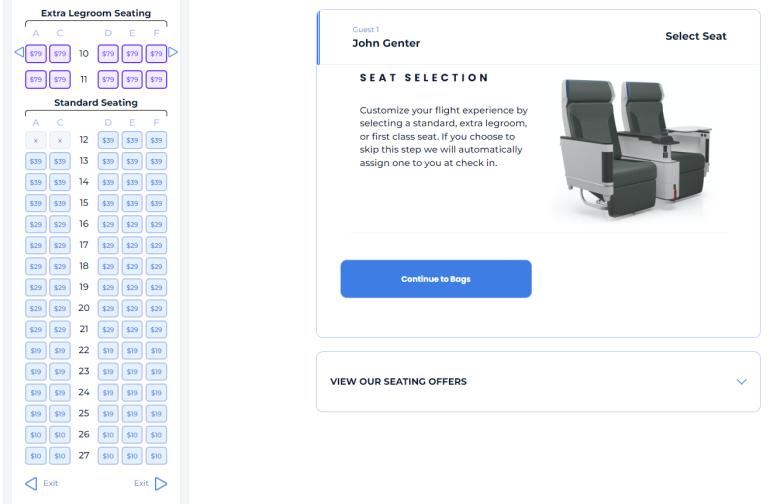 Families don't have to pay to avoid being split up. Breeze Airways Family Seating is free for families traveling with children 12 or younger.
Nice seats on Breeze Airways' E190 aircraft have 29 inches of pitch (the distance between seatbacks). Breeze's E195 jets have 31 inches of pitch. And Breeze's A220 aircraft have 30-31 inches of pitch.
For comparison, Spirit and Frontier seats have 28 inches of pitch while American, Delta and United have at least 30 inches.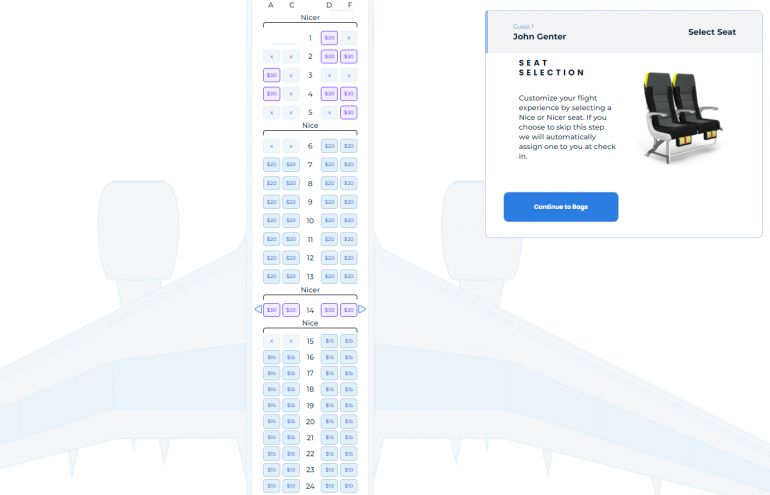 If you want extra space, you can reserve a Nicer extra-legroom seat for $30 to $79 each way. Nicer fares include a Nicer seat reservation for no additional cost. These extra-legroom seats are arranged with 33 to 39 inches of pitch on the E190 planes and 34 to 39 inches on the E195 jets and 33 inches on the new A220-300 aircraft.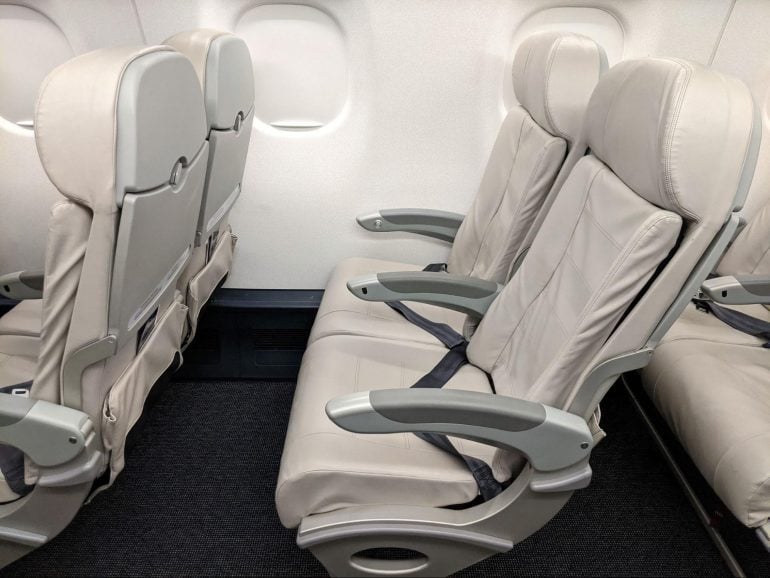 Breeze Airways requires that travelers create a BreezePoints profile to purchase a ticket, automatically enrolling flyers in the airline's reward program. Breeze travelers earn credit toward future travel in the form of BreezePoints.
There's no need to figure out flight distance, fare class or earning charts to determine your points earnings. Instead, BreezePoints are earned as a percentage of the amount you pay:
Nice fares: 2% (excluding taxes and fees).

Nicer fares: 4% (excluding taxes and fees).

Nicest fares: 6% (excluding taxes and fees).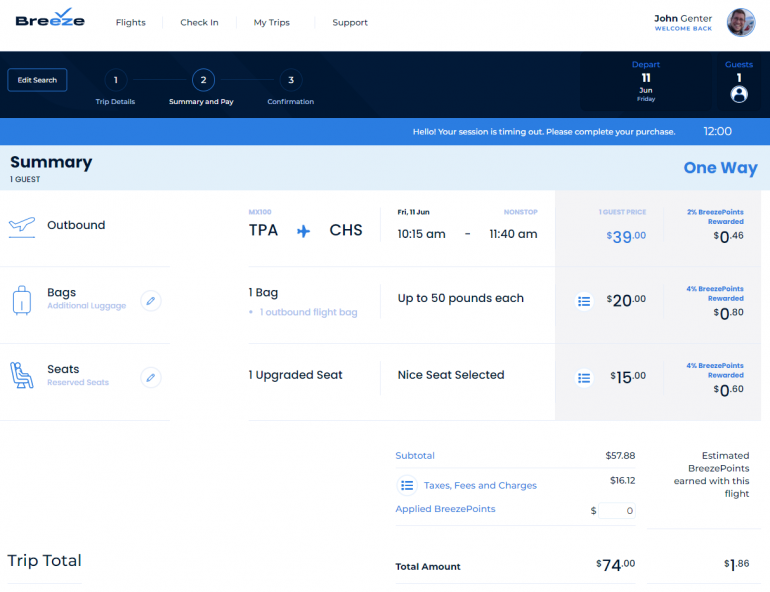 If you cancel a Breeze flight, Breeze automatically refunds the amount you paid as BreezePoints.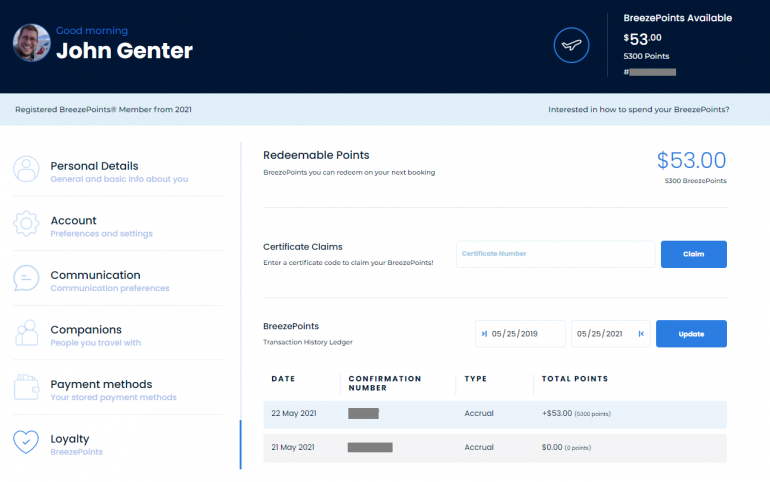 You don't need to build up a large balance of BreezePoints to be able to use them. BreezePoints automatically apply to your next flight booking. This makes BreezePoints — including any credits you have from canceled flights — easy to use.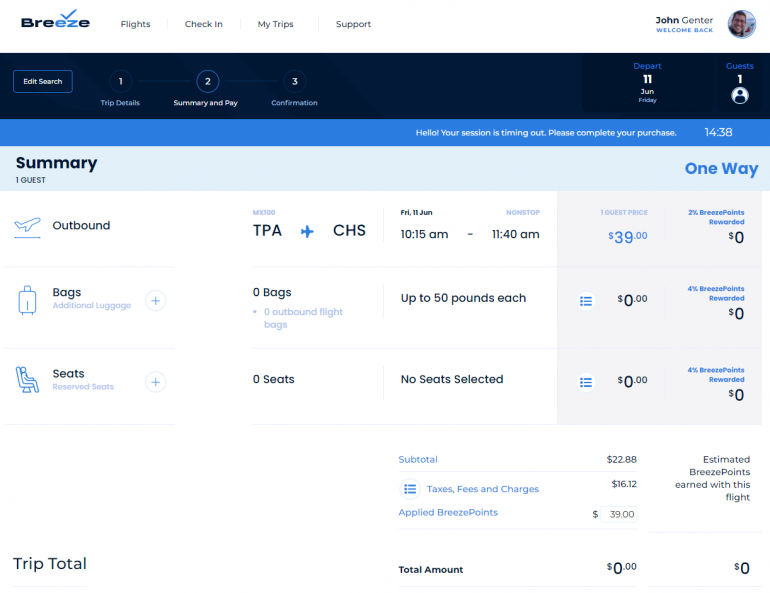 Even Southwest Airlines doesn't make using past flight credits this easy, instead requiring travelers to look up the confirmation number to apply travel funds to a flight purchase.
Other things to know about Breeze Airways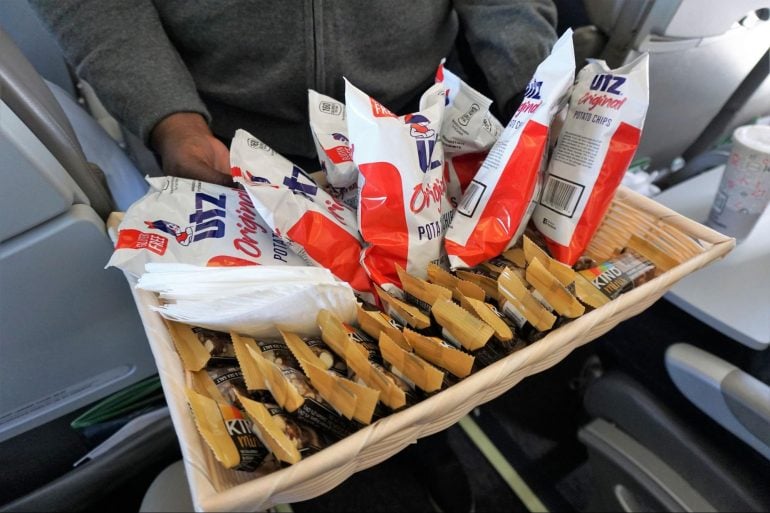 TSA PreCheck: Breeze Airways is launching as a TSA PreCheck participating airline, so passengers with either TSA PreCheck or Global Entry can enter their Known Traveler Number to breeze through airport security.

Free snacks: Breeze offers complimentary water and snacks. In the future, this will be expanded to include special snacks and beverages (including alcohol) for purchase.

No connectivity or entertainment on some aircraft: Breeze's Embraer aircraft don't have in-flight entertainment or Wi-Fi connectivity. However, Breeze plans to offer these on the A220 aircraft that will have high-speed Wi-Fi installed later in 2022.

Download the app: At the time of writing, Breeze Airways is offering 500 BreezePoints (worth $5) if you download the Breeze Airways app.

Moxy? Breeze? Breeze Airways was originally founded and registered as Moxy Airways. So you may hear air traffic control refer to it as Moxy. Flight numbers start with "MX."

Pet fees: Breeze Airways charges $75 to travel with a pet in the cabin.
Final thoughts on the new Breeze Airways
Breeze Airways flew its inaugural flight on May 27, 2021, and quickly expanded. It now offers flights between 30 destinations that crisscross the U.S., with more routes in the pipeline.
Fares are cheap, but don't include bags, seats or other perks. However, as a self-described "seriously nice" airline, Breeze's add-on fees and policies are reasonable.
Even if you aren't flying on any of its current routes, it's worth keeping an eye on Breeze Airways. Breeze has big plans and has ordered 80 Airbus A220 aircraft to make it happen. Breeze Airways' founder successfully launched JetBlue, Azul and WestJet, and time will tell if he will be known for launching yet another successful airline.
---
How to maximize your rewards
Get more smart money moves – straight to your inbox
Sign up and we'll send you Nerdy articles about the money topics that matter most to you along with other ways to help you get more from your money.