Does Your Credit Card's Insurance Cover Turo and Other Car Share Services?
Peer-to-peer car rentals are unlikely to be covered by credit card rental insurance, so do your research.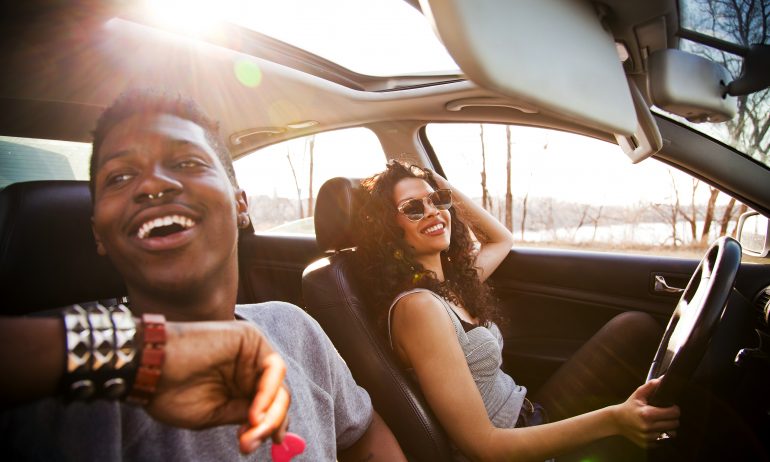 Many or all of the products featured here are from our partners who compensate us. This may influence which products we write about and where and how the product appears on a page. However, this does not influence our evaluations. Our opinions are our own. Here is a list of our partners and here's how we make money.
Rental car insurance is one of the most underrated perks among many travel credit cards. Most of the best travel credit cards from the major credit card networks, including Visa, Mastercard and American Express, offer rental car coverage as a benefit for booking with that card. Some even provide primary coverage, which pays out before your own auto insurance.
The benefit typically applies to most major rental car companies among the credit cards that offer rental car insurance. The problem? It typically won't apply to peer-to-peer car rental companies, such as Turo.
"It's very unlikely that your credit card company provides coverage for damage to a car booked through Turo," according to Turo's website. "It's even less likely that it provides liability coverage for injuries or damage you may cause to other people or their property."
For credit card nerds, people who want to maximize every benefit of their card (including car rental coverage), that can make alternative rental car companies less appealing. For people who love or frequently use peer-to-peer car rental companies, that can make holding a premium travel credit card less attractive.
If you want to drive a vehicle rented through peer-to-peer car-sharing apps, you'll likely need to purchase that company's protection plan. And that can be pricey. It's not unheard of for the cost of the protection to equal the amount of the actual rental.
Otherwise, you'll have to decline coverage, upon which you'll rely solely on your own applicable personal insurance coverage to cover loss or damage to the host's vehicle. That means you or your insurance company (depending on your plan) are responsible for out-of-pocket costs, including claims processing fees and appraisal costs.
Do Chase Sapphire cards cover Turo rentals?
The Chase Sapphire Preferred® Card will cover up to the "actual cash value" of the car, while the Chase Sapphire Reserve® does one better by offering reimbursement for damages caused by theft or collision up to $75,000 dollars.
That's one of the best rental car insurance policies out there, but it's only good if you're renting a car that's covered. Unfortunately, in Chase's fine print, vehicles not rented from a rental agency are not covered.
"Turo is not a rental car company," according to a post on Turo's site. "We're a peer-to-peer car-sharing platform, so credit card companies may provide no coverage for a car booked through Turo."
Alas, the insurance benefit on these cards won't cover Turo or other companies like it.
Do AmEx cards cover Turo?
American Express provides secondary rental car coverage on some of its cards including the American Express® Gold Card and The Platinum Card® from American Express, as well as primary coverage for a separate fee through its Premium Car Rental Protection program. But similar to Chase, don't expect American Express to cover Turo or other car-sharing services.
"Coverage is not available for ride-sharing companies that allow individuals to rent out their personal vehicle," according to the fine print from the American Express Premium Car Rental Protection program.
And as far as its car rental loss and damage insurance goes, American Express explicitly says it does not cover "vehicle sharing or peer-to-peer arrangements which allow independent owners to rent personal vehicles."
How to pay less for peer-to-peer car insurance
Is the thought of paying extra for insurance to rent a car from a private owner driving you nuts? You can still save money and be insured while participating in the rental car-sharing economy.
Look at your existing car insurance
If you already have comprehensive car insurance for your vehicle, you might not need to pay for a company's car insurance. Many types of car insurance will extend to most rental cars. Check with your policy, but typically — unless your policy states explicitly that rental cars are excluded — your insurance protects you when driving other vehicles, too.
Do your homework, so if you purchase insurance from the car-sharing company, you're not duplicating coverage with what you already have.
Use rental car companies that include insurance in the rental fee
Some car-sharing companies include the cost of insurance with your entire rental cost. You're still paying for coverage in a sense, but since it's wrapped up in the overall cost rather than a la carte, it might feel less painful.
For example, Zipcar, which is a membership-based car rental alternative, automatically provides members with secondary third-party liability coverage and physical damage insurance on the Zipcar vehicle. However, even with that, renters will still be responsible for a damage fee of up to the first $1,000 unless additional coverage is purchased.
Another peer-to-peer rental site, Getaround, includes comprehensive, collision and liability coverage for drivers and vehicles during your trip.
Consider non-owner car insurance
If you frequently rent cars or use car-sharing services, it can make sense to purchase non-owner car insurance, which provides liability coverage if you don't have your own vehicle. That means it'll cover the cost of injuries and property damage you cause to others in a car accident. Unfortunately, though, it won't cover any damage to the actual car you've rented, nor your injuries in the event of an accident.
Non-owner car insurance can be beneficial because you might be able to get away with purchasing the car-sharing company's lowest level of coverage.
For example, the minimum Turo insurance plan starts as low as 18% of the trip price. Nevertheless, it only includes the minimum amount of third-party liability insurance coverage required by the state where the car is registered. Plus, coverage is secondary to any personal insurance you may have. Meanwhile, the premier Turo protection plan (its highest level) provides third-party liability insurance coverage up to $750,000, but it can cost as much as 100% of the trip's cost.
In that situation, a frequent renter might be better off purchasing non-owner car insurance plus minimum coverage versus opting for the expensive premier coverage.
Car-sharing insurance for peer-to-peer rentals can add up
Car rental insurance is already confusing, and renting through peer-to-peer car-sharing services can make it even more so.
Before renting any car, know your coverage. For example, are you only insured for the value of the vehicle you rented? Are you covered for other potential costs, such as injury to yourself or others, damage to other property beyond your rental car, and other expenses like towing or administrative fees?
And if you're renting from a non-traditional rental car company, you must check with your card issuer if you're hoping to take advantage of your card's rental car insurance benefit. Unfortunately, it's unlikely your credit card offers peer-to-peer auto insurance.
Car-sharing services can often offer cheaper rentals at more convenient locations and times — but they might not pan out to be any better than a standard rental car once you factor in insurance.
---
How to maximize your rewards
Get more smart money moves – straight to your inbox
Sign up and we'll send you Nerdy articles about the money topics that matter most to you along with other ways to help you get more from your money.