Non-Owner Car Insurance: Where to Buy and What It Covers
Non-owner car insurance is for anybody who regularly drives a car they don't own, or who needs to prove coverage.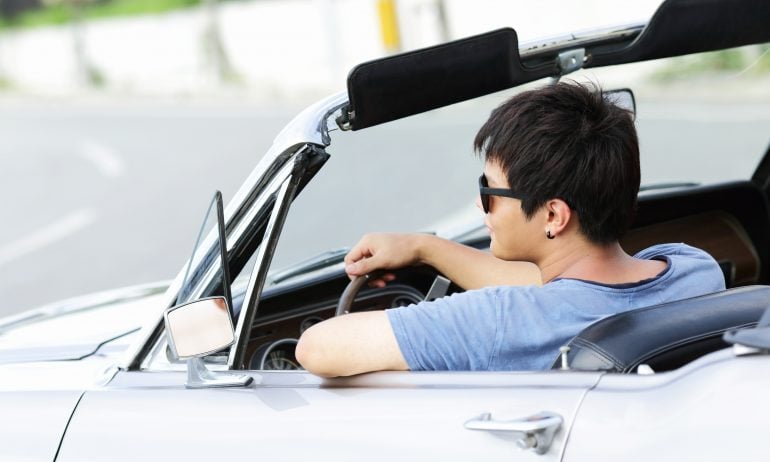 Many or all of the products featured here are from our partners who compensate us. This may influence which products we write about and where and how the product appears on a page. However, this does not influence our evaluations. Our opinions are our own. Here is a list of our partners and here's how we make money.
Non-owner car insurance is for people who don't have their own vehicle but still need to drive once in a while. Maybe you usually get around by train but occasionally rent a car on vacation or hop in a shared car to get to a meeting. If you drive other people's vehicles often enough, non-owner insurance might be right for you.
However, non-owner car insurance is not the best choice if you typically borrow a vehicle from a relative or someone in your home. Instead, you should be listed on the car owner's policy. Depending on their insurer and your state, this might be required even if the car belongs to an unrelated roommate, and even if you don't currently have a valid license.
Non-owner car insurance, also known as non-owners insurance or non-drivers insurance, provides liability coverage for people who don't have their own vehicle but occasionally drive someone else's. coverage pays for injuries and property damage you cause to others in a car accident. However, it doesn't cover any damage to the car you've borrowed or rented, nor does it pay for any of your own injuries if you cause a crash.
A non-owner car insurance policy typically includes only the required coverage types in your state, though you can often select limits higher than the minimums. Aside from liability coverage, these may include:
Non-owners insurance doesn't include . In a standard auto policy, that coverage pays for repairs or replacement of the vehicle you own.
There's typically no deductible on non-owner auto insurance.
Those who don't have their own vehicle might want a non-owner insurance policy in the following situations.
Your state may require these forms in order to reinstate your driver's license after a serious conviction like a DUI. Insurers file them on your behalf to prove that you have at least the minimum amount of insurance coverage mandated by the state.
If you're getting a license for the first time or trying to restore it after a suspension, some states may require insurance to show "proof of financial responsibility."
Car-sharing services such as Zipcar and Turo offer some coverage for drivers, but it's often just enough to meet your state's minimum requirements. If you cause a bad wreck, costs could easily exceed the minimum limits, and you'd be responsible for them. A non-owners policy can supplement this coverage.
Going without auto insurance — even between cars — makes you look risky in the eyes of insurers, leading to higher rates when you buy a vehicle. For this reason, it may end up being cheaper to buy non-owner insurance than to skip coverage if you're without a car for a short period of time.
Non-owner insurance might cost less than liability coverage at the rental counter if you rent often enough. It can also offer peace of mind if you're worried about getting in a (after all, you're driving an unfamiliar car in an unfamiliar area). It typically won't cover damage to the rental, but you may be able to get that coverage through a credit card or buy the collision-damage waiver from the rental car company.
The car owner's insurance normally pays out for an accident, but if costs exceed their liability limits, you'd be on the hook for the remainder.
Say you're at fault for an accident while driving a friend's car, and the other driver needs $35,000 worth of medical care. If the friend who loaned you the car has only $25,000 of bodily injury liability coverage on the vehicle, you'd be responsible for the remaining $10,000. Your non-owner policy could cover that expense.
A non-owners insurance policy isn't your best bet in these scenarios.
If the vehicle you drive most often belongs to a person you live with, you should generally be listed as a covered driver on their car insurance policy rather than getting non-owner insurance. That's because, depending on where you live and which company insures the vehicle, coverage might be denied if every driving-age member of the household isn't listed on the policy.
If the extent of your driving is renting a car once a year or occasionally borrowing a friend's car, non-owner car insurance might not be worth the expense. It may be cheaper to simply buy insurance at the rental counter or rely on your friend's insurance policy to cover you if the worst happens.
That said, it's worth double-checking that you're covered before getting behind the wheel. If your friend gives you permission to drive their vehicle and you get into an accident, not all insurance companies will cover the damage.
To get a quote, you'll typically need to call an insurance company or agent. Insurers don't tend to provide non-owner online, and some, like Progressive, offer this coverage only to existing customers.
We've verified that the following companies offer non-owner car insurance (or named non-owner insurance, as some refer to it), but they don't all offer information online. The best way to get a policy is to find an agent or call the company directly.
In addition to its standard non-owner insurance, State Farm offers a personal mobility policy for California residents who don't own their own vehicles. The policy includes liability, uninsured motorist, comprehensive and collision coverage, plus emergency roadside service. With this policy, you're covered not only when driving a borrowed car but also when bicycling or riding as a passenger in a rideshare vehicle.
Typically, a non-owner car insurance policy costs less than what you would pay for the same level of liability coverage for a car you own. However, if you need the insurer to file an SR-22 or FR-44, costs will likely be high for any policy until you don't need it anymore.
The price depends on your age, driving record and how often you plan to drive, in addition to other variables. Learn more about .