Many or all of the products featured here are from our partners who compensate us. This influences which products we write about and where and how the product appears on a page. However, this does not influence our evaluations. Our opinions are our own. Here is a list of our partners and here's how we make money.
One of the newer lounges in the growing Centurion Lounge network is found in Los Angeles. Is the LAX Centurion Lounge open? Yes. After lengthy construction delays — and a lengthy closure for maintenance shortly after opening — the LAX Centurion Lounge finally opened to travelers in June 2022.
This lounge promises some of the best perks of any lounge at LAX. Travelers can:
Enjoy a meal from a delicious chef-inspired buffet.

Relax with a bartender-crafted cocktail.

Enjoy a complimentary spa service.

Tidy up in a shower suite.

Even lie flat for a nap in a quiet room.
But, travelers have posted mixed reviews of the LAX Centurion Lounge online, with the lounge currently sporting an abysmal 2.3-star rating on Google Maps. So, we sent a Nerd to the Centurion Lounge in LAX to see if the critics were right or if this lounge lived up to its hype.
The LAX Centurion Lounge is located on the second floor of the Tom Bradley International Terminal in Los Angeles International Airport. That makes the lounge the most convenient for passengers departing from TBIT. However, you can reach the LAX Centurion Lounge from almost every other LAX terminal without having to clear security twice.
An airside walkway is available from Terminal 4 to TBIT. Passengers can weave through a maze of walkways to reach the lounge from as far as Terminal 8 without having to re-clear security.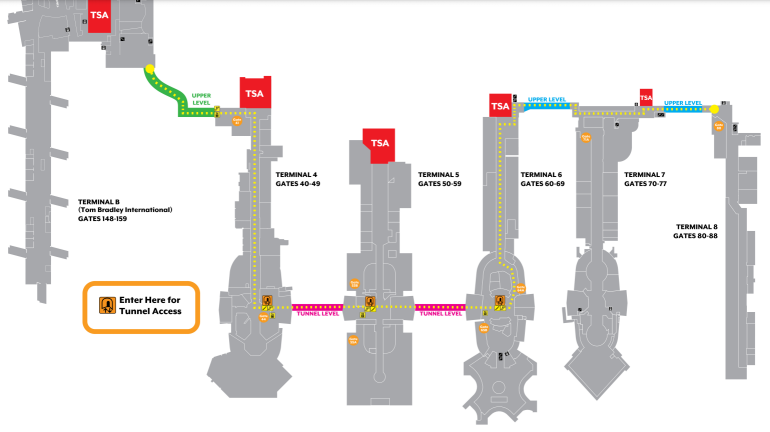 Passengers departing from Terminals 2 and 3 can use the airside bus to connect between TBIT and those terminals. That just leaves Terminal 1 — primarily used by Southwest — as the only terminal not connected airside.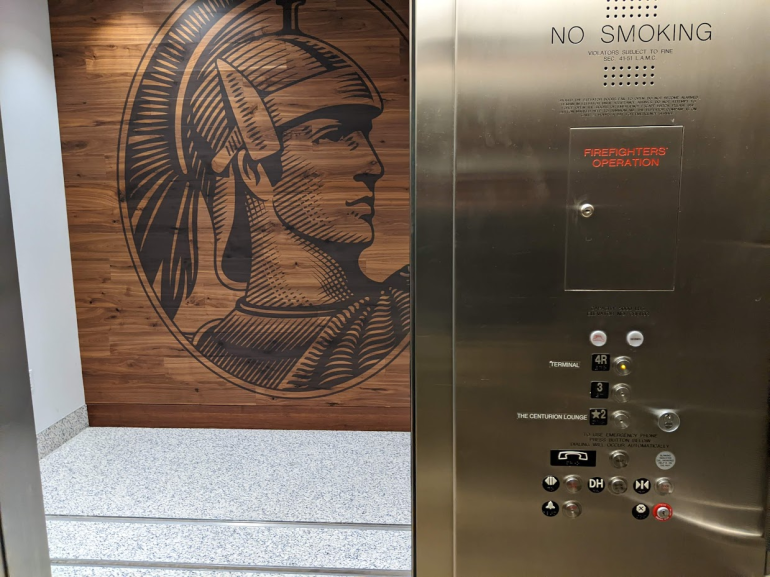 If you're entering TBIT from security, hang a left to access the lounge elevator. If approaching from Terminal 4, take the escalator down from the bridge and you'll see the south entrance on the right.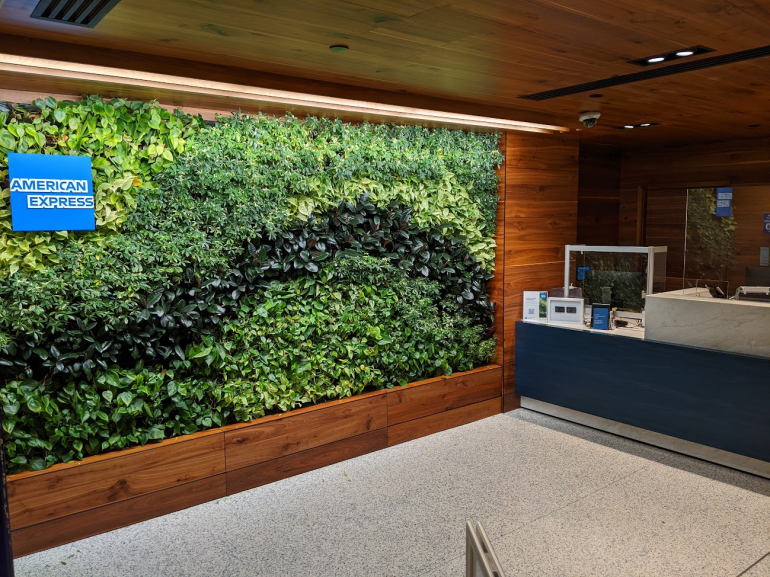 Take the elevator down to the second floor to enter the iconic Centurion Lounge foyer.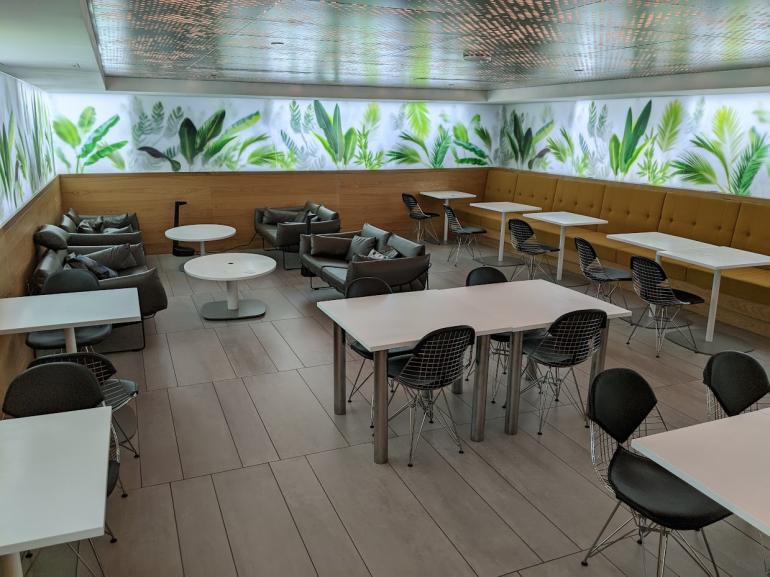 The lounge itself is a maze of sprawling rooms. From the main entrance, you can turn right to access the buffet, main bar and a couple of dining rooms.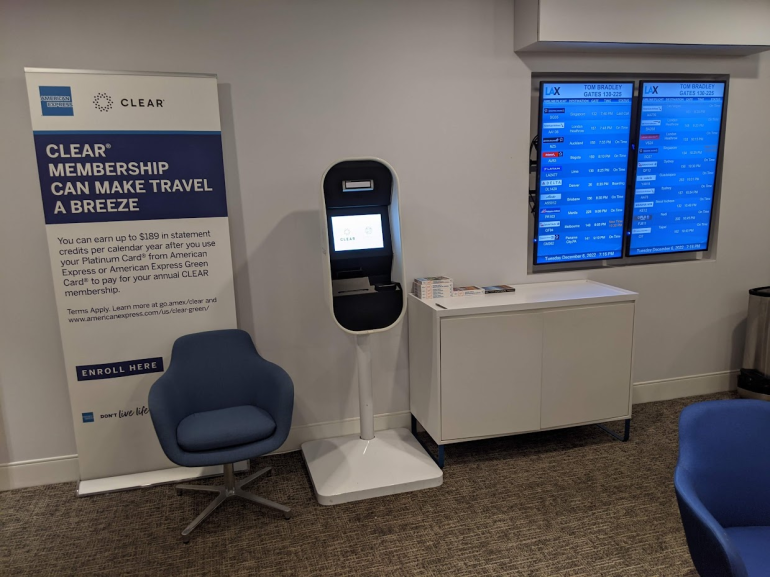 If you turn to the left from the main entrance, you'll find the on-site CLEAR enrollment center, secondary bar, spa, quiet room and several other rooms providing a variety of seating.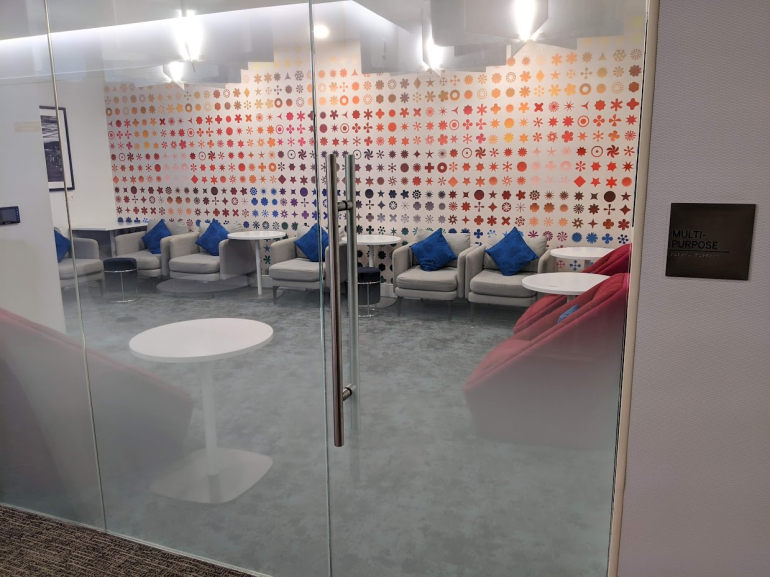 Further back in the lounge, you'll find a "multi-purpose" room that seems to be utilized as a family room.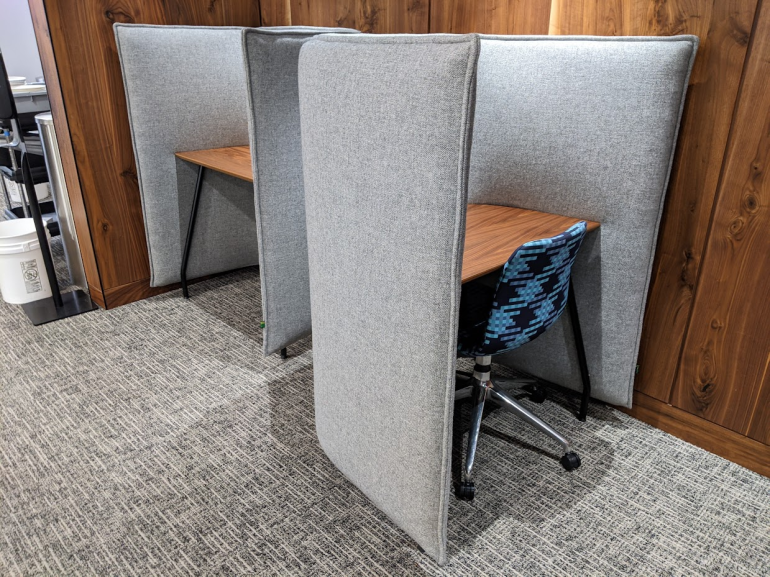 Whether you need to take a call or are just looking for a place to work, the lounge doesn't offer much in the way of privacy. The best you can hope for is one of the mini-cubicles toward the back of the lounge.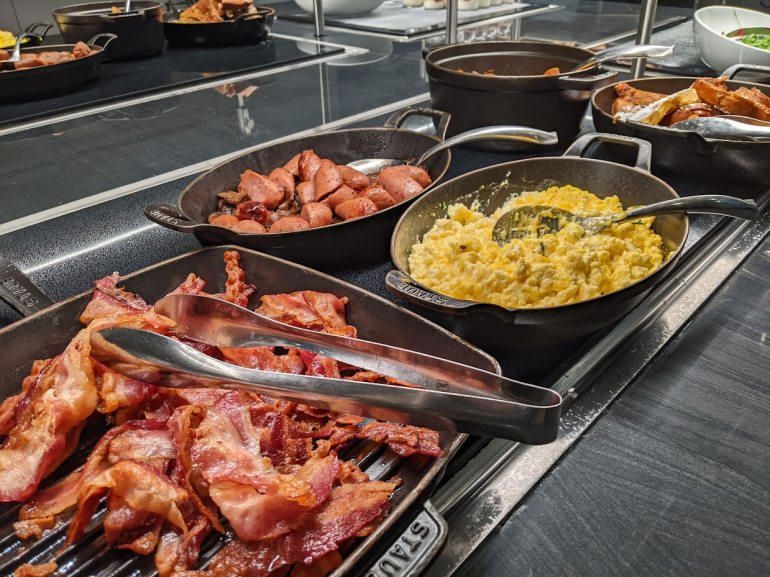 As with other Centurion Lounges, the LAX Centurion Lounge provides a buffet of chef-prepared meals and a made-to-order cocktail bar. Between 6 a.m. and 11:30 a.m., the LAX Centurion Lounge serves a very American breakfast of eggs, bacon, sausage, French toast and home potatoes.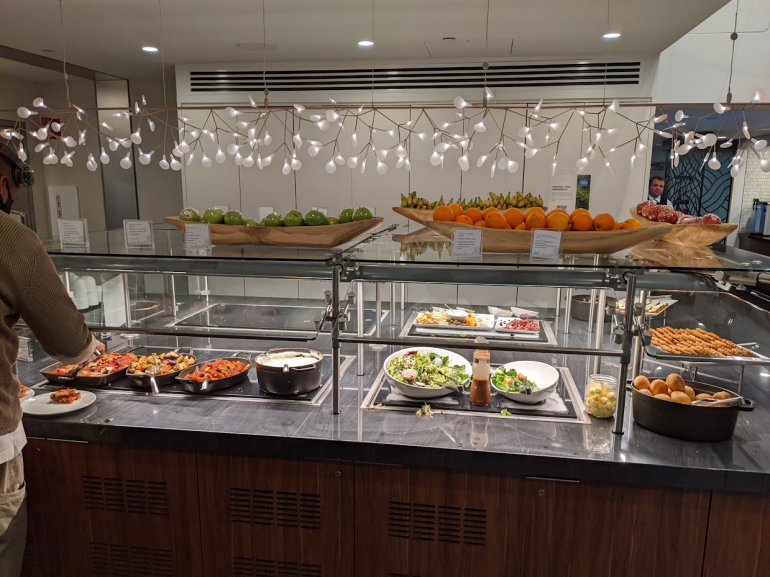 From 11:30 a.m. to 30 minutes before closing, guests can enjoy a hot buffet of a variety of meat-based and vegetarian dishes. However, I found that the selection isn't as comprehensive as at other Centurion Lounge locations.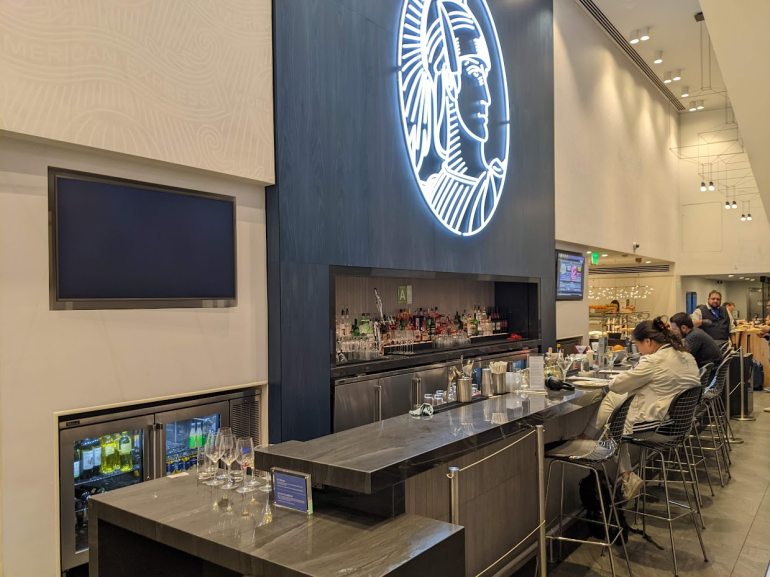 The lounge's main bar opens when the lounge does at 6 a.m. However, only certain breakfast beverages — such as Bloody Marys, mimosas and screwdrivers — are available from the bar from 6 a.m. to 10:30 a.m. Then, the full bar is open from 10:30 a.m. to 9:30 p.m. The last call at the LAX Centurion Lounge bar is at 9:30 p.m.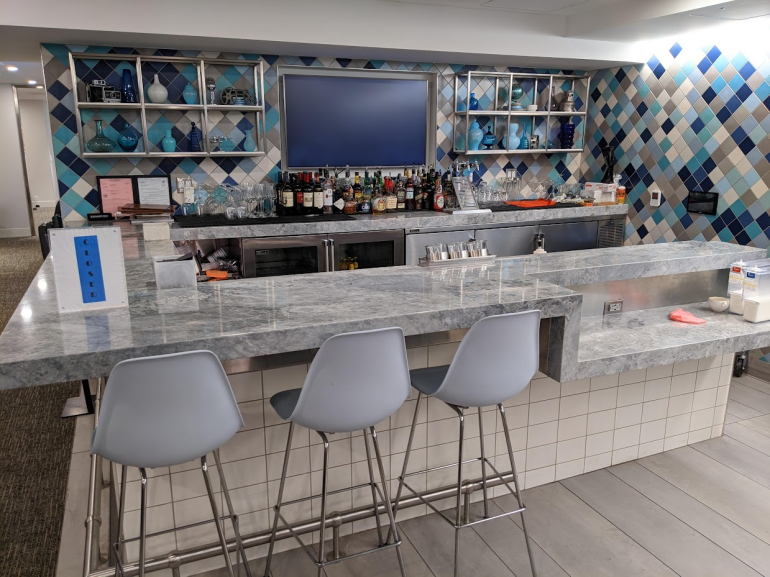 The lounge's secondary bar closes even earlier than that — usually around 6 p.m., per a lounge agent.
In addition to the standard lounge amenities, the LAX Centurion Lounge offers three perks that set it apart from other airport lounges: shower suites, a spa and a quiet room.
The LAX Centurion Lounge offers two shower suites for guests to tidy up before or between flights. To access the showers, you'll need to ask at the lounge's front desk. Even if a shower is available, the lounge agent will have you sign in on the dedicated shower sign-in sheet.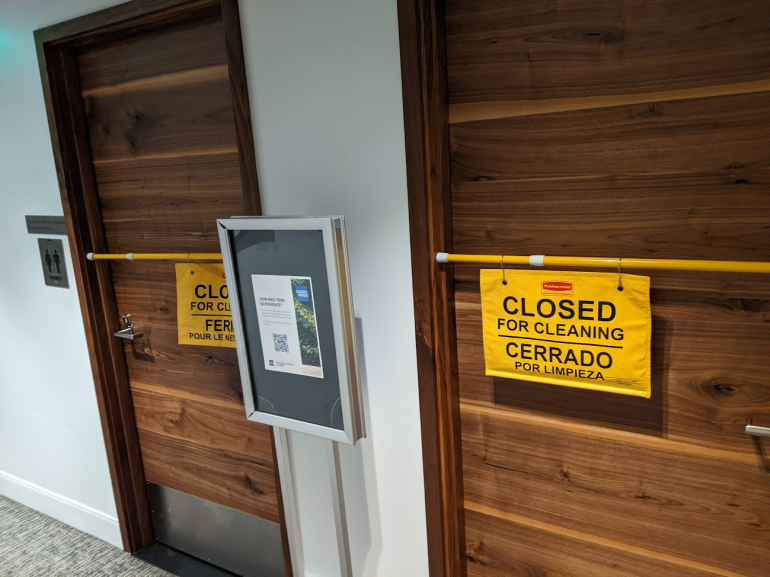 Don't be dissuaded if you see "closed for cleaning" signs on the showers. After waiting for a bit, I inquired at the front desk about when a shower suite would be available. The front desk agent noted that the cleaning crew leaves these cleaning signs in place even when the showers are available. She instructed me to pull the sign down and enter the shower room.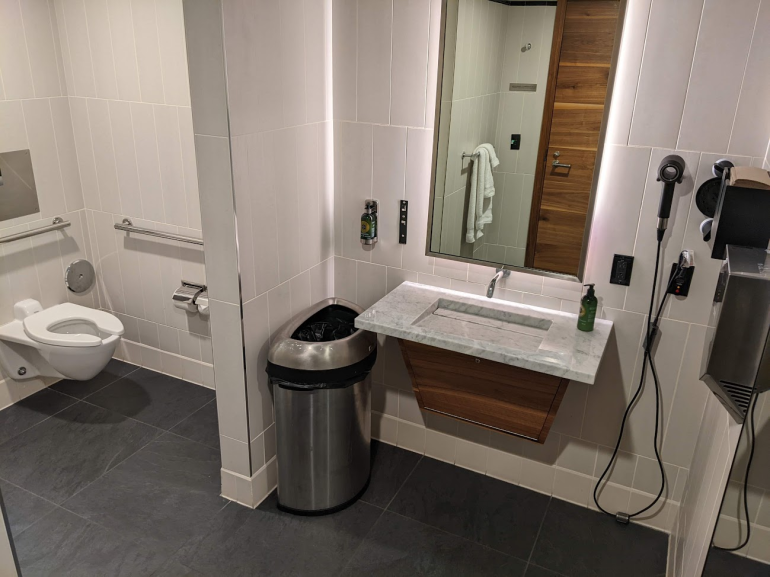 The large and accessible-friendly shower suite has a sink, toilet and shower with a rainfall and handheld shower nozzle. A small stool is provided for ease in removing your shoes.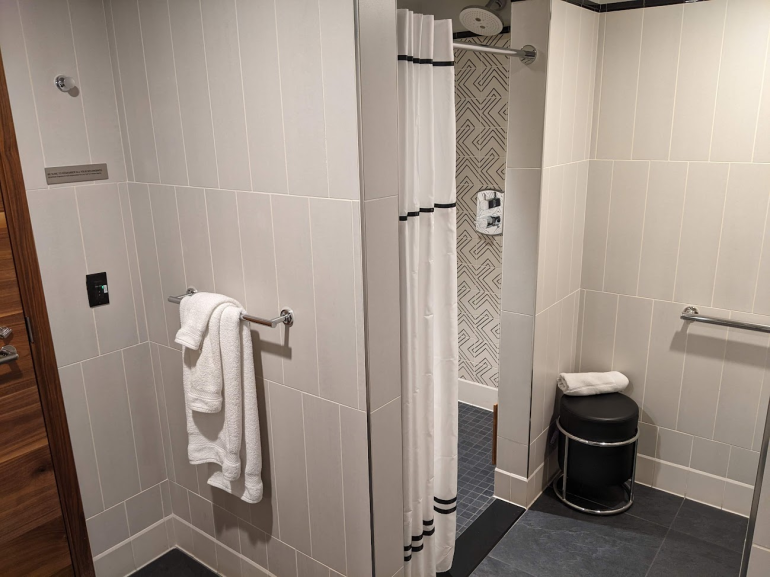 The showers close before the lounge does, although it's unclear what time the last call for a shower is currently.
LAX Centurion Lounge guests can even enjoy a quick spa service — including a 15-minute chair massage. Spa services are only available from 8:40 a.m. to 5 p.m., and slots can fill up quickly. We recommend asking at the front desk when you check into the lounge for the next spa service.
Unfortunately, I wasn't able to get a massage on either of my visits for this review. The spa was closed on the evening of my first visit. On my second visit, the first-available treatment wasn't available until after my departure time. That lack of availability was likely exacerbated by the lounge only having one masseuse for the three available massage chairs.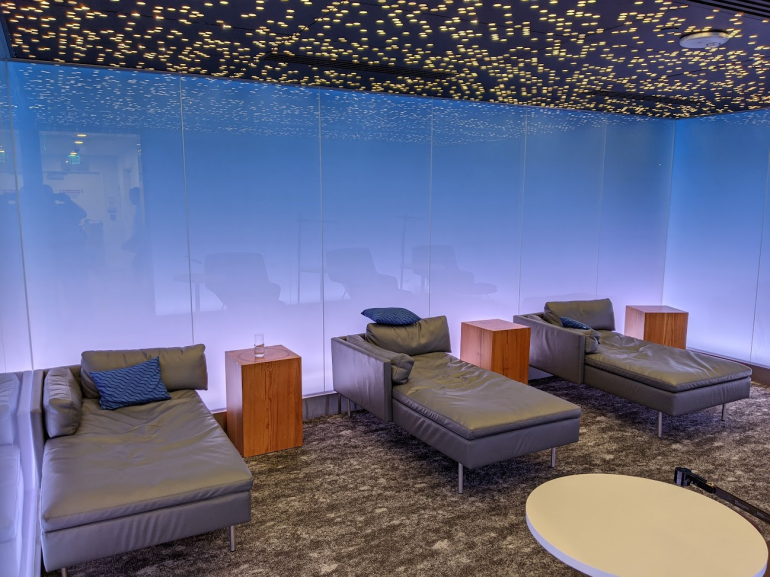 Near the back of the sprawling lounge, guests can find a quiet room with three chaise lounge chairs and a few standard chairs. This dark room can be a great place to catch a quick jetlag-busting nap. Chairs are first-come-first-serve and can't be reserved.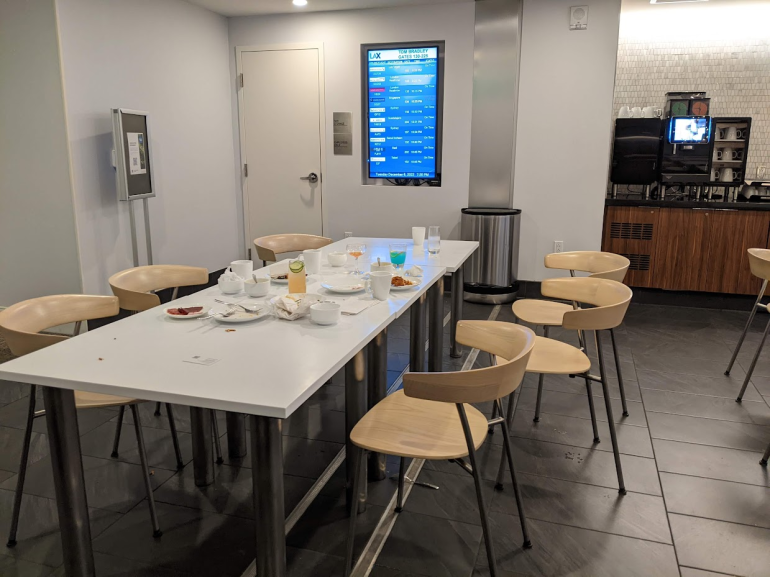 In my experience, the service you receive at the LAX Centurion Lounge is highly variable. In the evening, lounge agents seem to be overwhelmed by work. During one visit, each lounge agent seemed to treat each interaction as a bother and tables were stacked with unused plates and glasses.
However, the service was excellent when I visited the lounge during the morning. Agents almost seemed to be eager to have work to do and were friendly and quick to clear plates and glasses.
How to access the Centurion Lounge at LAX
The first step to enjoying the LAX Centurion Lounge is getting access in the first place. Centurion Lounges are exclusively available to American Express cardholders. Travelers can't purchase a day pass or qualify for entry by buying a particular airline ticket.
The most popular AmEx cards for Centurion Lounge access include:
To get access to the LAX Centurion Lounge, you'll need to be departing out of LAX on the same day that you visit the lounge. Also, travelers generally only get access to the Centurion Lounge within three hours of their flight departure time.
LAX Centurion Lounge hours
The LAX Centurion Lounge front doors are currently open from 6 a.m. to 10 p.m. — a notable improvement from the prior closing time of 7:30 p.m. in place through mid-December 2022.
However, some aspects of the lounge aren't open during the same hours. Here are some important hours to keep in mind for your visit:
Breakfast cocktails, wine, and beer: 6 a.m. to 10:30 a.m.

Full bar: 10:30 a.m. to 9:30 p.m.

Hot breakfast buffet: 6 a.m. to 11:30 a.m.

Lunch/dinner buffet: 11:30 a.m. to 9:30 p.m.
Centurion Lounge at LAX, recapped
If you solely looked at online reviews, one might assume that the LAX Centurion Lounge isn't worth visiting. But that's certainly not the case. Lounge guests can enjoy a delicious meal, get a complimentary bartender-made cocktail, take a shower and maybe even enjoy a complimentary spa treatment.
However, each of these comes with an asterisk. The buffet and bar close before the lounge does. Drink options are limited during the morning hours. And the showers and a spa treatment may not be available before your departure time.
Also, despite its recent (re-)opening, the lounge already seems overwhelmed by guests during peak times. The LAX Centurion Lounge location could be improved by adding to the sparse evening buffet, staffing the spa with additional masseuses, and staffing up and opening more "reserved" seating areas to help alleviate crowding during peak times.
Still, it's worth getting to the airport early — or booking a little longer layover — to visit if you're flying out of TBIT. And it's worth the trek from another terminal if you have a long layover and want to stretch your legs.
(Featured photo courtesy of American Express)
---
How to maximize your rewards
Get more smart money moves – straight to your inbox
Sign up and we'll send you Nerdy articles about the money topics that matter most to you along with other ways to help you get more from your money.