The Guide to Emirates Business Class
Check which airplane model you'll be flying before splurging on Emirates business as the seating experience varies.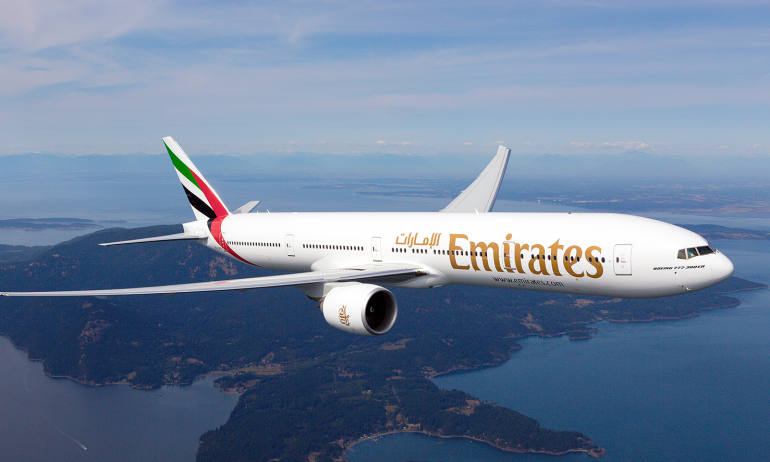 Many or all of the products featured here are from our partners who compensate us. This influences which products we write about and where and how the product appears on a page. However, this does not influence our evaluations. Our opinions are our own. Here is a list of our partners and here's how we make money.
Emirates, one of the most celebrated airlines for its in-flight premium products, is a force to be reckoned with in the airline industry. It has the world's largest fleet of Airbus A380s, and flies all around the world, connecting destinations with one of the most luxurious in-flight products.
In Emirates business class, the experience begins at your home or hotel, where you'll be picked up via the airline's own chauffeur service. From there, you'll be whisked to the airport where you can relax in an exclusive airline lounge. Onboard, you'll curl up in cozy seats which lie flat. But if you prefer to stay awake, you might order your own beverage from the stand-up lounge bar, or watch a movie on a screen that's massive by airplane standards.
This guide will help you know which planes to seek out and which to avoid (if possible, given your routes), what amenities to look for when you fly business class on Emirates, and how you might book a free Emirates business class seat using points. Here's what you need to know about Emirates business class, plus how to maximize your miles when you book:
What to expect when flying business class with Emirates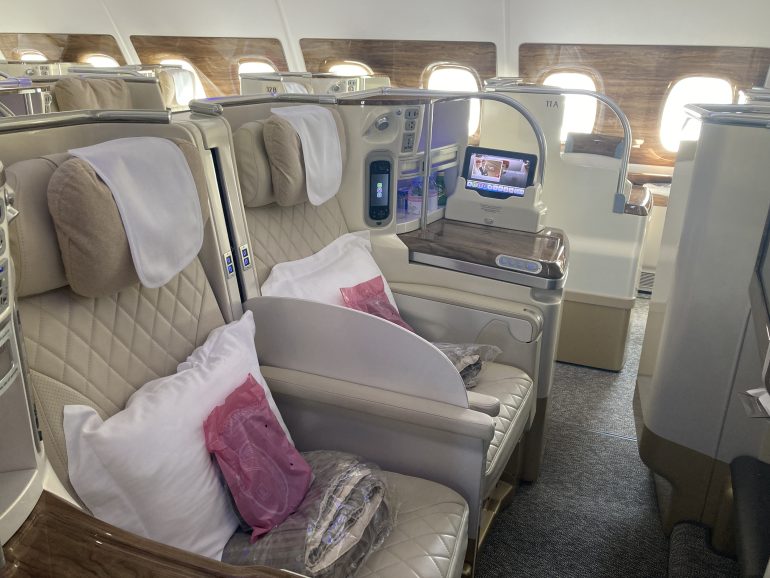 Flying business class on Emirates is an experience far different from U.S.-based carriers. Many of the things you are familiar with for premium cabins are there, but the in-flight service and airport lounges are a step above its North American competition.
If you're paying for business class (excluding mileage redemptions or the most discounted fares), Emirates will pick you up at least 12 hours before departure. The distance from the airport that they will pick you up ranges by city, so it's worth reviewing before purchasing a ticket, although you can circumvent the mileage restriction for a fee.
Emirates business class baggage allowance
Emirates allows passengers flying to or from the Americas up to two bags that each weigh 70 pounds (32 kilograms). You can also travel with two carry-ons — one standard carry-on and then either a briefcase or garment bag. Each carry-on can weigh a maximum of around 15 pounds (7 kilograms).
Here are the Emirates bag policies, by region, and compared across fare classes:
| | | | | |
| --- | --- | --- | --- | --- |
| Flights to and from the Americas and Africa (except flights within the Americas and between US and Europe) | One piece up to 23 kg for Special fares. Two pieces up to 23 kg each for Saver, Flex, and Flex Plus fares. | Two pieces up to 23kg (50 lb) each. | Two pieces up to 32kg (70 lb) each. | Two pieces up to 32kg (70 lb) each. |
| Flights within the Americas and between the US and Europe | One piece up to 23 kg for Special and Saver fares. Two pieces up to 23 kg each for Flex and Flex Plus fares. | Two pieces up to 23kg (50 lb) each. | Two pieces up to 32kg (70 lb) each. | Two pieces up to 32kg (70 lb) each. |
| | 20-35 kg, depending on fare type. | | | |
The Emirates economy class checked baggage policy is especially unique when it comes to flights outside the Americas and Europe, as you can bring as many bags as you want — as long as you don't exceed the weight limit. In theory, you could check 20 bags that each weighed two kilograms, which might offer some passengers more flexibility.
At the airport, you'll enjoy priority check-in desks before heading to the lounge and priority baggage reclaim. From Dubai Concourse A, business class passengers can board directly from the lounge.
Emirates business class lounges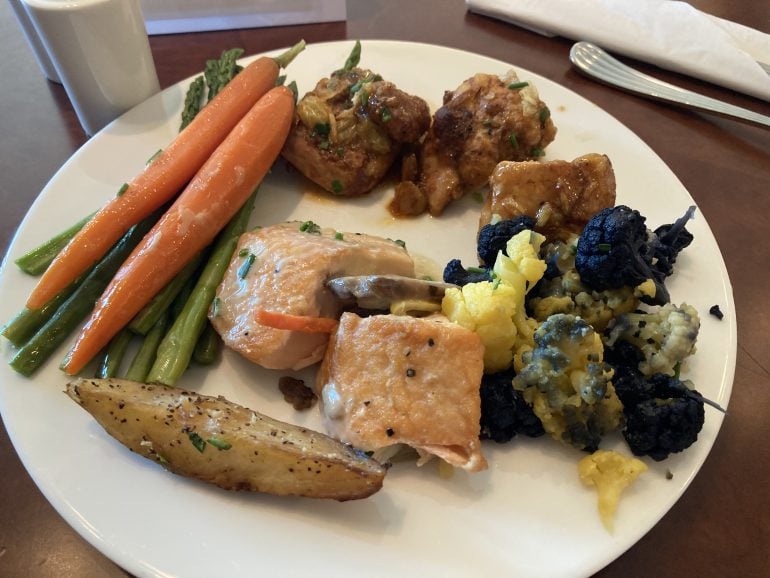 There are more than two dozen Emirates lounges all over the world accessible to business and first class customers. The airline's Dubai base has the most impressive business class lounges (special perks include barista-made coffee and a new health and wellness buffet). Also in Dubai's Concourse B, you can even visit the Moët and Chandon Champagne lounge, where you can sample top-notch bubbly for free. And at Dubai International Airport, Emirates has 3 lounges in its flagship Terminal 3, exclusively for business class.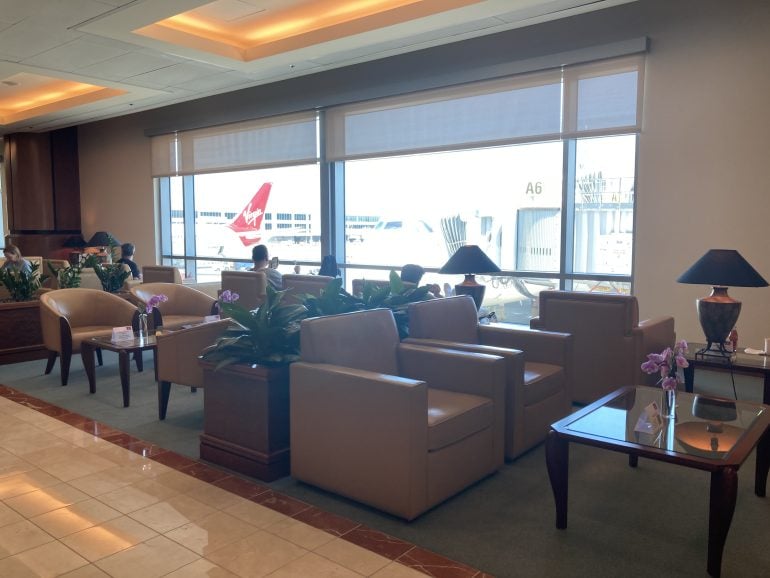 That said, any of the Emirates-branded facilities are sure to carry the airline's signature touches. No matter where in the world you are, these lavish lounges serve hot and cold buffets, impressive bar selections including champagne and sometimes a la carte meals. Beyond the food, lounge benefits include individual workstations, complimentary Wi-Fi, plasma screen TV's, quiet area's for sleeping with blankets and pillows
Emirates business class lie-flat seats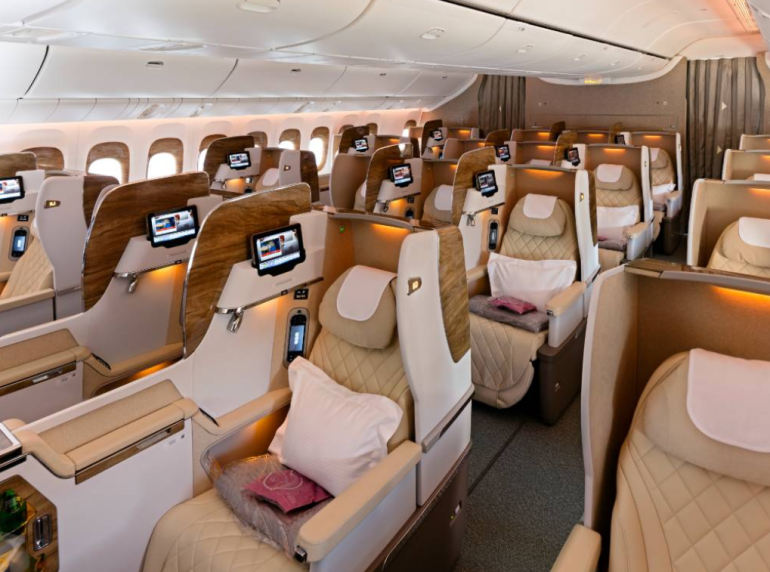 Lie-flat seat availability is one of the main reasons that people book an Emirates business class ticket, but the airline has several business class configurations. It is important to know your aircraft type before understanding what seat you will find.
Emirates A380 business class
On the Airbus A380, there is no need to worry about getting the dreaded middle seat, as every business class seat has direct aisle access thanks to the 1-2-1 configuration. On the sides of the plane, seats alternate between being closer to the window or closer to the aisle. In the center section, seats vary between being closer to the aisle or tucked into the center section for more privacy from those moving in the aisle.
Seats are 18.5" wide seats, pitched up to 44" apart. They recline into 76.6"- to 78.6" fully flat beds, and also have a 6-way adjustable headrest and electric footrest extension.
There are 76 seats available in the 3 & 4-class configured A380, or 58 seats in the 2-class configured A380.
Other A380 benefits include the airline's famous onboard lounge and bar, which is exclusive to the A380.
Emirates 777 business class
It's on the Boeing 777 where things get tricky. Only the Boeing 777-200LR has a 2-2-2 configuration. Most other Boeing 777s guarantee that you will have a 2-3-2 setup where the person in the very middle will have to climb over their neighbors. These are angled lie-flat seats, which are not 180-degree-flat like seats on other aircraft.
Though there are some features that make the Boeing version superior to the Airbus version. They're slightly larger seats at 20.5" wide, with seat rows pitched up to 65" apart.
There are also fewer people in this business class cabin which makes it more exclusive, as the Boeing 777 has just 42 business class seats on the 777-300ER and 38 on the 2-class 777-200LR.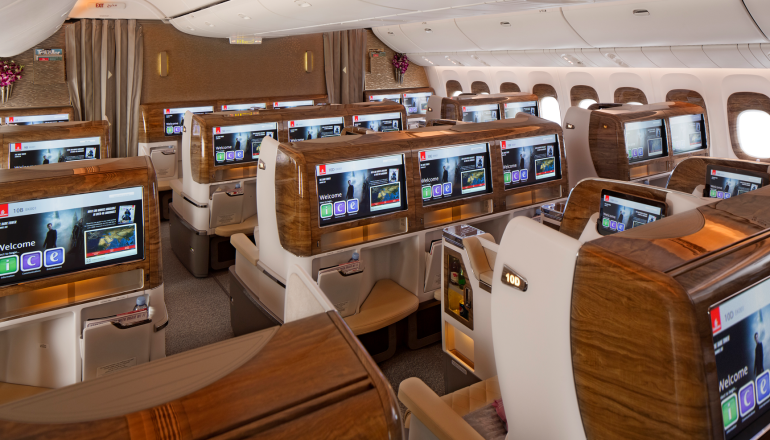 The airline also uses a lot of cream, hardwoods and gold finishes to create a luxurious cabin. While it may not appeal to everyone's design tastes, it is certainly striking. While no one wants a middle seat in a premium cabin, the top-notch in-flight service remains the same.
Emirates business class food and drink
Emirates offers some of the finest menu selections, such as Arabic mezze appetizers and champagne breakfasts (food and drink are included with the airfare). While menus change monthly with the season, there are always menus to support most diets, including a kids menu and a vegan menu that launched in 2022.
Emirates publishes its menus for different flights on its website. Just enter the flight details online to discover what is being served on the food and beverage list.
Meals start with an aperitif and appetizer followed by the main course and then decadent desserts. All meals on Emirates are halal. In between the main meals, there is a light bites menu that passengers can order at any time, including items like tofu poke bowls, ravioli and pecan cake.
The drink menu includes labels like Hennessy X.O cognac and Chivas Regal 18-year-old Scotch whisky. There are cocktails, a lengthy wine list and welcome champagne. Veuve Clicquot is served in Business Class on routes to the Americas, UK, and Europe, and Moët & Chandon is served in Business Class on routes to Africa, Middle East, and Asia Pacific including Australasia.
If you're not drinking alcohol, you might sip on complimentary Lavazza coffee and Dilmah tea, soft drinks, mocktails or juice..
Emirates serves its business class meals at set times, but will honor dine-on-demand requests. That's in contrast to other competing airlines, including Qatar Airways, which always offer dine on demand for everyone.
Though if you do prefer dining (or drinking) on your own schedule, Airbus A380 planes have in-flight lounges where passengers can gather for a drink, sandwich, snack, dessert or even a meal.
Passengers will dine on Royal Doulton fine bone china with custom-made Robert Welch cutlery.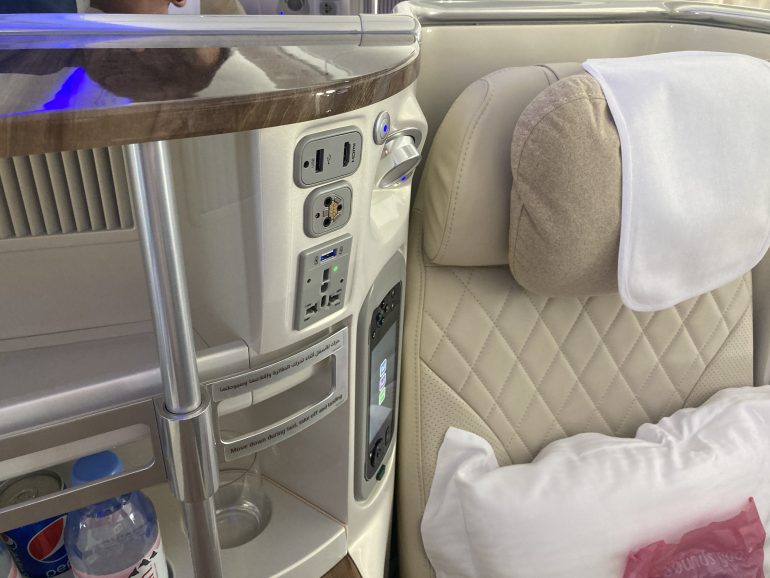 Dubbed "ice," Emirates' in-flight entertainment programming is among the best in the industry with hundreds of movies, sitcoms, documentaries, music and games to keep passengers busy. There can be more than 5,000 channels of entertainment.
While, yes, the same programming is available to everyone (no matter what the cabin), business class passengers benefit from a larger screen than those seated in lower cabins of service.
How much does Emirates business class cost?
Sample searches found March 2023 flights at $4,975 for a one-way trip from New York-John F. Kennedy or Chicago-O'Hare to Dubai. A one-way flight from San Francisco to Dubai will cost a bit more, at $5,768.
One way to stave off the sticker shock is to book your business class ticket with points and miles rather than cash.
Your spending with other points programs could be a route to an affordable trip, as you can transfer those points to your Emirates Skywards account. You can transfer miles and points to Emirates Skywards from a variety of bank programs, such as:
Based on our most recent analysis, NerdWallet values Emirates Skywards miles at 0.6 cent per mile. Use NerdWallet's Skywards miles calculator to understand how much your miles are worth in dollars based on our valuation:
Instead of a traditional award chart, Emirates relies on an award calculator that helps travelers know how many miles they need for a flight. The number of miles you need on a particular route is always the same (no dynamic pricing), but each route can vary.
For example, flying New York-John F. Kennedy to Dubai in business class costs 115,000 miles each way.

Also look out for Emirates' fifth freedom flights between the U.S. and Europe, like Newark, New York to Athens. These only cost 72,500 miles in business class each way.

Those who are only looking to make a one-time redemption may prefer to stick with another credit card to accumulate valuable miles and points until they are ready for their big Emirates adventure.
How to book Emirates business class with miles or cash
To book an Emirates ticket, navigate to the Emirates website and input your flight details to begin your search. If you're booking with miles, select "Book Classic Rewards Flight." If you're booking the ticket with cash, you'll need to select "Book flights" instead.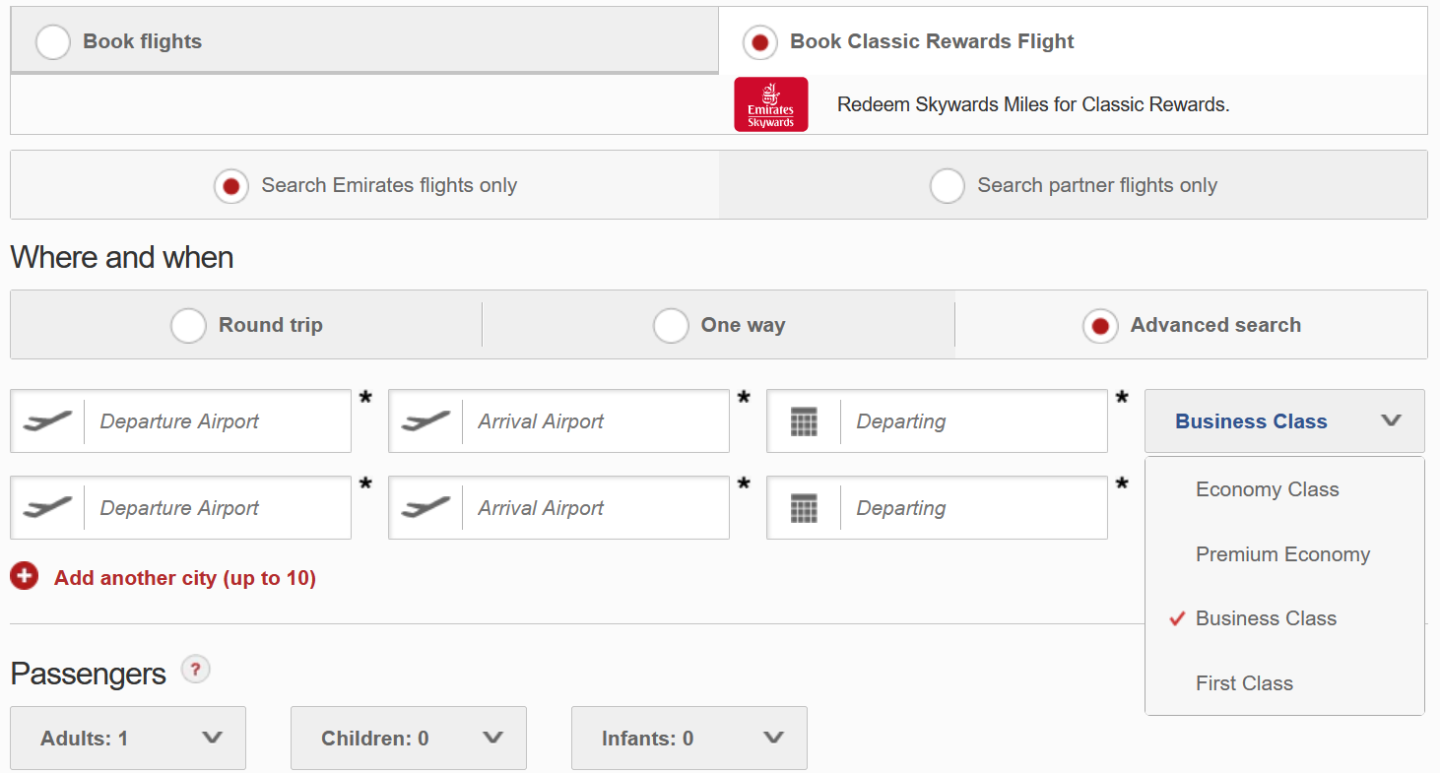 Be sure to select "Business Class" from the drop-down menu and hit search. Here's a one way flight from Orlando, Florida to Dubai.
Emirates business class ticket in cash

Emirates business class ticket with miles
Select your flight, input passenger data and follow the prompts to complete the booking.
How Emirates business class compares to other Emirates fare classes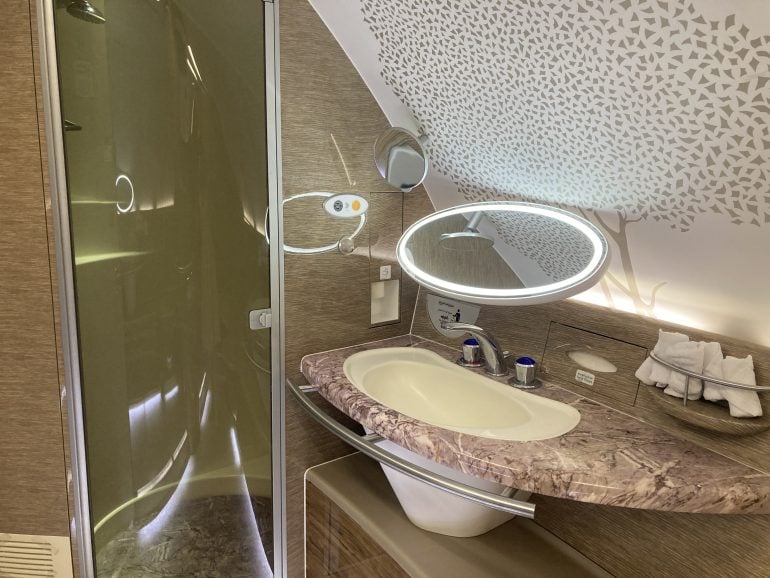 Emirates makes headlines with its inflight showers — though the shower in the sky is reserved solely for first class. Even still, Emirates business class is among the finest experiences when it comes to air travel, thanks to lavish features such as the stand-up lounge bars (available to both first and business class).
Emirates has four classes of service: first, business, premium economy and economy. But the reality is that even within business class, there are superior and inferior products. While you experience the same benefits on the ground (luxe lounges and all), the seats can vary quite a bit once on the plane.
If you absolutely cannot risk a middle seat, you might splurge even more for first class.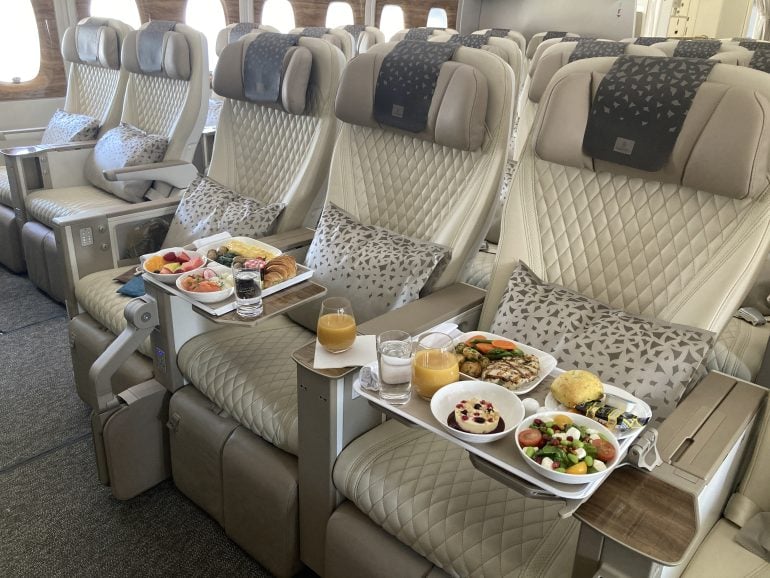 Meanwhile, someone who is somewhat budget conscious might consider the lower fare class of Emirates premium economy, which the airline says costs about 65% less than business class fares. While Emirates premium economy doesn't offer the full, lie-flat service of business class, there is extra recline, a leg rest, specially-designed pillows and blankets to arrive well-rested at your destination. It won't get you the ultra-bougie perks like chauffeur service or lounge access, but you might still be able to get into the airline lounge anyway by holding certain travel credit cards.
Is Emirates business class worth the money?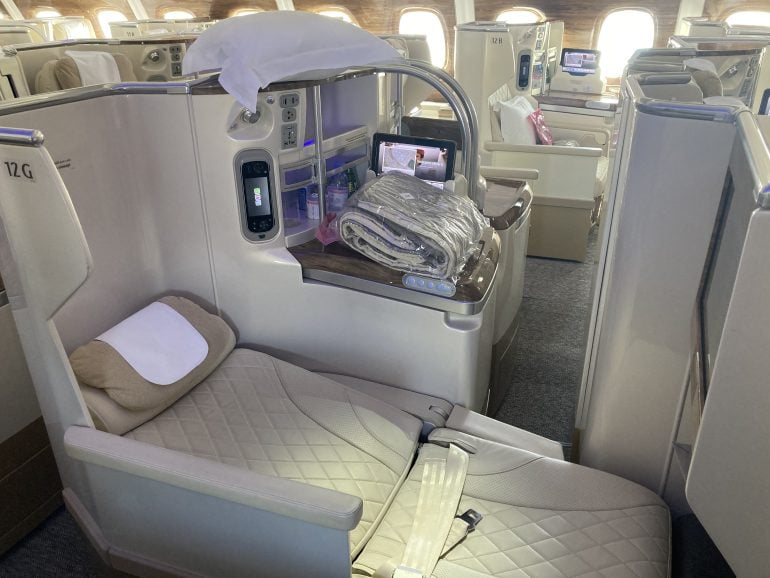 Emirates delivers an exceptional airport and onboard experience that is miles ahead of the competition. Whether you're going to Europe, the United Arab Emirates or beyond, you'll be pampered no matter where you sit in the business class cabin.
That said, Emirates business class has some hiccups that keep it from being absolutely perfect. The biggest issue: middle seats in business class on certain aircraft. Just be wise when booking to avoid that dreaded seat.
Meanwhile, you can really maximize your experience by racking up Emirates Skywards miles from flying with the airline, transferring points from a credit card rewards program or applying for one of the airline's credit cards. The next time you're enjoying a cocktail in the lounge of an Airbus A380 at 36,000 feet over planet Earth, you'll be glad you did.
Featured image courtesy of Emirates.
---
How to maximize your rewards
Get more smart money moves – straight to your inbox
Sign up and we'll send you Nerdy articles about the money topics that matter most to you along with other ways to help you get more from your money.