Fiji Airways Business Class Review: Great Seats on the A350
If you're looking for a cushy flight to an island paradise, you could do far worse than Fiji Airways business class.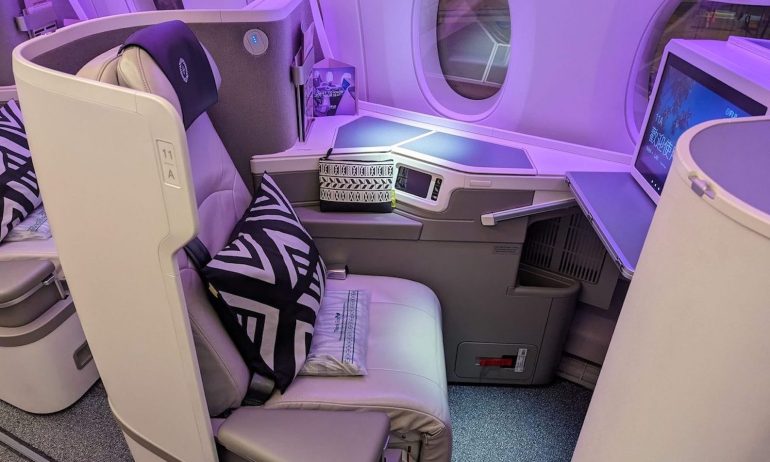 Many or all of the products featured here are from our partners who compensate us. This influences which products we write about and where and how the product appears on a page. However, this does not influence our evaluations. Our opinions are our own. Here is a list of our partners and here's how we make money.
While Bora Bora and the Maldives often get more attention, I recommend considering the island archipelago of Fiji the next time you're looking for a tropical island destination. Thanks to its incredible resorts, spectacular nature, warm hospitality and reasonable pricing, I actually prefer visiting Fiji over its more-popular (and generally more-expensive) alternatives.
To fly to Fiji directly from the U.S., you have just one option: Fiji Airways. The Nadi-based airline serves Los Angeles, San Francisco, Hawaii and Vancouver — making it the only airline currently flying directly to Fiji from North America. And if you want to fly there in style, your only option is to fly Fiji Airways business class.
In April 2023, I flew Fiji Airways business class from Auckland to Nadi on the Airbus A330. A week later, I continued from Nadi to Los Angeles in Fiji Airways A350 business class. Here's what both experiences were like.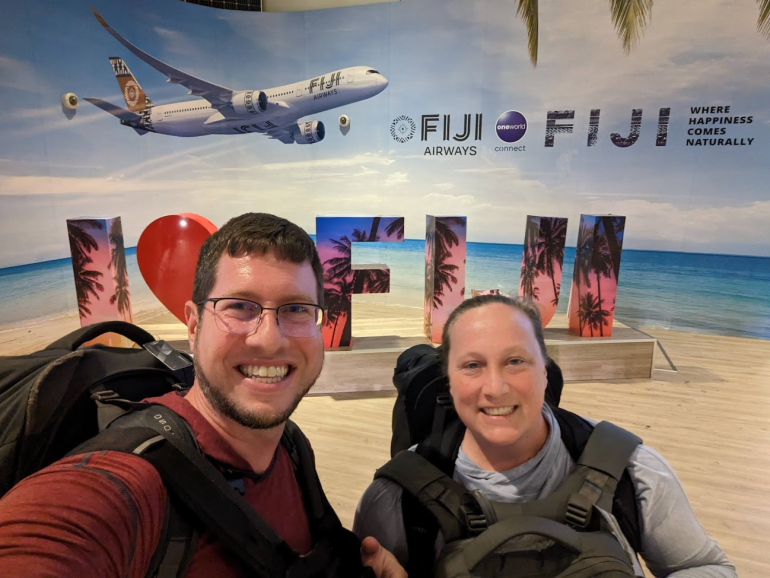 Fiji Airways A350 business class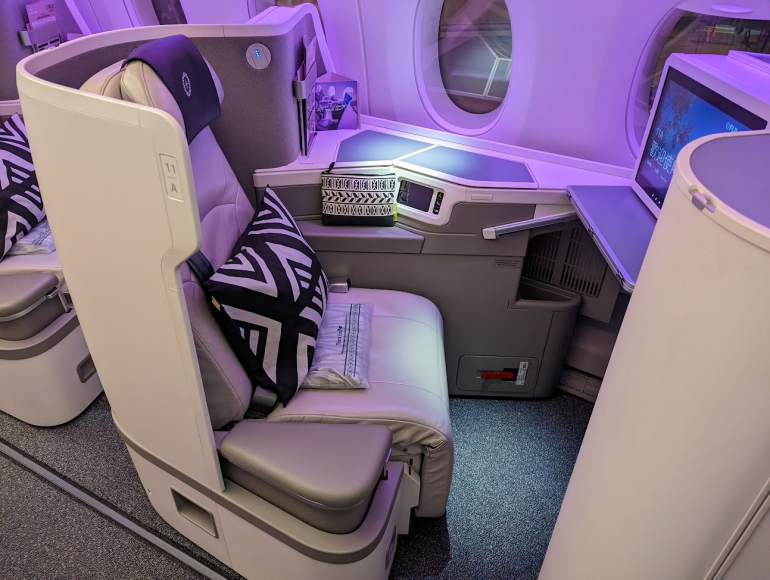 On its Airbus A350, Fiji Airways uses Collins Aerospace Super Diamond business class seats. These are the same seats that you'll find installed on some aircraft of airlines like American Airlines and Air Canada.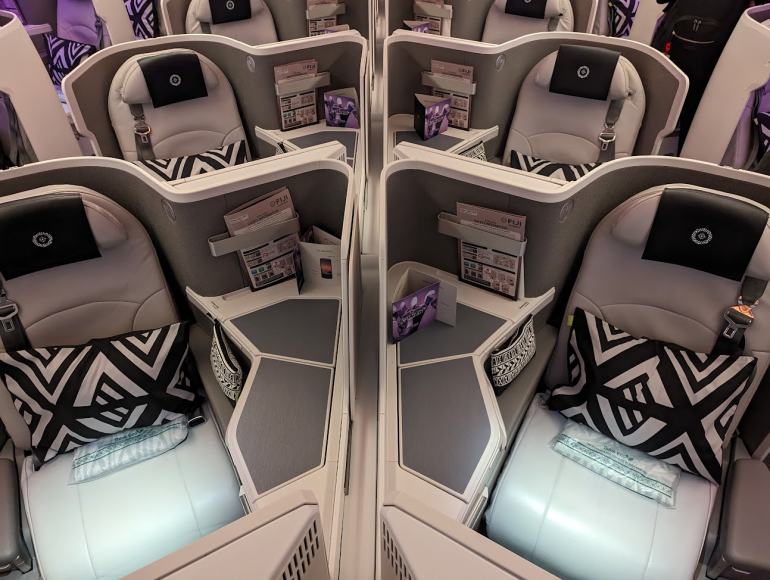 Seats are arranged in a reverse-herringbone 1-2-1 arrangement, meaning one window seat on the outside of each aisle and two seats in the middle. This arrangement gives all business class passengers direct access to an aisle.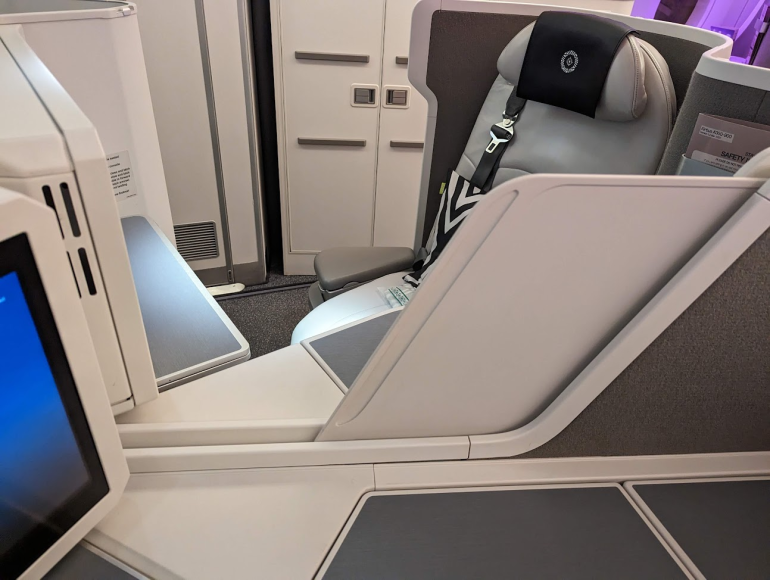 Middle seat pairs are ideal for couples traveling together. However, you can use the adjustable privacy screen if you're seated next to a stranger.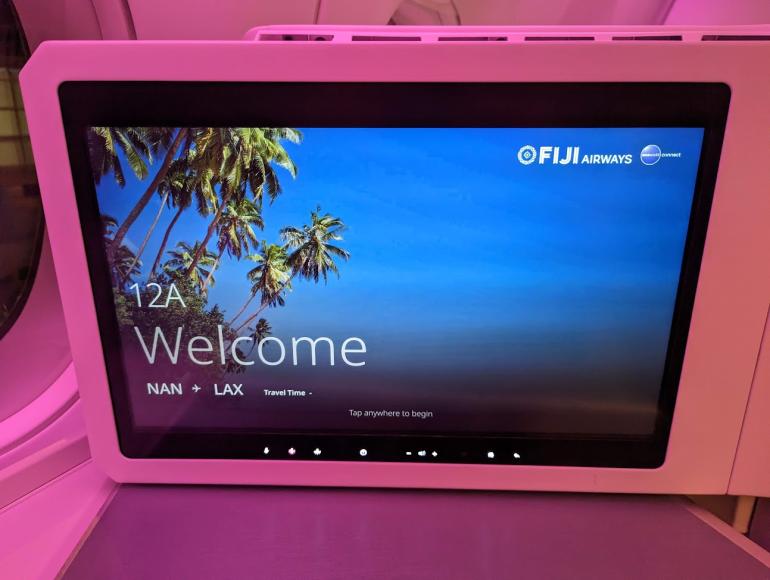 Each seat can recline into a lie-flat bed, has a 17-inch touchscreen monitor, offers one universal outlet plus two USB outlets, and has an individual reading light.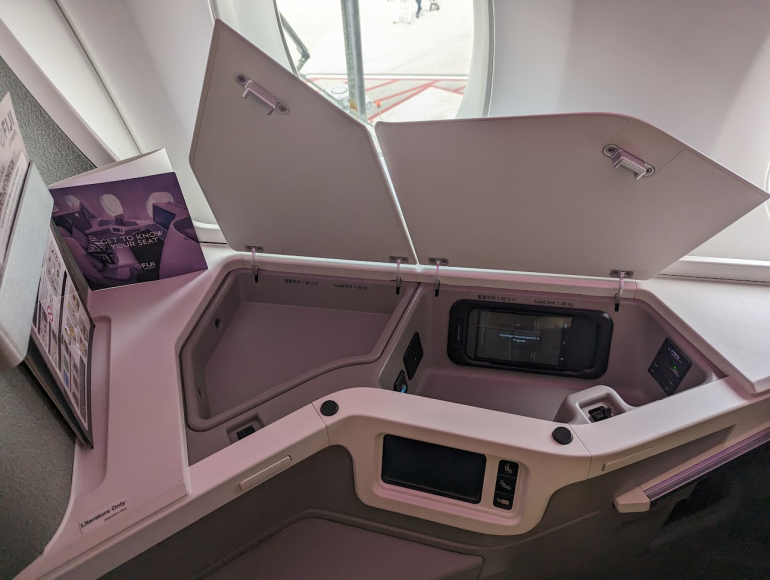 Underneath the seat's side table are two compartments, both of which can latch closed — meaning you can use these for storage of small items during takeoff and landing.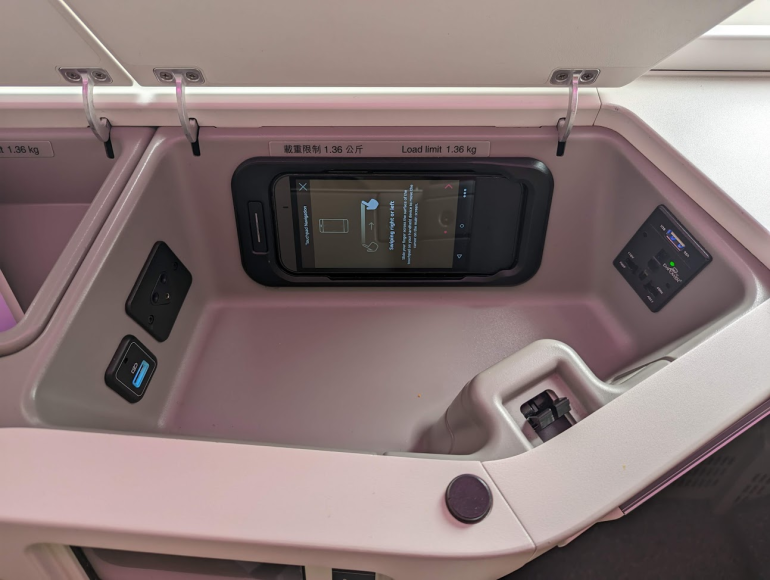 Inside the front compartment, passengers will find a universal power outlet, two USB-A outlets, headphone plug and the in-flight entertainment controller.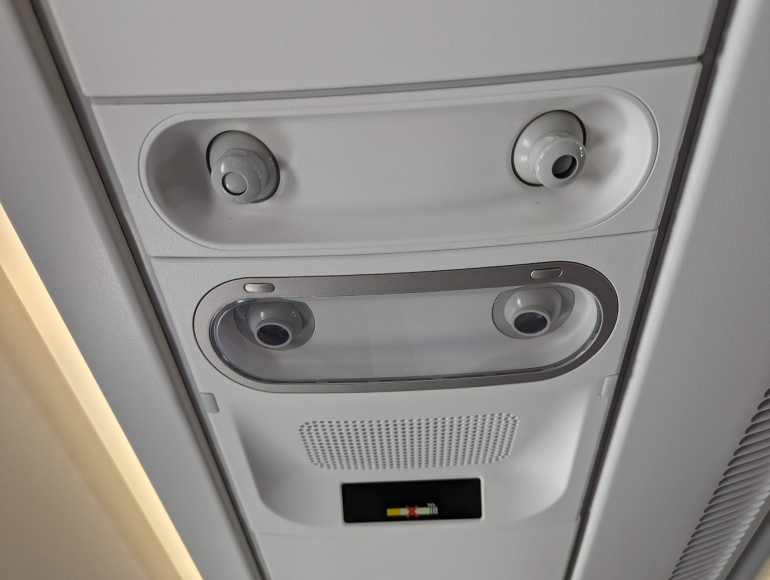 Overhead, travelers have dual lights and personal air vents — a feature not installed in most A350 aircraft.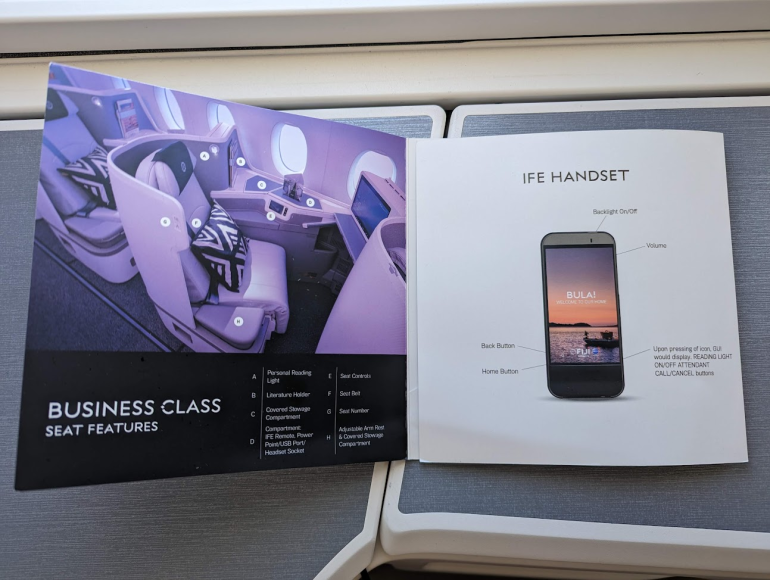 Another particularly nice touch that I haven't seen on other airlines: Fiji Airways stocks each seat with a handheld brochure describing the features of the seat and how to use them.
Fiji Airways A330 business class
The Airbus A350 is Fiji's new flagship aircraft. However, Fiji Airways still operates plenty of flights using its older Airbus A330 aircraft. And there's a pretty big difference in the business class experience between the two aircraft.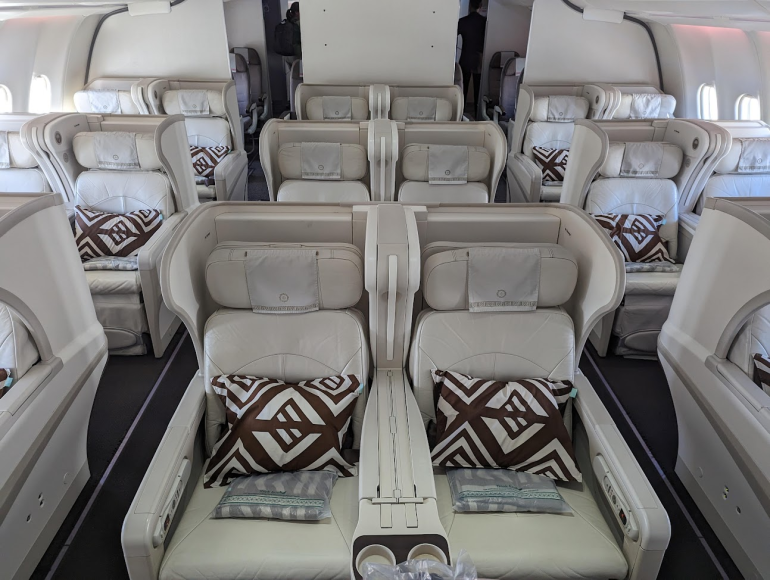 Business class seats on the Fiji Airways A330 are arranged in a 2-2-2 configuration. This arrangement is ideal for couples traveling together. However, it means passengers in the window seat don't have direct access to the aisle.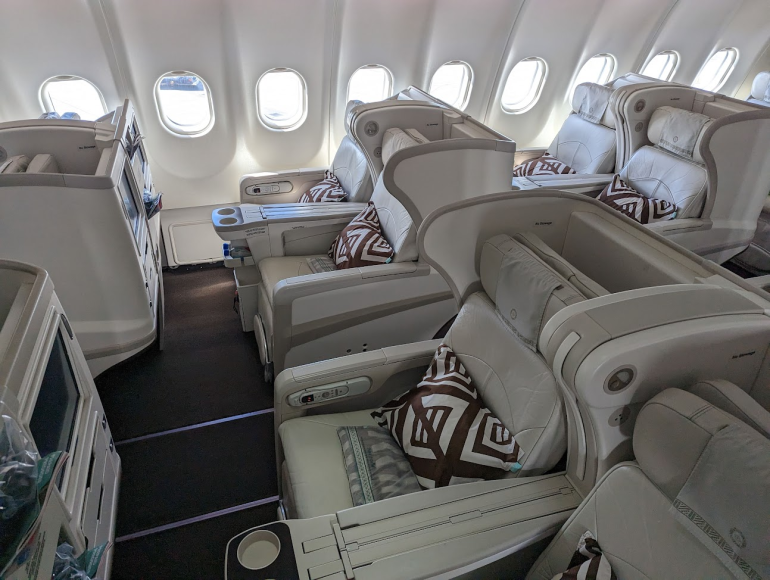 Small privacy walls are installed between seat pairs. If you're sitting next to a stranger, you can extend a small divider from this privacy wall. Still, you're still going to be pretty close to your neighbor — for better or worse.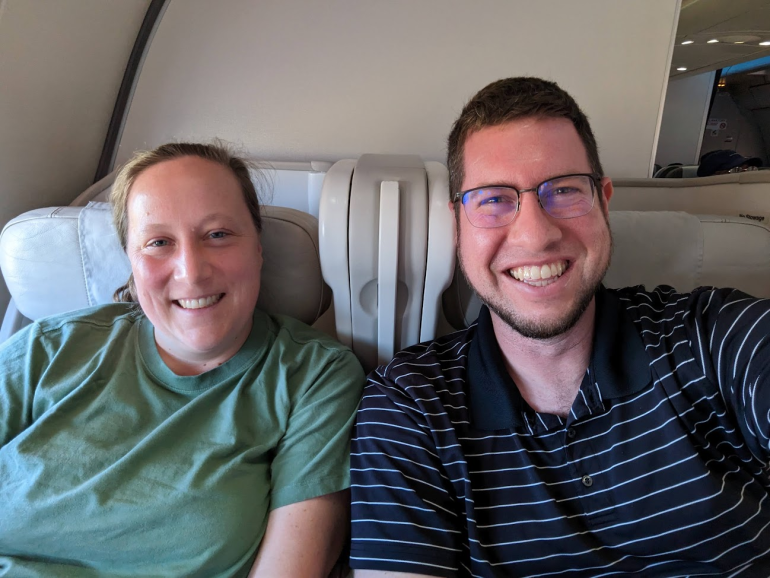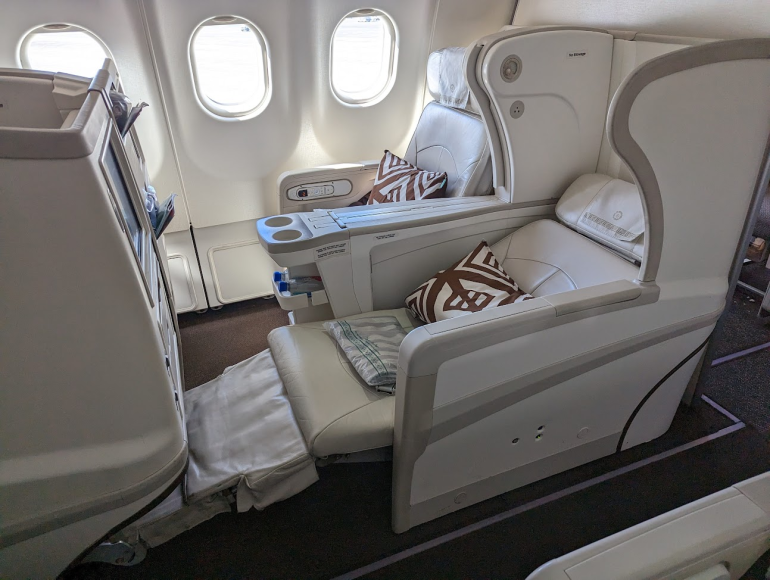 Business class seats on the Fiji Airways A330 recline pretty far, but not quite to a fully-flat position. Travelers who need a fully-flat seat to sleep well will want to find an option on the Fiji Airways A350 instead.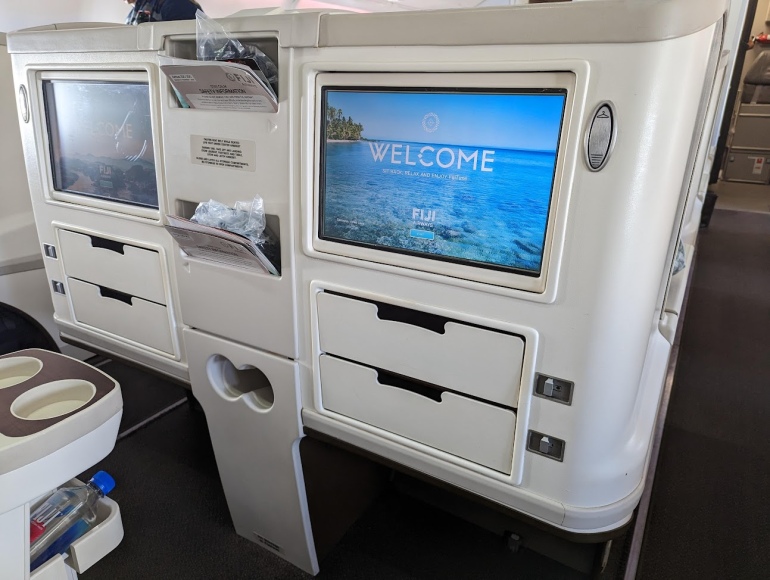 Seats have small storage wells between the seats. However, most of the seat storage is found in small locking compartments under the large in-flight entertainment screen.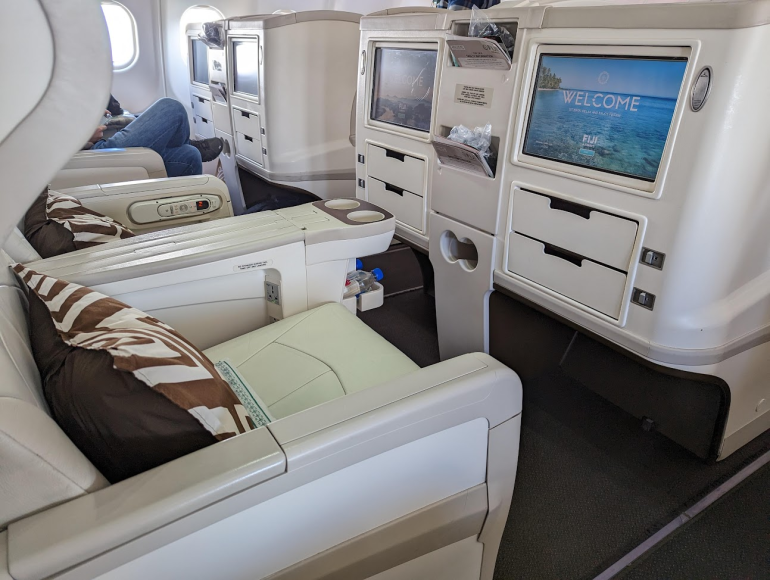 Water bottle holders are found in the console between seats and shallow cup holders are found in the armrest between seat pairs. The inflight entertainment screen controller is located in the outside armrest.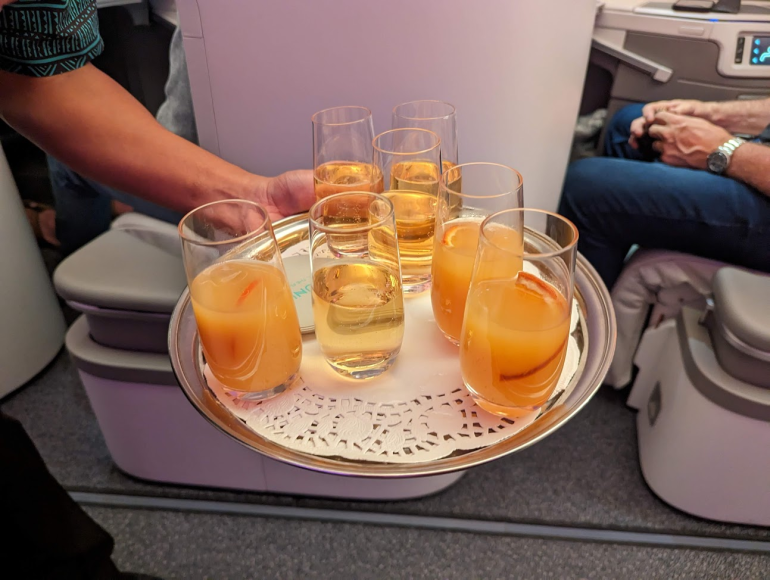 During boarding, flight attendants passed through the cabin handing out glasses of champagne, orange juice, or water.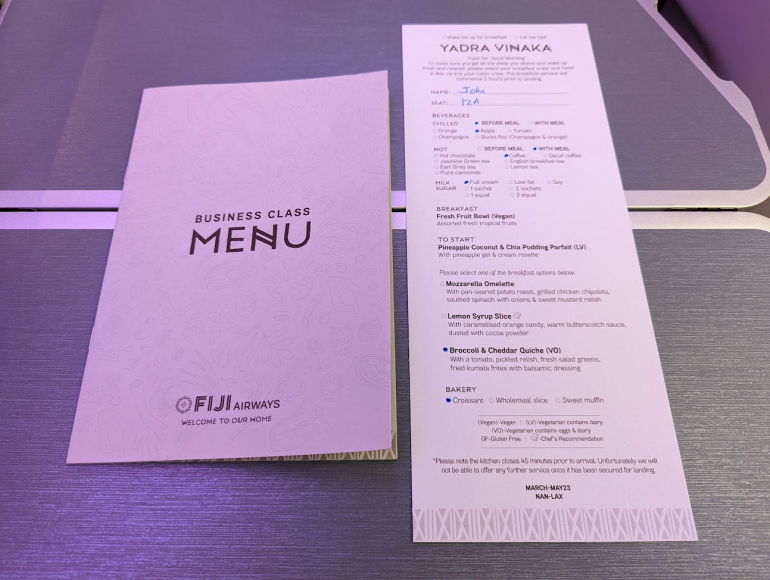 Other flight attendants followed up by handing out the combined dinner/drink menu and the breakfast order form, which we were asked to fill out before departure.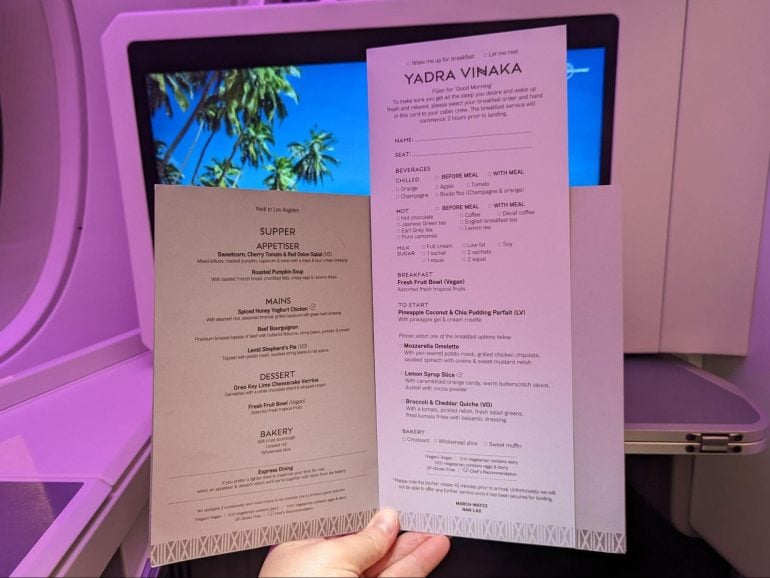 "Supper" offered a choice of two appetizers, three main dishes and two desserts. Passengers wanting a quick option after a late departure could opt for an Express Dining selection.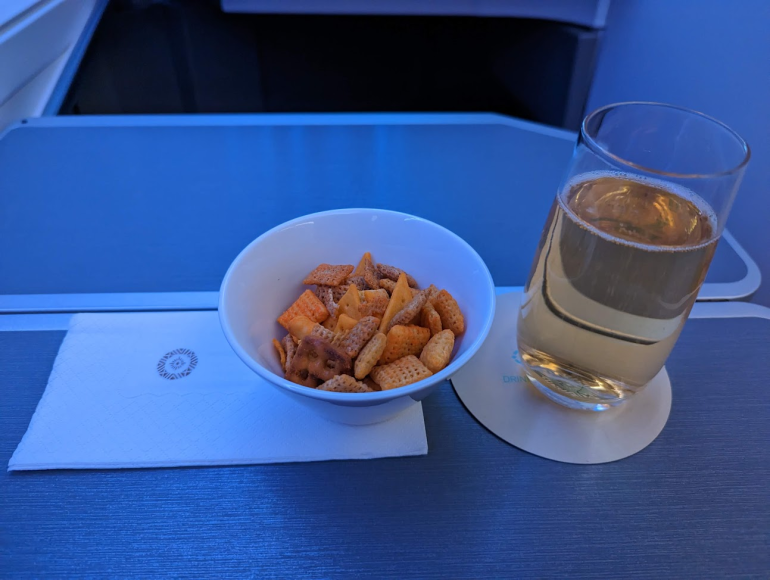 When taking dinner orders, flight attendants offered both an aperitif and a drink with the main course. After departure, the aperitif was served with a small bowl of snack mix.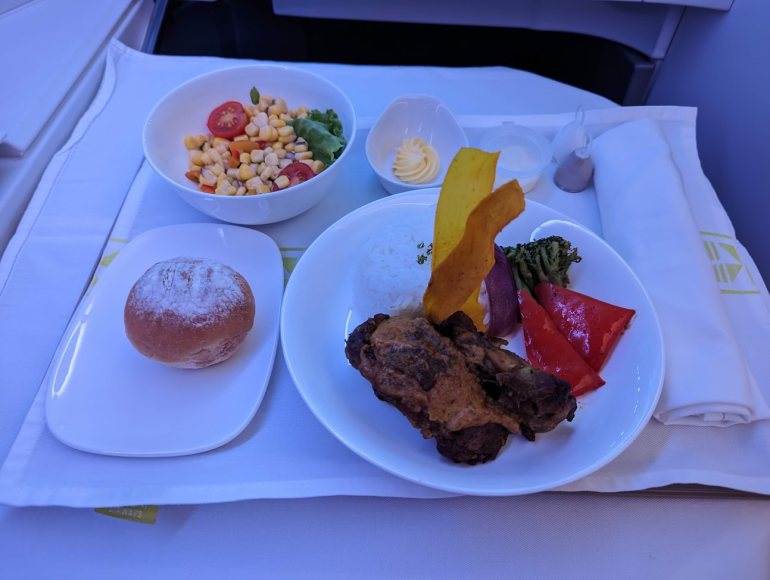 My appetizer ("sweetcorn, cherry tomato & red onion salad") and main dish ("spiced honey yoghurt chicken") were served on the same tray, along with a bread roll.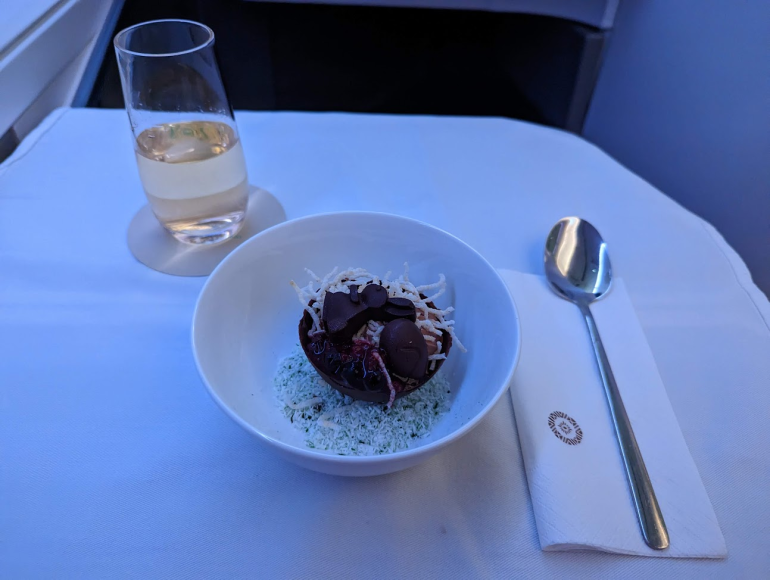 Dinner was quickly followed up with a small but tasty dessert of Oreo Key Lime cheesecake.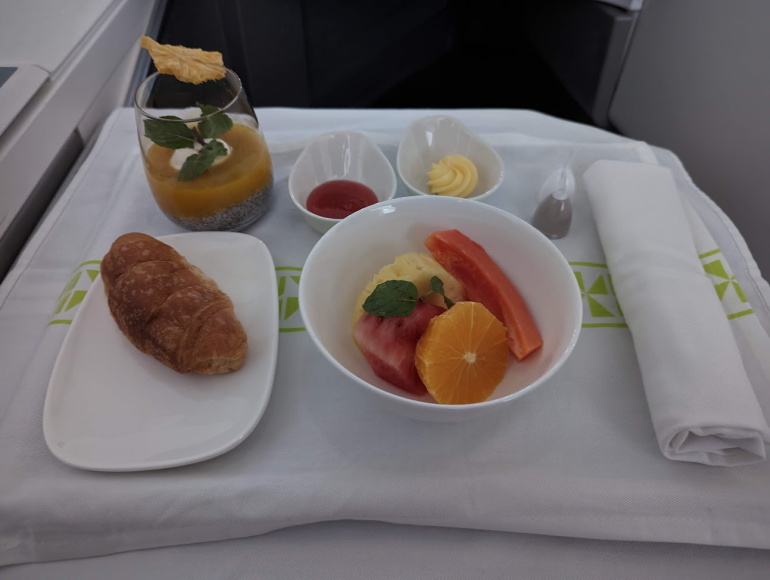 Two hours before landing, the crew began serving breakfast to those of us who were awake. My meal started with a chia pudding parfait, a bowl of fruit, and a choice of a croissant, "wholemeal slice" or sweet muffin.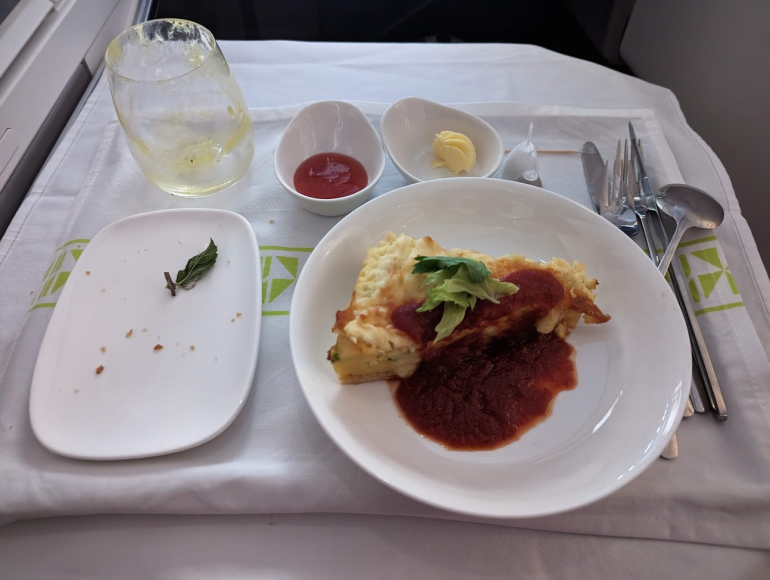 Once I finished the bowl of fruit, the crew served my main breakfast choice: broccoli and cheddar quiche. Suffice it to say, I left the flight with quite a full stomach!
From boarding to disembarking, flight attendants provided friendly, attentive and efficient service. On our flight from Nadi to Los Angeles, the cabin crew provided one of the best service experiences I've had in my nearly 1,000 flights on over 90 airlines.
During the rushed boarding process, Fiji Airways flight attendants were attentive and helpful to passengers while still managing to hand out pre-departure drinks and dinner/drink menus, and even perform a hot towel service.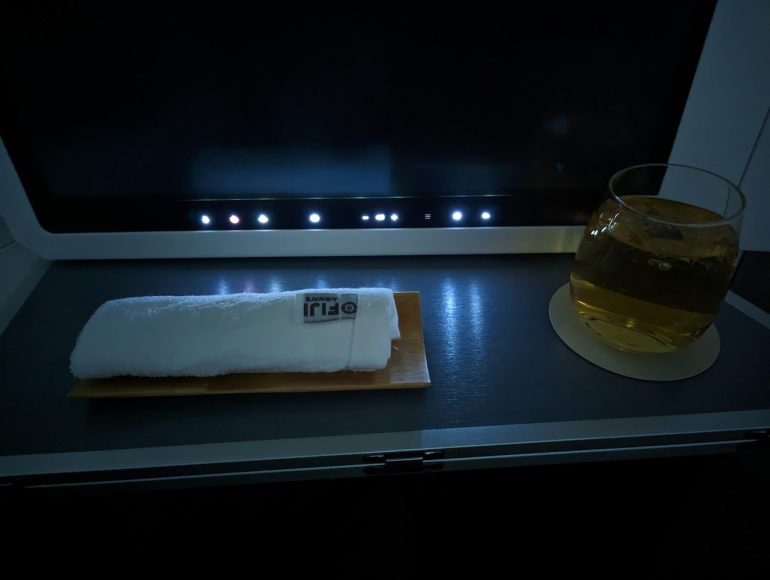 Flight attendants provided truly above-and-beyond service during the flight. Just one example: I raised my seat to head to the bathroom about 3.5 hours before landing. Assuming I was waking up for the morning, a flight attendant served a hot towel and a glass of apple juice — the drink I'd indicated on my breakfast form — to my seat before I returned from the lavatory.
Another way that the service seemed to be personalized wasn't evident until my wife and I compared notes after the flight. My dinner appetizer and main course were served together, while hers were served as separate courses. While we aren't sure of the reason, we suspect that the flight attendants slightly sped along my dinner process after noticing me working on my laptop during boarding.
Other business class amenities
Particularly on the Fiji Airways A350, the in-flight entertainment system is stocked with seemingly endless options. In addition to 148 movies, passengers have dozens of choices in TV shows, music and podcasts. Aviation geeks can watch the live camera feed from the tail or undercarriage.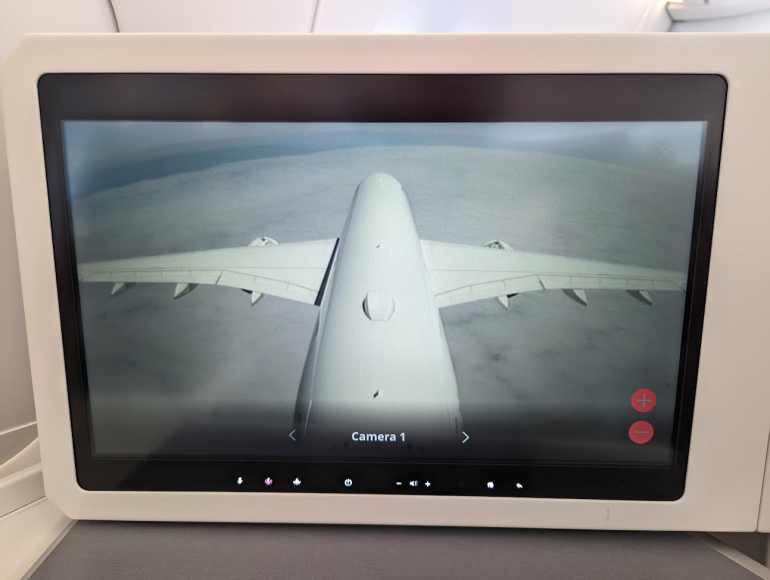 Movies and TV shows start with around two minutes of advertisements, but you can easily skip through these.
Unfortunately, business class passengers do not get a promo code for a free Wi-Fi allotment. Travelers have several ways to stay connected in-flight. If you simply want access to text messaging, you can get 15 minutes for free or pay $7.95 for 20MB worth of data. For full Wi-Fi access, you need to choose a package: the 200MB package for $11.95 or the 500MB package for $24.95.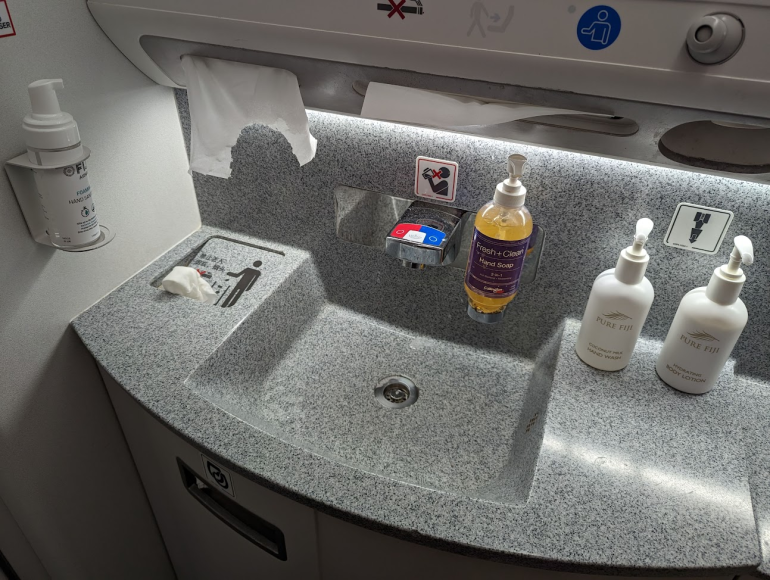 In the otherwise unremarkable business class lavatories, this one was stocked with Pure Fiji body lotion and hand wash, as well as a foaming hand sanitizer.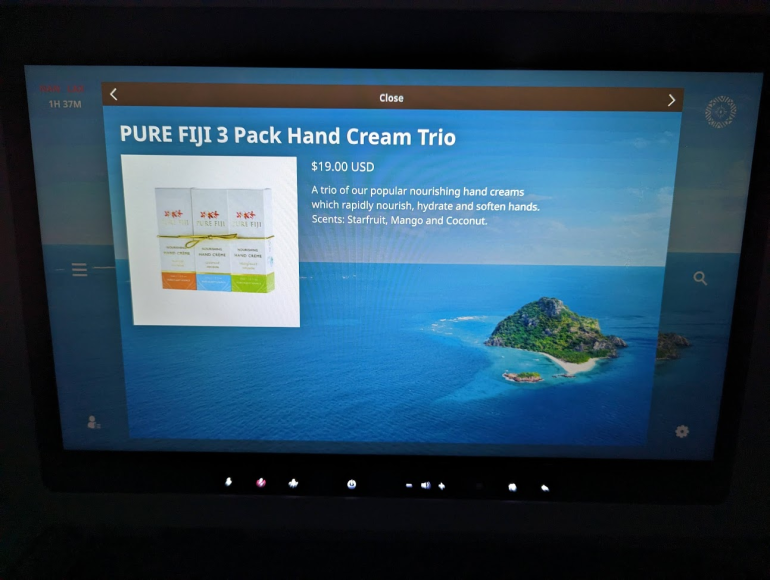 If you wanted to take some Pure Fiji products home with you, these and much more were reasonably priced through the in-flight duty-free shopping. The in-flight entertainment system included details of what was available, along with pricing.
Fiji Airways lounge at LAX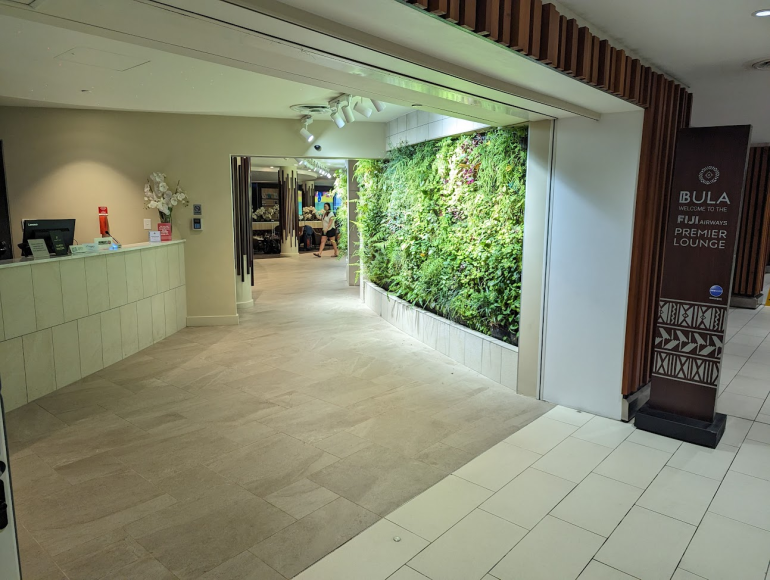 From security, it's just a short walk to Fiji Airways Premier Lounge at LAX. In addition to providing access to Fiji Airways business class passengers, the lounge is also accessible to Oneworld elites booked on eligible tickets and Priority Pass members.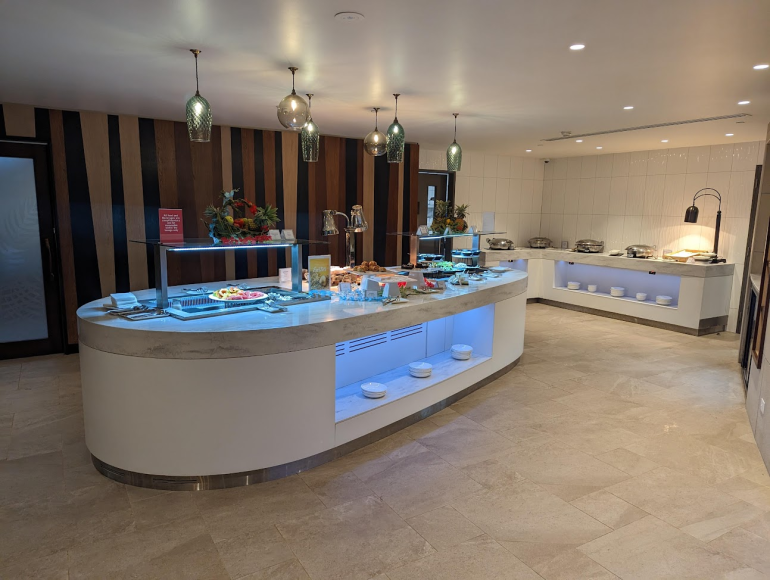 The lounge was moderately busy, but lounge agents still provided attentive service and kept the food buffets stocked.
A staffed bar offered complimentary cocktails, beer and wine — all with typical Fijian friendly service.
As passengers began gathering at the gate, the scene quickly became chaotic — a problem that was exacerbated when boarding was delayed. Despite late boarding and a full flight, the cabin crew worked hard to prepare everything for departure. We pushed back just a few minutes after the scheduled departure time.
How much is Fiji business class?
Sample searches found November 2023 business class flights for a one-way trip from New York-John F. Kennedy to Nadi International Airport for $3,988. One-way San Francisco trips start at $3,574.20. One way to better stomach the price is to book your business class ticket with points and miles rather than cash.
Booking Fiji Airways business class with miles
My wife and I took full advantage of one of Alaska Mileage Plan's sweet spots to book these flights. We booked an award starting in Auckland, New Zealand and ending in Los Angeles — with a seven-day stopover in Fiji along the way. The cost: Just 55,000 Alaska miles plus $108.87 in taxes and fees per person for the two flights.
In the time since booking these flights, Alaska Airlines ditched its fixed-rate award charts. Instead, Alaska Mileage Plan publishes starting prices for award flights to each region. Thankfully the starting price for business class to the South Pacific is still listed at 55,000 miles one-way.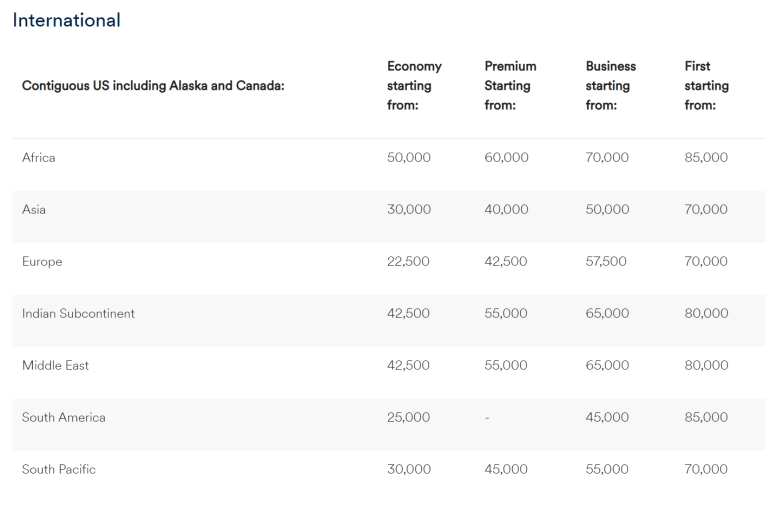 For now, travelers can still book an award flight between the U.S. and Fiji for 55,000 Alaska miles — or onward to New Zealand (with or without a stopover in Fiji) for the same price. Just note that business class award availability can be hard to find between the U.S. and Fiji.
Fiji Airways business class recapped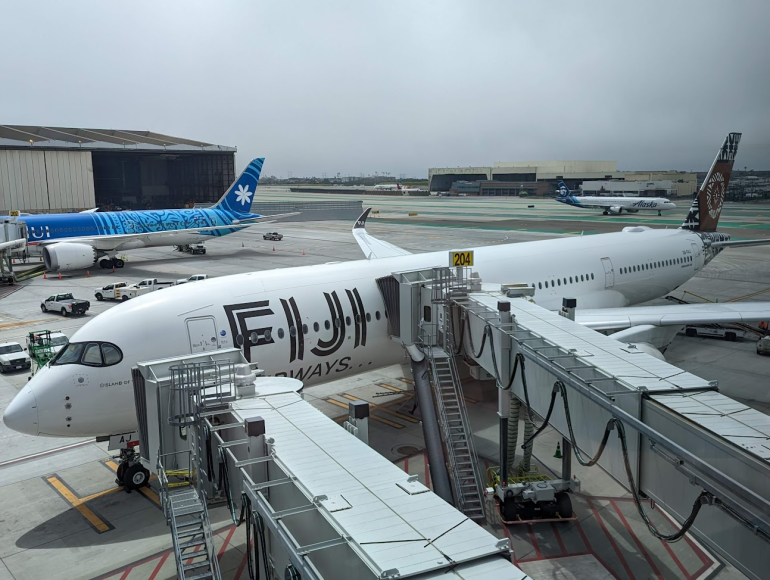 Despite currently having a monopoly on flying nonstop between Fiji and the U.S., Fiji Airways clearly strives to provide an excellent onboard experience. That's in sharp contrast to what I've found on other airlines that fly to popular island destinations in the Pacific.
Fiji Airways A350 business class seats are top-notch. The Fiji Airways A330 business class seats don't provide as much privacy or lie completely flat, but they're still a solid option. And both are complemented by excellent onboard service.
The boarding process was the only disappointing aspect of my Fiji Airways business class experiences. Both in Auckland and Nadi, delayed boarding times weren't clearly communicated and the ground crew wasn't firm about directing impatient passengers on where and how to queue.
Those minor gripes aside, I can certainly recommend flying Fiji Airways business class — particularly if you can also book it for an incredible deal of 55,000 Alaska Mileage Plan miles.
---
How to maximize your rewards
Get more smart money moves – straight to your inbox
Sign up and we'll send you Nerdy articles about the money topics that matter most to you along with other ways to help you get more from your money.