Flight Insurance: What You Need to Know
Knowing your options can help you pick the best insurance for your nonrefundable flight.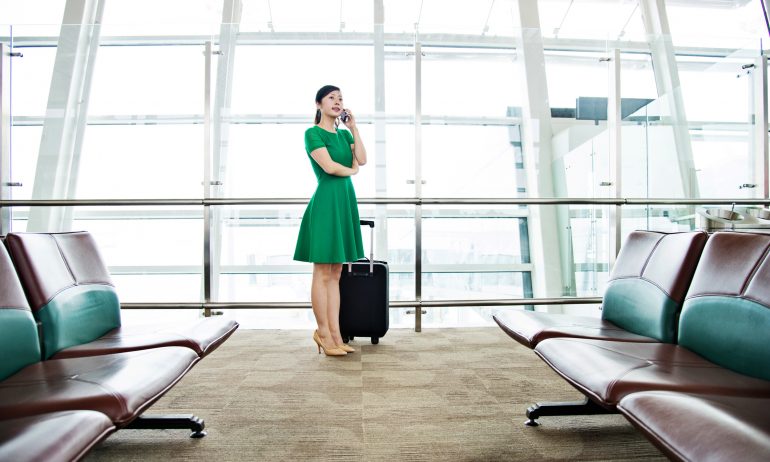 Many or all of the products featured here are from our partners who compensate us. This may influence which products we write about and where and how the product appears on a page. However, this does not influence our evaluations. Our opinions are our own. Here is a list of our partners and here's how we make money.
There are plenty of flight insurance options to choose from so whether you're booking a flight with cash or miles, protecting your trip in the event of an unexpected cancellation or delay can help get your miles or money back. Knowing which type of coverage is applicable to your flight can help you make an informed decision about protecting your payment. Here's what you need to know about choosing the right flight insurance option.
Terminology around different travel insurance options can get confusing. To keep things simple, when we refer to flight insurance, we mean insurance that will protect your nonrefundable flight that was paid for in cash or with miles. There are a few ways to protect your flight:
A comprehensive travel insurance policy will include the most benefits, including trip cancellation, trip delay, , repatriation and more. Providers that offer comprehensive travel insurance plans include , and .
Premium travel cards (e.g., the  and ) offer complimentary travel insurance protections that are similar to those offered on standalone travel insurance policies. Terms apply. However, the limits are usually lower, medical costs may not be included and the entire trip must be charged on the same card to receive coverage.
Airlines also offer a flight insurance add-on when you're paying for your flight (in cash or with miles) — but this coverage only pertains to the flight; there are no medical benefits and no coverage of non-flight-related purchases for your trip).
Although these three types of policies are different, one common theme among them is that the protections are only valid if your trip is canceled or delayed for a covered reason such as a natural disaster, illness, death or other extraordinary event. A is not a covered reason. If you're booking a trip in the future and want the option to cancel, book a refundable ticket or purchase a cancel for any reason optional add-on (more below).
As part of NerdWallet's Best-Of Awards, we reviewed various travel insurance policies to help you choose the plan that provides the best coverage for your trip. Check out our findings here: .
Whether you're getting your insurance to cover your flight through a comprehensive travel insurance plan, perks from your premium credit card or buying the add-on from the airline, there are two common types of coverage you can expect for your flight. Coverage amounts and limits will vary by policy and/or credit card.
will reimburse you for prepaid, nonrefundable expenses if your flight is canceled for a covered reason. In the event of a trip cancellation booked with points or miles covered by your premium credit card, American Express and Chase will reimburse you in cash for the value of those points. Comprehensive policies and airline add-ons normally will reimburse you for the full cost of your flight, up to the policy maximums.
This coverage kicks in if you're and you incur expenses as a result. Each policy details the reimbursement amount that is allowed along with how long the delay must be in order for the trip to qualify.
For example, say you're going on vacation and you have a connecting flight with a layover. An approaching snowstorm in the connecting city delays your flight, and after hours of waiting in the airport, you find out your upcoming flight is . Now you need a hotel room, toiletries, dinner and breakfast the next morning.
If you have trip delay coverage, you will be reimbursed for all of these expenses, as long as the delay exceeds a certain number of hours and you remain within the allowed daily monetary limit.
When you buy your flight from an airline, you will often see an option to purchase trip insurance on the checkout page. As examples, United offers a flight insurance option provided by Travel Guard, while American Airlines' flight insurance provider is Allianz. Although coverage will differ between airlines, you will likely receive protections for trip cancellation, interruption and delay, as well as coverage for lost bags, medical expenses and more.
Although these benefits are similar to those provided by comprehensive travel insurance policies, the coverage offered by the airline only pertains to the flight. If your trip also includes a hotel and other nonrefundable bookings, you'd be better off with a standalone travel insurance policy or relying on your credit card coverage (if the limits are sufficient and your entire trip was booked with the card). However, if the flight is your only nonrefundable expense and you don't already have a credit card that offers these trip insurance benefits, purchasing flight insurance can make sense because it may be cheaper than a comprehensive policy.
is an optional add-on (you cannot buy standalone CFAR coverage) that is offered on some comprehensive trip insurance plans. While trip cancellation coverage provides reimbursement when you cancel a trip for a covered reason, CFAR provides partial reimbursement when you cancel for absolutely any reason. With CFAR, you can receive up to a 75% reimbursement as long as you cancel at least two days in advance. The reimbursement percentage varies between policies, but is usually around 75%.
Check out an insurance comparison site like (a NerdWallet partner) to see a list of policies that offer CFAR. For example, on the Squaremouth site, you will need to input your trip information (i.e., length of trip, departure date, trip cost, age, etc.) and search for a quote. You will then see a list of policies, along with a filter that will allow you to select "cancel for any reason."
If you're purchasing a travel insurance policy over the phone and would like the CFAR add-on, make sure to ask the customer service representative about it since this coverage is not always an option.
If you use airline miles to book an award ticket, the flight insurance offered on the checkout page also usually covers a redeposit of your miles back to your frequent flyer account if the trip is canceled. Comprehensive trip insurance policies and credit card travel insurance will reimburse you for the taxes and fees paid on award tickets, not the miles. Make sure you check your policy if booking with points; some comprehensive and credit card plans will reimburse you for "redeposit fees" that the airline will charge you to get your miles back (if you didn't purchase their add-on protection). That redeposit fee reimbursement allows you to get your miles back as part of your policy.
If you're only interested in insuring your flight, you have many options to choose from.
For tickets purchased with cash, comprehensive insurance plans, premium travel credit cards and airline insurance will cover your nonrefundable flight costs. Award flights that are booked with miles could benefit from all three options if redeposit fees are part of the coverage.
If you want to be able to cancel your flight for any reason whatsoever, CFAR will protect most of your nonrefundable trip deposit, but it's s also more expensive and only available as an add-on cost to a comprehensive travel insurance plan.
You want a travel credit card that prioritizes what's important to you. Here are our picks for the , including those best for: