How to Get TSA PreCheck
Get TSA PreCheck by completing a short application and a quick in-person appointment.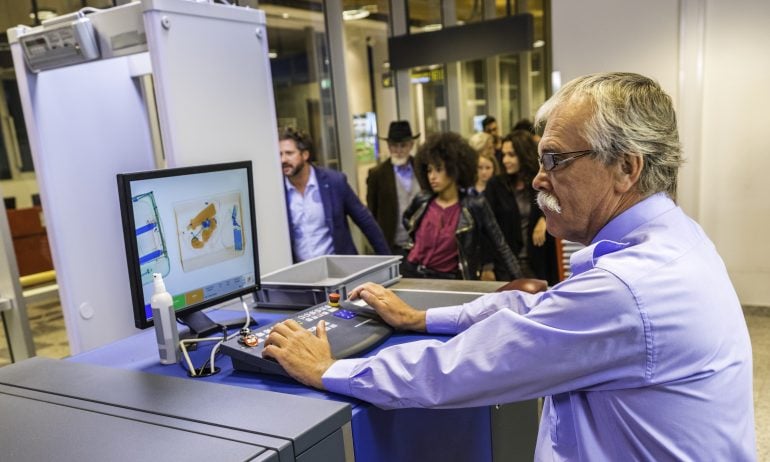 Many or all of the products featured here are from our partners who compensate us. This influences which products we write about and where and how the product appears on a page. However, this does not influence our evaluations. Our opinions are our own. Here is a list of our partners and here's how we make money.
As travel ramps up again, security lines at airports seem longer than ever — but not for everyone. For example, in October 2021, 95% of the Transportation Security Administration PreCheck program members waited less than five minutes to pass through airport security.
Such speediness is due to dedicated TSA PreCheck lanes at over 200 U.S. airports, where PreCheck travelers are spared the removal of shoes, belts, light jackets, laptops and 3-1-1 liquids from their bags.
Suffice it to say, applying for TSA PreCheck can help save a lot of time and hassle at airport security. Here is everything you need to know before getting TSA PreCheck.
Online pre-enrollment for TSA PreCheck
It should take you less than five minutes to pre-enroll online and schedule an in-person TSA PreCheck appointment at one of the nearly 400 enrollment centers.
Before applying, make sure you are eligible for TSA PreCheck. The program is open to U.S. citizens, U.S. nationals and lawful permanent residents, void of criminal records. Enrollees will undergo criminal history vetting as a condition for program approval.
Children 12 and under do not need a PreCheck number, as they are allowed to join a parent or guardian in the dedicated TSA PreCheck lanes at the airport. Children aged 13-17 may accompany their parent or guardian as well, but they must have the TSA PreCheck indicator on their boarding pass.
1. Start your application on the TSA website
Start the process by going to the TSA website and clicking on the icon that says "Apply Now." This will redirect you to TSA's Universal Enroll website and the official application for TSA PreCheck.
The online application takes about five minutes and is broken down into four steps.
Enter information such as name, gender, date of birth, email address and phone number in the first step.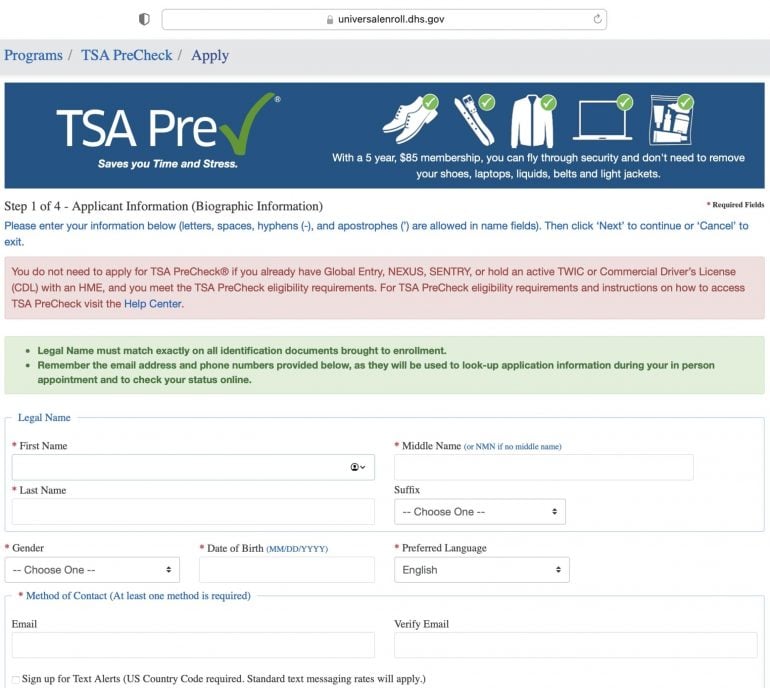 Continue by confirming your identity and providing information concerning some physical attributes such as:
2. Confirm your eligibility in the program
In the second step, confirm your eligibility for the program with a series of "Yes" or "No" questions, including verification of citizenship or residency and questions about any criminal records.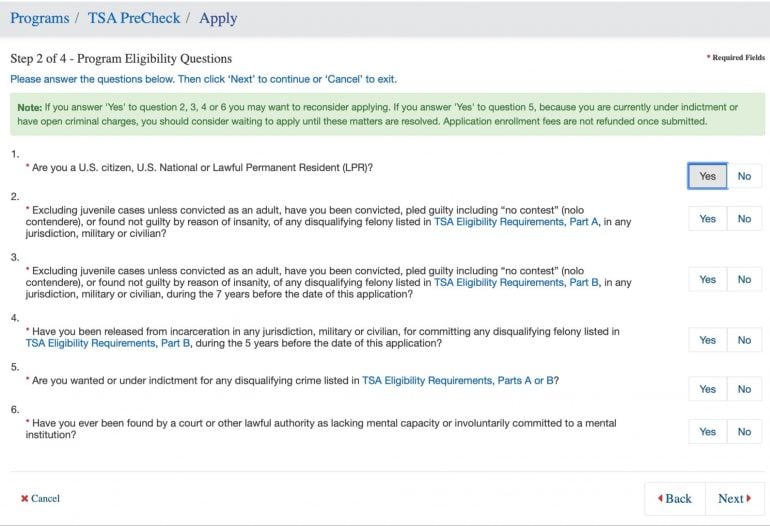 3. Name which documents you will bring to your TSA PreCheck appointment
In the third step, list the photo identification and the citizenship/immigration document you will bring to your appointment. An example of the former would be a U.S. driver's license; examples of the latter include a passport or official birth certificate.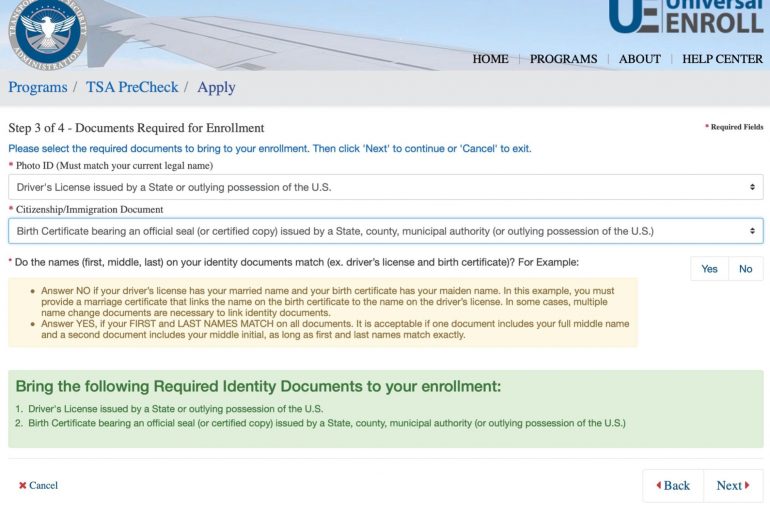 4. Select an enrollment center and schedule your appointment
In the fourth and final step, choose an enrollment center (from nearly 400 across the country) for your in-person meeting. Based on your ZIP code, the application website will populate centers closest to your address. Once you have selected a center, you can see the next available appointment time and schedule it. You also can go to the enrollment center as a walk-in, but note that those with appointments have priority. We were offered a TSA PreCheck appointment as early as the following day for our application submitted the morning of Oct. 27, 2021.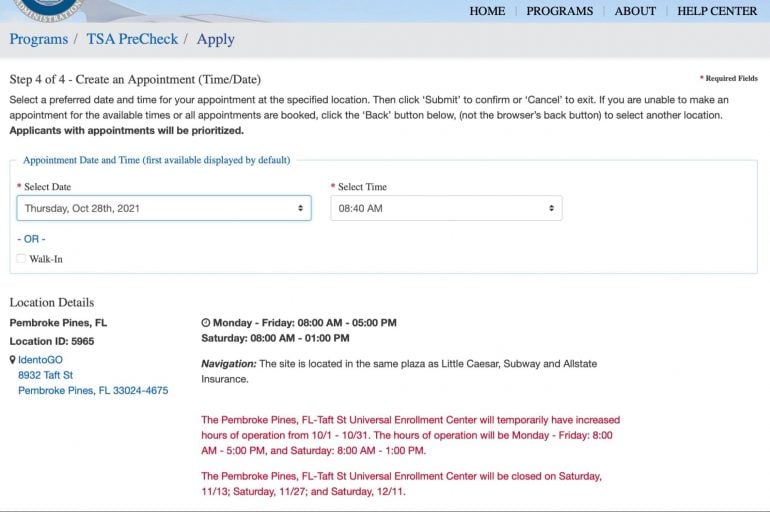 You will get an email confirming your upcoming appointment.
The TSA PreCheck appointment
Here's what to expect during your ten-minute appointment for TSA PreCheck.
Be sure to arrive with the documents listed in your online application. Typically, this will be one photo identification and one citizenship/immigration document. Note that your legal name must match exactly on all of the identification documents brought to enrollment.
Don't expect a lengthy sit-down interview. The term "interview" is no longer used by the TSA. Instead, it's an in-person appointment. During this appointment, you will:
Hand over your documents for review.

Go through a background check (and possibly verbally verify some of the information you provided).

Have your fingerprints taken.
You will also pay a nonrefundable $78 fee at your TSA PreCheck appointment, which is valid for five years if you're approved for the program. You can pay by credit card, money order, company check or with a certified/cashier's check.
Several cards also offer statement credits for the application fee. Pay the expense with one of the following cards and you can expect a refund in the form of a statement credit in a few weeks, essentially waiving the application fee. Here are some of the cards that offer fee credits for TSA PreCheck:
How long does it take to get TSA PreCheck?
The overall process will depend on the availability of appointments at your nearest airport and how quickly you can schedule a TSA interview.
After the appointment, its typically a quick turn around. If you're approved, applicants receive a Known Traveler Number by email typically 3-5 days after your interview. Note that some applications can take as much as 60 days and that approval for TSA PreCheck is not guaranteed. Applicants can be denied based on disqualifying criminal offenses, and rejected applicants will not be refunded the $78 fee.
Once you have your KTN, you must add it to your existing flight reservations and airline loyalty program profiles before check-in. This will allow the TSA PreCheck icon to populate on your digital or printed boarding pass.
Other ways to get TSA PreCheck
Several other government programs offer TSA PreCheck without going through this application process, though you will generally be required to undergo another application process for a federal trusted travelers program.
Global Entry. All travelers approved for Global Entry are automatically approved for TSA PreCheck. No need to complete both applications. Your PASS ID on the back of your Global Entry card is also your KTN.
NEXUS and Sentri. U.S. citizens, U.S. lawful permanent residents and foreign nationals approved for NEXUS or Sentri are also automatically enrolled in TSA PreCheck. Similar to Global Entry, your PASS ID serves as your KTN.
Military personnel. If you are an active member of the U.S. Armed Forces, you can get TSA PreCheck benefits by entering the Department of Defense, or DoD, identification number from your Common Access Card as the KTN. This benefit extends to Reserves, National Guard and midshipmen and cadets attending a military academy.
If you want to know how to get TSA PreCheck
TSA PreCheck is a valuable time-saving tool that can make the airport experience far less stressful. If you're interested in the program — and don't already have it through another government program — follow our step-by-step guide to apply and acquire TSA PreCheck. It's a short application and a short appointment that yields excellent long-term benefits.
The information related to Citi Prestige® Card has been collected by NerdWallet and has not been reviewed or provided by the issuer or provider of this product or service.
---
How to maximize your rewards
Get more smart money moves – straight to your inbox
Sign up and we'll send you Nerdy articles about the money topics that matter most to you along with other ways to help you get more from your money.