How to Pool Hilton Points With Friends to Earn Stays Faster
Hilton members can create a pool of points that multiple people can contribute to and use for award stays.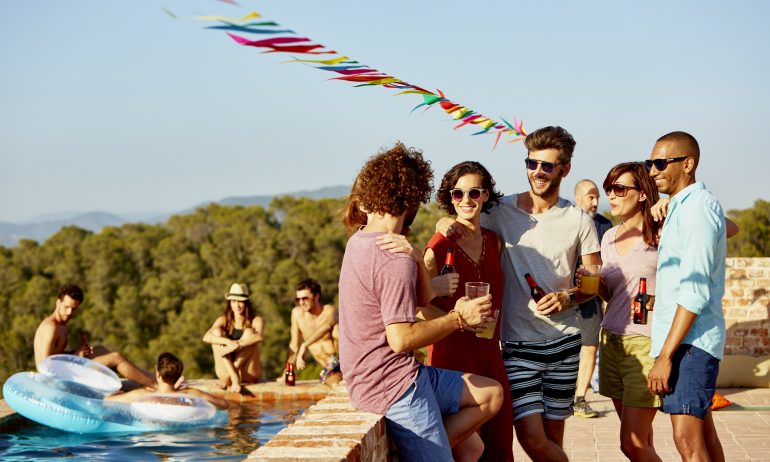 Many or all of the products featured here are from our partners who compensate us. This may influence which products we write about and where and how the product appears on a page. However, this does not influence our evaluations. Our opinions are our own. Here is a list of our partners and here's how we make money.
The Hilton Honors loyalty program allows families and friends to combine points without incurring fees. Program members can do this in one of two simple ways: By making member-to-member transfers or by creating a larger points pool.
This is a great perk for many types of Hilton Honors members, including those who like to borrow and lend points within their family, families or friends looking to combine points for a group vacation, or engaged couples trying to accrue enough points for that dream honeymoon.
Hilton Honors points can be earned in many ways, including hotel stays, sign-up bonuses and spending on Hilton-branded credit cards, and even Lyft rides. Complimentary award nights range from 5,000 points up to 95,000 points per night for a standard room. So combining points allows members to hit thresholds for complimentary hotel nights faster.
Here's how to create your own Hilton Honors points collective.
Hilton Honors members can transfer points to another member's account at a 1:1 ratio, up to six times per calendar year. The process is quick. Sign into your Hilton Honors account, and click on "Member Home" or "Account" under your points summary. On the next page, click the "Points" tab at the top of the page and then "Transfer Points." On the next page you will enter the number of points you want to transfer and fill in the recipient's name, Hilton Honors number and email address.
Note: Safari sometimes blocks this window, so we recommend using a different browser like Google Chrome. Fill in the information, hit Transfer and you're done. The points should transfer instantly but may take up to 24 hours to show up in the account.
Pooling points is a bit more involved. First, there needs to be a "pool leader," an individual who will amass the points in his or her account. The pool leader can email potential pool members through a link under Hilton Honors "Pool Points," found after logging into Hilton Honors and going through the "Points" tab. The leader can create a pool of anywhere from two to 11 people, including the leader.
Through the link, the leader sends emails inviting members to the pool. After members accept, the contributing members can transfer points through the pool points invitation email. The pool leader can request points from each person in the pool, but understand that transfers are one-way to the leader: Creating a pool doesn't constitute a joint account.
Pooling is great in situations where larger groups of friends and families want to contribute points to a common trip, whether it's a vacation together or a couple crowd funding for a honeymoon. For the former, it works out well when members do not have enough points individually to redeem for free nights but do when they combine points together.
When creating a pool, it's wise to assign a pool leader with the highest elite status, so when award nights are redeemed, the recipients can enjoy the status perks.
The rules of transfers and pooling
The rules for transferring and pooling points are similar:
Points must be transferred in increments of 1,000, from a minimum of 1,000 points to a maximum of 500,000 points.

Between pooling and 1:1 transfers, a Hilton Honors member can receive a total of up to 2 million points per year but can send only up to 500,000 points per calendar year.

Honors Members can transfer points out of their account to another member's account at a 1:1 ratio up to six times per calendar year and also transfer via points pooling up to six times per calendar year.

There are no limits on transactions for members (e.g., pool leaders) receiving points. However, once the 2-million-point threshold is reached, the points will no longer land in the account.
After points are transferred or pooled, they can be used to redeem award nights at properties within the greater Hilton portfolio, including Points & Money Rewards™ reservations.
Who can participate in combining points?
All active Hilton Honors members can pool, transfer or receive points, provided their account has been opened 30 days and has at least one item of account activity posted. If the account is older than 90 days, Hilton Honors members can pool, transfer or receive points regardless of their account activity. In all cases, accounts must have a minimum balance of 1,000 points to participate in points pooling.
To become a Hilton Honors member, you must be of majority age in your state of residence (18 years old in all states except Alabama and Nebraska, where the age is 19, and Mississippi, which is 21).
By following a few basic rules, Hilton Honors members can transfer points between accounts or pool points among several accounts without incurring any fees. When done correctly, families and friends can collect points that much faster and look forward to more hotel award nights using points.
How to Maximize Your Rewards