How Travel Credit Cards Can Help Cover Your 2020 Road Trip
New benefits offered amid the pandemic, along with existing rewards for hotels, can help save money on road trips.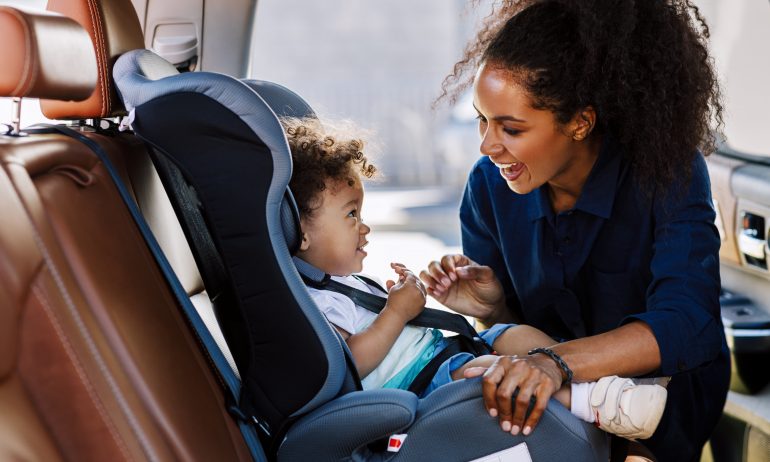 Many or all of the products featured here are from our partners who compensate us. This may influence which products we write about and where and how the product appears on a page. However, this does not influence our evaluations. Our opinions are our own. Here is a list of our partners and here's how we make money.
With international air travel severely restricted, domestic flights unappealing and cabin fever reaching unbearable heights, many Americans are choosing to hit the highways this year. A recent NerdWallet survey, conducted online by The Harris Poll, found that of those Americans planning a trip with an overnight stay this Labor Day weekend, the majority (86%) plan to drive to their destination.
Yet despite their budget-friendly reputation, road trips can get costly in a hurry. The price of hotels and takeout food alone can quickly add up, especially for families. Yet the alternative — playing one more game of Uno at home — simply may not do.
Transfer points to hotels
Unless you're planning to camp, you'll need to find a place to sleep. Thankfully, many travel credit cards points can be transferred to hotel rewards programs and used to book rooms.
The best transfer partner depends on your situation, specific card and lodging preferences. It also depends on the value you can expect to receive from your points. Not all hotel rewards points are created equal. Here's how NerdWallet values them:
Given the options, here are some of our favorite transfer opportunities:
Transfer Chase Ultimate Rewards® points to World of Hyatt. As the chart above shows, Hyatt offers highly valuable points, and Chase Ultimate Rewards® points transfer to World of Hyatt at a 1:1 ratio — meaning 1,000 points will still be worth 1,000 points. Hyatt has relatively few properties, so double-check that you can actually use these points along your route before transferring them.

Transfer AmEx Membership Rewards points to Marriott Bonvoy. On the surface, this 1:1 transfer ratio doesn't make a lot of sense, since Bonvoy points are worth 0.9 cent and AmEx points can be worth considerably more. However, a little legwork can reveal lots of ways to get more value from Bonvoy points.
Usually travel cards don't offer many phenomenal earning opportunities with food purchases, but the pandemic has spurred many issuers to provide gastronomic perks. These range from food delivery app subscriptions to the option to pay yourself back for takeout using points. You can take advantage of these perks at home and on the road. Here are some highlights, broken out by card:
Instacart membership and earning. Earn 5 points per $1 on Instacart grocery delivery and pickup orders (up to $3,000 total) from July 1 through Sept. 30, 2020. Also, cardholders get up to $50 in statement credits toward an Instacart Express membership.

"Pay yourself back" for restaurant or delivery app purchases. You can use Ultimate Rewards® points as a statement credit for these charges after you've made them. This is a great way to burn through some points if you're looking to change or downgrade this card.

Use travel credit at grocery stores. From June 1 through Dec. 31, 2020, the card's $300 travel credit counts for purchases made at grocery stores and gas stations. This is huge, as it largely offsets the card's annual fee.
Although gas is relatively cheap this year, it can still represent a large portion of a road trip budget. Some cards offer ways to offset these costs directly, while others have included limited-time earning bonuses on gasoline purchases this year — including the Chase Sapphire Reserve®, which earns 5x points per dollar spent (up to $1,500) through September 2020.
If you have a go-to card for gas station purchases, now is a good time to double-check that it actually offers the best return on spending.
Check for new perks and offers
Travel credit cards are rushing to offer perks that will keep customers around through the pandemic, so check out any news on your particular cards before hitting the road.
If your travel card doesn't seem to offer any perks that will help this year, consider calling the issuer and asking:
Whether there are any new perks or benefits available that could offset the annual fee (if any).
New card benefits are popping up often, so it's worth doing a little research to ensure you're getting the most from your card.
This survey was conducted online within the United States by The Harris Poll on behalf of NerdWallet from Aug. 11-13, 2020, among 2,009 U.S. adults ages 18 and older, among whom 228 are planning to travel this Labor Day weekend with an overnight stay. This online survey is not based on a probability sample and therefore no estimate of theoretical sampling error can be calculated. For complete survey methodology, including weighting variables and subgroup sample sizes, please contact Mauricio Guitron ([email protected]).
How to Maximize Your Rewards