Pros and Cons of United's Huge Premier Status Changes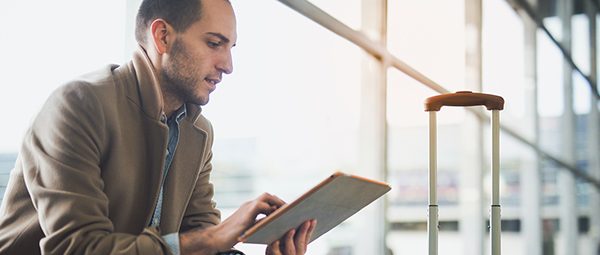 Many or all of the products featured here are from our partners who compensate us. This influences which products we write about and where and how the product appears on a page. However, this does not influence our evaluations. Our opinions are our own. Here is a list of our partners and here's how we make money.
With that said, let's take a look at some of the changes and what you can do to still earn status.
Current System: PQM + PQD or PQS + PQD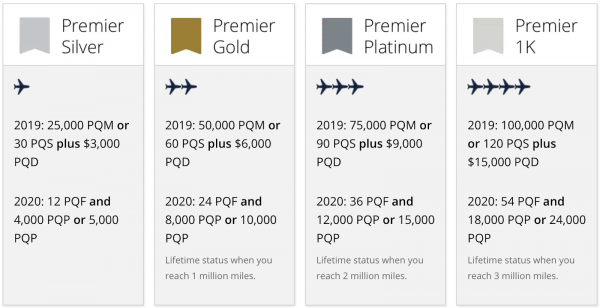 Currently, you qualify for United Premier status by earning a combination of Premier Qualifying Miles + Premier Qualifying Dollars or Premier Qualifying Segments + Premier Qualifying Dollars.
For example, if you want to achieve Premier Silver, you would need to fly 25,000 PQM and spend $3,000 PQD, or fly 30 PQS and spend $3,000 PQD.
PQM are based on the number of miles flown, though your specific PQM earning rate depends on your fare class letter. (In the new system, PQM are completely going away and you will no longer qualify for status based on the number of miles flown with United.)

PQS are based on the number of segments flown. Again, the exact earning rate is currently based on your fare class letter (e.g., business class earns 1.5x PQS while cheapest economy earns 0.5x PQS).

PQD are calculated as the base fare plus carrier imposed surcharges. Taxes, baggage fees and upgrade charges do not count toward PQD. Currently, the PQD requirement is waived for members who live outside the U.S. or who have spent $25,000 on a United credit card (except when you're earning 1K status).

Starting in 2020, you will be able to qualify for elite status by earning Premier Qualifying Points (PQP) and Premier Qualifying Flights (PQF), or only PQP. Unless you are flying on a Star Alliance partner, the number of miles flown will now be irrelevant.
So let's break down United's new system and figure out what it actually means.
Premier Qualifying Flights (PQF)
A PQF is one flight. There will no longer be a multiplier based on the fare class code. Currently, you earn between 0.5 to 1.5 PQS per flight — but this system is going away.

Here are a couple examples of how this will look:
Right now, if you fly in the highest fare class J (usually full-fare business), you will earn 1.5 PQS. But starting in 2020, you will earn only 1 PQF.

Right now, in the lowest fare class (basic economy), you earn 0.5 PQS. Under the new system, you will not earn any PQF for a basic economy flight.
From the outset, this looks like bad news for travelers who either like to fly in the cheapest seats or the most expensive ones. However, you will only need 12 PQF to qualify for Silver (compared to 30 PQS previously). So this particular element of the changes may actually be relatively neutral (if not somewhat positive).
Premier Qualifying Points (PQP)
Where things get a bit trickier is when you look at PQP. Although PQP may look similar to PQD, they are slightly different. Currently, you earn PQD for the base fare, carrier surcharges, economy plus seats or subscriptions and preferred seat purchases.
Starting in 2020, in addition to the aforementioned, you will also earn PQP on upgrade award co-pays, paid upgrades and flights ticketed and operated by Star Alliance partners.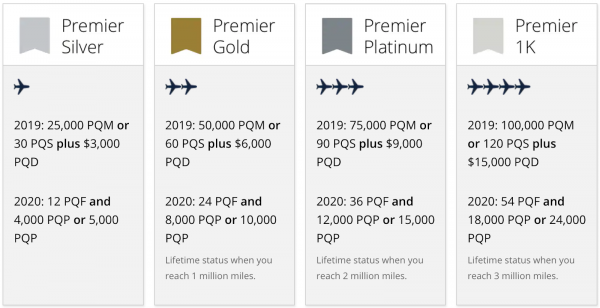 Although there are more ways to earn PQP than PQD, the threshold will also be higher.
As seen above, you currently only need to spend $3,000 PQD to earn Silver — but starting in 2020, your spending will need to increase to $4,000 (or $5,000 if you can't meet the PQF threshold).
This higher spending requirement will clearly compensate travelers who spend a lot with United. But by providing flyers with more ways to earn PQP, it seems the airline is hoping you will take advantage of things like paid upgrades and award upgrades.
Aside from the increased spending necessary to reach elite status, it's also important to note that the distance you fly will not matter. So if you're the type of flyer who uses a few round-trip business class flights from the U.S. to Asia to earn your status by attaining a high number of PQM, you'll need to think of a new strategy.
Here, United is making a move to realign its program so that it can compensate its biggest spenders.
Pros of the new system: Flights with partners
Currently, when you fly on Star Alliance carriers or with United's partners and the flight isn't ticketed by United, you have no way of earning PQD. Starting in 2020, you will receive credit for those flights.

Essentially, this means you're able to earn PQM that will convert into PQP using the above ratio (award miles divided by five or six). This is where things get interesting.
Let's say you want to fly from Toronto to Sydney (via Vancouver) on Air Canada in Z or P business class. The distance flown on that round-trip flight is 19,683 miles. Based on the 200% earning rate for award miles in those fare classes, that would equate to 39,366 miles.
To arrive at the number of PQP earned, you would divide that number by five (since Air Canada is a Preferred partner), which equals 7,873 PQP.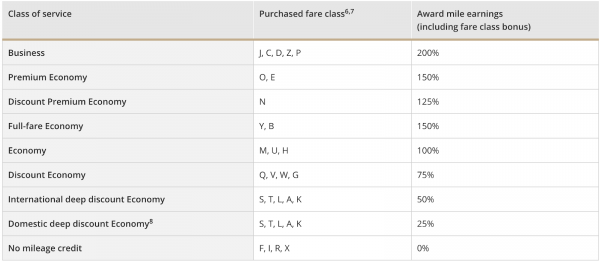 As seen below, if you were to book that flight on United, you would only earn 6,875 PQP for spending $6,875.

By booking with Air Canada, you would earn almost 1,000 more PQP for spending the same amount of money on a ticket. Finding opportunities like this, especially if you could jump on a business class fare sale on any of the Preferred airlines, could provide plenty of chances to earn more PQP.
Note that this strategy is only useful as long as United's partners don't also decide to announce their own earnings rate changes. Time will tell, so it's important that frequent flyers who want to earn/keep status stay alert to any news to that effect.
Through this latest slew of changes to the way members earn elite status, United seems like it's trying to align benefits to passengers it views as the most deserving of perks: those who spend the most money with United (not those who fly the most miles).
Clearly this realignment of benefits is going to negatively impact some international travelers, while benefiting others (like those who frequently fly short-haul in business class, for example). While it appears largely negative, this is an interesting development that does present a few compelling opportunities (at least for now).
Frequently asked questions
How do you get United status?
How do I get Star Alliance Gold status?
Does United Gold status have United Club access?
What is United Gold status worth?
Is United elite status worth it?
---
How to maximize your rewards
Get more smart money moves – straight to your inbox
Sign up and we'll send you Nerdy articles about the money topics that matter most to you along with other ways to help you get more from your money.