10 RV Secrets Straight From The Experts
Experts share some advice for travelers looking to hit the road in a recreational vehicle.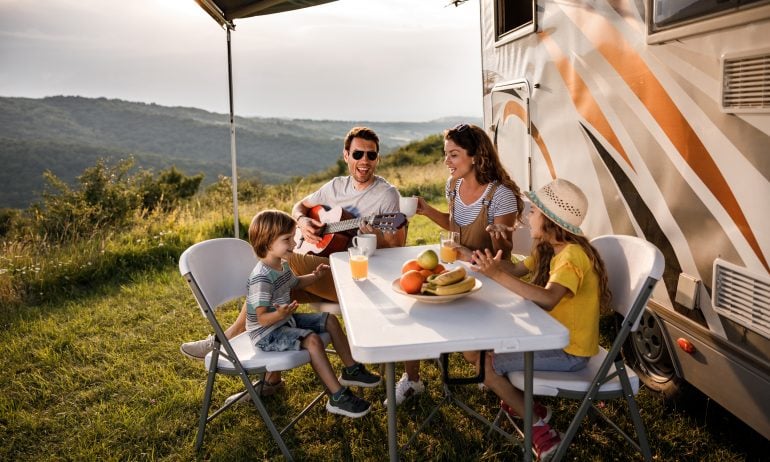 Many or all of the products featured here are from our partners who compensate us. This may influence which products we write about and where and how the product appears on a page. However, this does not influence our evaluations. Our opinions are our own. Here is a list of our partners and here's how we make money.
From the end of change fees on most major airlines to travel restrictions, coronavirus has drastically changed the way Americans travel — for better or for worse. And as pandemic-lockdowns inspire the emergence of new hobbies and interests, travelers itching to get out of the house but who aren't ready to hop on an airplane are turning to recreational vehicles.
Bookings for fall are up 123% year-over-year at peer-to-peer RV rental marketplace RVshare. And Cruise America, an RV rental company, said in an email that it saw a 50% year-over-year increase in first-time RV renters from April to August.
RVs are certainly popular, but first-time renters shouldn't automatically assume RVs are an easier, cheaper or more convenient way to travel. Besides taking RV safety into consideration, there's a lot you need to plan for when it comes to parking, driving and even sketchy Wi-Fi.
We talked to nine RV experts for tips and secrets when traveling in an RV:
You'll probably need a second car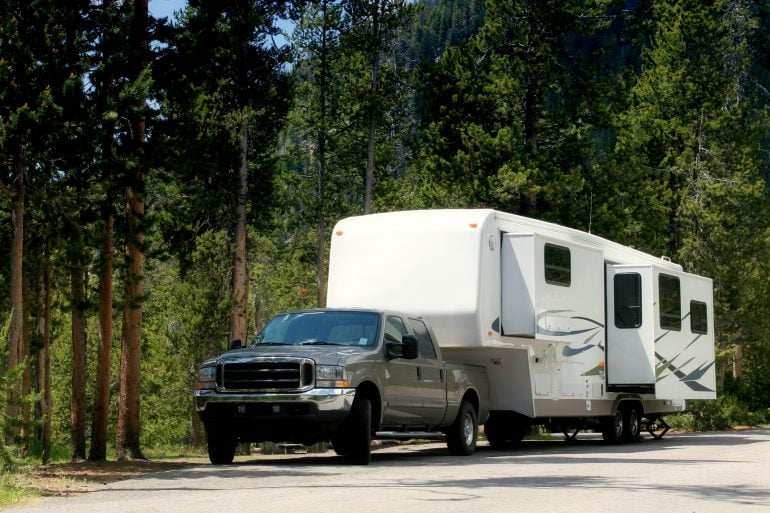 Depending on your travel style, you may find that the RV alone is insufficient. If you like to drive around and explore — whether it's to a cute downtown area for shopping and dining, to a rugged trailhead for hiking or even to Costco for restocking — you probably don't want to arrive in a giant motorhome (who knows if there's even a parking space on a historic Main Street large enough?).
If that's you, you'll probably need a car in addition to the RV. But if you go that route, you'll have to factor in the additional cost plus the feasibility of having a second driver available to actually drive it.
Nerdy tip:
Opt for a detachable trailer rather than a motorhome, so you can leave your stuff parked at the campground but drive your truck into town.
Additionally, consider how often you intend to move. Do you like to camp on the same lake for two weeks? Or are you driving to cover six National Parks on one road trip?
"If you're moving around often, then you'll want something that's easy to set up and break down, like a van or camper van," says Jen Young, co-founder and CMO of Outdoorsy, a RV rental marketplace.
The '10 Year Rule' means you could be denied a reservation at a campsite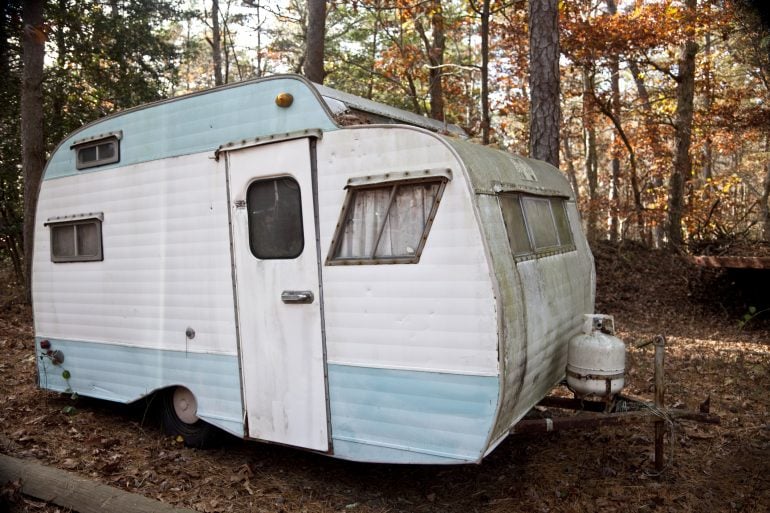 Some campgrounds enforce a so-called "10 Year Rule," meaning they'll deny you service if your RV is more than 10 years old.
"The concern stems largely from three things: safety, legality and aesthetics," says Caleb Hartung, CEO of RV marketplace Campspot.
For some campgrounds, the rule is meant to mitigate risk of vehicle breakdowns or electrical issues. At other (typically high-end) RV parks, it's all about appearances — they don't want a beat-up RV that's held together by duct tape messing with the country club vibe.
If you think you can save money by buying an RV that's previously been used or by renting an older model, keep in mind that you might not actually get to camp in the places you want.
But Hartung also says that most campgrounds are flexible and that sometimes well-maintained RVs may still be admitted — even those older than a decade.
"Certain models, such as Airstreams or refurbished vintage trailers, have a timeless look and often aren't flagged as easily under this restriction," he says. "(For owners), upgrading your hubcaps and paint job, for example, are easy ways to spruce up the appearance of an old RV and bypass the rule."
Your RV should be tall enough for you (but not too tall to drive)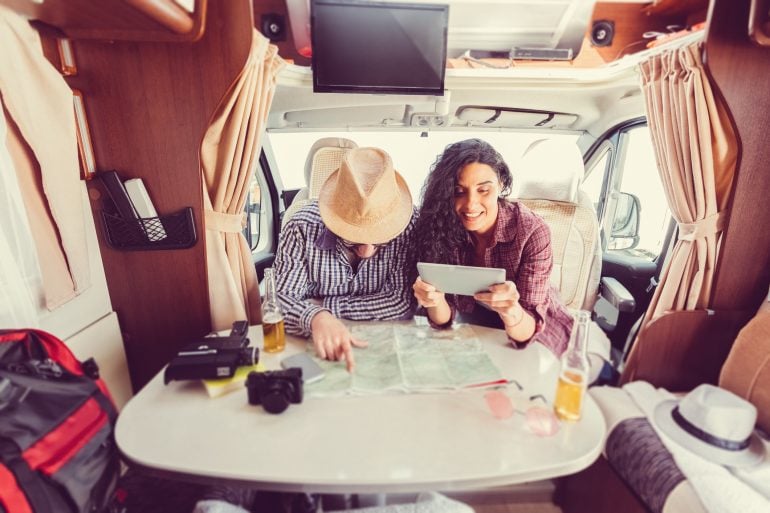 If you're short, then living in an RV is one of the rare aspects of life that's probably easier for you than anyone else. And if you're tall, well, prepare to bang your head at least once. Before renting an RV, find out what the interior height is.
"People don't realize how important it is to be able to stand up straight in the van, especially if RV-ing for a while," says Jeltje van den Berg, a travel blogger based in the Netherlands.
Then again, you don't want a vehicle so tall that you can't drive on certain roads. Know the height of your RV and ensure it's not too high to pass under bridges, tunnels and even low hanging branches along your route.
Slide outs seem like a luxury — as long as you can still use the bathroom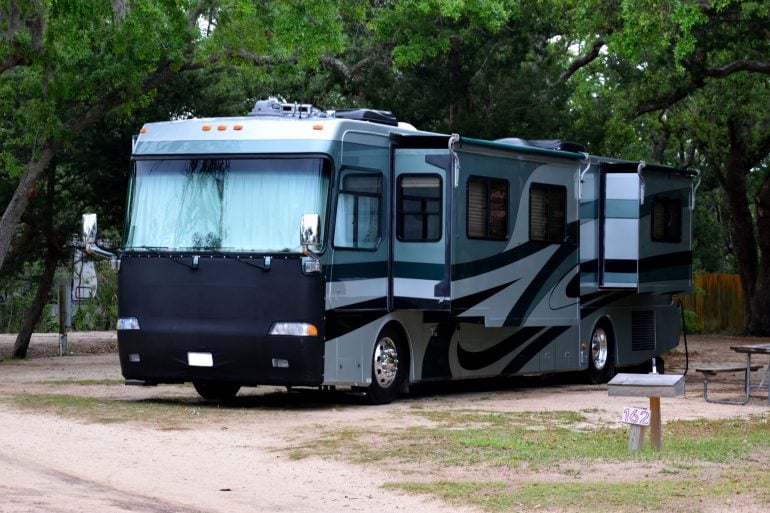 Slide outs are a feature typically found in more luxurious models that extend part of the RV to increase living space. But while slide outs are a convenient way to add more seating or another bed, they become less convenient if they are essential to using parts of your RV.
"Make sure you can access the bathroom and maybe even your bed when the slides are in," says Kelly Beasley, co-founder of RV information site Camp Addict. "Say you want to stop for lunch and eat in the RV or use the bathroom. It's a real pain if you can't get to those areas without putting the slides out."
You must ensure your car can actually tow your RV trailer
If you're towing an RV trailer rather than driving a motorhome, there's an added layer of complexity: ensuring your vehicle and RV trailer are a fit.
"Sometimes newbies don't take all the steps necessary to ensure their RV trailer and vehicle are a match," says Mike Betts, a test operations supervisor at Nissan's test center in Arizona.
Dust off the owners manual for both your car and the trailer to find:
Your vehicle's maximum trailer weight.

Your vehicle's maximum tongue load.

Your RV's curb weight (weight of the vehicle without passengers or any cargo).

Your gross vehicle weight (maximum total safe weight of the vehicle, including passengers and cargo).
Knowing those maximum limitations can ensure your vehicle is a match. And once you've determined your trailer and vehicle are a fit, make sure they're connected properly.
"Be sure the safety chains are connected and properly crossed and are not in danger of dragging on the ground," Betts says. "If you have a trailer with brakes, don't forget to connect the cable for the breakaway switch."
Keep in mind that you need to maintain the correct tire pressure on not just the vehicle, but the trailer, too. And don't forget spare tires — for both the vehicle and trailer.
Overpacking is easy — but it'll ruin your trip
Road trips mean no checked baggage fees, or at least no pressure to fit everything in a small, carry-on to avoid those fees. That's all good, but it also means it's easy to overpack.
"Overpacking is a cardinal sin," says Alexander Buteux, a growth lead at VacationRenter who lives in a 72 square-foot camper. "Overpacking in an RV can really change the mood of the trip. Every time you move, you'll need to move everything you packed."
While it may cost more, Buteux says it's almost better to rent additional equipment when you're there, rather than packing it yourself. For example, if you're going on a three-week road trip and you might golf once, leave your golf bag at home and rent one from the course.
It's not necessarily cheaper than a hotel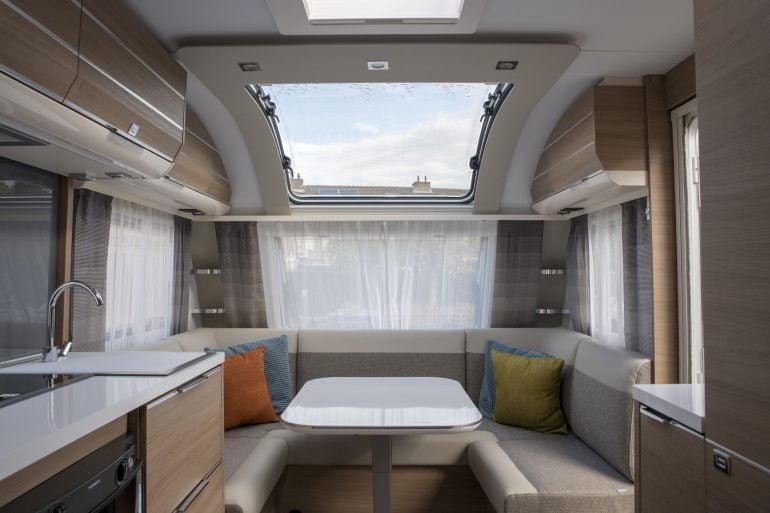 "Many people who are not familiar with RVing tend to think that it is always cheap, but that's far from the truth," says Michelle Schroeder, a full-time traveler who recently traded living in an RV in favor of living on a sailboat.
RVs prices typically range from $6,000 to $22,000 for folding camping trailers to $60,000-$500,000 for Type A motorhomes, according to data from the RV Industry Association.
Then, you'll likely need to pay for the campsite. The average RV cost inside top national parks ranges from $25 to $60 a night, according to Cruise America, while luxury RV parks can cost over $100 a night.
Even if renting an RV, the hidden costs start to roll in. Some rental companies charge fees for excess mileage, cleaning fees, service fees, no-show fees and more. Others tack on extra costs to use things you might assume are included like cooking supplies, towels or the generator. Campgrounds come with fees, too. For example, some advertised rates are simply the cost to park, but there might be an additional charge per person in the vehicle.
Boondocking can save you money, but it requires more work
To save money on campsites, Schroeder recommends "boondocking" — or camping outside of an official campground (so no sewer, water or electric hookups). You could find yourself boondocking anywhere from free public land to most Walmart parking lots.
If you go that route, Young recommends renting a vehicle designed specifically for boondocking.
"Boondocking rigs have features like solar power and water pumps so they can function without electricity," Young said. "They also have composting toilets instead of black tanks so that you don't have to search for a dump site every few days."
If you opt to camp at a campground where you intend to use the hookups, bring your own extension cord.
"Sometimes the plug-in box is shared between a few sites and might be 20-30 feet away from your spot," says RV enthusiast David Boehl.
If your job suddenly allows you to work from anywhere and you're thinking about the possibility of remote work as an RV nomad, don't count on campground Wi-Fi.
"Just because a campground says it has Wi-Fi doesn't mean it's going to work," says Michelle Fishburne, a writer who travels in an RV as part of a project profiling ordinary Americans. "Often the source of the signal is too far away, or the campground's bandwidth service is not enough to handle the usage."
Fishburne estimates that about 40% of the time at campgrounds promising Wi-Fi, she struggles to reliably send emails.
Road tripping in an RV is a delightful way to see the country — especially if coronavirus has you avoiding airplanes and hotels, or if you're in a newfound remote job that allows you to travel.
Before committing to an RV vacation, understand that there will be challenges you perhaps didn't anticipate. Prepare yourself for the possibility that — in many ways — you'll be unprepared. The #vanlife social media influencers probably won't show you what it's like emptying the bathroom and they won't share every time they accidentally bump their head on the doorway.
---
How to maximize your rewards
Get more smart money moves – straight to your inbox
Sign up and we'll send you Nerdy articles about the money topics that matter most to you along with other ways to help you get more from your money.