How Safe Is an RV Road Trip?
RVs can be a better way to see the country (and avoid airport chaos), but they can pose some safety concerns.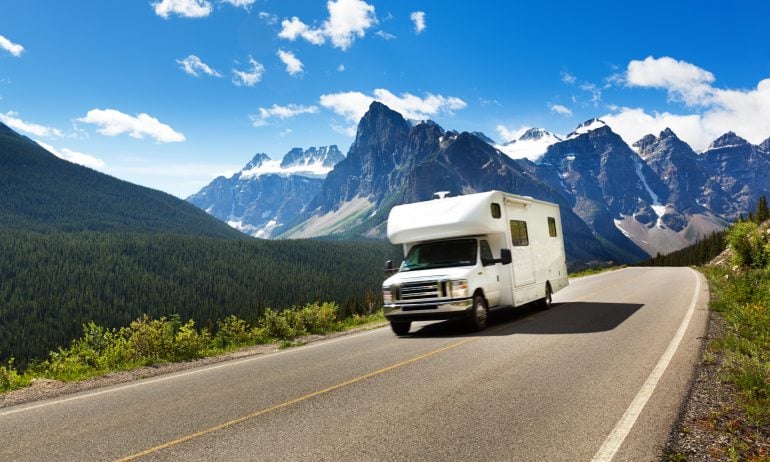 Many or all of the products featured here are from our partners who compensate us. This influences which products we write about and where and how the product appears on a page. However, this does not influence our evaluations. Our opinions are our own. Here is a list of our partners and here's how we make money.
With air travel so chaotic, delay-ridden and expensive — and hotels zapping amenities like free breakfast and housekeeping — an RV road trip might be a fresh way to travel — without many of those issues. But RVs can pose challenges of their own. And for people who have never driven a moving, tiny home before, safety might post among the biggest challenge of them all.
But with so many novice RV renters comes a lot of new realizations. A spokesperson for Cruise America told us that, between 2019 and 2020, they saw a 30%-40% year-over-year increase in time spent on the phone with customers to answer questions, adding that some customers are uncertain about how to drive their vehicles and how to use campgrounds.
While RVs don't have to be scary, there are some RV safety concerns you should be aware of before booking your first RV rental.
1. Uncertain weather and natural disaster could complicate your travels
Research led by Stanford environmental scientist Michael Goss suggests that autumn coincides with extreme fire danger, exacerbated by increases in temperature and decreases in precipitation over the past four decades. Meanwhile, hurricane season extends from summer into fall, according to the National Oceanic and Atmospheric Administration.
Aside from dangers of driving in the midst of a natural disaster, severe weather might mean some campgrounds are temporarily closed, as was the case at Yosemite National Park during the 2020 California wildfires.
2. Driving comes with accident risks
In the five-year span from 2014 through 2018, U.S. air carriers experienced one fatality, according to Bureau of Transportation Statistics data. For 2018 alone, that's a fatality rate of 0.012 fatalities per 100 million miles traveled.
Meanwhile, 36,560 deaths occurred in 2018 alone due to motor vehicle crashes — a fatality rate of 1.13 deaths per 100 million miles, more than 93 times the airline fatalities in the same year.
RVs come with their own challenges that traditional cars typically don't have, including risk of accident from overloaded or unevenly loaded RVs, increased rollover risk due to a higher center of gravity and larger blindspots.
To reduce your risk, use basic common sense while driving an RV:
Travel during daylight hours. According to 2016 National Highway Traffic Safety Administration data, 68% more fatal accidents occurred between the hours of 3 p.m. and midnight versus between 3 a.m. and noon.

Don't make hasty driving decisions. If you realize that the exit is approaching but you're still in the far lane, don't try to quickly change lanes; just wait for the next exit and backtrack. You might end up five minutes behind schedule, but the whole point of a road trip vacation is to slow down and relax anyway.

Take wider corners. Your overswing (the distance that your vehicle swings out when making a sharp turn) is likely much greater in an RV than the car or truck you are used to driving. Pay attention to your overswing and take wider corners while driving to avoid hitting curbs or fire hydrants.

Drive slower than you usually would and keep wider distances between cars. RVs brake slower than most cars, so watch for brake lights in front of you, prepare to stop well in advance and take it slow to begin with.
"It should never be a case of 'go big or go home,'" says Geneva Long, CEO of luxury travel trailer-maker Bowlus Road Chief. "Anything over 26 feet or 4,500 pounds will severely restrict your ability to drive, park, enjoy national parks or camp. You don't want to hate the experience, and it's almost a guarantee you otherwise will once you add in high winds, poor driving conditions, heavy traffic and limited camping locations due to your oversize."
If you do get into a rental car accident — whether it's a small sedan or huge motorhome — make sure you contact the RV rental company. Just as you would with any car accident, make sure you take photos and exchange contact information with other involved parties. And of course, before you rent, make sure you have the right accident insurance (some credit cards might actually cover the cost for you).
Opt for a smaller RV if you're an RV newbie.
3. Shared bathrooms and showers could facilitate the spread of germs
If your RV doesn't have its own shower or bathroom, you might find yourself resorting to shared facilities at a campground, which might not always be as clean as you'd like.
The alternative: Bring your own portable toilet and shower. Depending on where you're camping, you might be able to go in the woods (skip this option if you're in a campground near other people or near a body of water). Otherwise, consider your own travel toilet and camping shower.
4. Maintenance issues become your responsibility
Sure, it's annoying when you're sitting on the tarmac and your flight won't take off because a door won't close. But aside from a potential delay, you don't have to worry about a thing besides when the snacks will finally arrive.
With an RV, you're on the hook for any and all maintenance issues.
"Always check tire pressures and be aware of gas mileage before you set out, so you are not stuck somewhere in 107-degree heat," Long says.
And maintenance isn't just limited to how the vehicle operates while driving; it encompasses living spaces too. If a hotel has a power outage, the front desk can probably help you deal with it. If your RV has a power outage, hopefully you're familiar with the RV's electrical lines. Before taking off on an RV road trip, familiarize yourself with the RV's sewer lines and control panel — and read the user manual.
A better option for an RV vacation with minimal risk: RV delivery
Given concerns around driving it and dealing with hookups, tire pressure and other common maintenance challenges, here's a potentially-better solution: RV delivery.
RV delivery is a growing trend in the camping world where — instead of exchanging your car for an RV at a rental facility — you drive your own car to the campground, where an RV is already set up and waiting for you. RVshare, which is one of the biggest RV delivery operators and operates like Airbnb for RVs, said that almost 40% of its RV rentals were delivered so far in 2022, up from 27% in 2021 and 16% in 2020.
Another safety bonus of RV delivery: insurance coverage is often cheaper. While rental company Outdoorsy requires that all renters have an insurance package that covers liability and damage insurance is usually cheaper for stationary deliveries because you're not paying to cover the rig on the road. In fact, it's sometimes less than a quarter of the cost of Outdoorsy's comprehensive coverage to insure an RV that you'll drive.
Plus, someone else deals with making sure you've hooked it up to the fresh water, sewer and electricity lines correctly. They might end up even dumping the sewage for you upon departure.
RV vacations: are they worth the risk?
Traveling in an RV has plenty of benefits. You might find your RV road trip turns out to be cheaper than your usual vacation. Head somewhere like a national park and you'll likely end up spending more time outdoors, which the CDC says improves overall health and wellness thanks to increased opportunities for physical activity, along with promoting mental health and stress reduction.
Get more smart money moves – straight to your inbox
Sign up and we'll send you Nerdy articles about the money topics that matter most to you along with other ways to help you get more from your money.