The Best Air Carrier for Your Pet May Be One You Never Heard Of
JSX is a semi-private airline that doesn't charge pet fees for small pets that fit in a cabin carrier.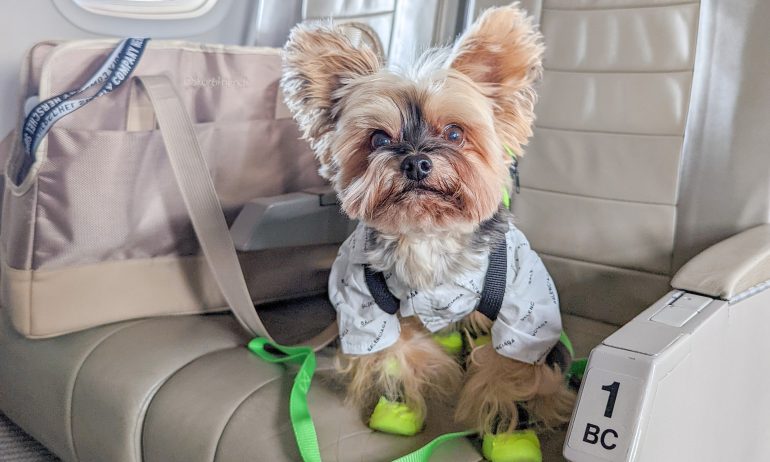 Many or all of the products featured here are from our partners who compensate us. This influences which products we write about and where and how the product appears on a page. However, this does not influence our evaluations. Our opinions are our own. Here is a list of our partners and here's how we make money.
JSX, a semi-private air carrier, is unconventional for a host of reasons. For one thing, planes have just 30 seats. Travelers skip traditionally long security lines because JSX departs from private air terminals. Once on board, snacks and drinks are complimentary, every seat has power outlets, and legroom is plentiful.
And then there's one perk that stands out as especially generous: Small pets fly free.
"Pets are family and at JSX, we believe you should have the option to fly with your whole family," JSX spokesperson Meghan Patke tells NerdWallet.
What other airlines charge for pet fees
While some major airlines ban furry friends, JSX allows cats and dogs on board. Pets small enough to fit under the seat don't even incur charges.
A pets-fly-free policy is practically unheard of.
NerdWallet analyzed 14 major airlines worldwide as part of its annual 2023 Best-Of Awards. Of those, not a single airline allowed pets to fly for free — not even when serving as an emotional support animal. Most U.S. airlines charged $85-$125 for in-cabin pets. (JSX was not considered for the awards because it didn't meet other criteria to be evaluated, such as having a loyalty program.)
Does JSX allow dogs? What about other pets? In short, it depends. Here are the JSX pet rules:
Flying with small pets on JSX: free, with just a few restrictions
If a cat or dog is in a carrier small enough to fit underneath the seat, it can usually fly for free.
If the pet is not an emotional support animal, it must remain stowed in its carrier throughout the flight, so no sitting on the owner's lap. Each passenger may only have one carrier with one pet inside, and the pet counts toward the one allowable personal item quota.
Emotional support animals are allowed to sit on a passenger's lap, but the passenger must also have documentation from a licensed mental health professional or medical doctor verifying care.
There are a few other rules, such as a maximum of five pets in the cabin per flight, and no pets deemed aggressive. Passengers must call JSX Customer Support to add a pet to a reservation.
Flying with larger dogs on JSX: possible, though not free
The JSX dog policy states that larger dogs can still fly — for a cost. Owners of medium-to-large size dogs can purchase the seat next to them at the advertised price. The dog will not be allowed to sit in the seat, though. It'll have to lie on the floor in front of the seat.
There are additional restrictions, including that dogs must remain leashed and cannot weigh more than 79 pounds. Tickets must be purchased over the phone, and there's an extra liability form to fill out.
Why JSX might be right for your pet
JSX doesn't charge pet fees, and for pet owners based in the West, JSX has several route options. JSX fares are usually more expensive than those of conventional airlines, but often the cost is just incrementally more compared to typical fares with pet fees.
Plus, JSX provides a business class experience for both pets and passengers. So in some cases, the price difference is more than worth it for the added comfort and convenience. 
Here's how the JSX pet experience compares:
NerdWallet compared JSX airfare against the cost to fly the same route on Alaska Airlines and Southwest Airlines, which won first and second place in NerdWallet's Most Pet-Friendly Airlines of 2023. On most flights, Alaska charges $100 each way for pets that fit in a carrier under the seat. Southwest offers a slightly cheaper $95 pet fare for animals that fit in a carrier under the seat. (Pets are not allowed on international Southwest flights, though.)
To compare prices, NerdWallet analyzed 2023 airfares on 75 nonstop routes shared by Alaska, Southwest and JSX. On a few routes, JSX was cheaper — and sometimes a lot cheaper. 
For example, Alaska charged $224 (or $324 with the pet fee) for a one-way flight between San Diego and Phoenix, while JSX charged just $199 for the same route that day. 
When you factor in pet fees, the average Alaska airfare is 1.2% more expensive than JSX and the average Southwest airfare is 12.6% cheaper than JSX.
The prices in the analysis were based on the lowest non-basic economy fare each airline offers. For airlines with multiple flights on the same day, the cheapest departure time was selected.
Especially on shorter routes like Los Angeles to San Francisco — where fares are typically cheap (but pet fees are fixed) — pets can amount to a huge chunk of overall flying costs, which enables JSX to shine.
Less wait time and a better onboard experience
JSX flights depart from private air facilities, so you won't have to arrive for your flight two hours in advance, and the security screening process is much less invasive. This can cut down on the time you might have to spend wrangling a stressed pet at the airport.
Then there's the onboard experience. Humans and pets alike get a business class-like experience on JSX flights. JSX spokesperson Meghan Patke told NerdWallet that pets are given a JSX–branded bandana.
Why flying JSX still might not make sense
Limited route availability. JSX's route map is pretty limited, only operating out of about two dozen airports around North America. Southwest and Alaska serve more than 110 airports each. 

Larger animals aren't cheap. For large dogs, you'll have to buy their own seat — which will likely be pricier than the roughly $100 pet fees on most airlines.

It's usually more expensive. When you factor in pet fees, JSX fares were more expensive than Alaska fares 60% of the time and more expensive than Southwest fares 76% of the time. In raw dollars, Southwest airfare with a pet averaged $103 cheaper than the same JSX route. 

For large groups with just one pet. For an individual traveling with their pooch, the upcharge might be worth it for the JSX experience. But for large groups, the price difference for seats starts to become a lot starker. For example, a family of four plus one pet would pay, on average, about $700 more to fly JSX versus Southwest.
Should you fly JSX with your pet?
Because JSX doesn't charge pet fees for small cats and dogs, it sometimes nets out to be the cheapest option to fly. But even when it's not cheapest, often the cost is just incrementally more. And given that JSX provides a business class experience for both pets and passengers, it might be worth the extra cost.
(Top photo courtesy of JSX)
---
How to maximize your rewards
Get more smart money moves – straight to your inbox
Sign up and we'll send you Nerdy articles about the money topics that matter most to you along with other ways to help you get more from your money.