Travel Medical Insurance: Emergency Coverage While You Travel Internationally
Stand-alone travel medical insurance may be able to cover unexpected costs that your health insurance won't.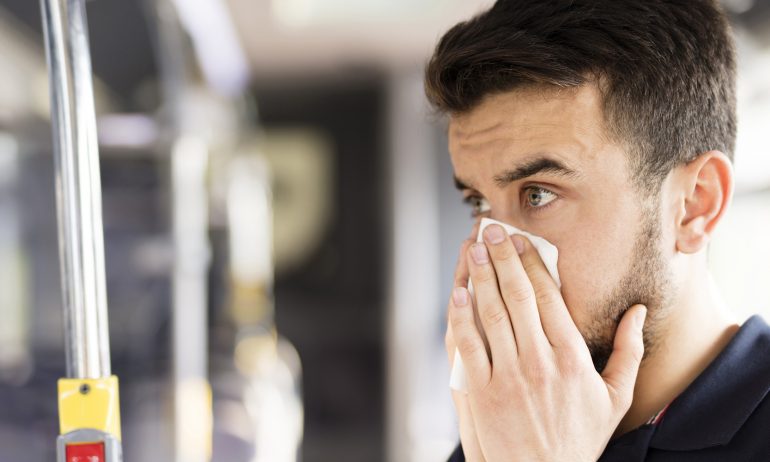 Many or all of the products featured here are from our partners who compensate us. This influences which products we write about and where and how the product appears on a page. However, this does not influence our evaluations. Our opinions are our own. Here is a list of our partners and here's how we make money.
If you're looking for a policy that protects you in the event of an unexpected illness or injury while traveling abroad, then you need to learn about stand-alone travel medical insurance. This type of insurance can be provided by the benefits of certain premium travel credit cards, but the coverages can be both limiting and low in value.
Emergency medical coverage is included within some comprehensive travel insurance policies but can also be purchased on its own. Even if you have a primary U.S. insurance plan, including Medicaid or Medicare, odds are it will help very little (or often not at all) while out of the country.
Checking all the different sources of information can get confusing, and it's easy to misunderstand what type of medical insurance you have when traveling or accidentally duplicate your coverage by purchasing a policy when you already have those benefits covered from another source. Here's everything you need to know about travel medical insurance so you can choose the best option for your trip.
What is travel health insurance?
Travel medical insurance provides reimbursement for emergency medical expenses, including medical evacuations, while you're traveling. These policies do not provide coverage for routine expenses.
So, if you break your leg while you're on vacation internationally, emergency medical coverage will protect you. However, if you decide to get a teeth cleaning while you're abroad, you will not be covered. Travel medical insurance is meant to protect you in case of emergency.
Expats, frequent business travelers or individuals who spend significant periods of time living outside the United States can purchase a comprehensive travel health insurance policy meant for long-term travelers (more on this below). These policies offer routine medical coverage for those living abroad (generally for one year or longer) rather than vacationers. Long-term international travel health insurance policies should not be confused with travel medical insurance.
Travel medical insurance products and comprehensive policies may also include coverage for family members who are traveling with you, or coverage for a family member to visit you if you become hospitalized. The definition of "family" can vary, but it commonly includes your spouse, children, siblings, parents, grandparents and more. So if your travel companion gets sick or injured during the trip, trip cancellation benefits may kick in. Or if you get hospitalized in a foreign country, the insurer could pay for a flight and hotel accommodations for a designated family member to visit you.
Although natural disasters that impact your plans are usually covered, travel medical insurance policies often exclude pandemics from coverage. Since the World Health Organization declared coronavirus a pandemic on March 11, 2020 plans with pandemic exclusions may not cover emergencies related to COVID-19. Some travel insurance companies also exclude from coverage countries that have a 'Level 4 Do Not Travel' advisory issued by the U.S. Department of State. If U.S. citizens travel to those countries, travel medical insurance services may not be available. It's important to check the fine print of your policy to determine what may or may not be covered.
Travel insurance vs. travel medical insurance
A comprehensive travel insurance policy will include more protections than stand-alone travel medical insurance. Travel medical insurance plans will have protections related to emergency medical events, while comprehensive trip insurance policies cover everything from medical care to trip cancellations. Although travel medical plans can include coverage for benefits like trip interruption, the covered amounts will usually be limited.
| | | |
| --- | --- | --- |
| | | Comprehensive Travel Insurance |
| | | |
| Trip interruption and delay | | |
| Emergency medical evacuation/repatriation | | |
| | | |
| 24-hour assistance services | | |
| Accidental death and dismemberment | | |
| | | |
With travel medical insurance, there are no trip cancellation benefits, so the cost of the trip is irrelevant. This makes the policy cheaper compared to purchasing comprehensive travel insurance, where you'll need to include the entire nonrefundable cost of your vacation when calculating your quote. With a comprehensive plan, the higher the trip cost, the higher the premium.
What does travel medical insurance cover?
You will be reimbursed for unplanned, emergency medical costs that you incur during your trip. We reviewed several travel medical insurance plans on InsureMyTrip and found that they offer the following protections:
| | | |
| --- | --- | --- |
| Emergency medical expenses | Needing hospital X-rays after suffering a bad fall. | |
| Emergency dental expenses | Visiting a dentist if you've chipped your tooth and you're in pain. | $100 to $500. In certain instances it can be part of the medical expense total. |
| | You've suffered a head injury and need to be airlifted to a medical facility in a nearby town. The evacuation must be ordered by a doctor. | |
| Accidental death or dismemberment | You die or lose a limb while on vacation. | |
| 24-hour emergency assistance | You're in a foreign country, do not speak the language and need to find a doctor. If you call the emergency assistance line, your insurer will help you find a doctor. | |
| | You were airlifted to a hospital in a nearby town for medical coverage. The medical care has concluded and you now need to be flown back to where you were evacuated from or back home. | |
| | Your luggage was lost by the airline and you need to purchase toiletries and clothes. Usually there is a monetary cap on each item purchased. | |
In the chart above, for each benefit, we included an example of a covered event. We've also listed the amount of coverage you can expect to receive under each benefit. The coverage limits depend on the policy you choose. Since we reviewed several policies, these limits show a wide range.
The key areas of coverage across most plans are emergency medical expenses, medical evacuation and accidental death or dismemberment. Although these are high limits, many of them apply only once you've submitted a claim to your primary medical insurer. Before you can submit a claim for reimbursement to your travel medical insurer, you'll need to know what type of policy you have.
Different types of travel medical insurance plans
Both the type of trip and type of coverage determine which travel medical policy makes the most sense. You'll need to become familiar with four terms: primary coverage, secondary coverage, single trip and multi-trip.
Primary vs. secondary coverage
Travel medical insurance plans will refer to medical coverage as primary or secondary. Primary means that you can submit a claim to your travel medical insurance company before submitting to any other insurer. When the policy is secondary, you will need to submit your claim to your primary insurance provider before you can submit a claim to the travel insurance provider.
For example, say you break your leg on vacation and have to go to the emergency room right away. If your travel health insurance is primary, you can pay your medical bill with your credit card and then submit a claim directly to the travel insurer.
However, if your travel medical coverage is secondary, you will first have to submit this claim to your U.S.-based medical insurer even though they may deny the claim (because the policies limit coverage abroad). You may even be required to include the refusal notice from your primary insurance along with your claim to your secondary travel health insurer.
Single-trip vs. multi-trip
Whether you're a frequent traveler or go on vacation only once a year, you can choose a policy that is tailored to your travel needs. You can purchase either single- or multi-trip coverage, and it's important to know the difference between the two types.
Single-trip coverage: You leave home, travel internationally and return home. You can visit as many countries as you like while traveling, but when you return home, the coverage ends. These plans are purchased for each trip, whether you're gone for four days or four weeks.

Multi-trip coverage: You can leave, travel and return home as many times as you want during the covered period. You can, for example, leave home, travel to France for a week, return home for a month, travel to Panama for three weeks and return home. The coverage continues no matter how many times you return home as long as each trip does not exceed the allowable period (usually 30 to 90 days). These plans must be purchased on an annual basis, and they require you to have health insurance in the United States.
Multi-trip coverage makes sense (and is usually more cost effective) if you travel frequently and do not want to purchase a single policy each time you go on an international trip. However, if you do not have medical insurance in the U.S., you will not be covered under multi-trip plans.
Do I need to have primary health insurance in the U.S. to be eligible for travel medical insurance?
The answer to this question is: maybe. It depends on the type of coverage you have. If your single-trip plan refers to your medical coverage as primary, you don't need another health insurance policy. However, if the coverage provided under your single-trip plan is secondary, then you must have primary health insurance.
As noted above, all multi-trip plans require that you have primary medical insurance coverage in the U.S.
How to purchase travel medical insurance
You can search for medical travel policies on insurance comparison sites like SquareMouth (a NerdWallet partner), InsureMyTrip or Travel Guard. Policies differ by state, and availability may change during or after the pandemic, so verify that the state you reside in offers travel medical insurance in light of coronavirus.
Who needs travel health insurance?
If you plan on traveling and your existing medical insurance will not cover you in the country you are traveling to, buying a travel medical insurance plan could make sense. You could either purchase a comprehensive travel insurance policy or one that only provides medical coverage.
Purchasing a policy strictly for travel medical insurance is a good idea for those who want emergency coverage while traveling but:
Have a premium travel card that already provides trip cancellation and trip delay coverage the individual deems sufficient.

Do not need trip cancellation, trip delay or the other benefits provided by a comprehensive policy because the traveler will remain in one location for a while and is not worried about a canceled trip.
If you do not have a travel card that provides adequate trip cancellation benefits and you also want emergency medical coverage, then you're better off with a comprehensive travel insurance policy.
How much does travel medical insurance cost?
The cost of the policy varies based on a number of factors including:
The country you're going to.
We did a search on InsureMyTrip for a one-month trip to Costa Rica in June 2023 for a 30-year-old, and found the following single trip policy:

While we only got one result for this search, $30.30 is around the typical price you're likely to see for basic medical travel insurance for a trip of this nature. This is because travel medical insurance does not include trip cancellation benefits.
If you were to look for a policy offering comprehensive travel insurance, the price would be higher. To test this, we've used the same example of a one-month trip to Costa Rica in June 2023 for a 30-year-old, but changed the policy type to comprehensive and input a trip cost of $5,000: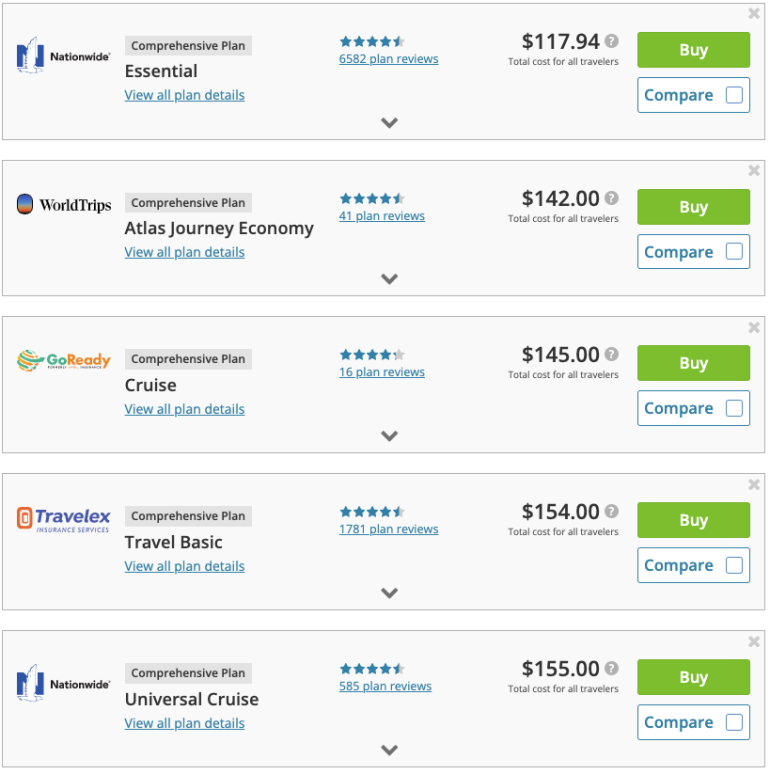 The plans shown above start at $117.94, but InsureMyTrip returned options maxing out at $375 — significantly more expensive than those that include only travel medical coverage.
How do I use my travel health insurance?
If you encounter a medical emergency while traveling, contact your travel insurance provider about how to proceed. You will likely need to pay for your medical expenses using your credit card and subsequently file a claim for reimbursement with the insurer. Some coverage (e.g., emergency evacuation) may need to be arranged by your travel medical insurance provider to be eligible for reimbursement. So in all instances, it's best to contact your insurance provider before making any arrangements or paying any bills.
What you need to know about limits, exclusions and deductibles
Similar to your regular health insurance, travel medical coverage also comes with limits, exclusions and deductibles.
Exclusions are specific events that are excluded from coverage. For example, some plans may exclude coverage for activities (e.g., skydiving) that are deemed risky. Check the policy to make sure that the activities you plan to partake in are not excluded.
Limits are monetary caps on coverage. For example, the policy may cover emergency dental treatment but only up to $500 worth. Anything over that maximum you would be responsible for paying.
A deductible is an amount you need to pay before your policy will reimburse. For example, if you have a policy with a $250 deductible and you submit claims for eligible expenses totaling $400, the insurer will reimburse you only $150. Policies can often be customized to increase or decrease the deductible. The screenshot below includes the same travel medical policy for a one-month trip to Costa Rica in June 2023 for a 30-year-old, with the option to change the deductible.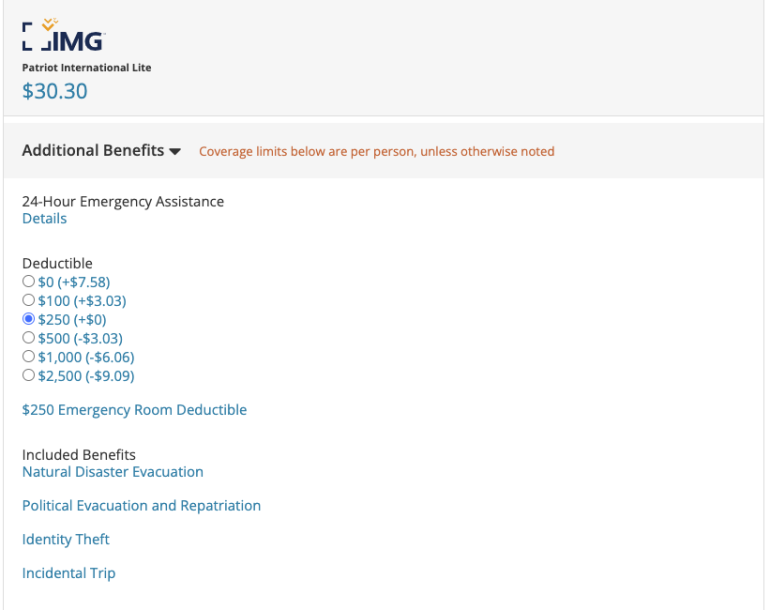 The lower the deductible, the more expensive the policy and vice versa. For IMG, you will pay $30.30 for a policy with a $250 deductible. However, if you'd prefer a $0 deductible, your policy will increase by only $7.58.
Long-term travel medical insurance options for expats
Individuals who live or work abroad and spend a considerable portion of the year living outside the U.S. are eligible for a travel health insurance plan that provides coverage for routine medical care. These policies are different from travel medical insurance, which is meant to cover only emergencies.
Long-term international travel health insurance plans usually have higher limits than travel medical insurance policies and are available on a long-term basis only (one year or more). For example, the three plans listed below are provided by IMG Global.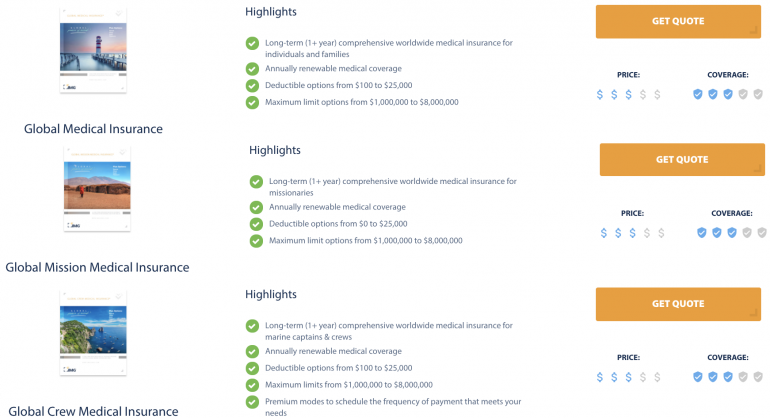 The policies are only available for one year or longer and have high maximum limits of $1,000,000 to $8,000,000. The plans are customizable and allow you to receive worldwide medical treatment.
Frequently asked questions
I have health insurance in the U.S. Do I need to purchase a standalone medical plan for international travel?
When should I purchase travel medical insurance?
I have a premium travel credit card. Do I still need travel medical insurance?
Should I buy a comprehensive travel insurance policy, or is a stand-alone travel health plan enough?
Final thoughts on international medical insurance plans
Travel health insurance can protect you if you experience an unexpected medical emergency during a trip. Although this is a topic no one wants to think about, it's important to know your options. Depending on the coverage you're looking for, you can either pick a stand-alone medical policy or get a comprehensive travel insurance one. Deciding what policy is best depends on your situation and any additional protections you may already have through your premium travel credit card.
Do you purchase travel medical insurance? Why or why not? Let us know in the comments!
---
How to maximize your rewards
Cards for Travel Insurance from our Partners
Rewards rate
1x-10x
Earn 5x total points on flights and 10x total points on hotels and car rentals when you purchase travel through Chase Ultimate Rewards® immediately after the first $300 is spent on travel purchases annually. Earn 3x points on other travel and dining & 1 point per $1 spent on all other purchases
Points
---
Intro offer
60,000
Earn 60,000 bonus points after you spend $4,000 on purchases in the first 3 months from account opening. That's $900 toward travel when you redeem through Chase Ultimate Rewards®.
Points
Chase Sapphire Preferred® Card
Rewards rate
1x-5x
Enjoy benefits such as a $50 annual Ultimate Rewards Hotel Credit, 5x on travel purchased through Chase Ultimate Rewards®, 3x on dining and 2x on all other travel purchases, plus more.
Points
---
Intro offer
60,000
Earn 60,000 bonus points after you spend $4,000 on purchases in the first 3 months from account opening. That's $750 toward travel when you redeem through Chase Ultimate Rewards®.
Points
Southwest Rapid Rewards® Plus Credit Card
Rewards rate
1x-2x
Earn 2X points on Southwest® purchases. Earn 2X points on local transit and commuting, including rideshare. Earn 2X points on internet, cable, and phone services, and select streaming. Earn 1X points on all other purchases.
Points
---
Intro offer
75,000
Earn 75,000 bonus points after spending $3,000 on purchases in the first 3 months from account opening.
Points
See more cards
Get more smart money moves – straight to your inbox
Sign up and we'll send you Nerdy articles about the money topics that matter most to you along with other ways to help you get more from your money.