The Best Airlines to Fly During COVID-19
We ranked them on their flexible change or cancellation policies and their latest health and safety measures.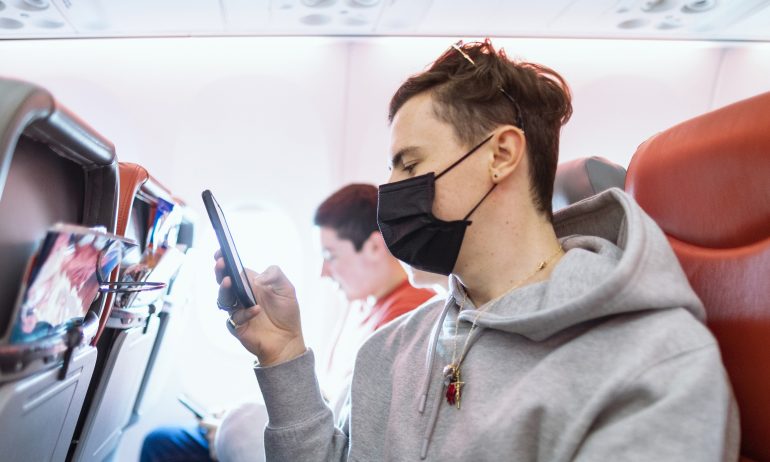 Many or all of the products featured here are from our partners who compensate us. This may influence which products we write about and where and how the product appears on a page. However, this does not influence our evaluations. Our opinions are our own. Here is a list of our partners and here's how we make money.
Note: As of May 2021, most major U.S. airlines have very similar or identical COVID-19 policies. All require masks, none are blocking seats and all have more flexible booking options. These rankings represent how these policies differed in the first quarter of 2021. See for the most up-to-date airline safety policies.
Airlines scrambled to adjust to disappearing revenue early in the pandemic, then scrambled to implement health policies to entice passengers back as . But not all this scrambling was done equally across airlines; some have acted in a much more customer-friendly way than others.
Some airlines have even begun pulling back or eliminating once-generous policies. American Airlines, for example, changed its by removing capacity limits back in the summer of 2020, meaning travelers might once again find themselves on full planes.
To determine which airlines have treated customers better than others during the COVID-19 pandemic, we performed a comparative analysis across several dimensions, including safety precautions and flexible ticketing policies. We boiled these variables into a single 5-point rating system to determine the best airlines for flying during COVID.
It wasn't even close. Delta led the pack in every category we considered, from health and safety policies to flexible booking options, to expanded travel vouchers. Delta is currently the only U.S. airline still blocking middle seats for all fare types in early 2021 — the cherry on top of its customer-centric approach to the pandemic.
Put simply: Delta is the best U.S. airline to fly during the pandemic. Alaska, JetBlue and Southwest all performed above average, and Spirit Airlines performed worst of all.
How did we arrive at these ratings? Determining which airline has offered the most customer-friendly policies amid the flurry of policy changes and PR blitzes was no small feat. To keep it relatively simple, we performed a comprehensive analysis across two domains:
We rated each airline in each category, then averaged the ratings across all categories.
Note: These ratings are current as of March 7, 2021, and do not reflect any changes or updates since. Make sure to check the most recent relevant policies before booking your own flights.
Jamming into a flying tube is hardly anyone's idea of social distancing, so airlines have taken many individual measures to assuage passenger fears. On the surface, these policies can seem overwhelmingly comprehensive, including elaborate cleaning procedures, face mask requirements (which all airlines have enacted) and advanced air filtration systems.
As of January 2021, the federal government finally issued a mask mandate while flying, taking some of the burden off of airlines. However, some airlines have taken extra steps in how they message the importance of wearing masks throughout the flight, and how they are punishing those who refuse to comply with these rules.
Based on recommendations from the Centers for Disease Control and Prevention and our, the biggest danger of air travel is proximity to others. Therefore, we gave special focus (and weight) to concrete steps airlines are taking to ensure social distancing and passenger self-screening.
Note: We have not compared the specific cleaning or air-filtration systems introduced this year. For one, these policies are largely similar to one another. For another, we are not experts in this area and are not qualified to determine which cleaning procedures are more effective than others.
Delta has put its money where its mouth is, enforcing seat-blocking and other policies that will cost it revenue in the short term but earn customer trust in the long term. American and Hawaiian each have comprehensive cleaning and social distancing policies but have not taken the extra steps outlined above to stay competitive with Delta and others.
Since most other airlines have stopped blocking seats, and only Alaska Airlines is providing seat blocking in premium economy, most ratings in this category have dipped significantly since our last update.
As the world's travel plans went topsy-turvy, for both existing and new tickets. We tracked these changes for the major U.S. airlines and rated them across three criteria:
Southwest always offers remarkably flexible change and cancellation policies and was well-situated to adapt to the upheaval caused by the pandemic. Delta edged the other top airlines in this category by previously extending its cancellation vouchers through September 2022 for flights booked prior to October.
Making sense of the ever-changing airline landscape amid the COVID-19 pandemic is a full-time, full-team job — namely, ours. We've been keeping a close eye on the pros and cons of each airline policy shift in order to produce these final rankings.
Although we strove to perform as objective an analysis as possible, these (and any) rankings have an element of subjectivity. For your own travel preferences, you might care about mask enforcement but not travel voucher policies, for example. These ratings offer an across-the-board look at how airlines have responded to the crisis, not a recommendation for which airline best suits your own preferences moving forward.
You want a travel credit card that prioritizes what's important to you. Here are our picks for the , including those best for: