Which Airlines Have the Best (and Worst) Fees?
Some airlines sneak in extra charges for baggage and seat selection that can bust your travel budget.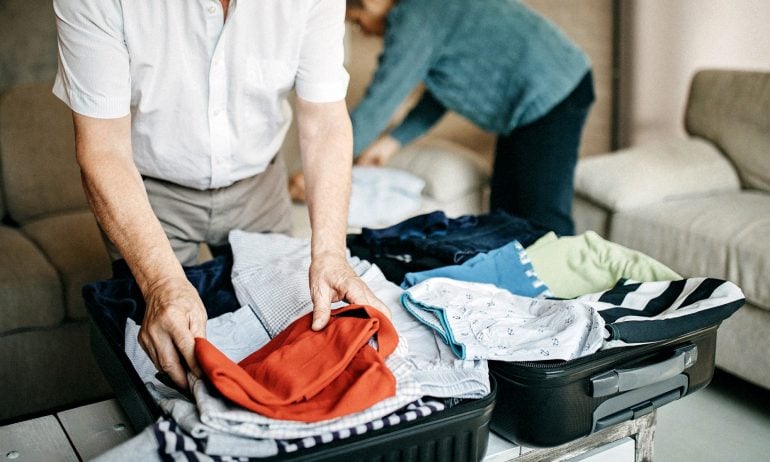 Many or all of the products featured here are from our partners who compensate us. This may influence which products we write about and where and how the product appears on a page. However, this does not influence our evaluations. Our opinions are our own. Here is a list of our partners and here's how we make money.
Air travel costs come in two parts: the face value of the ticket, and the many fees that airlines attach after the fact. Sometimes, these airline fees can cost more than the fare itself.
This isn't a mistake. Airlines are vying for the lowest price in travel searches, hoping to make up the cost in hidden fees.
When searching for airfare, it helps to know which airlines tack on more fees. For example, is a $100 fare on a budget airline like Frontier Airlines ultimately cheaper than a $159 fare from Delta? Or will Frontier's add-on fees for seat assignments and carry-on bags shrink the difference?
Determining which airlines have the best and worst fees can get complex in a hurry. To help minimize the complexity and make sense of these unexpected costs, we performed an analysis of nine major airlines across two fee categories: baggage fees and seat assignment fees.
We aimed to answer this question: What are the average additional fees on each airline? That is, how much extra will it cost to select a seat, bring one overhead carry-on and check one bag?
Note: Most airlines have now eliminated change fees on most fares, so those are not included in this analysis.
Winner: Southwest Airlines
Southwest has made low fees a cornerstone of its business, so its winning average result is no surprise. The gap would be even greater had other airlines not followed Southwest's lead in eliminating change fees.
Southwest is a bit of an odd duck in this analysis. Technically, it doesn't carry seat selection fees, so we used the cost of its Early Bird Check-In feature ($25 maximum fee), which allows purchasers to confirm a boarding position ahead of time. This optional add-on thus grants access to better seat choices. Southwest would win by an even larger margin if we did not include this fee in this way.
It's important to keep in mind that these numbers are averages based on a hypothetical customer who selects a seat, carries on one bag and checks one bag. It includes fees for both main cabin and basic economy fares. The fees for any given ticket and situation will vary significantly from this average. If you don't check a bag or choose a seat, your average fees will be lower.
Winner: Southwest Airlines
For this part of the analysis, we asked a simple question: How much does it cost to check one bag and bring one full-size carry-on on a main-cabin, domestic flight?
The results are fairly straightforward. Southwest charges absolutely no bag fees. American, Alaska, Delta and Hawaiian charge $30 for a checked bag, while JetBlue and United charge $35 for the same. Low-cost airlines Spirit and Frontier separate from the pack here, as they charge customers for all overhead carry-on items.
Many airlines offer branded credit cards that offset these fees, quickly making up for their annual fee for travelers who fly with bags. So these fees are less of a concern for those with such a credit card, those who have elite status or those who pack light.
Note: We did not include international baggage fees in this analysis. These fees vary by destination, airline and whether partner airlines are involved.
Lowest seat selection fees
Winners: Alaska Airlines and Hawaiian Airlines
One of the sneakiest fees, seat selection pricing has become commonplace in recent years, even among full-service airlines. Some airlines carry simple and predictable fees for seat selection; others offer complex systems that effectively set different prices for each seat on the plane.
Determining a system for comparing seat selection fees, therefore, was a challenging task. We compared two seat selection scenarios on each airline:
A main cabin (or similar) fare, selecting a window seat near the front of the aircraft.

A main cabin (or similar) fare, selecting a window seat anywhere on the aircraft.
We did not select seats with bonus amenities, such as additional legroom or free alcoholic drinks. We averaged the price of the two seat selection choices to determine the average seat selection fee.
Note: Southwest doesn't technically carry seat selection fees, but does offer an "EarlyBird Check-In" system, which amounts to the same outcome of getting your choice of seat before the vast majority of other customers, so it was included here. For most Southwest flyers, this fee will not apply.
It seems that, as change fees have disappeared, some major airlines (notably Delta and American) are experimenting with charging outrageous seat selection fees to make up the lost revenue. And low-cost carriers, like Spirit and Frontier, charge even more.
We recommend either skipping seat selection altogether on these airlines (even if it means risking a middle seat placement) or choosing another airline altogether.
If you want to avoid airline fees
Airline fees are a complicated headache, and it can be easy to give up on trying to understand them. Yet we found that airlines differ significantly in the frequency and cost of baggage and seat selection fees. Choosing to fly with Southwest and avoiding Frontier and Spirit is a good 80/20 solution for avoiding these pesky fees.
If you don't have much choice in which airline to fly, consider other strategies for avoiding fees: Get a branded airline credit card that covers baggage fees, and opt out of seat selection altogether whenever possible. You might get stuck in a middle seat near the bathroom, but you might also score a seat near the front of the plane without paying a dime.
Note that we did not cover every airline fee in this analysis. Wi-Fi, food and even a bottle of water on some airlines can tack on even more to the base price of your airfare. This "a la carte" approach to pricing means lower costs in travel search engine results but higher overall costs. Savvy customers can take advantage of this system by both understanding it and opting out of the more ludicrous add-ons.
---
How to maximize your rewards
Get more smart money moves – straight to your inbox
Sign up and we'll send you Nerdy articles about the money topics that matter most to you along with other ways to help you get more from your money.