Which Low-Cost U.S. Airlines Have The Worst Fees?
We compared four budget airlines in the United States to see which carries the highest (and lowest) fees.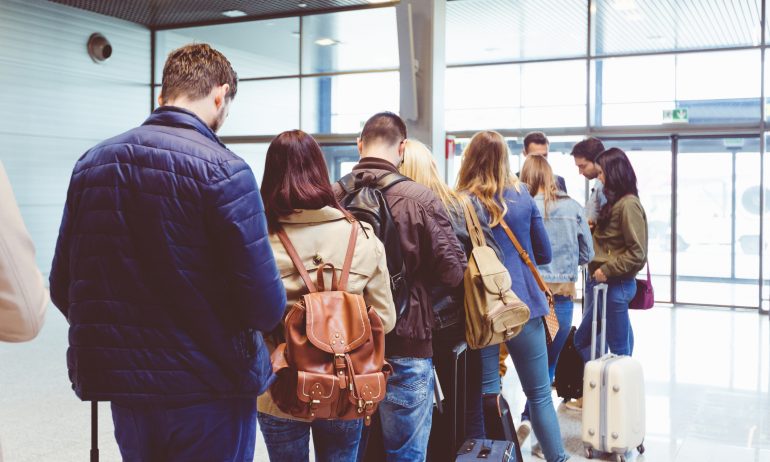 Many or all of the products featured here are from our partners who compensate us. This may influence which products we write about and where and how the product appears on a page. However, this does not influence our evaluations. Our opinions are our own. Here is a list of our partners and here's how we make money.
If you've never flown with U.S. low-cost airlines like Allegiant, Frontier, Spirit or Sun Country, you might be overwhelmed by the complex and expensive fees added to your ticket during checkout. These airlines aim to lure you in with impossibly low fares, then tack on sometimes surprising extra fees. Even if you have flown on budget airlines before, you might not be sure about the "real" cost of flying with them, or which one offers the worst (and best) fees.
To compare these low-cost airlines, we looked at the average round-trip fees across four categories:
Carry-on baggage: The prepaid cost of bringing one overhead carry-on bag (not a personal item that fits underneath the seat).

Checked baggage: The prepaid cost of checking one bag.

Seat assignment fees: The fee associated with selecting a seat. In each case, we chose a window seat near the front with no bonus amenities like extra legroom.

Other fees: Including fees for printing boarding passes and checking in at the airport.
You'll notice we mention the "prepaid" cost of baggage above, and that's an important detail. All of these airlines charge extra for bags added after checkout, such as during check-in or at the airport. To keep things simple, we used the prepaid rate across all airlines, but keep in mind that these are the low-end ranges for these baggage fees, as hard as that might be to believe.
Also, we compared moderate-distance flights of about 1,000 miles in each case, but these fees can and do vary from flight to flight and even day to day. Unlike full-service airlines, which publish tables outlining these fees, the only way to confirm the cost for a specific flight is to go through the checkout flow yourself.
Here are the total average round-trip fees for each airline:
It's hard to call Sun Country a "winner" here given that the average fees were more than the price of the airfare, but its reasonable baggage fees kept the overall costs lower than the competition. Frontier, on the other hand, charged higher carry-on and seat assignment fees than the other budget airlines.
How to avoid fees on low-cost airlines
Although each of these airlines has its own rules and fee rates, there are a few simple rules you can follow to keep costs down when flying budget airlines.
Take advantage of bundles, when appropriate
Adding another complication to the already headache-inducing process of buying airfare, budget airlines often offer "bundles" that reduce the cost of these fees when paying for several together. For example, the Allegiant "bonus" bundle includes a carry-on, seat selection and flexible change policy for less than the cost of paying these fees separately.
In general, buying a bundle makes sense only if you intend to use all of its benefits. For example, if you plan to bring a carry-on, would like to select a seat and need flexible booking options, then the Allegiant "bonus" option above is a good value. But if you're confident in your travel dates or don't care what seat you get, you can skip the bundle and instead pay individually for the services that are useful to you.
The "seat selection" step of checkout makes it look like you must select a seat to advance.
Look for the "skip seat selection" or "don't select a seat" option, usually near the bottom. Yes, you might get stuck in the middle seat, but you might also get a decent (and free) seat.
Most of the cost of these fees comes from baggage fees, and the only way to avoid them is to bring fewer or no bags. There are plenty of strategies to pack a carry-on like a pro, which are worth learning when the savings potential is this significant.
As mentioned, the cost of checked and carry-on bags increases the longer you decide to wait to pay for it. The worst fees are incurred by paying for bags at the airport. If you do plan to bring a bag, pay for it ahead of time when traveling on budget airlines.
Low-cost airlines have a clear — if frustrating — business model. They want to lure you in with unbelievably cheap fares, then tack on sky-high fees during checkout. Knowing which budget airlines in the U.S. charge relatively less (Sun Country) and more (Frontier) is a good first step in navigating these fees. Avoiding or "bundling" the fees themselves is another way to keep costs down. With a little attention and patience, you can still score a deal from these low-cost carriers.
---
How to Maximize Your Rewards