Advertiser Disclosure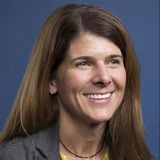 Kimberly Lowe
Kim Lowe leads the personal loans editorial team. She joined NerdWallet after 15 years managing content for MSN.com, including travel, health and food. She started her career as a writer for publications that covered the mortgage, supermarket and restaurant industries. Kim earned a bachelor's degree in journalism from the University of Iowa and a Master of Business Administration from the University of Washington.
Posts by Kimberly Lowe:
It seems we can't find what you're looking for. Perhaps searching can help.