Betterment jumped into the 401(k) market this month with the official launch of Betterment for Business, a 401(k) plan management and investment advisory service.
The robo-advisor announced plans for a 401(k) platform in September 2015 and added plan sponsors throughout the end of last year. Betterment says the 401(k) service currently serves 50 companies, including the wholesale shopping app Boxed.
In a press release, Betterment CEO Jon Stein said that the offering is "the only turnkey 401(k) service that includes personalized investment advice for all plan participants. The era of expensive, impersonal, unguided retirement saving is over."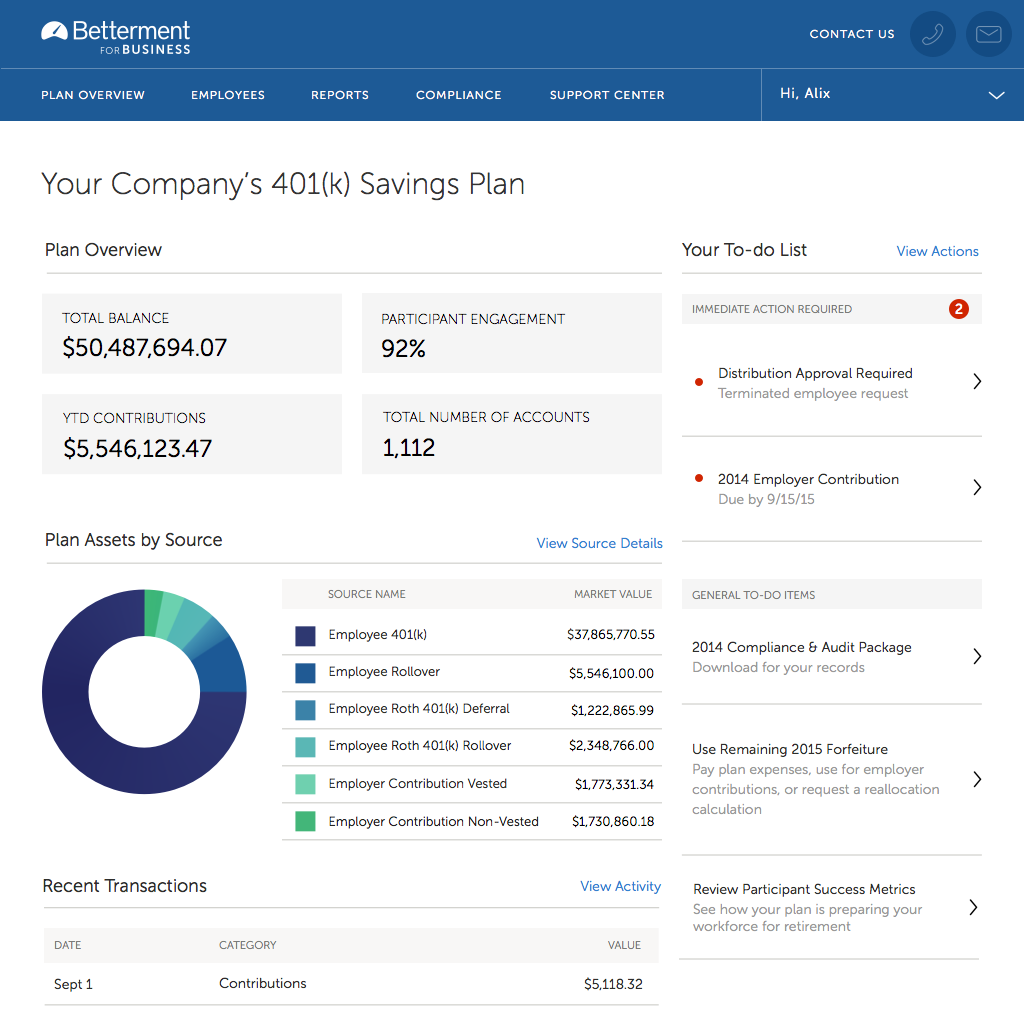 That declaration may be premature, but innovations in the 401(k) market are certainly needed: Research from the Employee Benefit Research Institute shows only 22% of employees are very confident they'll have a secure retirement. Among those employees who have access to an employer-sponsored retirement plan such as a 401(k), the numbers aren't significantly better: Only 28% report a high level of confidence.
The Betterment for Business 401(k) closely resembles the company's consumer robo-advisor offering, which builds client portfolios out of low-cost exchange-traded funds. Plan participants are enrolled in a globally diversified portfolio and receive personalized advice.
There is no upfront fee for plan sponsors that have more than $1 million in assets, and the plan's assets under management fee ranges from 0.1% to 0.6%. Employers may pay that fee themselves or pass it on to employees. The ETFs also carry expense ratios paid by the plan participant; those range from 0.09% to 0.17%.
Even added together, those fees could represent a marked savings for employees, who currently pay an average of 1% of assets managed, according to the Center for American Progress. That cost, which reflects both investment expenses and plan administrative fees, translates to nearly $140,000 over the lifetime of the typical worker.
The reduction in expense ratios alone could be significant for some employees. The Investment Company Institute says the average 401(k) investor pays 0.54% to invest in equity mutual funds and 0.55% to invest in hybrid mutual funds like target-date retirement funds, which are the investment of choice for many workers — and often the default option for those who are auto-enrolled into a plan by their employer.
Participants in the Betterment for Business 401(k) will also be able to open IRAs and taxable investment accounts with Betterment; those accounts will then be viewable on a single dashboard alongside their 401(k). The service will manage the accounts together, taking taxes and fees into consideration.
Betterment, which launched in 2010, emerged as the largest independent robo-advisor in 2015, with over 130,000 retail customers and more than $3.2 billion in assets under management.
Arielle O'Shea is a staff writer at NerdWallet, a personal finance website. Email:[email protected] Twitter: @arioshea.