The robo-advisor has hit the 401(k) space.
Betterment — one of the biggest online advisors in the field, with over $2.6 billion in assets under management — is launching a new 401(k) platform. The Betterment for Business plan management and investment advisory service will closely mimic the company's consumer platform.
As with Betterment's individual accounts, 401(k) plan participants' assets will be invested in a globally diversified portfolio of low-cost exchange traded funds, a departure from the target date funds that dominate typical 401(k) portfolios. Account holders will also be able to open other accounts with Betterment, including both traditional and Roth IRAs and taxable investment accounts, that can be managed in step with their 401(k).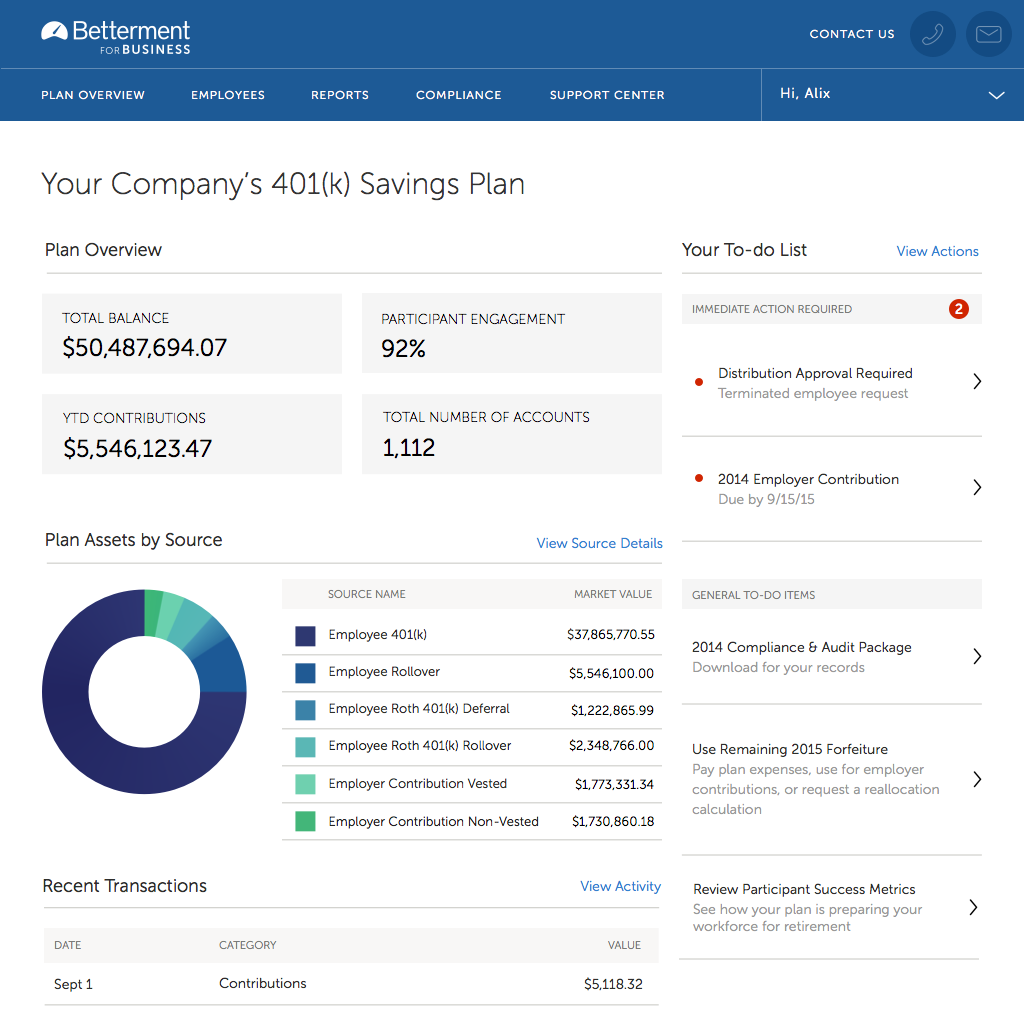 "No one gives holistic advice about what to do in your 401(k), but also what to do in your IRA and your savings and other investment accounts. We're bringing that holistic advice about retirement and other accounts to 401(k) participants and employees," says Jon Stein, Betterment's founder and CEO.
The online advisor will take into consideration all accounts a user might have with the company, Stein says. "If you have investments that should be in your 401(k), and other investments that should be in a taxable account, we'll be able to optimize that. If you are saving in your 401(k) but could actually save more cost-effectively in an IRA, we'll recommend that you save in the IRA once you've met your match at the employer."
Management fees will range from 0.10% for the largest employers with over $1 billion in assets to 0.60% for the smallest employers. Employers can choose whether to pay those fees themselves or pass them on to employees. The fees, Stein says, are the lowest in the industry.
The average target date fund carries an expense ratio of 0.78%, according to investment research firm Morningstar, which results in $7.80 in fees per $1,000 invested. Stein says participants in 401(k)s managed by Betterment for Business will pay less than that, including the management fee and investment expense ratios.
Employers will benefit from no setup costs (for companies with over $1 million in assets) or ongoing annual fees. Betterment also touts paperless onboarding and technology and design that offer an easy client experience.
The launch of Betterment for Business coincides with a renewed push from the Department of Labor to move toward a fiduciary standard for anyone offering retirement investment advice. "We're big fans of that idea, and would like to see it happen, as it would be better for all plan participants," says Stein. "And yet, no one exists today who can provide both that advice on the investment management piece for the plan, and also fiduciary advice for the participants. We feel like this is a moment in time when the government is almost inviting us to launch this platform."
Betterment for Business will officially launch in the first quarter of 2016, but Stein says the platform already has a handful of commitments from early clients — including Earnest, a lending startup — and plans to add more employers throughout this year.
Arielle O'Shea is a staff writer at NerdWallet, a personal finance website. Email: [email protected]. Twitter: @arioshea.