Debt Diaries is a series about how student loan borrowers save, spend and pay off debt on a daily basis. Want to share your story? Email [email protected] for details.
Aly Klemmer wants her money to do it all. She gives almost every dollar she earns as a pathologists' assistant a job:
Rent and payments on her beloved 2017 Jeep Wrangler.
Double student loan payments to chip away at the $101,000 she owes.
401(k) contributions — enough to snag her employer's match.
Funding a Roth IRA and investing in the stock market.
Saving for online MBA classes.
Like a typical 26-year-old, Klemmer also splurges occasionally — she likes to take weekend trips and get tickets to professional football games.
The result? Klemmer feels "spread thin" financially, even with earning over $85,000 a year before taxes.
It's a good living — Klemmer acknowledges that and is proud of it. But she's determined to get rid of the debt she amassed from her master of health science at Duke University.
Klemmer, who lives in Greensboro, North Carolina, chronicled her spending during a recent typical week to show how she balances it all. Here are her entries, plus tips for others who are paying down debt while juggling other financial goals.
Diary entries have been edited for clarity and length.
Day 1: Saturday breakfast at home
Total spending: $43.88 for a 12-pack of Clif bars, black coffee and dog food.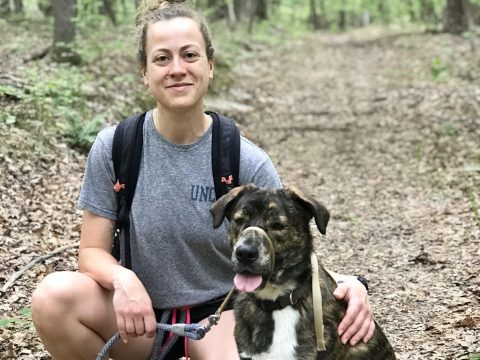 I woke up around 6:30 a.m., let the dogs out and went for an eight-mile run.
I brewed coffee, but when I drank it, it was basically tar. I think I added two times the grounds by accident, so I got a coffee from Starbucks on the way to PetSmart to get dog food. The dog food's original price was $40, but I used $5 in PetSmart rewards as a member and a $5 coupon.
I came home, fed the dogs, and had my daily Huel breakfast shake (about $2/serving). I really love the shake I use for breakfast because it's cheap and it also takes the choice out of breakfast for me, where I would otherwise make an unhealthy and expensive choice.
» DISCUSS: How do you save money to pay down debt?
Day 2: Snagging shopping deals
Total spending: $39.49 for a curling iron and pair of shoes.
My partner and I went shopping with family in the afternoon. I got my hair cut short last week ($85) and needed a curling iron to tame it. We went to Target because my partner's mom has the Target Cartwheel app, which gets her exclusive deals. I got a curling iron and a cute black pair of slip-on wedge shoes. The curler was $5 off and the shoes were 20% off with Cartwheel. I thought, "I'm definitely downloading this app when I get home."
Day 3: Work perks
Total spending: $0
My Digit app texts me with my current checking account balance: $1,980. (Digit is an automated savings app.) I know that will quickly disappear; I scheduled an extra $800 student loan payment for tomorrow, for a total $1,650 this month. The Earnest app tells me how many years and months are left on my loan. Every time I double pay, I see that time decrease by two months and that gives me a little push. (Klemmer lowered her student loan interest rate by refinancing through Earnest.)
At work, I take advantage of the physician's lounge stocked with free breakfast, lunch and snacks. I'm a vegetarian, so while this might sound cushy, what this amounts to is free lettuce, oatmeal and steamed vegetables. But if it's free, it's for me.
After work, I go for a run with my running group. I love this group because it's cheap and keeps me accountable. It was $120 for a four-month plan with my trainer, but I got 50% off because I work at the hospital. The only thing that gets expensive with running more competitively is the competitions, usually $50 or more for each race registration. I'm training for a half marathon in December.
Expert tip: Consider refinancing if you have good credit and enough income to afford your expenses, student loans and other debts. Refinancing student loans can lower your interest rate, which means you'll save money each month and long term, too.
Day 4: Cash flow anxiety
Total spending: $1,242 for a car payment, car insurance and extra student loan payment.
Today, my extra student loan payment and car payment come out. If I didn't pay extra on my loan, I would undoubtedly have enough money to get me through until my next payday. But every time this payment comes out, I get really nervous that an emergency will come up and I'll have to dip into my savings. That's happened before with emergency trips to the vet for my dog.
I checked my Acorns account this morning. (The Acorns app rounds up purchases and invests it). The app rounded up recent purchases on my debit card and invested double the difference: $7.70. This led me to check the stock market. Stocks fell for the third or fourth day and there are cries that the bear market has begun. That doesn't make me as nervous as I think it should; I have faith the stock market will always wax and wane.
Expert tip: Make paying off student loans early a priority only after you've established an emergency fund, set up regular retirement contributions and paid off higher-interest debt.
Day 5: Slipping stock market
Total spending: $0
I checked the stock market this morning and saw the Dow dropped 300 points. I checked again and saw that it plummeted 831 points, the largest fall I remember seeing in a while. I looked at my Acorns account and I'm down $6-$7 today, which doesn't concern me much on its own, but I'm anxious now about the possibility that we are entering a bear market.
My Digit account also transferred a small amount of money into my savings accounts for MBA classes and student loans. Digit will save me anywhere from a few dollars to $25-$30 a day into my savings, depending on how much money is in my checking account and any upcoming recurring bills.
Day 6: Unexpected dinner out
Total spending: $4.39 for dinner
I received a text message this morning from Digit: My checking account balance is $230. I wasn't expecting it to be that low. I thought I had around $600, so I checked my bank statement. I forgot that I instructed Digit to add $100 to my MBA classes savings and $100 to my student loan savings account. I'm frustrated with myself for not thinking about how that would leave me with $230 to last until next Friday.
To my surprise, Hurricane Michael came to North Carolina in a fury. My hospital lost power momentarily before the backup generator kicked in. Needless to say, it was a hectic day.
I went home to find we lost power. Most of my neighborhood — including street lights, traffic signals, grocery stores and coffee shops — was without power. We went to the nearest open grocery store and got a quick dinner from the hot bar. Everyone and their mother was there for dinner tonight. I got a small container so I wouldn't overfill from the hot bar, to save calories and money.
» MORE: Acorns, Digit and other money saving apps
Day 7: Striking a balance
Total spending: $0
We are on day two without power. Unfortunately, we had to throw away almost everything in our refrigerator. Is it bad that I'm most upset about the warm beer?
Since I was documenting my debt journey this week, I spent a lot of time reflecting on my financial situation. It's been hard to strike the right balance between paying off my debt fast, saving for MBA classes and investing in my future. I feel a little stretched thin at times.
But, I always try to stay optimistic. There is a bit of sacrificing and nail-biting going on now, but I'm banking on the feeling of one day being debt-free and in a fulfilling management position.
Expert tip: If you're dreaming of a debt-free lifestyle, follow these debt payoff steps: Assess what you owe, choose a payoff strategy, set a goal and track your progress.
Photos of Aly Klemmer courtesy of Klemmer.