Advertiser Disclosure
How Student Loans Affect Your Credit

Student loans build your credit score if you always pay on time and reduce it if you pay a month or more late. That's why you shouldn't procrastinate when making your monthly payments on them — or any bills, for that matter.
But that's not the only student loan situation in which credit comes into play. Here's what you need to know to make sure your student loans help your credit instead of hurt it.
How late or missed student loan payments affect your credit
Forgetfulness happens, and a brief bout won't impact your credit. Your score will start to drop only when your lender reports your late payment to one or all of the three major credit bureaus, and federal student loan servicers wait at least 90 days to report late payments. Private lenders can report them after 30 days. However, lenders can charge late fees immediately after missed payments.
If your lender does report your late payment, also known as a delinquency, it will stay on your credit report for seven years.
The more overdue your payment, the more your credit will suffer. For instance, your federal student loan will go into default if you don't make a payment for 270 days. That will affect your credit more severely than a 30- or 90-day delinquency.
---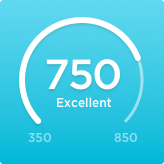 Get Your Free Credit Score
Get your free score every week.
Set goals and see your progress.
Signing up won't affect your score.
---
How to preserve your credit if you can't afford your loans
Sometimes money gets tight. In those situations, ask your lender about lowering or pausing your monthly student loan payments. You might be able to:
As long as you make payments according to the terms of your plan — even if that means paying $0 per month — your credit score shouldn't dip.
How comparing student loan rates affects your credit
It's smart to shop around for the lowest rate before taking out a new private student loan or refinancing existing loans, especially if you can do it without dinging your credit. Either of the following options will keep you from having multiple hard inquiries on your credit report.
Apply for all the loans you're comparing within a 14-day period. Under the FICO credit scoring model, multiple hard inquiries of the same type — such as student loan inquiries — count as a single inquiry only if they happen within a short period. Various versions of the credit scoring model specify different time frames — including 14, 30 and 45 days — but you'll be covered under all of them if you submit all your applications within 14 days.
Get rate estimates through lenders' pre-qualification processes. Some lenders let you get a rate estimate that won't affect your credit. For pre-qualification, lenders perform a soft inquiry instead of a hard one; soft inquiries don't hurt your credit. Once you have multiple estimates, you can continue the full application process with the lender that provides the best one. At that point, the lender will do a hard inquiry before giving you a firm rate offer.
How credit affects your ability to get a new student loan
All of your student loans will affect your credit, either positively or negatively, depending on your repayment habits. But you don't necessarily need good credit to take out a student loan in the first place.
For federal loans: Most types of federal student loans, including all federal loans for undergraduates, don't require a credit check. Federal direct PLUS loans, which are available to parents and graduate students, do require one. However, your credit score won't impact your rate; all PLUS loans disbursed in the same year have the same one.
For private loans: The lender will perform a credit check to determine whether you qualify for the loan. The higher your credit score, the lower the interest rate you'll likely receive. Often, undergraduate students need a co-signer to qualify for private student loans.
Need to work on your score? Get your free credit score and check out NerdWallet's guide to building credit.
Teddy Nykiel is a staff writer at NerdWallet, a personal finance website. Email: teddy@nerdwallet.com. Twitter: @teddynykiel.