It's been called popular, revolutionary and groundbreaking. The Amazon Echo is online retailer Amazon's successful half-speaker, half-home assistant.
We put the Echo head-to-head with another speaker that's been making waves in the tech world: the Sonos Play:1. Which speaker should you trust with playing your favorite tunes? Let's find out. 
The speakers: At a glance
What we found: If music is your top priority, you'll likely prefer the Sonos Play:1, but if you're looking for the addition of smart features to your speaker, the Amazon Echo is tough to beat.
What you'll learn: Enjoyment with the Amazon Echo goes both ways. The speaker plays music to you and lets you talk to it. Suffice it to say, it's much more than just a speaker.

| | Amazon Echo | Sonos Play:1 |
| --- | --- | --- |
| Price | $179.99 | $199.99 |
| Type | Home automation controller | Wireless music system |
| Wi-Fi connectivity | Yes | Yes |
| Audio | Woofer and tweeter | Amplifier, tweeter and mid-woofer |
| Interactive voice functionality | Yes | No |
| Compatible app | Yes | Yes |
| Buy on Amazon | | |
The speakers: Up close and personal
Design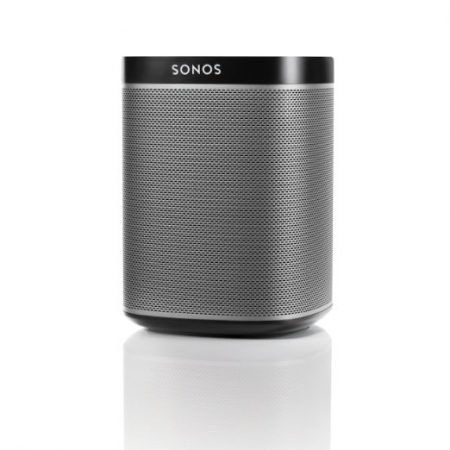 On the surface, these two devices bear a striking resemblance. They're both wireless speakers with simple push-button controls on their respective tops.
The Amazon Echo is a lightweight black cylinder with a lighted blue band at the top that illuminates when activated. The Sonos Play:1 is a compact, square-shaped speaker with rounded edges. It's comes in either black or white color schemes.
Music
The Echo can play songs from Amazon Prime Music, Spotify, Pandora, iHeartRadio, TuneIn and Amazon Music Library.
The Play:1 can stream music from your iTunes library, pull from over 100,000 free radio stations, and work with a number of popular online music services (Spotify, Pandora, SiriusXM, Google Play Music, Amazon Music and iHeartRadio, to name a few).
Features
Each of these speakers promises to deliver big sound. The Amazon Echo provides omni-directional audio that travels in a complete 360-degree radius to spread songs throughout an entire room.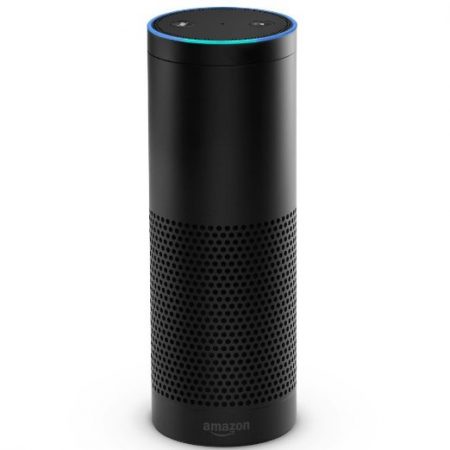 Similarly, the Sonos Play:1 uses its amplifiers and dual speakers to fill rooms with sound.
But when it comes to features, the Echo takes things a (big) step further. It gives you access to Alexa, a cloud-based voice service. That means you can talk to the Echo, even when you're across the room and music is playing.
Taking a page out of Siri's book (the popular voice assistant from Apple), Alexa can tell you just about anything, including traffic reports, sports scores and Yelp reviews.
Additionally, for those with smart homes, the Echo can function with compatible WeMo, Philips Hue and Samsung SmartThings, so you can control your devices without leaving your comfy spot on the couch.
The Sonos Play:1 isn't without some of its own fancy features, though. The compact device has built-in wireless capability, making it possible to bring sound to any room in the house.
It can even synchronize music so you can have the exact same song playing — at the same time — in multiple rooms. Purchase multiple Sonos devices for a complete home set. And for those singing in the shower moments, the speaker is humidity-resistant.
Price
The Amazon Echo, which is currently the No. 1 best-seller in Amazon's home automation controllers department, has a regular retail price of $179.99. The Sonos Play:1, the No. 1 best-seller in Amazon's wireless multiroom digital music systems department, has a list price of $199.99.
Sound off
If you care most about a speaker that's truly devoted to an immersive music-listening experience, go for the Sonos. You can even purchase two (or more) of the devices to create your very own surround-sound experience.
But if you're looking for a speaker that also doubles as an interactive home assistant, we'd recommend the Amazon Echo. Its range of features provides mass appeal, and it's $20 less than the Sonos.
One more thing to note: According to The Wall Street Journal, rumor has it Amazon may soon release a portable version of the Echo. If that's the case, you may want to hold off on buying either one of these products until then.
Compare other popular products here:
Courtney Jespersen is a staff writer at NerdWallet, a personal finance website. Email: [email protected]. Twitter: @courtneynerd.