While retailers often bill Black Friday as a unique day of great deals, the data indicates otherwise.
In a NerdWallet analysis of 25 Black Friday ad scans from 2013, 23 of them listed at least one product at the exact same price in 2013 as in that retailer's 2012 Black Friday advertisement. Here is the table of those 25 Black Friday ads:
| Black Friday Retailer | Black Friday Item Repeated for Same Price in 2013 as in 2012? | Which Item? | Price in Both 2012 and 2013 |
| --- | --- | --- | --- |
| Ace Hardware | Y | Peak Jump Starter | $19.99 |
| CVS | N | | |
| Dell | N | | |
| Dick's Sporting Goods | Y | ST3100 Competition Table Tennis Table | $249.98 |
| Fred Meyer | Y | LG Wi-Fi Blu-ray/DVD player | $49.99 |
| Fred's Super Dollar | Y | Elite 3.5 Qt. Stainless Steel Deep Fryer | $19.95 |
| Game Stop | Y | PS3 Gold DUALSHOCK 3 Controller | $39.99 |
| Harbor Freight | Y | US General 30″ 11 Drawer Roller Cabinet | $149.99 |
| hhgregg | Y | Jam Wireless Portable Speakers | $29.99 |
| Jo-Ann | Y | Singer Patchwork 7285Q Sewing & Quilting Machine | $194.99 |
| Lowe's | Y | 3.6 cu ft Washer and 7.3 cu ft Electric Dryer | $1,198 |
| Modell's Sporting Goods | Y | Women's Nike Revolution Shoes | $39.99 |
| Navy Exchange | Y | Jack Lalanne Power Juicer Express | $74.99 |
| OfficeMax | Y | Brother Laser MFC-7360N All-in-one printer | $129.99 |
| Pep Boys | Y | Torin 2-Ton Jack | $10 |
| PetSmart | Y | Select Drinkwell Automatic Pet Fountains | $24.99-$39.99 |
| Radioshack | Y | PS3 DualShock Wireless Controller | $39.99 |
| Rite Aid | Y | Almond Roca Holiday Tin | $2.99 |
| Sears Outlet | Y | Chefman Two-Slice Extra Wide Toaster | $14.99 |
| Shoe Carnival | Y | Sperry Top-sider Mens LANYARD | $59.98 |
| Sportsman's Warehouse | Y | Ledge Karate Monkey Hydration Pack | $9.99 |
| Staples | Y | Brother HL-2240 laser printer | $49.99 |
| Stein Mart | Y | Cashmere Sweater | $39.96 |
| Walgreens | Y | Transport Chair or Rollator Walker | $79.99 |
Key takeaways
92% of 2013 Black Friday ads we looked at contain at least one item selling for the exact same price as the retailer sold the item for on Black Friday 2012.
Some of these duplicate deals are advertised in 2013 ad scans as "doorbusters," and many listed on the retailer's first page.
Retailers also trick consumers on Black Friday into falling for bad deals with misleading original prices, knockoff deals, and rebates.
Repeated deals
While doorbusters steal the headlines on Black Friday, retailers almost always have their shelves stocked with raw deals.
"Consumers automatically assume that everything in the store on Black Friday is a great deal. That's not even close to the truth. While stores certainly have some great deals on hand, many items advertised on Black Friday are selling for prices that consumers could have obtained them for as far back as last year," says Matthew Ong, senior retail analyst at NerdWallet.
For consumers buying cheap Christmas decorations or discounted bath towels, year after year deal repetition might not be a concern. For shoppers purchasing consumer technology, however, this tactic is a bad deal.
OfficeMax, for example, is selling the Brother Laser MFC-7360N All-in-one printer for $129.99 on Black Friday 2013, down from the regular $199.99. This $70 discount looks impressive, until shoppers consider OfficeMax was selling the same exact printer for $129.99 for 2012's Black Friday. While consumers would expect another year of printer product releases to have outdated the wireless printer, the item will not be selling for any cheaper on this year's Black Friday.
Shoppers who skip the Black Friday lines, then, might not be missing much. There's a strong chance they'll see the same items at the same prices for Black Friday next year.
As always, the best strategy for consumers is to price compare. "Consumers make poor decisions when they're under duress, and this is most obvious on Black Friday," says Ong. "Throwing items in your cart is never a good strategy. Shoppers should always check out the ads before Black Friday, compare the deals to current item prices, and even look to see if the store was selling the same item at the same price last year."
Not necessarily the best sale of the year
Some Black Friday deals and price cuts were available during other sales throughout the year too. For instance, Macy's "doorbuster," the Tommy Hilfiger Jacket, Faux Leather 4-Pocket Military Bomber Jacket, priced at $79.99 on the first page of the Macy's 2013 Black Friday ad, was found during Macy's recent Veteran's Day sale for the same price, $79.99.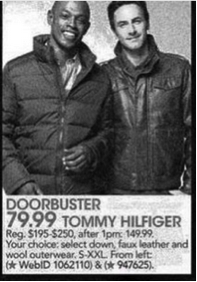 Other Black Friday deals can actually be beat at various times of the year. Take Target's Kitchenaid Classic Plus Stand Mixer.  The item's Black Friday sale price is $199, $30 off from the listed regular price of $229.99.  However, when NerdWallet looked up the same item on November 8, 2013 on Target's online retail website, the price was so low, Target couldn't show it until the item was added to the cart.  It was $183.99.  That's $46 off of the regular $229.99 and $16 more dollars off the Black Friday savings, over 50% in savings.
Other retailer Black Friday tricks
1. Deceiving original prices
Black Friday ads will often have the "regular" price of a product next to the item's Black Friday price to show consumers the savings they're getting with their Black Friday buy.
Retailers typically use the item's original MSRP instead of the price the item is currently selling for on their website, however, to artificially make the Black Friday price cut appear larger.
The first page of Bon-Ton's Black Friday 2013 ad scan, for example, lists a Keurig K45 Elite Brewer for the price of $99.97. This Black Friday price is a significant price cut from the regular item price of $172.
If you found the coffee maker on Bon-Ton's website at the time of this writing, however, you'd see a current sale price of $119.99. Bon-Ton's Black Friday price of $99.97 for the Keurig isn't a bad deal, but consumers shouldn't think the Keurig is exactly $72 off.
2. Peddling derivative products
Black Friday advertisements will often include the bare minimum of technical specs on devices such as TVs, laptops and tablets. This is because retailers don't want shoppers to find out too much about these products ahead of Black Friday. These products are often derivative products, specifically manufactured for Black Friday and the holiday season with less features and cheaper production costs.
Walmart, for example, lists an Element 23" Class LED HDTV for $75 on page 16 of its Black Friday ad. Walmart notes that this TV is a "special buy" and does not list a model number or any feature information besides "720p resolution" and "60 refresh rate." Element does not list a 23" LED TV on its website, and a basic search engine search for an Element 23" LED HDTV yields no results that resemble Walmart's offering. The Element TV is likely a derivative product, cheaply manufactured specifically for Black Friday and meant to resemble other consumer products.
3. Rebates
Retailers often advertise after mail-in rebate prices on their Black Friday ad scans. While the need for the rebate is noted in small text below the advertised price, shoppers often overlook the fact that they'll be charged more than the advertised price at the register.
Staples, for example, is advertising a $299 price for a Toshiba laptop in its 2013 Black Friday ad scan. The actual register price of this laptop is $349, however, and consumers must submit an "easy rebate" to receive a $50 credit.
Methodology
For the ad scans analysis section of this study, we only selected Black Friday ads for which full ad scans were available for both 2012 and 2013 at the time of data collection. We also decided to analyze only medium sized ads for this study, too, to avoid the bias of small ads with small product sample sizes and larger ads with overly large item quantities.
Some retailers also had more than one repeat item selling at the exact same price in 2013 as in 2012. We only listed one item per store to keep our table simple.
We considered deals on repeat items within 11 cents of each other to be the same price.
Shopping ads image courtesy of Shutterstock.