LOOKING FOR THE 2014 ACE HARDWARE AD? CHECK IT OUT HERE. FOR A FULL LIST OF BLACK FRIDAY AD SCANS, CHECK OUT NERDWALLET'S BLACK FRIDAY AD LEAKS PAGE.
NerdWallet is working tirelessly to assemble the most solid analysis of all the best 2013 Black Friday deals! Be sure regularly inspect our ad scans for your favorite holiday season shopping destinations!
Ace Hardware Black Friday 2013
Ace Hardware has just leaked their 2013 Black Friday ad and, while it's not the biggest ad scan we've seen so far, it does offer some exciting deals. This seven-page ad features tools, home goods and even some kids' toys, ensuring shoppers will cover at least a few bases at one destination.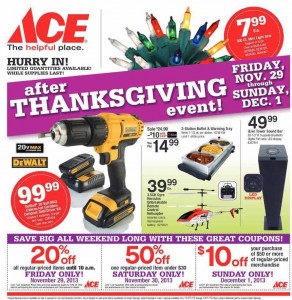 Ace Hardware Black Friday 2013 Ad Scans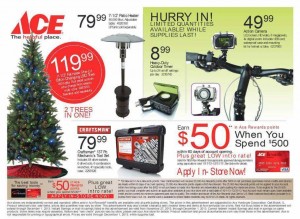 Ace Hardware Best Black Friday Deals
The ad doesn't specify regular prices or the actual amount of most discounts, but handymen and women will be sure to spot the eye-catching deals on big-name items. Stores will offer special sales from Friday through Sunday, giving shoppers plenty of time to browse deals on toolbox essentials, like the DeWalt 20 Volt MAX Lithium Ion Cordless Compact Drill/Driver Kit ($99.99) and more fun items like the 3.5 CH Gyro Hercules Unbreakable Remote-Control Helicopter ($39.99).
Customers can save money not only with item-specific discounts, but with some pretty good coupons as well:
Friday until 10am: 20% off all regular-priced items
All day Saturday: 50% off one regular-priced item
Sunday only: $10 off your entire purchase of $50 or more of regular-priced merchandise
For a hardware supplier, Ace offers some great kids' toys at low prices:
Craftsman Kids' 66 Piece Heavy-Duty Workbench Set: $49.99
Lumber Jax 165 Piece Log Set: $14.99
Remote Control Sports Quad Racer: $19.99
Kids' Creative Play Table: $29.99
Craftsman Kids' 31 Piece Toolbox Set: $8.99
Shoppers can choose from a sweet selection of stocking stuffers, all for $9.99 each:
Irwin 12" Bar Clamp 2 Pack
Ace Brand 12 Piece Combination Wrench Set
Crescent 11 Piece Socket & Wrench Set
Coast LED Headlamp or Flashlight
Craftsman 14-in-1 Versitool Ratcheting Multi-Driver
Craftsman 8 Piece Screwdriver Set
Best Ace Hardware Black Friday Deals from 2012 
Ace Hardware consistently has competitive prices during Black Friday weekend. That being said, last Black Friday, Ace Hardware's ad scan had NerdWallet prompting customers to read the fine print on a number of the store's seemingly generous deals. It wasn't that the deals were a sham. They just required a little extra work on your part.
That is, you often had to mail in a rebate on the day of purchase to actually get the advertised deal. While this isn't impossible to do, it is rather inconvenient. Especially when you consider the lengthy list of holiday items shoppers have to cross off on that chaotic weekend.
Despite the rebates, there were still some noteworthy items you could check off from your list at Ace, sans the rebate hassle. Rebate-free sale items included:
$99.99 190-pc. Mechanic's tool set ($179.99 value)
$79.99 Craftsmen 12 volt cordless combo kit ($129.99 value)
$49.99 Dremel Multi Max oscillating tool kit ($99.99 value)
$29.99 Black & Decker cordless drill with stud sensor ($59.99 value)
$39.99 Kids' wood work bench playset ($79.99 value)
$29.99 Kids' art easel ($49.99 value)
$19.99 7-pc. Metric or SAE wrench set w/bonus storage tray ($29.99-$30.99 value)
$9.99 Craftsmen Dog Bone SAE or Metric 8-in-1 wrench ($24.99 value)
On top of the stellar stand-alone sale prices, Ace also offered coupons that could take a solid chunk out of you holiday expenses. The only trouble was that they offered each of their three coupons on different days. Their potentially best coupon, the one for 20% off of any regular priced item, could only be used before 10 a.m. on Thursday morning. On Saturday, you could use a 50% off coupon, but only for a single, regular priced item less than (not even equal to!) $30. Sunday's coupon offered shoppers a $10 discount on purchases of $50 or more.
Ace Hardware's deals tend to be consistent from year to year, with the exception that some items that from 2012 suddenly required rebates to get the same sale prices as 2011. Again, be sure to read the fine print in this year's ad scan to double check which deals you can count on from Ace with or without rebates. Also be sure to confirm whether or not they'll be duplicating their 2012's a 5 a.m. Black Friday opening hour!
Be sure to check out our assessment of Ace Hardware's 2012 ad scan along with similar 2013 ad scans from Harbor Freight and Lowe's!
Ace Hardware Black Friday Store Hours
To compare Ace Hardware's Black Friday store hours with your other favorites, check out our Black Friday Store Hours page!
Image: Fan of Retail / Flickr: Source