NerdWallet will be bringing you the best of Black Friday sales all up until the big day. Check back to find your favorite retailer's Black Friday ad scan and all of our tips for making the most of these deals.
The Build-A-Bear Black Friday ad is short and sweet. Celebrating the beginning of the holiday season, Build-A-Bear Workshop is offering snowman-inspired "flurry friends" for $5 each. You can complete the gift for only $5 extra when you add an exclusive outfit for your new flurry friend, bringing the total Black Friday special to $10.
Build-A-Bear Workshop has run very similar Black Friday deals in the past, offering $5 for Hal and Holly Moose in 2010 (with an added coat and hat or coat and goggles for another $5 extra). For Black Friday 2011, the retailer offered Gingerbread Boy and Gingerbread Girl for $5 each too.
There's a chance Build-A-Bear Workshop runs some more specials for Black Friday this year, as the "flurry friends" promotion came from a short press release, leaving open the possibility of a full Black Friday listing with more items.
Here's the actual Build-A-Bear Black Friday ad (click to view larger ad):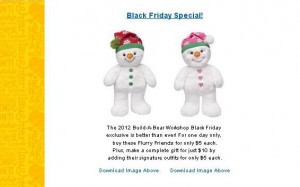 If you don't find Build-A-Bear's Black Friday deal tempting, check out our Build-A-Bear Workshop coupons if you want to snag a great gift for the kids at a discounted price.