LOOKING FOR THE 2014 HALF PRICE BOOKS AD? CHECK IT OUT HERE. FOR A FULL LIST OF BLACK FRIDAY AD SCANS, CHECK OUT NERDWALLET'S BLACK FRIDAY AD LEAKS PAGE.
NerdWallet reviews and bookmarks the Black Friday deals of 2013 in preparation for the shopping holiday. Visit our Black Friday page regularly to check for your favorite store's ad scan.
Half Price Books Black Friday 2013
Half Price Books Black Friday 2013 ad has been released! Those who've turned to Half Price Books for their holiday shopping before will know exactly what to expect. Once again, the bookstore will be opening its doors at 7 a.m. on Friday morning. They'll also offer their usual tote and $5 gift card for the first 100 shoppers and a special $100 gift card for one lucky tote carrier.
Half Price Books Black Friday Ad Scans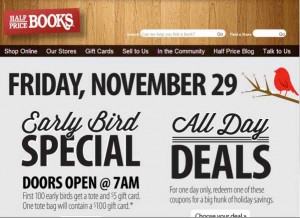 Half Price Best Books Black Friday Deals 2013
In addition to the tried and true tote and gift card, Half Price Books will also offer its customers two coupons. Unlike last year's coupons, this year's Half Price Best Black Friday Deals 2013 coupons allow customers either 40% off of a single item or $15 off of a purchase worth $50 or more. Whether or not the 40% off coupon is better than last year's 15% off coupon for a customer's total purchase really depends on each customer's total purchase. 40% off of a single already discounted book might not add up to a whole lot of savings, but it's definitely better than 15% if you're looking to snag smaller purchases. Whichever coupon you ultimately choose to use, make sure to be strategic to ensure you get the best deal!
Best Half Price Books Black Friday Deals from 2012
Last year, for those interested in knowing about the best Half Price Books Black Friday deals from 2012, opened their doors at 7 a.m. Black Friday morning and the first 100 shoppers (16 years and up) received a free tote bag and a $5 gift certificate. Additionally, hidden in one of the bags was a gift certificate for $100. The tote bag offer was not unprecedented—for Black Friday 2011 and 2012, Half Price Books gave them out too.
The promotional deal came as a choice: buyers could either receive 15% off their total purchase or get $15 off their total as long as it was $50 or more. To answer the inevitable question—what is the better deal if I'm near $50?—we determined with a bit of math that the answer depends on how close the buyer's total was to $50. If Suzie's total was $49 and she decided to get another book, she would only save money by keeping her total purchase between $50 and $56. At $57, the $15 off discount makes the new total $42, the same price that 15% of $49 would be.
In sum, any purchase under $50 did not qualify for the $15 off discount option. For any purchase between $50 and $100, the $15 off was the better deal. For any big spenders who ended up with a total purchase of $101 or more, the 15% off was the better money-saver. To see an example of this last one: $150 with $15 off is $135, whereas the better deal would be this one: $150 with 15% off is $127.50.
This choice-based promotion originated in the Half Price Books 2011 Black Friday ad, but in that case, the buyer could chose 40% off her highest priced item or $15 off a purchase of $50 (or more). One of the main reasons for this type of promotion is the nature of the Half Price Books selection. Since the company offers new, used, and out-of-print media, such as books, music, and movies, that are stocked by independent retailers and occasionally donated by local members, every store's selection of items is different.
Last year around the Black Friday shopping holiday was Half Price Book's 40th anniversary of selling out books to numerous communities around the nation. The company announced this on its blog and facebook platforms to prepare its book fans and lovers for the upcoming Black Friday when its already discounted books receive even better ones.
For more information about Half Price Books Black Friday 2012, click here.
Half Price Books Black Friday Store Hours
Like last year, the book retailer's start time will be 7 a.m. on Black Friday. For a full list, check out the Black Friday Store Hours page.
Half Price Books store: Fan of Retail/Flickr: Source