LOOKING FOR THE 2014 SHOE CARNIVAL AD? CHECK IT OUT HERE. FOR A FULL LIST OF BLACK FRIDAY AD SCANS, CHECK OUT NERDWALLET'S BLACK FRIDAY AD LEAKS PAGE.
NerdWallet brings you the latest news and reviews of the Black Friday ads this season, but if you don't yet see the store that you plan to visit, check back with us soon!
Shoe Carnival Black Friday 2013
Shoe carnival has released its 6-page Black Friday ad scan for 2013. The circular is strictly limited to featuring doorbuster deals. However, the ad offers a separate deal for shoes not included in the ad. All shoes, minus the ones already discounted with doorbuster sales, will be buy one, get one half off. The most noteworthy doorbuster deal was their sale on all advertised women's boots for $19.98. The deal was especially sweet due to the variety of boots Shoe Carnival offered. The boots ranged from leather knee length boots, to ankle cut suede booties.
Some other notable doorbuster deals included:
$34.98 women's & $59.98 men's Sperry Top-siders
$24.99 Bobs
Men's, Women's, and Kid's athletic shoes from $39.98-$59.98
Men's casual shoes from $39.98-$49.98
If those deals aren't enough to wet your appetite for shoe shopping, Shoe Carnival is also offering its customers 3 coupons. On Thursday, customers can get $10 off of purchases $59.98 or more. On Friday, all day, if customers purchase make a purchase totaling more than $39.98, they are eligible to use a $5 off coupon. Finally, on Friday between 6 a.m. and 10 a.m., customers can get $10 off of purchases of $49.98 or more. Be sure your totals match the specified price before taxes, otherwise you'll be ineligible for the coupons.
Shoe Carnival Black Friday Ad Scan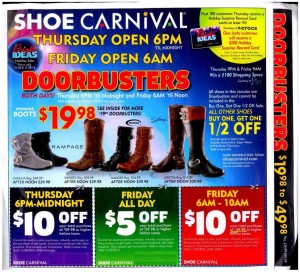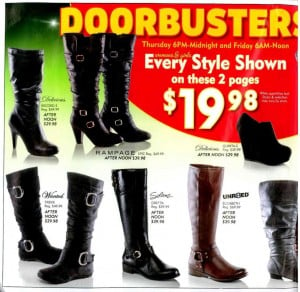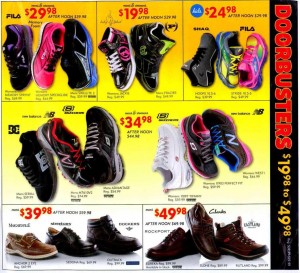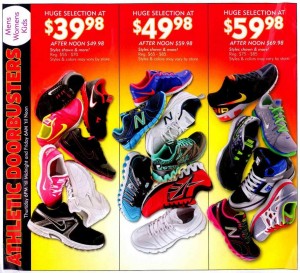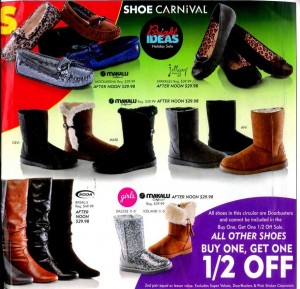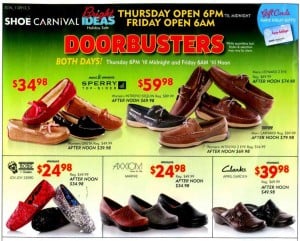 Shoe Carnival Best Black Friday Deals 2013
As mentioned above, here are a few that caught our eyes:
$34.98 women's & $59.98 men's Sperry Top-siders
$24.99 Bobs
Men's, Women's, and Kid's athletic shoes from $39.98-$59.98
Men's casual shoes from $39.98-$49.98
Best Shoe Carnival Black Friday Deals from 2012
Last year the doorbusters for Shoe Carnival began when the clock struck midnight on Black Friday and those sales ran until noon, giving shoppers a 12-hour window for the best deals. As an incentive to get the foot traffic up at the bewitching hour, the first 100 customers received a reward card worth at least $10, but one of them was a $100 gift card to the store. This freebie was a strategy used at multiple stores for Black Friday last year. The front of the 8-page ad had an enticing mention of every women's boot style on the page being $19.99 for the doorbuster, and $29.98 after Friday noon. For men, the Sketchers and Nevados boots went for $39.98 and U.S. Polo Assn. sneakers were $21.98, both being deals of 50% off or more. Loafers, such as Sperry Top-Siders and Eastland, also were on disply, at $59.98 and $39.98 respectively. Bear in mind that these were the doorbuster prices; the Friday after noon prices were $10 or more generally. Certain shoes qualified for a buy one, get one free deal like the $49.98 Womens Abigail and $44.98 Womens Emma boots and the stylish Bobs slip-ons for $34.98 each. These weren't exactly great deals—the Bobs slip-ons being just 20% off—but for overall quality shoes at discounted prices, Shoe Carnival was the place to step into new shoes.
For similar retailers, check out Target and Sears ad leaks.
Shoe Carnival Black Friday Store Hours
Shoe Carnival will be open from 6pm – midnight on Thanksgiving, and reopen at 6am on Black Friday. Also, check out our store hours page to see other retailers' store hours!