LOOKING FOR THE 2014 TANGER OUTLETS AD? CHECK IT OUT HERE. FOR A FULL LIST OF BLACK FRIDAY AD SCANS, CHECK OUT NERDWALLET'S BLACK FRIDAY AD LEAKS PAGE.
NerdWallet strives to give you the latest Black Friday Ads of 2013 with reviews and analysis. If you don't yet see your store of choice, come back to the site soon!
Tanger Outlets Black Friday 2013
The ad scan for the Tanger Outlets black Friday 2013 event is out and it's refreshingly minimal compared to some of the 70+ page ads we've seen lately. The outlet mall's Moonlight Madness & After Thanksgiving Sale ad scan is comprised of a single page announcing two basic deals. Shoppers can enjoy 20% off "Deals at Dark" from 10pm Thursday to 3am Friday, and 30% off "Deals at Dawn" from 3am to 6am Friday morning. There's one catch – you'll need to download savings cards from Tangers' website in order to take advantage of these discounts.
Tanger Outlets Black Friday Ad Scans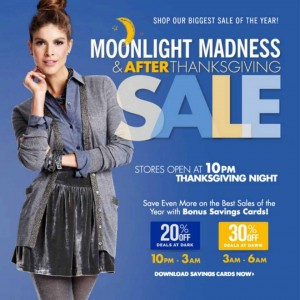 Tanger Outlets Best Black Friday Deals 2013
No specific items have been announced, but we'll be sure to bring you more details on the Tanger Outlets Best Black Friday Deals 2013 as they're announced!
Best Tanger Outlets Black Friday Deals from 2012
Looking back at the best Tanger Outlet Black Friday deals from 2012, there were two coupons that could be redeemed at participating stores. Since Tanger Outlets is a chain of over 30 outlet shopping malls across 25 states, the specific stores accepting the coupon varied. Nevertheless, the hours of the outlet malls remained the same across the board. At 10pm Thanksgiving night the sale began and went until 6am Friday morning.
The two coupons for the Black Friday promotional deal were the following: a 20% off coupon for one single item at participating stores from 10pm Thanksgiving night until 3am Black Friday morning and a 30% off coupon for one single item at participating stores from 3am until 6am. It was strange to see the better deal take the later time slot, but then again, only the more dedicated shoppers would visit the mall in the ungodly hours before dawn. In addition to the early hours, the sale required a few steps for the customer to take before arriving at the mall that night. Buyers had to access the coupon by visiting the Tanger Outlets website, signing up for the coupons, and then waiting for them to be emailed.
Nevertheless, the shoppers definitely appreciated the coupons and local news channels in various states commented on the flocks of people who visited the outlets during that 8-hour window. In Barstow, CA, a city 2 hours northeast of Los Angeles, Old Navy had 75 people in line, wrapping around the length of the whole store and requiring one of the store employees to keep the waiting customers entertained. Some of the shoppers danced or sang to holiday tunes to receive the $1 to $5 off coupons that were handed out in the line.
Some outlet malls even offered different, exciting features to gather crowds. Texas City's Tanger Factory Outlets kicked off Black Friday with a midnight drawing for a free car, a Chevy Spark. Additionally, free shuttle services were available to the mall center for the occasion. That particular mall had only been opened 5 weeks before Black Friday, so this was a big deal to get shopping traffic from Houston, 30 miles south of Texas City, and Galveston, about 20 miles north. The night-time experience offered by Tanger Outlets around the nation on Black Friday varied last year, as did some of the local discounts or services at certain stores, but crowds still came for the two coupon offers despite the early hours.
For similar stores to Tanger Outlets, find more here. For NerdWallet's 2012 review of the store, click here.
Tanger Outlets Black Friday Store Hours
Tanger Outlets will be getting a comparatively late start, opening at 10pm Thanksgiving night. Check out our Black Friday Store Hours page for more opening hours!
Tanger Outlets store: Prayitno/Flickr: Source