As your child grows from infant to toddler, your stroller collection shouldn't have to grow, too.
Thankfully, some strollers are built to survive the growth spurts. We're comparing two dependable options that can serve as Junior's one-and-only — the Graco Breaze Click Connect and the Graco Modes Click Connect.
At a glance
What we found: The Modes Click Connect is loaded with more features and is $100 more expensive than the Breaze Click Connect.
What you'll learn: The Breaze and Modes strollers are both compatible with Graco Click Connect car seats and can accommodate children from infancy through toddlerhood. The biggest differences between the two come down to price, size and included accessories.
| | Graco Breaze Click Connect | Graco Modes Click Connect |
| --- | --- | --- |
| Price | $149.99 | $249.99 |
| Weight | 17.75 pounds | 23.36 pounds |
| Recommended use | Birth to 50 pounds | Birth to 50 pounds |
| Canopy | Yes | Yes |
| Storage basket | Yes | Yes |
| Reclining seat | Yes | Yes |
| Car seat carrier | Yes | Yes |
| Parent and child trays | No | Yes |
| Buy on Amazon | | |
Design
The Breaze and the Modes are both versatile strollers designed for everyday use. They can accept car seats to form travel systems or be used as traditional strollers.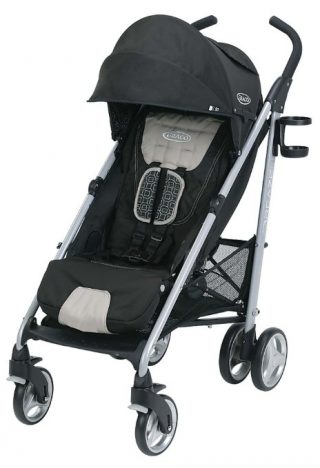 Graco calls the Breaze Click Connect the "easiest folding umbrella stroller." It's relatively lightweight, at 17.75 pounds, and measures 40 inches high, 20 inches wide and 27.5 inches deep.
The Modes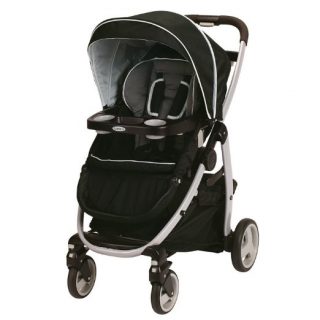 Click Connect is a slightly bulkier three-in-one stroller that can also be used as an infant car seat carrier, infant carriage or toddler stroller. It weighs 23.36 pounds and measures 41 inches high, 22 inches wide and 27.5 inches deep.
Each stroller is available in several different color combinations.
» MORE: The Best Graco Strollers
Features
The Breaze and the Modes have more to offer than their multifunctional designs.
Both made our list of the best strollers based on 10,529 analyzed reviews. The Graco Breaze Click Connect earned the No. 4 spot, and the Graco Modes Click Connect was next in line at No. 5.
These models share many appealing features, including:
Reclining seats. The strollers' seats can be positioned multiple ways, including lying flat.
Canopy. Both feature movable canopies to help shield your baby from the sun and rain.
Storage basket. You can store items like purses, diaper bags and groceries in the basket located underneath the seat of either model.
One-hand folding. The Modes and Breaze both collapse when you press the release button to make transporting and stowing them simpler.
Three- or five-point harness. Both strollers have adjustable straps to keep your little one secure while you're on the move. Use the five-point harness for babies and three-point harness for toddlers.
Front-swivel wheels. Rotating front wheels offer increased maneuverability and a smooth ride, but they can lock in place if necessary.
Cup holders. The Breaze comes with a removable parent cup holder, while the Modes has a parent tray with two built-in cup holders.
Not all of their features overlap, though. The Breaze has a carry strap that makes the stroller easier to transport when it's not in use. The Modes doesn't have a strap, but it's equipped with a few bonus features of its own. It comes with a removable armrest and child's tray, a parent tray with an extra cup holder and covered storage compartment for your phone, and a reversible seat that lets your child face forward or backward.
» MORE: NerdWallet's Stroller Buying Guide
Price
The Graco Breaze Click Connect is listed at $149.99, while the Graco Modes Click Connect is $100 more at $249.99. These strollers are sold at a variety of retailers, but we recommend checking out Amazon, where you may find them at a discount.
One more thing. Click Connect car seats, which retail for around $200, are sold separately. If you plan to use one, that's another cost you'll have to consider.
The verdict
The Graco Breaze Click Connect and Graco Modes Click Connect are both adaptable and easy to fold. But because the Breaze is lighter and has an attached carrying strap, it'll be easier to lift in and out of your car or haul up stairs. It's also more budget-friendly than the Modes and still has an abundance of useful features.
If accessories are important to you — and you're prepared to spend an additional $100 — the Modes might be the better choice. It has a tray for baby and parent, plus another cup holder, all of which you'd have to buy separately for the Breaze.
More from NerdWallet
The Best Car Seat Strollers
Chicco Liteway vs. Chicco Liteway Plus Stroller Comparison
The Best Travel System Strollers
Lauren Schwahn is a staff writer at NerdWallet, a personal finance website. Email: [email protected]. Twitter: @lauren_schwahn.