By now, any amateur chef worth his or her stockpot has heard of sous vide. The name translates to "under vacuum," and as highbrow as it may sound, sous vide (pronounced "soo veed") dishes are basically a high-tech, gourmet twist on the boil-in-a-bag frozen entrees some of us grew up eating.
To cook something sous vide, you season it and toss it into a plastic bag — despite the translation, a vacuum seal isn't necessary — and drop the sealed bag into a pot of water equipped with a sous vide machine, a circulating immersion heater.
At a glance
We've lined up two of the most popular sous vide machines —the Joule Sous Vide by ChefSteps and the Anova Precision Cooker — and pitted them against one another in an epic Battle of the Boil. Let's see how they stack up.
| | Joule | Anova |
| --- | --- | --- |
| Price | $199 | $149 for Bluetooth-enabled, $199 for Wi-Fi-enabled |
| Display | No | LCD display, LED backlit scroll wheel |
| Size | 11 by 1.85 inches | 14.75 by 2.75 inches |
| Weight | 1.3 pounds | 2.5 pounds |
| Material | Stainless steel and food-safe plastic | Stainless steel and polycarbonate |
| Auto shut-off | Yes | Yes |
| Power | 1100 watts | 800 watts Bluetooth, 900 watts Wi-Fi |
| Maximum temperature | 208 degrees | 210 degrees |
| Minimum fill | 1.5 inches | 2.75 inches |
| Maximum fill | 8 inches | 6.25 inches |
| Type of clip | Magnetic foot cling and clip | Adjustable ring clip |
| App | iOS 8.0 or later, Android 4.4 or later | iOS 9.0 or later for Wi-Fi, iOS 7.0 or later for Bluetooth, Android 4.3 and later |
| Buy on Amazon | | |
The Joule
Nerdwallet takes you shopping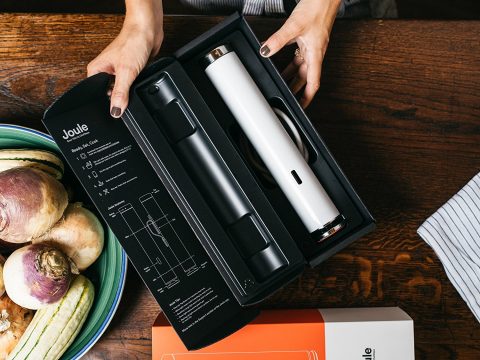 The slim, white Joule by ChefSteps measures 11 inches long and weighs just 1.3 pounds. If you didn't know the cylinder was a cooking implement, you might not have any idea what to do with it. There's just an indicator light and no way to measure timing or temperature.
You can control all of the Joule's functions via app from your phone, computer or tablet. The device's streamlined appearance might be a good thing, but who wants to touch a phone or iPad with a handful of salmon? And not everyone has a Wi-Fi- or Bluetooth-enabled device.
However, if you do have a device that can partner with the Joule, reviewers say it works more quickly than its competitor. A tester from the New York Times said it took just 12 minutes for the Joule to heat six liters of water to 121 degrees, while it took the bulkier Anova 18 minutes to heat water the same amount.
You can attach Joule to a tub or pot in two ways. Its bottom is magnetic, so it will stick to metal pots, or you can clip it to the side of the pot. And its light weight lets you use the Joule in pots or containers of just about any size without worry of tipping.
The Joule's app is very helpful and has hundreds of recipes and videos showing the differences that timing can make. Once you've finished sous vide-ing a piece of salmon or steak, it's ready to eat, but most of us prefer the extra crunch that comes from a quick sear in a pan; the Joule app guides novice chefs through that step as well.
» MORE: 10 cool kitchen tools
The Anova
Nerdwallet takes you shopping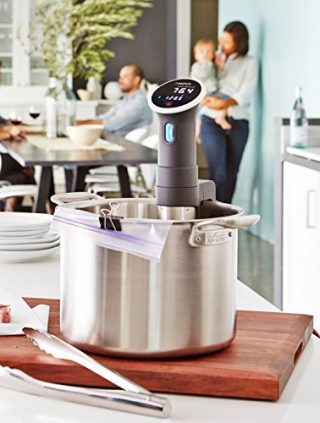 The Anova Precision Cooker is nearly 15 inches long and more than a pound heavier than the Joule. It's bigger and bulkier because it has a face with digital readouts and touch buttons. Like the Joule, you can use it with your smartphone or tablet, but you can also punch in numbers on the cooker itself.
Because the Anova is heavier and must be clipped onto the side of a pan, the pan must be heavy enough to support its weight. The Anova also uses older technology that heats water — and therefore cooks your meal — more slowly, but it has been tested for years.
Like the Joule's app, the Anova's has lots of recipes — more than 1,000. It also comes equipped with easy-to-understand instructions and works on your phone or other iOS or Android device. If you plan to use the app often, it probably makes sense to spend the extra $50 on the Wi-Fi-enabled model so you don't have to stay within Bluetooth range.
Which should you buy?
Because the two tools are comparable in price and reviewers say both cook well, the choice comes down to your individual comfort — or discomfort — with technology. The Joule is smaller, sleeker and easier to store, but an app-enabled device is needed to use it. The Anova is a bit bulkier, but you can use it even if you left your smartphone back at the office. But whichever you choose, it will change the way you cook — probably for good.
» MORE: Williams-Sonoma store guide