Keurig is known for its top-of-the-line coffee makers, but the popular brand recently rolled out a new kitchen appliance that has nothing to do with java. Welcome the Keurig Kold, a drink maker that lets consumers create many of their favorite beverages from the comfort of their own home.
Before you make room for the Keurig Kold in your kitchen, see how it compares to a soda-making giant already on the market: the SodaStream Fountain Jet.
Need to know what to look for when buying a soda maker? Check out our Soda Maker Buying Guide.
The soda makers: at a glance
| | | |
| --- | --- | --- |
| | Keurig Kold | SodaStream Fountain Jet |
| Price | $369.99 from Keurig | $79.99 from SodaStream |
| Colors | Black, white | Black/silver, red |
| CO2 Canister | No | Yes |
| Beverages | Sodas, craft sodas, iced teas, seltzers, flavored water, sports drinks | Sparkling water, flavored sparkling water (more than 100 flavors), sodas, energy drinks |
The soda makers: Up-close and personal
Keurig Kold
NerdWallet takes you shopping: On the company's website, Keurig says the Kold is "the coolest thing to happen to cold drinks."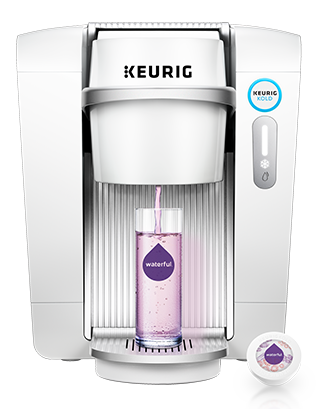 For a price of $369.99, the Keurig Kold can create nearly every beverage imaginable — including brand-name sodas like Dr. Pepper and Diet Coke — all with the push of a button. Users simply input a compatible pod for the drink of their choice and let the maker do the rest, much the way the brand's popular coffee makers function.
There are no CO2 canisters to buy with this appliance, as the Keurig Kold pods for carbonated beverages already contain something called Karbonator beads.
According to Keurig's website, "The Karbonator beads hold pure, beverage-grade CO2 that is released at the precise moment when it can best be absorbed to deliver perfect carbonation."
The Kold produces 8-ounce drinks at a temperature of 39-degrees in just 90 seconds. Its mixer, reservoir lid, drip tray and drip tray lid are all dishwasher-safe.
The Kold comes complete with the drink maker and two Keurig Kold drink maker glasses. Keep in mind that you'll need to purchase pods for the appliance separately. For most flavors, a 4-count box costs $4.99 from Keurig.
Available flavors include: Sprite, Canada Dry Ginger Ale and assorted Tierney's Iced Tea Co. blends.
Good fit for: The Keurig Kold provides an easy way to create brand-name beverages from home. The product is relatively pricey, but it'll be tough to beat its convenience (i.e. no canisters to replace or ingredients to mix) and broad selection of beverages. And it'll complement to any Keurig coffee maker.
SodaStream Fountain Jet
NerdWallet takes you shopping: Arguably, Keurig's biggest competitor is the soda making space is SodaStream, and one of this brand's most popular products is the SodaStream Fountain Jet, a $79.99 sparkling water maker.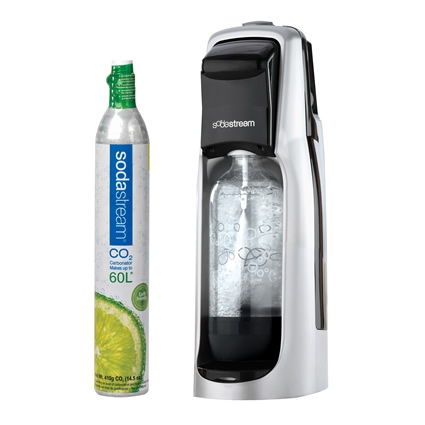 The Fountain Jet allows users to create their own fizzy flavored drinks. To do so, consumers must load the carbonator into the back of the SodaStream, fill the carbonator bottle with water, press the carbonating button to their liking (more pushes translates to more fizz), add a flavor of their choice to the bottle, shake it up and enjoy.
The product's starter kit contains the Fountain Jet sparkling water maker, a 60-liter CO2 carbonator and a 1-liter BPA-free reusable carbonating bottle. Sparkling drink mixes and soda mixes are sold separately. Most flavor bottles can make 36 servings (9 liters) and can be purchased for $6.99 from SodaStream.
Flavors include: Sparkling Gourmet fruit varieties, Skinnygirl Mango Berry, Xstream Energy Drinks and Fountain Style Cola.
Good fit for: If affordability is more important to you than convenience, we'd recommend the SodaStream Fountain Jet. There are more steps involved in making your drink, but the device is nearly $300 less expensive than the Keurig Kold.
Put more of your favorite products head-to-head:
Courtney Jespersen is a staff writer at NerdWallet, a personal finance website. Email: [email protected]. Twitter: @courtneynerd.
---
Image via iStock.