Already well established in the fitness wearable space, Pebble is gearing up to launch two new smartwatches this year: the Pebble 2 and Time 2.
The company has taken to community fundraising platform Kickstarter to fund the new devices, letting future customers be as connected as possible to every step of the product launch journey.
At the time of this writing, more than 50,000 backers have already pledged upward of $10 million — far exceeding the project's $1 million goal before the campaign ends June 29.
So what's all the buzz about? We took a look at the upcoming Pebble 2 and Time 2 to find out what these hyped devices mean for you, then compared them with an existing smartwatch champion — the Fitbit Blaze.
Pebble 2
NerdWallet takes you shopping: Coming later this year, the Pebble 2 combines smartwatch functionality with affordability.
This upcoming watch is compatible with both iOS and Android. It has a sleek, futuristic look with a high-contrast black and white display. Users will likely use features like the watch's 24/7 heart rate monitoring, built-in microphone and activity/sleep monitoring most.
They'll also love the ability to swim in their watch (up to a depth of 30 meters) and use it for up to seven days straight before plugging it in for a recharge. And, don't forget about the ability to call an Uber or reply to a text, all from your wrist.
For those who pledge during the Kickstarter campaign, the Pebble 2 starts at $99 (but will retail for $129 once the campaign is over) and will begin shipping in September. It'll come in five colors: flame, aqua, black, white and lime.
Good fit for: If you've been on the fence about smartwatches and waiting for just the right time to dive into the market, now's your chance. The Pebble 2 doesn't discriminate (it works for both iOS and Android), and it's as much an activity tracker as it is a smartwatch.
» MORE: Fitbit Blaze vs. Apple Watch Sport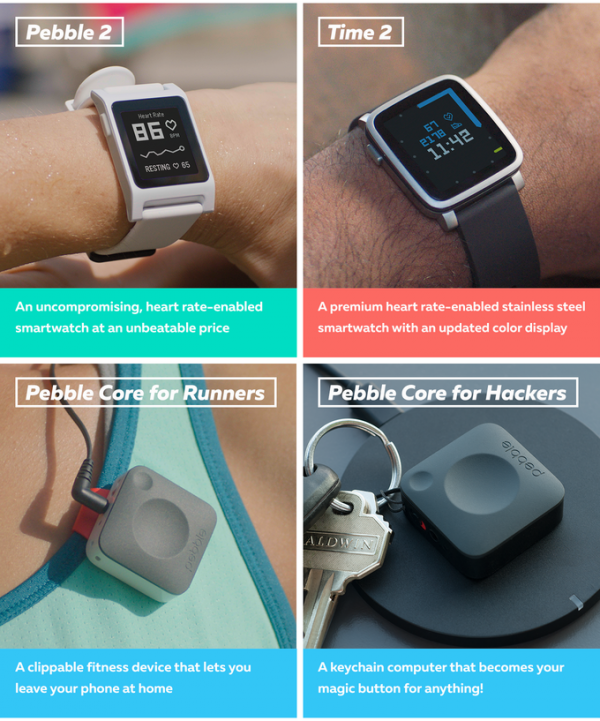 Time 2
NerdWallet takes you shopping: Like the Pebble 2, the Time 2 boasts an impressive load of features: activity tracking, sleep monitoring, heart rate readings, water resistance to 30 meters, an always-on display, voice notes, music control and customization options (more than 13,000 apps and watch faces).
But the Time 2 takes it up a notch. It has a 10-day battery life (longer than the Pebble 2's seven days). A stainless steel casing and color display also set it apart.
The Time 2 will retail for $199 after the Kickstarter campaign and will begin shipping in November 2016, just a few months after the Pebble 2. It'll be available in black, gold and silver. Thanks to its universal design, it can fit any 22mm watch band.
Good fit for: The Time 2 gets you close to an Apple Watch without paying nearly as much. (For comparison, the Apple Watch Sport starts at $299.) Choose the Time 2 for an affordable smartwatch with plenty of functionality.
Fitbit Blaze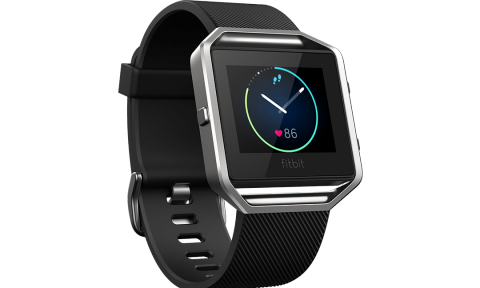 NerdWallet takes you shopping: Finally, there's Fitbit, one of Pebble's largest competitors. The Blaze is one of the most recent releases from Fitbit. It's a smart fitness watch with features like call/text notifications, continuous heart rate readings, music control, on-screen workouts and GPS tracking (when it's synced with a compatible device).
The Blaze has a strap like a traditional watch and a color LCD touchscreen display that measures 0.75 of an inch by 1 inch. It's water-resistant (but not swim-proof) and has a battery life up to five days (after a charge time of one to two hours).
The Fitbit Blaze starts at $199.95. It's available for purchase from Fitbit, as well as a number of third-party retailers. You can buy it in black, blue or plum. Fitbit also sells a variety of replacement bands.
Good fit for: If you're already a Fitbit fan and aren't looking to use your watch for swimming, stick with something tried and true. Choose the Blaze if you want to avoid going out on a limb with the upcoming Pebble models.
» MORE: Fitbit Alta vs. Fitbit Blaze
One more factor to weigh
Pebble has one more innovation up its sleeve, too. The company is creating something called Pebble Core, a clippable running device with an anticipated ship date of January 2017 and expected retail price of $99.
The Core is a small, 3G clip that athletes can wear during workouts in place of bringing along a phone. That'll mean phone-free access to GPS and music when used with a Pebble smartwatch.
Courtney Jespersen is a staff writer at NerdWallet, a personal finance website. Email: [email protected]. Twitter: @courtneynerd.