First class-loving passengers might miss the extra leg room and lounges, but Southwest's Business Select fare closes the gap on typical first class perks from other airlines.
Southwest's stated purpose is incredibly people-forward: "To connect people to what's important in their lives through friendly, reliable, and low-cost air travel" — and in the true spirit of a "people's airline," this manifests both as a warm customer service and as identical seat options at all fare levels (17 inches between armrests).
Read on to learn if Southwest's version of "first" class, Business Select, is the right fare for you.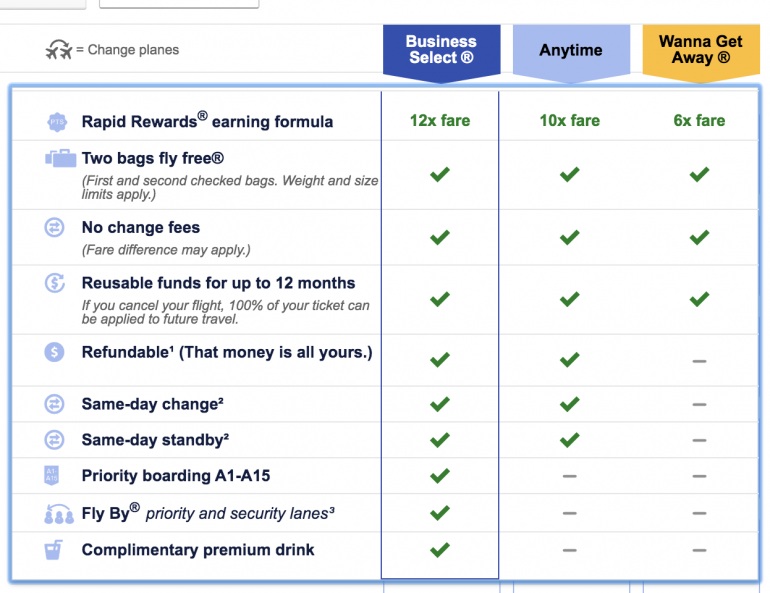 What to know about Business Select
While Southwest does not have a "first class ticket" in the traditional sense, its Business Select fares offer some important perks that might be worth the extra cost.
You are guaranteed to board in positions A1-A15.
Business Select ticket buyers who are also Rapid Rewards members earn 12 points per dollar spent on the Business Select fare, rather than 10x or 6x for mid- and low-level fares.
Business Select tickets are eligible for full cash refunds, instead of a travel credit for future Southwest purchases.
Southwest flyers on Business Select fares unlock Fly By priority lane access, which can get you to the front of the ticket counter faster.
Similarly, Business Select travelers can utilize the Fly By security lane.
If you often make last-minute changes, you'll enjoy the fact that Business Select fares are eligible for same-day change and same-day standby tickets — as long as there's an open seat on a different flight on the same date as your original flight and it's between the same cities.
Business Select tickets receive one complimentary premium drink, which includes beverages like margaritas, gin and tonics, mimosas and seasonal beers.
Standard Southwest perks are still applicable with a Business Select fare. This includes two free checked bags (weight and size limits apply), no change fees and the option to use 100% of your ticket as reusable funds that can be applied to future travel after canceling.
How to book
Unlike other airlines, Southwest does not allow travel websites like Orbitz and Kayak to publish its fares. You have to book on Southwest.com or by calling a Southwest travel agent.
Search for a flight on Southwest.com
You can book one-way or round-trip flights on Southwest.com for up to 8 passengers. Simply visit the air booking page and input your travel preferences. Click "Search" to see your options, which are displayed from earliest to latest in the day. You can filter by "nonstop" flight options and by your time of travel preference, as well as toggle back and forth between different days to cross-check prices. If your dates are flexible, we highly recommend you check out the "Low Fare Calendar," too.
When you see all the flights that fit your search, you can sort them to find the perfect flight for you.
Choose the Business Select fare
Bypass the "Anytime" and "Wanna Get Away" fare types if you're interested in the unique perks that a Business Select ticket offers.
Purchase
Input all of your individual data, then click that bright yellow "purchase" button.
All major credit cards, unused prior travel funds, Southwest LUV vouchers, Southwest gift cards and PayPal are eligible methods for purchasing your flight online. If you are purchasing your flight at a ticket counter, cash is also accepted.
Is it a good deal?
The biggest perks of Business Select are that you earn more Rapid Rewards points and that the cost is fully refundable. If you're not interested in maximizing your Rapid Rewards earnings, the markup on Business Select might not be worth it, especially considering that the major benefits of flying Southwest Airlines (free checked bags, reusable flight credits, no change fees) are applicable to even "economy" Wanna Get Away tickets.
My quick search for a Denver to Midway flight yielded a price difference of $700 between a Business Select ticket and the Wanna Get Away ticket. That's a hefty cost differential for a minimally "premium" experience.
The bottom line
Business Select can offer travelers a more streamlined Southwest experience, including the perk of being among the first to board and a complimentary cocktail. But the increase in cost might not always be justified, especially considering the lack of premium seating and cabin space available on Southwest flights.
How to maximize your rewards
You want a travel credit card that prioritizes what's important to you. Here are our picks for
the best travel credit cards of 2020
, including those best for:
Planning a trip? Check out these articles for more inspiration and advice:
Find the best travel credit card for you
4 ways to quickly rack up miles for your next flight
How to get started with frequent flyer programs